Buenos Aires is foodies' paradise. Not only is it absolutely packed with cafes, restaurant, bars and parrillas of all kind, but also eating out is very affordable here. This is the reason why during our two-week long stay in the city we managed to try out lots of different spots and prepare a food guide for other travellers to use. Welcome to our ultimate where to eat and drink in Buenos Aires list! Our list of best and cheap places to eat in Buenos Aires is obviously subjective but we can say with all honesty that only places we genuinely loved made the final cut. Some of them we went to a few times, each time being absolutely delighted with the quality and the taste. Also we eat mostly meatless so as a result of that all of the places mentioned here offer vegetarian options (but not all of them are plant-based).
Pirilo Pizzeria, San Telmo
You probably didn't know that but Buenos Aires, as well as the rest of the country, is all about pizza – therefore there is a huge amount of different pizza places across the capital. But it is not the kind of pizza that you got used to after your italian holidays – some claim to love it, some claim to hate it. We belong to the first category and the place responsible for that is a small, inconspicuous pizza place tucked between the buildings on a popular Defensa street. You want to know where you can eat the best pizza in Buenos Aires? Look no more. Pirilo is not a fancy spot – you rather eat your pizza slices with your greasy hands standing up by the counter surrounded by strangers. It has an amazing local atmosphre and, above all, it serves some amazing pizza! A slice costs around 60 peso and the selection is quite small, but you don't need more – we really enjoyed a very cheesy slice of muzzarella pizza.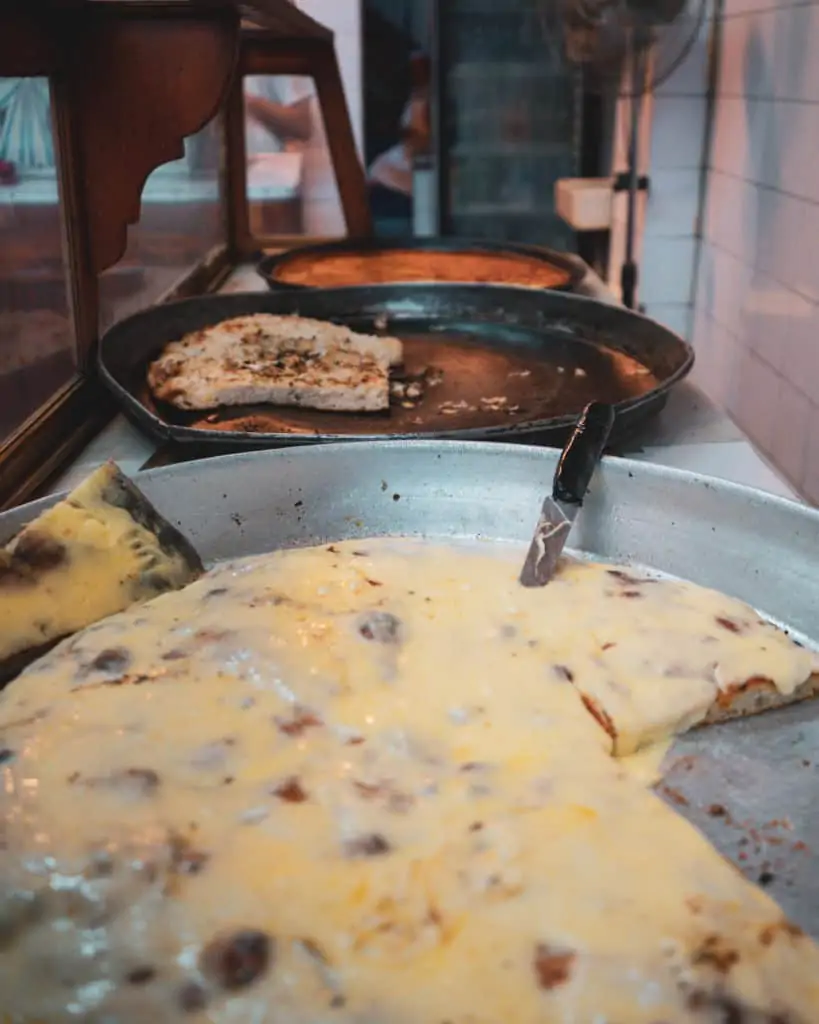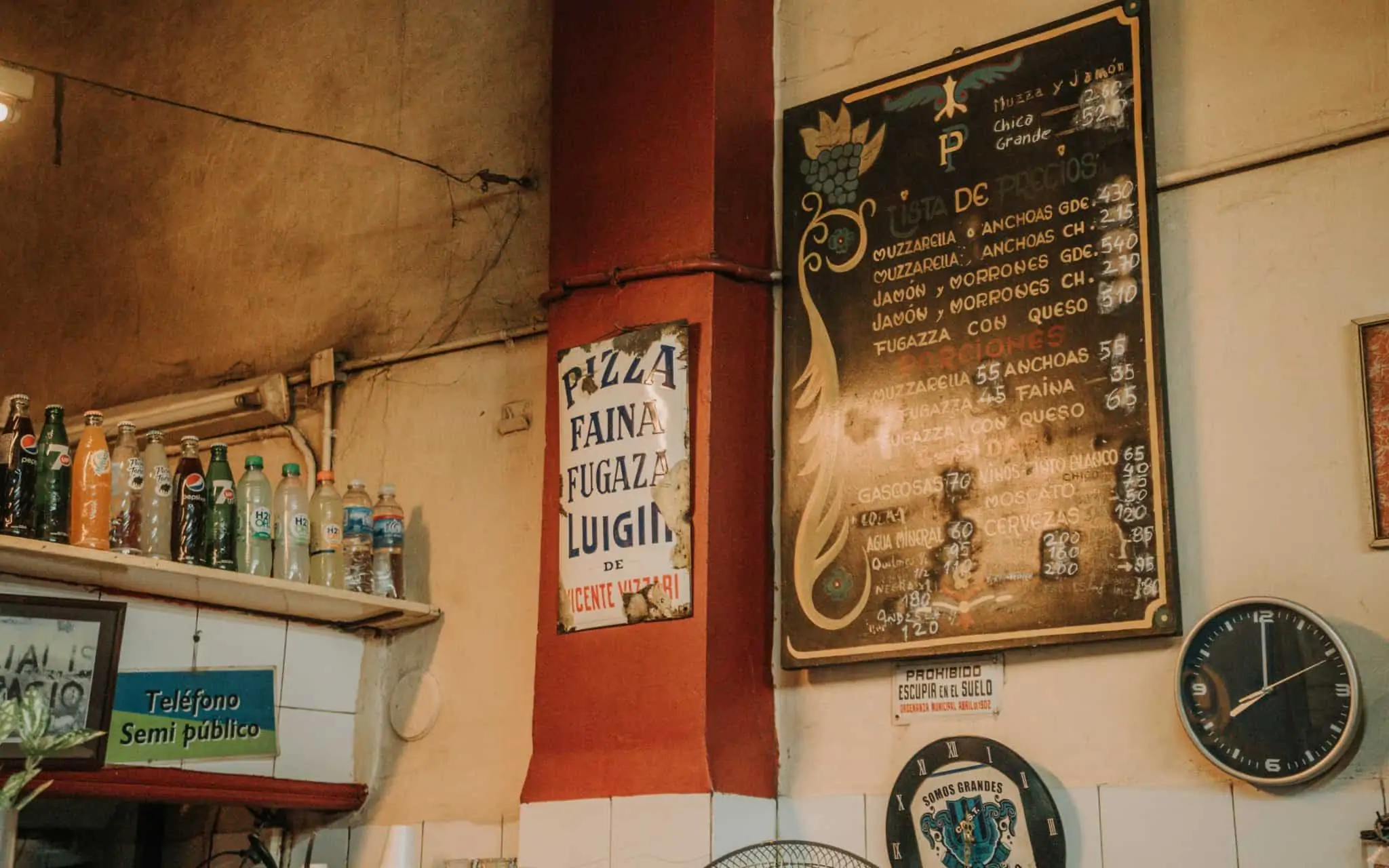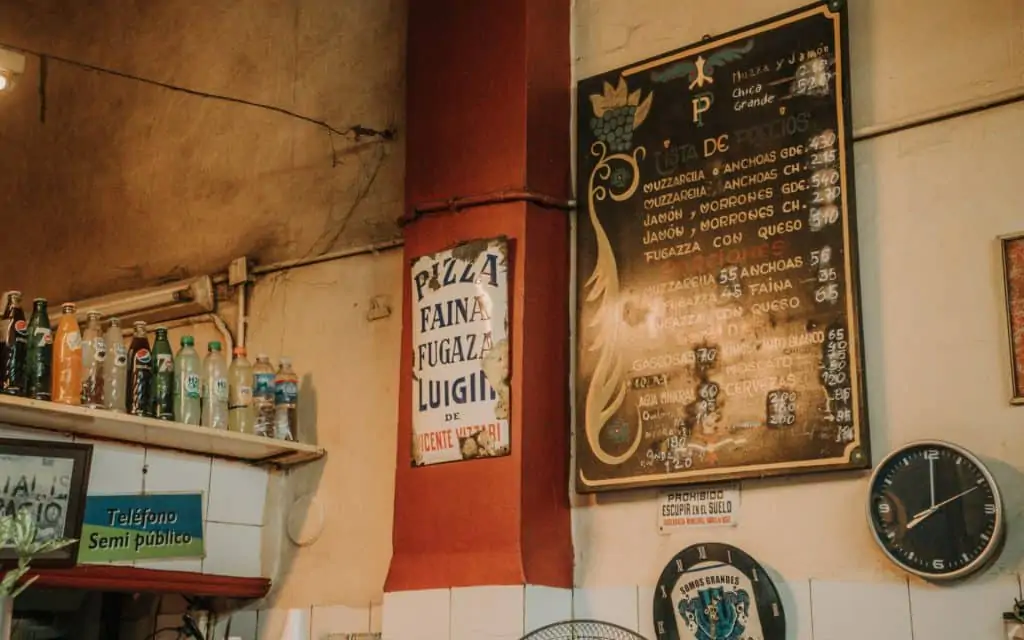 location: Defensa 821 opening times: tuesday-saturday 14:00-23:00, sunday 18:30-23:00, closed on mondays
First of all, this one is THE pizza place everyone recommended to us – which probably makes it the most popular place to get pizza in Buenos Aires. That said, we didn't love it as much as we loved the previous one. Of course this doesn't mean that the pizza there is not good – on the contrary, it is! They have a wide selection of pizzas sold by slice (we even tried a napolitana pizza which by the way was nothing like a napolitana in Italy) and the pricing is also fair – around 60-70 peso per slice. If you are up for it – try the traditional fugazza with tons (and we mean TONS) of onion. We didn't like but we will wait for your verdict.
location: Av. Corrientes 1368 opening times: sunday-thursday 11:00-1:00, friday-saturday 11:00-2:00
La Reverde Parrillita Vegana
Argentina is all about meat with traditional parrillas (barbecue places) scattered around the city. Midnight asado packed with meat? It is definitely not an unusual thing in Buenos Aires! This is why being a vegetarian or a vegan you probably think you need to bail on tradition with this one but we have a solution – an authentic vegan parrilla! We had a vegan steak and a vegan choripan (local version of hot-dog) with chimichurri sauce and those were the most meaty non-meat things we have ever eaten. Especially the choripan was amazing so we highly recommend this one. The portions there are huge and reasonably priced – a dinner for two (that could easily feed three) with beer set us back 900 pesos. 
location: Montevideo 40 opening times: sunday-thursday 20:00-23:30, friday-saturday 20:00-00:00
For those that believe vegan meat is not enough or those who want to see if meat really does taste better in Argentina – we have something too. Even though we haven't eaten there, we heard good things only and everything looked really fresh and good. Be careful – it is popular so it can get very crowded!
location: Defensa 855 opening times: monday 18:00-00:00, tuesday-saturday 12:00-1:00, sunday 
It is very easy to find vegan and vegetarian places to eat in Buenos Aires and this one was one of our favourites. Around this time they have a great promotion – when ordering two identical burgers or two identical plates you get a huge jar of amazing limonade for free and you pay only 600 peso for your dinner for two (which saves you some as an average burger is around 320 peso and comes with a glass of limonade only). Our favourite dish in Loving Hut was a classic burger with extra bacon but a seitan sandwich (in the picture) was also a treat. It can get quite crowded late in evenings – but then again, this is true for all the places around Buenos Aires. Read our packed with practical information post about what surprised us most in this city – crazy late hours included!
location: Gorriti 4939 opening times: tuesday-thursday 13:00-23:30, friday-sunday 13:00-1:00, closed on mondays
lovinghut.com
This little vegetarian cafe (that also works as a organic shop) was a wonderful surprise both in terms of quality food and a cozy vibe. You have to wait a little bit for your order but it is certainly worth it – all dishes are fresh, aromatic and have a home-made taste to them. Our favourites were a mushroom sandwich (so yum) and asian rice with lots of veggies. On top of that, prices are more than fair – we paid 690 peso for the dinner that easily fed both of us. 
location: Av Raúl Scalabrini Ortiz 2018 opening times: monday-saturday 10:00-23:00, closed on sundays casamunay.com
La Areperia de Buenos Aires, Palermo
We ended up there by accident, because the place we were originally going to was closed, and it was a very lucky accident indeed! This place mainly serves arepas (as the name suggests) which are corn pancakes typical for the cuisines of Colombia and Venezuela. You can choose your arepas with different sides – Diana chose guacamole and fried cherry tomatoes and the whole composition was absolutely delicious. Marcin went with two types of empanadas and the cheese ones served with maracuya and mango sauce blew our minds! Definitely order them if you ever visit this place. We went there during happy hour (12:30-16:00) and as a result the dinner for two cost us 540 peso (portions aren't big though!). 
location: Bonpland 2430 opening times: tuesday – friday 12:30-16:00, 18:00-00:00, saturday 13:00-00:00, sunday 13:00-23:00, closed on mondays
Hamburga - Casa de Hamburguesas, Palermo
Visit this place if you ever have a taste for a classic beef burger (Marcin had beef first time after almost a year and approved!). We also ordered a vegetarian version with eggplant – which was tasty but very hard to eat without a fork. They serve big portions and have delicious fries. Burgers cost between 300-350 pesos each.
location: Tomas Nother 771 opening times: sunday-thursday 12:00-00:00, friday-saturday 12:00-01:00
La Vianda Take-out, Barracas
Buenos Aires has lots of nice take-out places where you can eat a proper meal for a small amount of money – we tried several of them when we needed a quick bite. We really liked this one that we came across while walking from La Boca to La Bombonera stadium. It has a salad bar and lots of ready meals and pastries for 30 peso/100g which obviously makes it a very popular place. Of course don't come here on purpose (certainly there are lots of delicious take out bars across town!) but definitely grab a bite if you ever find yourself hungry around this area.
location: Brandsen 1725 opening times: monday-friday 11:30-15:30, closed on the weekends
El Hornero, San Telmo Food Market
San Telmo Food Market is an amazing place to visit and sample lots of different dishes at once! We really liked El Hornero – this bakery serves traditional oven-baked empanadas. We had a plate of three and we chose three different stuffings – pumpkin, cheese and onion and chorizo. All of them very tasty and big – three pieces make for a nice lunch and will set you back 200 peso. However if you still feel like you need to eat something after your empanadas – there are lots of other food places here. For example, right across from El Hornero there is a popular barbecue place where you can get some asado.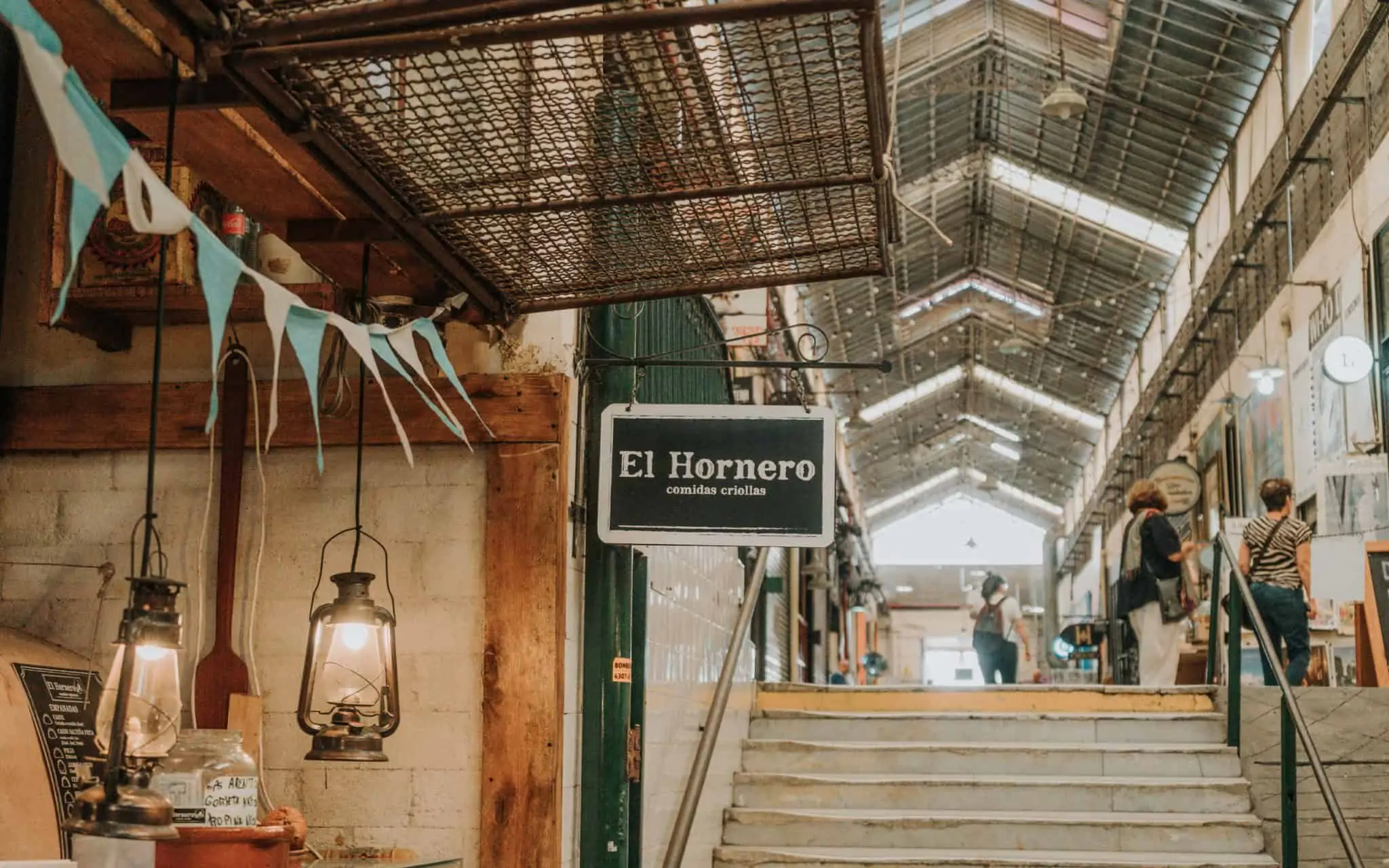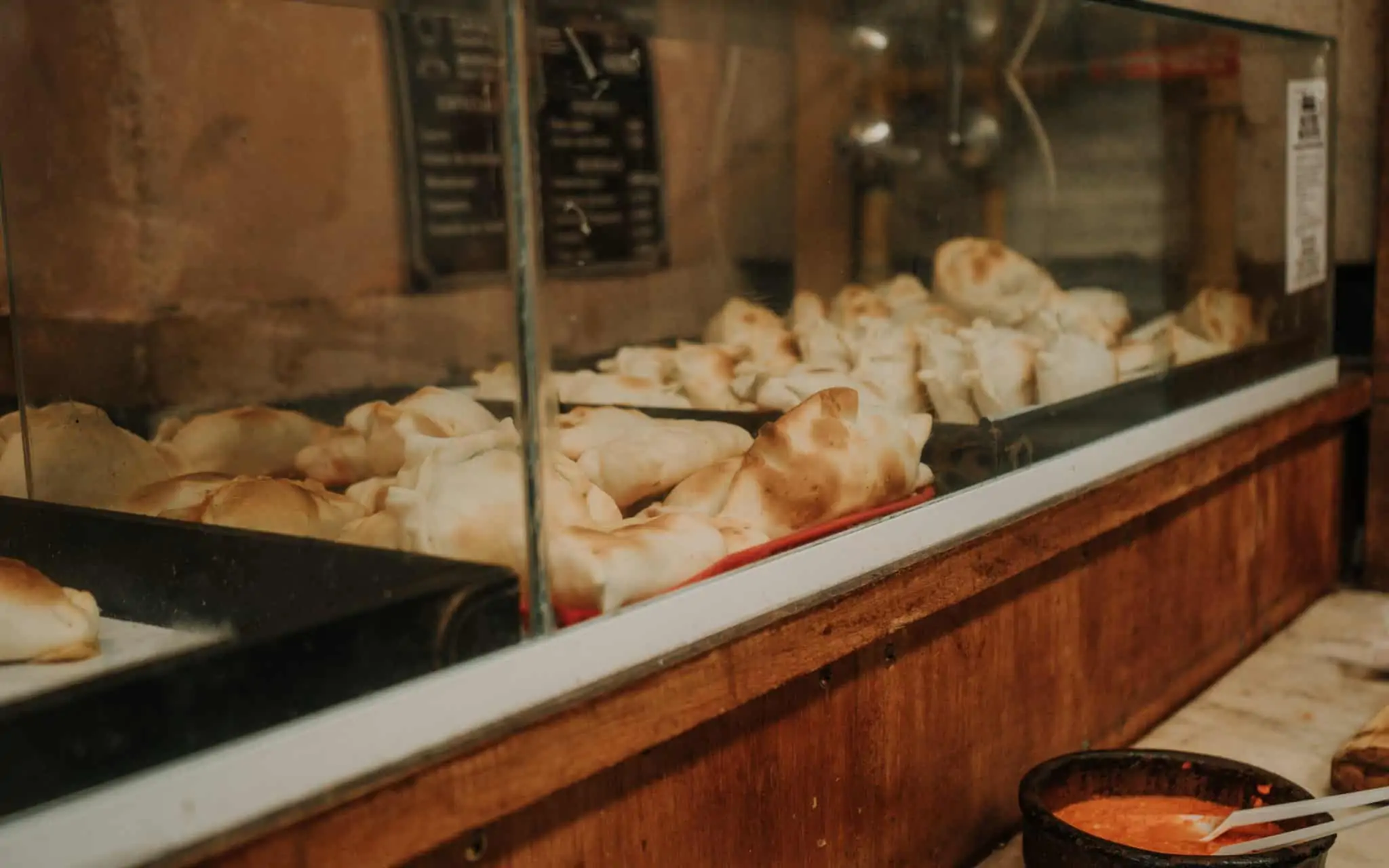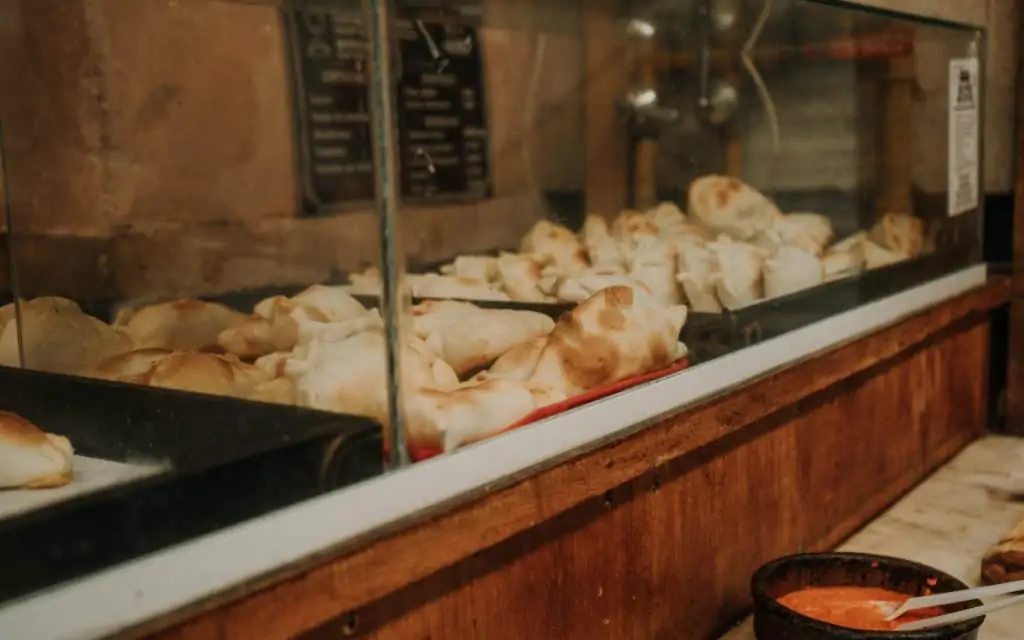 Cafe Tortoni is a classic and therefore you probably already have it on your list. We don't think it is a must-see (although it has a beautiful decor and a rich history) but worth a visit if you have time. You can grab a beer or coffee or have yummy churros with chocolate. It is busy and more expensive than other Buenos Aires cafes but this is what comes with being a tourist attraction. They also organize reasonably priced tango shows so look into that if you are interested!
location: Av. de Mayo 825 opening times: monday-saturday 8:00-1:00, sunday 9:00-1:00 www.cafetortoni.com
La Casa del Dulce de Leche, San Telmo
This is not a cafe nor a restaurant but a shop dedicated to all things dulce de leche. The reason it made it to this food guide is because La Casa del Dulce de Leche has so many different types of this typical Argentine sweet spread AND you can taste them all for free before you make your purchase! We went particularly crazy for the coconut version which was riddiculously delicious. Marcin also tried the selecion of rum based alcohols – his favourite flavor was of course dulce de leche. Pay this place a visit and this will be your most delicious shopping experience ever! But we are dulce de leche obsessed – so we may be biased.
location: Defensa 1060 opening times: monday-thursday 10:00-20:00, friday-sunday 09:00-21:00
It was definitely our favourite place to grab a beer in Buenos Aires even though they constantly change prices – what is up with that? We have seen three different pricelists in one week! They also serve craft beers plus if you get hungry you can order yourself a huge portion of delicious fries or nachos. We really liked this place and kept coming back mainly because we really enjoyed the location, the atmosphere and the service. And the beer, of course. A regular beer can cost you anything between 80-120 pesos, you never know.
location: Salvador 4795 opening times: everyday 16:00-3:00
Johnny B. Good, Puerto Madero
This is definitely a much fancier place than what we are used to but we decided to treat ourselves a few times – mostly because during happy hour (18:00-21:00) this is THE place for very reasonably priced drinks. We are talking 200 peso for a big aperol spritz or mohito and 100 peso for beer. Whoever is responsible for music in this place has an amazing taste plus some days they even have live music outside. Johnny B. Good also serves great food – more expensive than other options we mentioned in this guide but still very affordable comparing to European cities.
location: Av. Alicia Moreau de Justo 740 opening times: monday and sunday 8:30-1:00, tuesday and wednesday 8:30-1:30, thursday 8:30-2:00, friday and saturday 8:30-3:00 www.jbgood.com
We really hope our short food guide will make your Buenos Aires trip easier and more delicious, whether you are a vegan, a vegetarian or a meat-eater! Underneath you have all of these places marked for an even easier navigation. If you are still planning your city escape head to our guide on what to see in this bustling Argentine capital. And if you ever make it to one of the food places we have recommended here – let us know in the comment section, it would really mean the world to us!