It hadn't been easy to plan our vacation during covid times, but after many cancelled flights we finally made it happen! We  ended up spending a sweet week on Sardinia between August and September. Our journey started at the airport in Alghero. This is where we decided to rent a car and make our way up north (read more about renting a car and other practical tips in our blogpost).  We moved clockwise and in the end spontaneously made it as far as Cagliari and ended up doing a whole circle. We visited over a dozen of enchanting beaches, chased some unbelievable sunsets and got a tan (that last one we did too well). What can we say after driving 1400km in total? We really recommend you to visit this italian gem, because Sardinia is not only about the beaches! What else can you expect from this gorgeous island? Keep reading to learn what to see on Sardinia!
Table of Contents: What to see on Sardinia
Torre di Porto Giunco is nothing else than a viewpoint with breathtaking unobstructed 360-degree panorama of the Carbonara Cape. There is an old tower on top of it that you are not supposed to climb (for good reason, the condition is not good). The hike to get up there is short and rather easy. It starts at the parking lot and takes you up to the viewpoint in less than 30 minutes. This spot is perfect for admiring both sunrise and sunset. Remember it might get crowded during the latter!
Right where the hike begins, next to the parking lot, there is also a path that will take you to the wide, long and sandy beach with crystal clear water (Sardinia theme we suppose). There is also a much smaller, more private little bay called Cala Porto Guinco that you may hike to. If you think this is all that area has to offer  – think again! Capo Carbonara is THE place to see flamingos on Sardinia. During summer they spend their days on Stagno di Notteri wetlands in the center of the cape so you definitely won't miss them.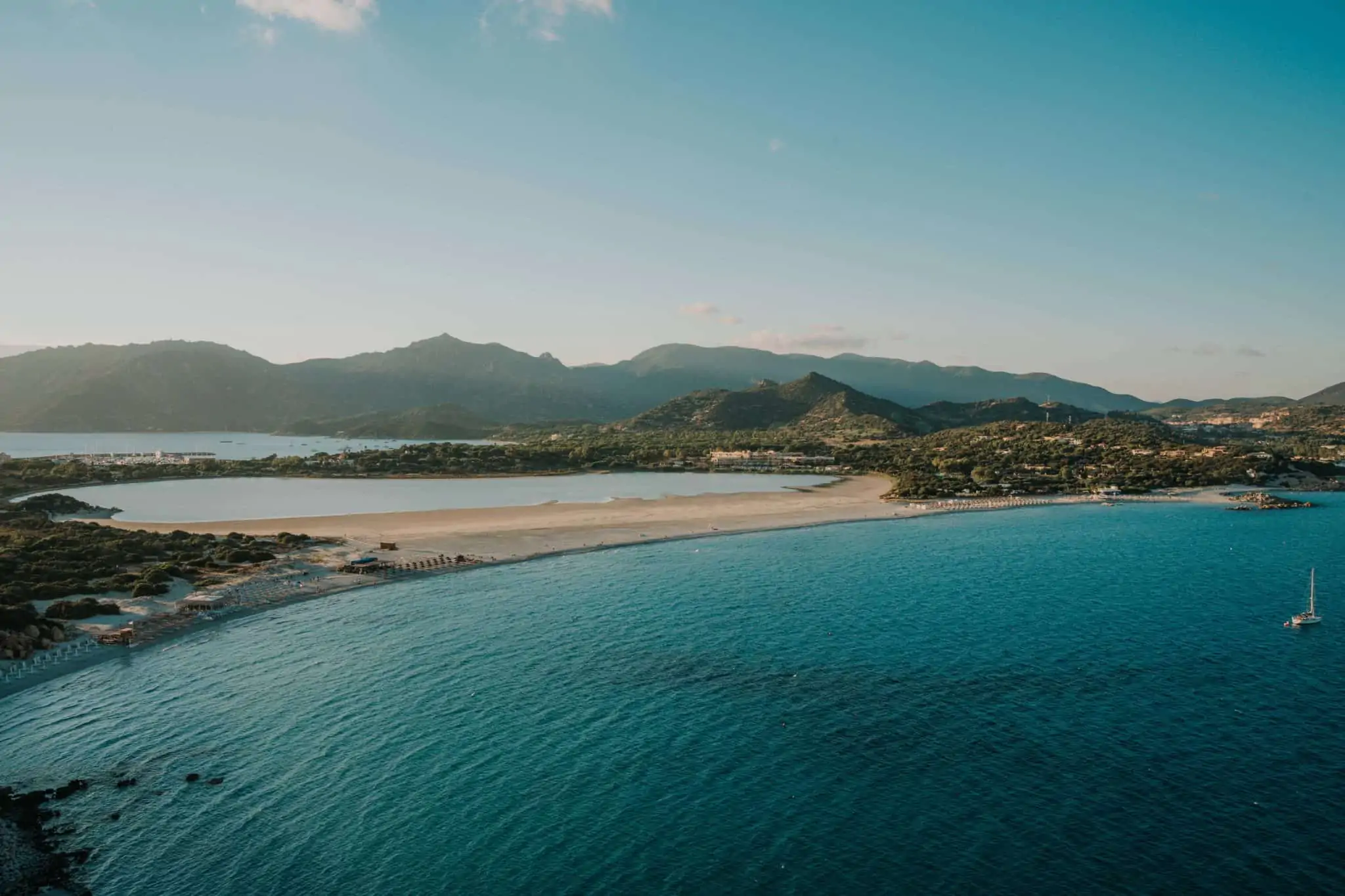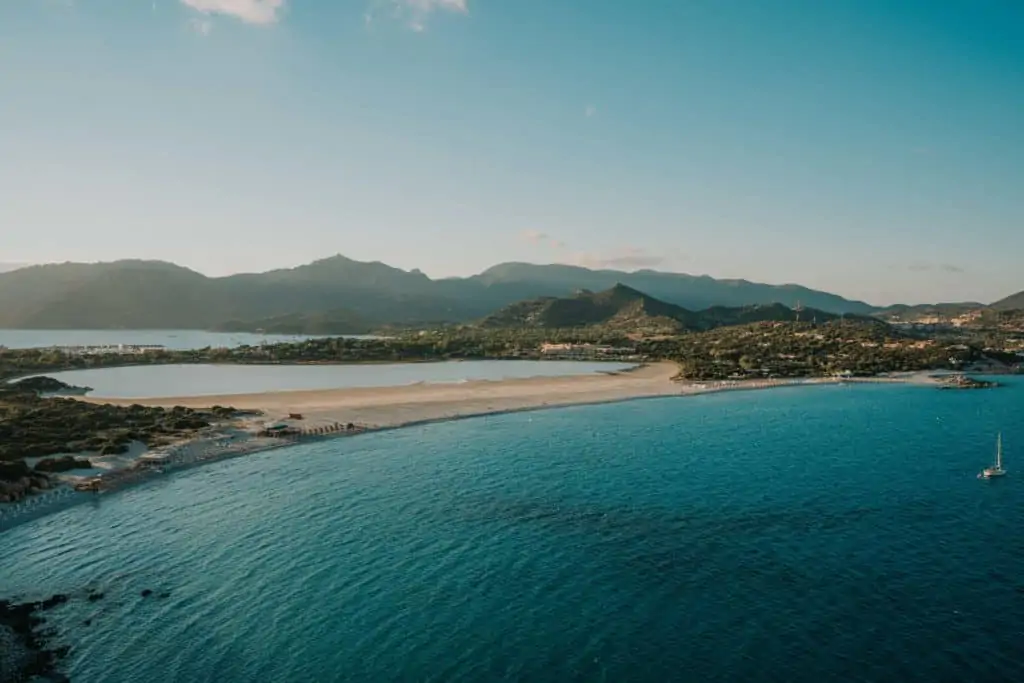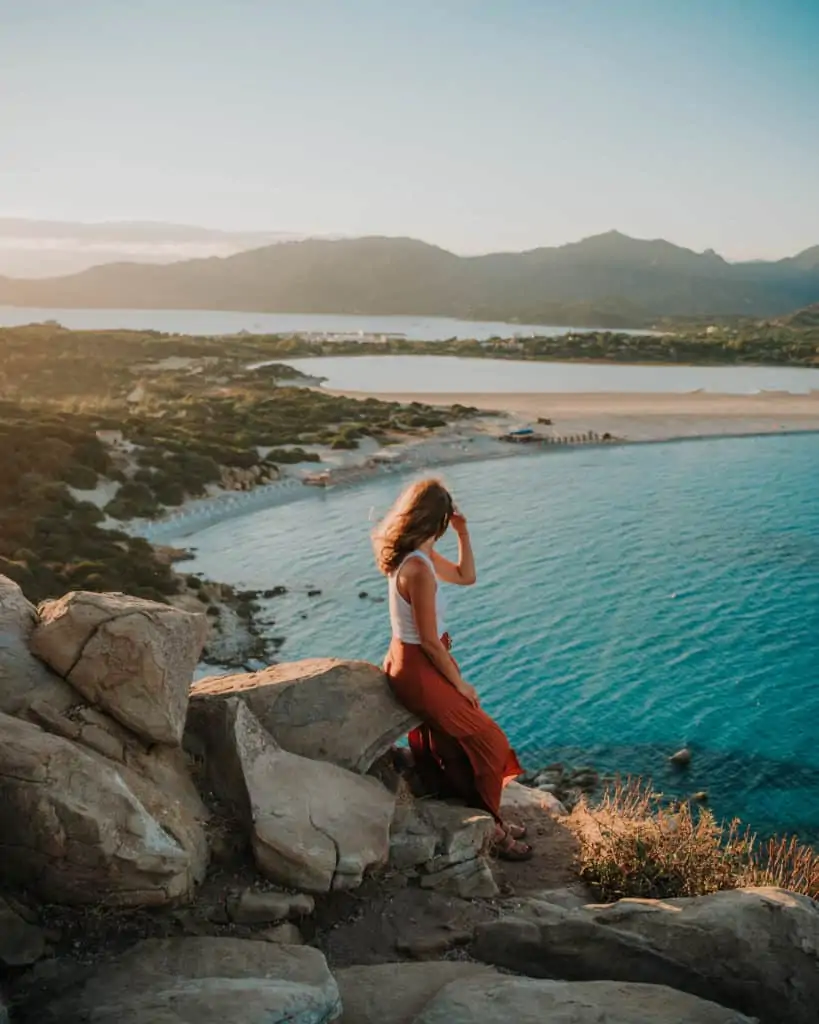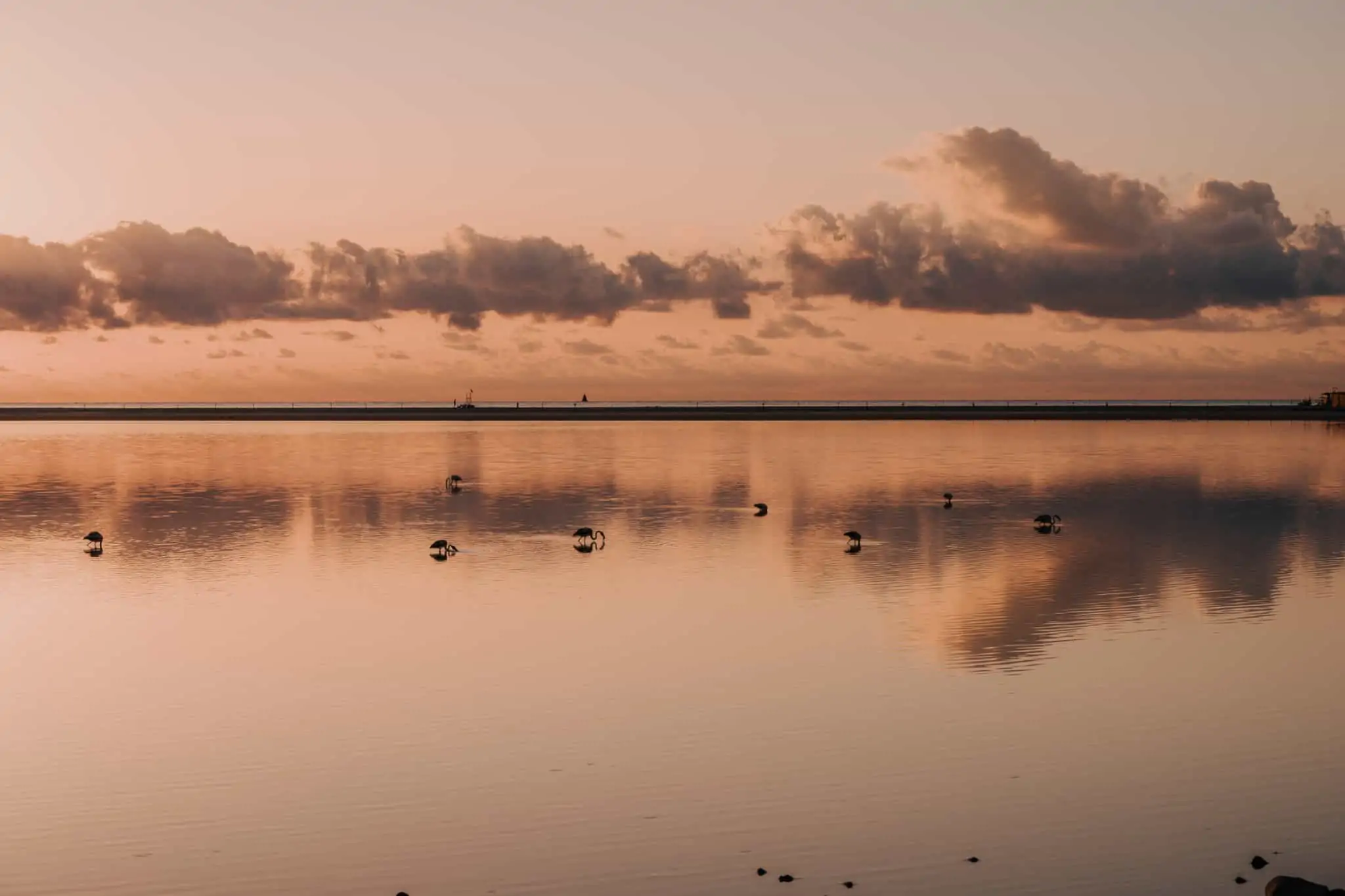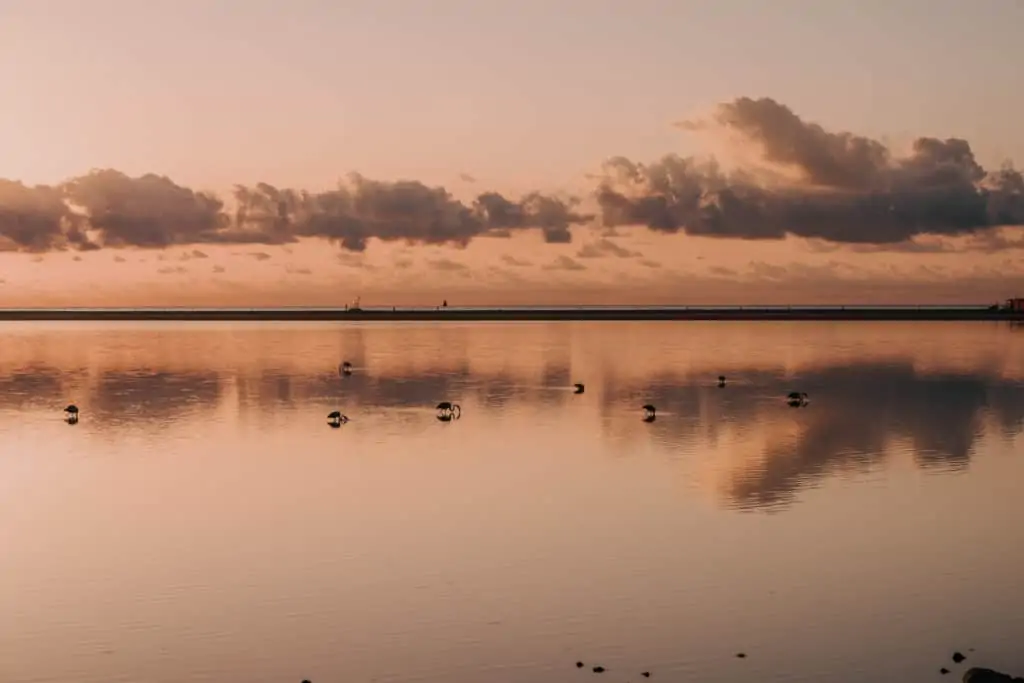 Capo Caccia - most amazing sunset spot and Grotta delle brocche rotte
Definitely our favourite spot and views of the whole island. Just a short, 20-minute drive from the city of Alghero lays Capo Caccia aka the true gem. It is famous for a beautiful viewpoint that is just perfect to watch the sun go down. It is also a home to the famous Neptune Grotto. You can enter the cave between 9am and 6pm during summer and the entry fee is 14 euro for adults and 10 euro for kids and seniors.
However, we found a different (and free) reason to love this spot! Right next to the free parking area you will find the head of the trail that will take you up to the surprising Grotta delle brocche rotte. It turned out to be our favourite place on the island with the most breathtaking views we had seen on Sardinia! We were surprised it was not the top of every 'what to see on Sardinia' list! Maybe because this was our very last evening and we had already been feeling quite sentimental? The view truly is spectacular though and either way more than worth a 30-minute climb. 
As we have mentioned right at the beginning – Capo Caccia is THE place to catch the sunset on Sardinia. This is why it gets very crowded during golden hour, especially at the cliffs right next to the parking lot. Our solution? Find a quiet spot along the Brocche Rotte cave trail and enjoy the sunset without other people around. Moreover, it gives you a much more beautiful angle of the glowing cliffs.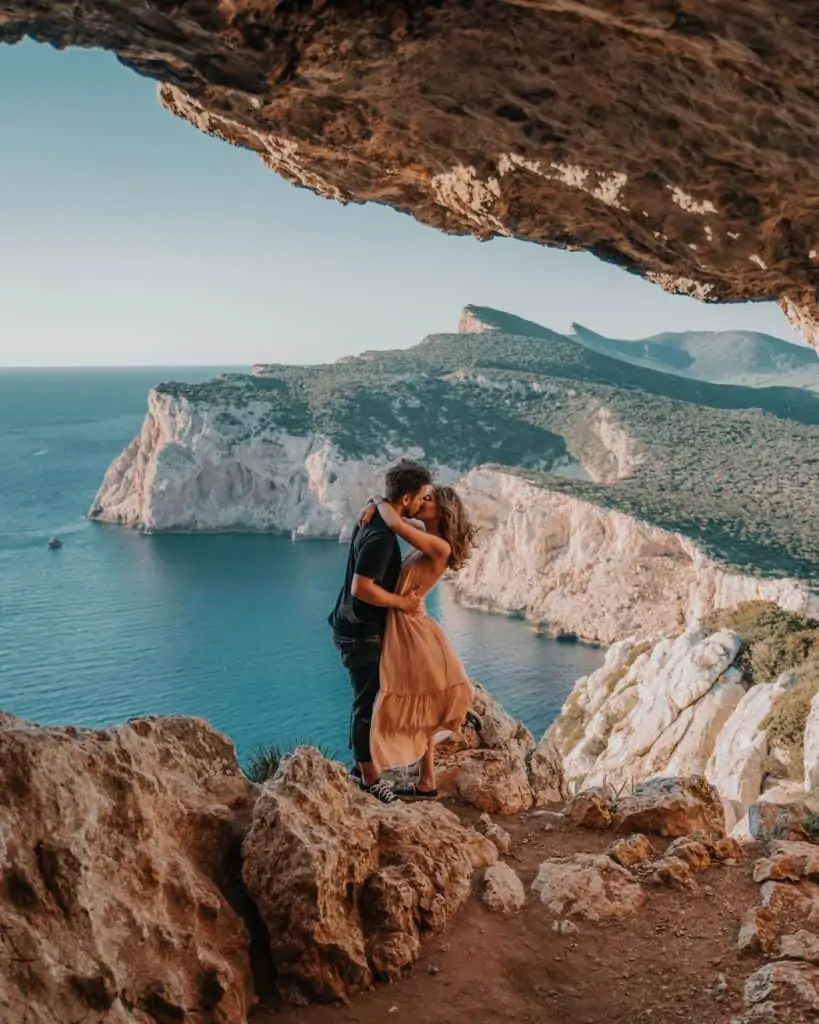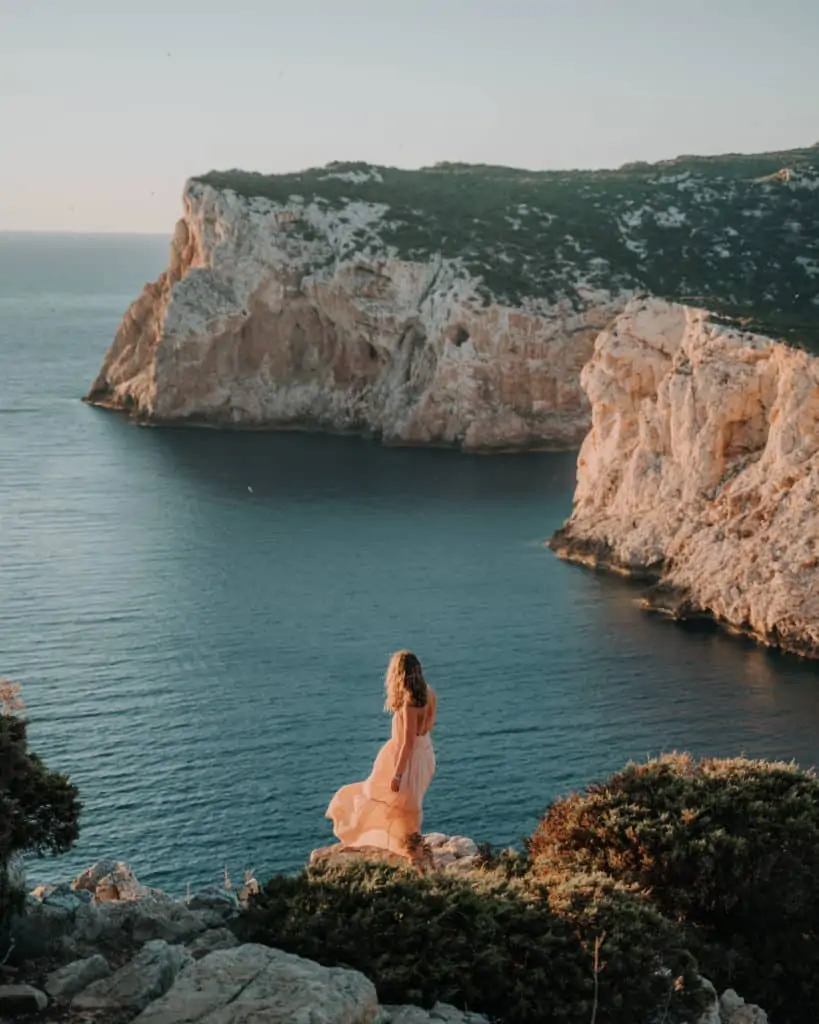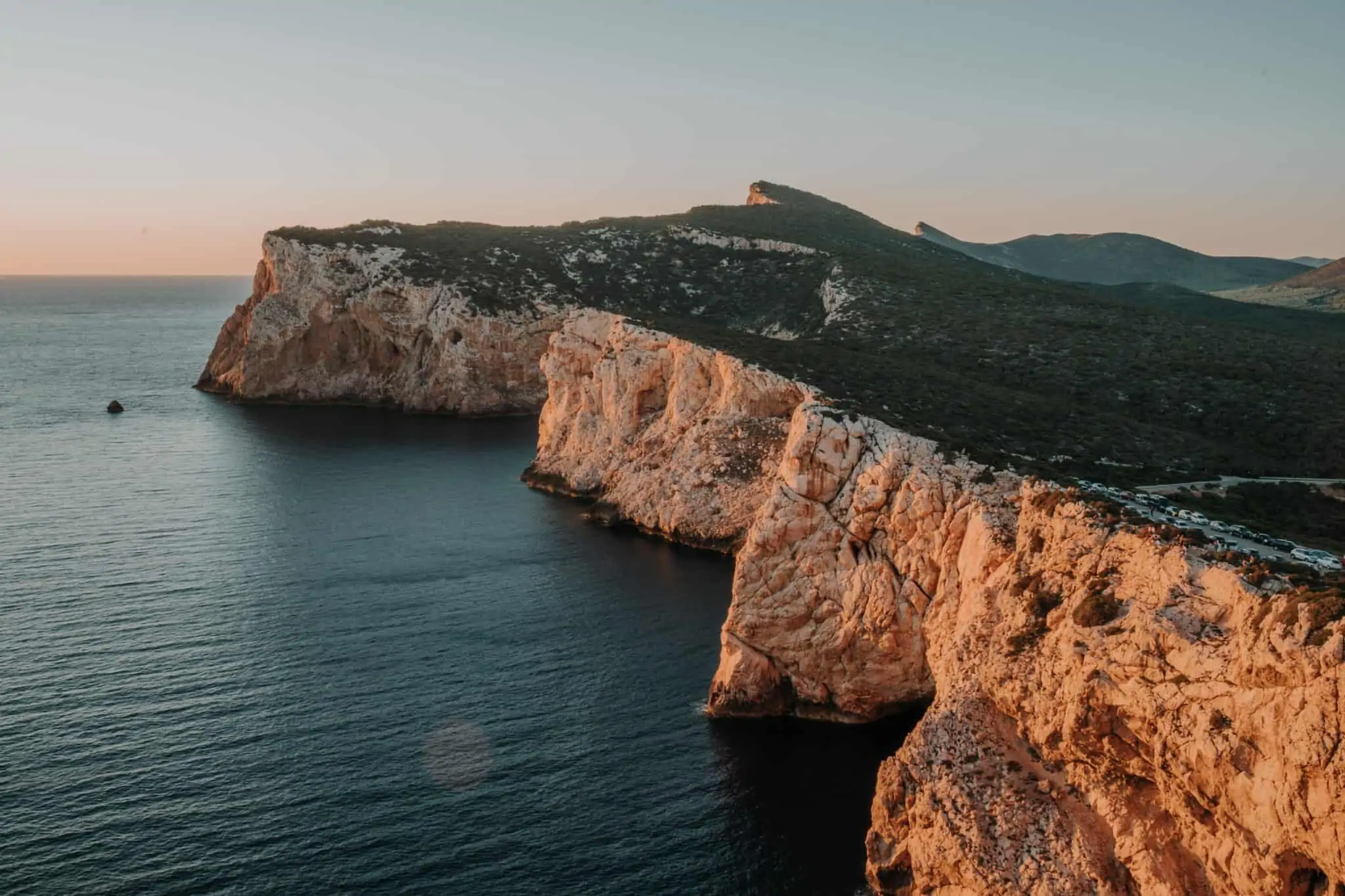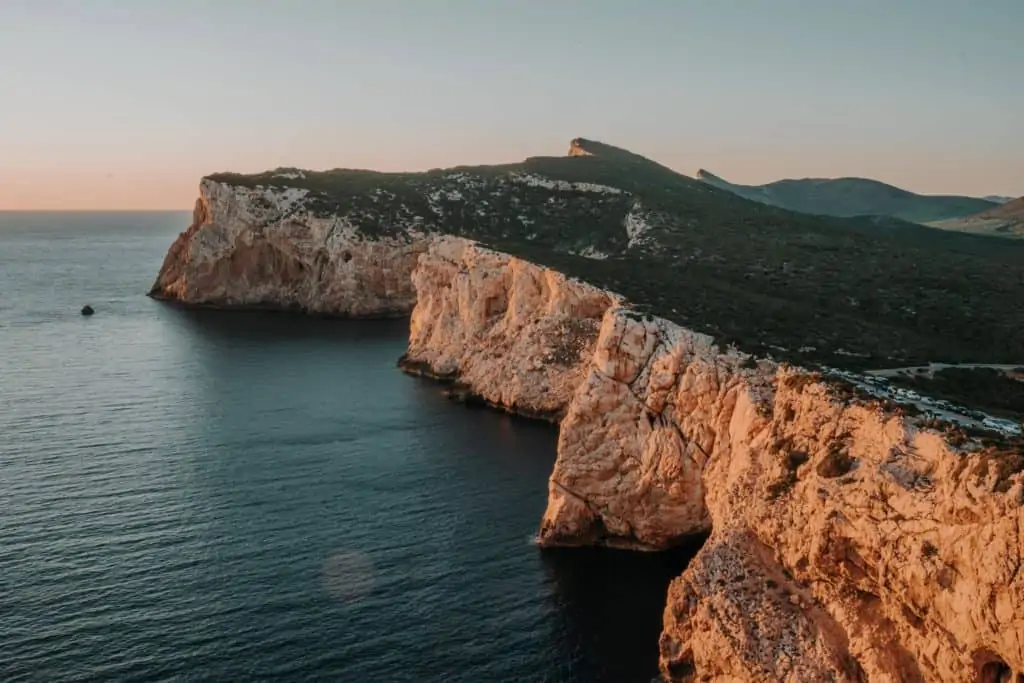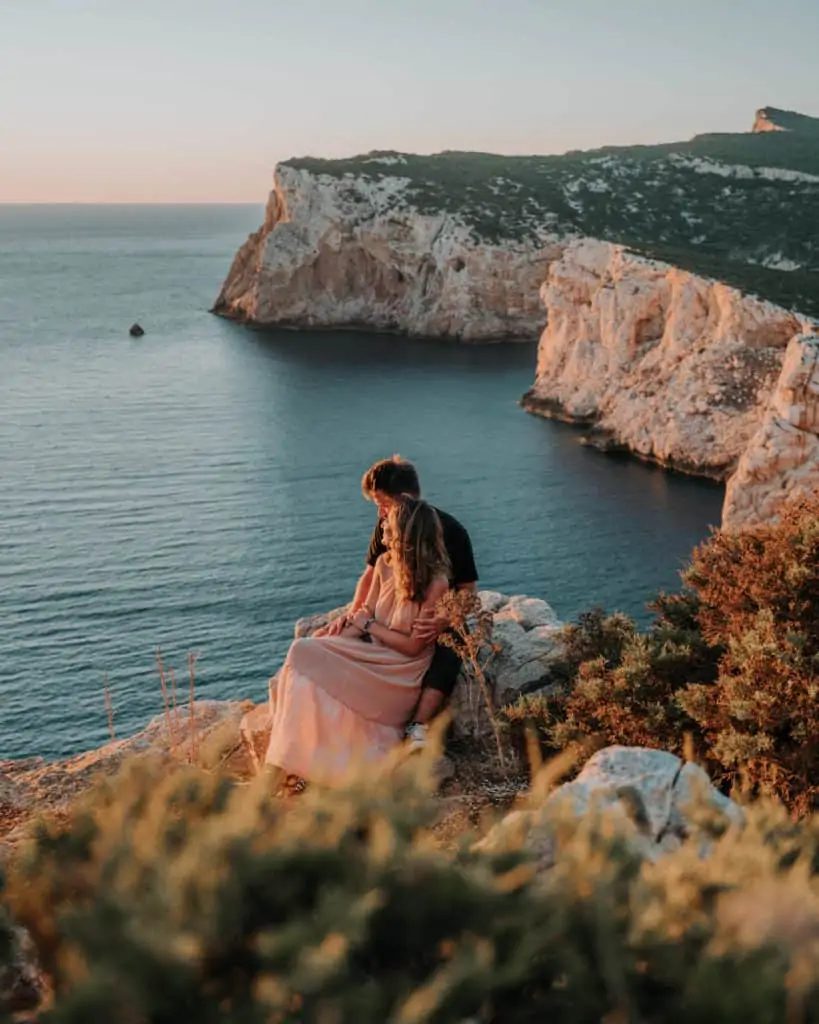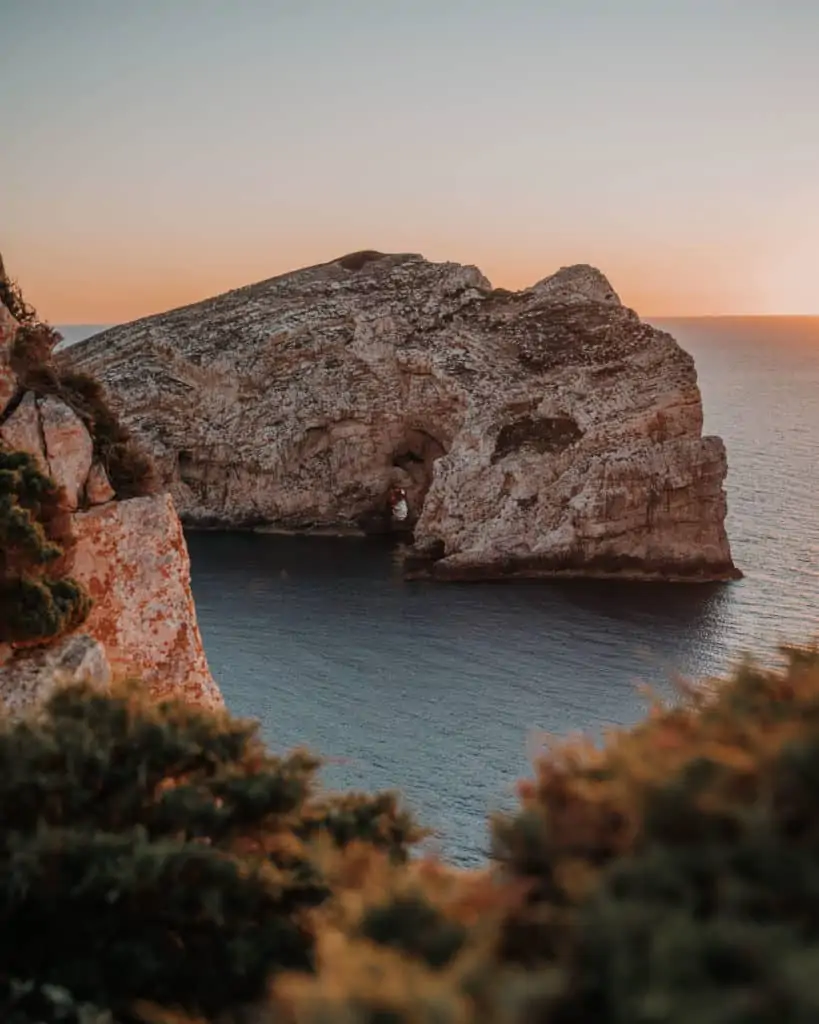 Punto Panoramico in La Pelosa
On the north-west side of Sardinia you will find one of the most beautiful beaches of whole Italy (or so we've heard). We mean La Pelosa beach that is visited by hundreds of tourists every day. This year the situation has been quite different and the beach had to be limited due to covid-19. A maximum of 1500 people per day can enter and you now need to pay to get your reservation. You can do it through this website. Unfortunately we didn't get to visit the beach itself, but we drove there anyway and visited Punto Panoramico. With the beautiful view of the cliffs and the coast it can be a nice sunset spot!
There are two (at least) lighthouses in Capo Ferro. One of them is fenced out and located right by the road next to the small parking space. The other one – the more interesting one, let's face it – is located at the edge of the cliff and hidden so you can't see it from the road. To get there you need to take a 10-minute grassy walk starting right here 41°09'12.7″N 9°31'26.1″E. At the end you will see a white and red little lighthouse battling the crashing waves 24/7! Careful on windy days cause it really tries to blow your head off. It is a beautiful place to see the sunset when the orange glow hits the lighthouse. Or a sunrise when the sun rises right behind it.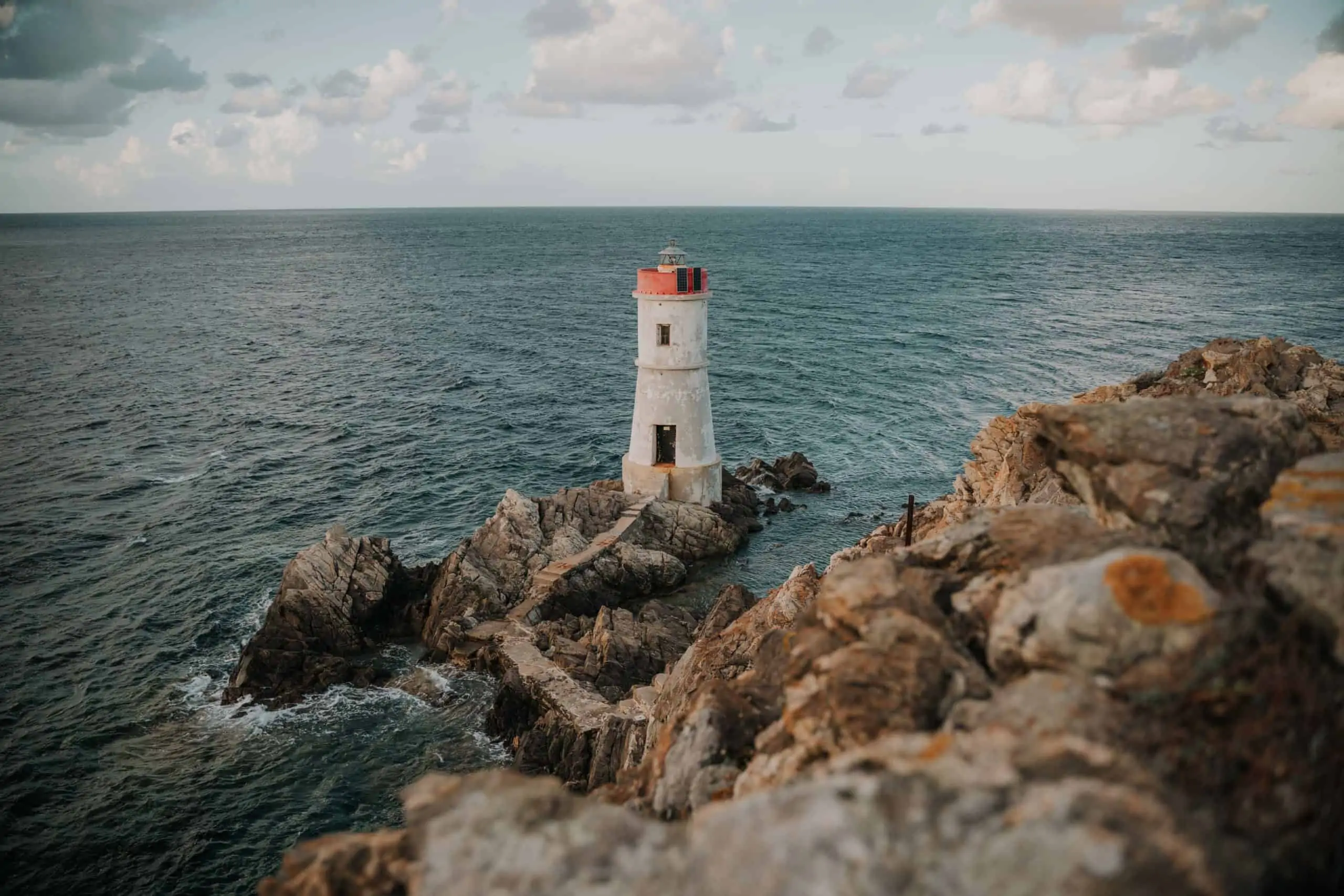 Capo Testa is the northernmost point of Sardinia. We just had a quick stopover there – sadly, cause this place has so much to offer! Definitely bring your walking shoes (that are not flipflops) and walk one of the several trails the cape offers. The whole area is filled with amazing rock formations that have been carved by salt water and wind for ages. Google Valle della Luna to get the gist! From Capo Testa you can also see the impressive, mountainous coast of Corsica – our next year dream!
Primmaopoimiponguappostu bar (for real) on Punto Panoramico Costa Smeralda. A cool spot for a drink with a view!
This bar with a crazy-ass long name is located right off the SP94 road. It sits right on top of a cliff with totally epic views of the Sardinian coast and its many little islets. When you see the line of cars parked along the road and groups of people enjoying their wine you know you are in the right place. We made it there just in time for moonrise and it has been an unforgettable experience. It is also perfectly located for sunrise – just sayin'!
Dorgali to Baunei - road SS125
Let us say that – these were not the views we had expected to see on Sardinia! We kinda knew there would be beautiful beaches and maybe a bit of mountain views but we never thought we would have our most epic drive there! The road along the east coast of Sardinia literally takes your breath away with sheer drops on one side of it. If your stomach is sensitive to winding roads we really recommend you to take a motion sickness pill for that ride. SS125 goes from the city of Dorgali to the very south of the island and we really advise you to take it – even if it is just for the views.
Spectacular Sardinian beaches
Okay, the time has come to stop teasing you – of course you can't come to Sardinia and not have a swim in its crystal clear turquoise waters! Sardinia is full of hidden beaches and secluded bays perfect for swimming and they probably are the main reason you have decided to come here. And we can't blame you for that! Not being heavy beach lovers ourselves, even we spent most of our vacation at the beach! We managed to see over a dozen of them and we have chosen the most beautiful ones – check out our blogpost with the prettiest beaches of Sardinia! Below a little sneak peek.
Where to have delicious pizza on Sardinia?
You already know what to see on Sardinia so we have a little bonus for you for making it this far. Two places where you can have a piece of reasonably priced pizza that will make your taste buds happy. After all, no italian roadtrip can be full without it!
First – Zio Pedrillo in Cala Gonone. This place not only serves delicious pizza but also some good pasta. It fills up quickly so be sure to be there right when it opens after few hours of siesta. Try their seasonal pizza with cherry tomatoes and fresh burrata. We paid 18 euro for two pizzas and a small beer.
Our follower recommended this place to us and we are happy to pass it further! Punto Pizzeria doesn't look like much but it is not about interior design in this case. The pizza there is delicious and cheap – the prices start at 4 euro for a simple one. It is open only for a few hours a day (between 7 and 11:30 pm) and has a long menu.
We didn't have much time to plan our Sardinia itinerary because with covid and all we weren't quite sure if we were going up until the very last minute. We had some places picked out but mostly we just made it up as we went. And the island completely blew us away! We recommend you to go, especially off-season when it is still warm and sunny but the island isn't that crowded (you can read about other amazing off-season destinations here)! Have an amazing trip.