You have a free weekend or a few days off work that you need to use? You need a break from your routine? You don't really know where to go but some nice photo ops and loads of pizza sound good to you? Well, look no more and book the tickets to Italy. This time we a have an interesting combo for you – an ultimate Tuscany and Cinque Terre itinerary for ambitious travellers. Good food and amazing weather for a better part of the year make it an amazing travel destination. We did that last summer quite spontenaously and even though we came back a bit tired – we loved it. If you only have few days off, exactly like we did, you probably want to make the most of them. So get out of the plane right into your rental car and buckle up – the most intensive four days of your travel life begin now! You will have some sleepless hours, some misty sunrises, some golden sunsets and some (okay, not some) pizza. Ready?!
When is the best time to visit Tuscany and Cinque Terre?
As you will see from our Tuscany and Cinque Terre itinerary – both places are utterly gorgeous. What's more, they are beautiful in every season as each season offers something unique. In spring and early summer Tuscany is covered with colourful flowers and the days have plenty of sunlight to do lots of sightseeing. The weather is also more than suitable for hiking in Cinque Terre. Summer is high season in Italy so both Tuscany and Cinque Terre are bustling with life – it is hot, it is colourful and the water is perfect for swimmin. Crowds are surely a downside though, and so are high temperatures. During autumn Tuscany is golden and filled with warm colours. In our opinion both Tuscany and Cinque Terre are perfect for off-season travel which means spring and early autumn would be the best seasons to visit. If you want to see other inspirations for off-season travel destinations check out  this blogpost we have prepared for you.
How to get there? Where to start your Tuscany and Cinque Terre itinerary?
The flights around Europe are usually dirt cheap – especially to Bergamo airport (also known as our favourite airport in Europe where we are at least twice year because it offers endless amount of roadtrip possibilities). You can also try scoring some cheap flight tickets into either Piza or Florence.
How to get around Tuscany and Cinque Terre?
The best way of getting around would be to rent a car. I know we might sound boring with this but our Tuscany and Cinque Terre itinerary is so intensive and so busy that we can't imagine it any other way. Italy has some excellent highways but they are also quite expensive – for example we paid almost 30 euro to go from Bergamo to La Spezia. There is also a free option of course but it is not very time-efficient. Along the italian highways there are quite a few rest stops and gas stations where you can have a nice cup of coffee and even a warm shower. We also car-camped there a few times and had zero problems as these are the places where truck drivers usually stay overnight.
Tuscany and Cinque Terre itinerary - how to plan a perfect trip
The most perfect beginning to your Tuscany and Cinque Terre itinerary – sunset seen from Piazzale Michelangelo with mindblowing views over Florence. If you manage to get to the city earlier we really recommend you to take a quick stroll around Florence. Leave your car on a parking next to the Piazzale (1 euro for the first hour and 2 euro for any other) and go see Piazza del Duomo where one of the scenes from Money Heist has been shot. The cathedral made a huge impression on both of us with its sheer magnitude and intricate details. After that take a walk along the river and see Ponto Vecchio. It is a medieval bridge with little thrift, souvenir and jewelery shops located on it.
Head back to Piazzale Michelangelo before golden hour, preferrably with a bottle of wine, to see show. This place can get extremely crowded, both with tourists and with locals, but it is totally possible to find a quiet vantage point for yourself. We still have goosebumbs thinking back to our evening there. Warm, summer air, city rooftops glowing with orange light and a street artist playing beautiful music in the background. One of these moments that stay with you forever.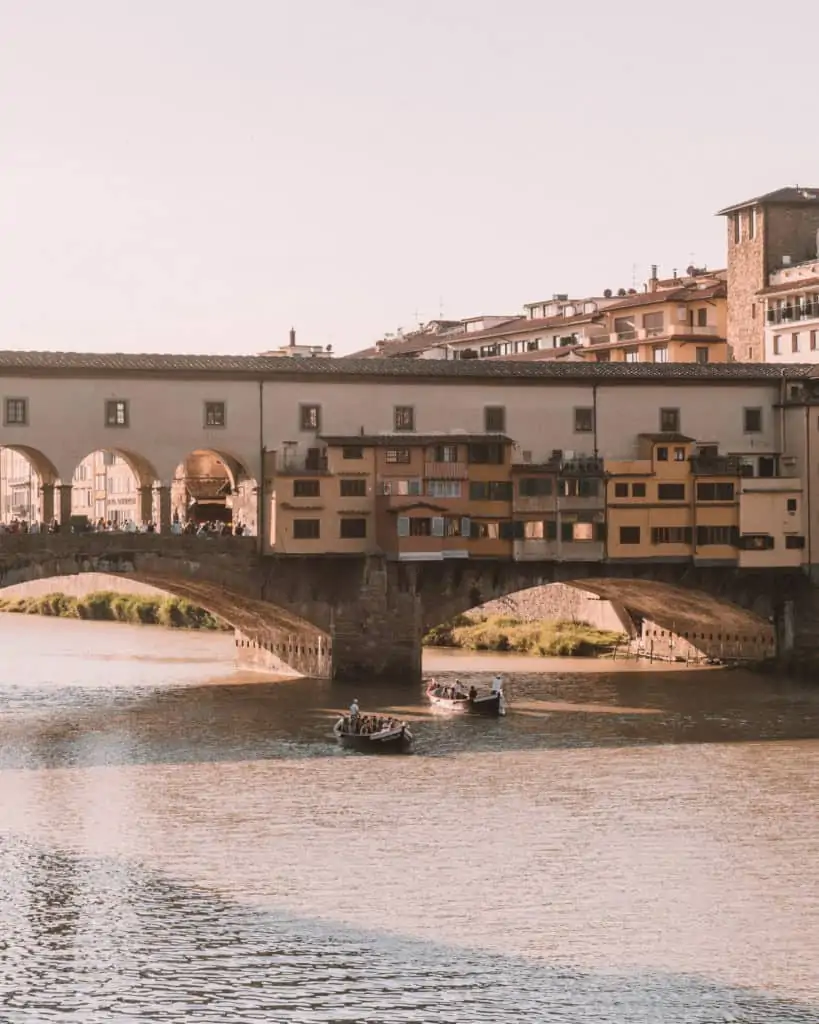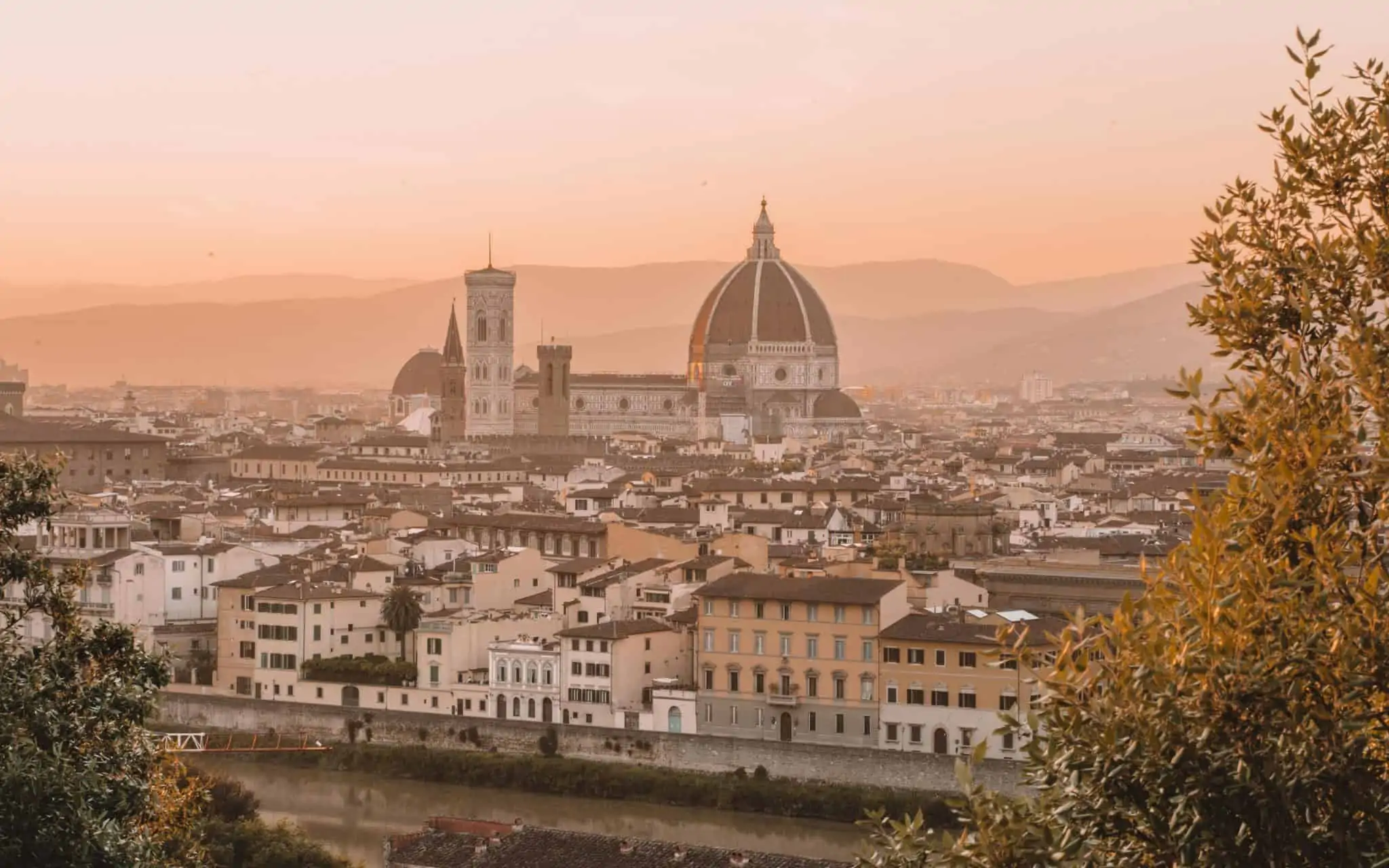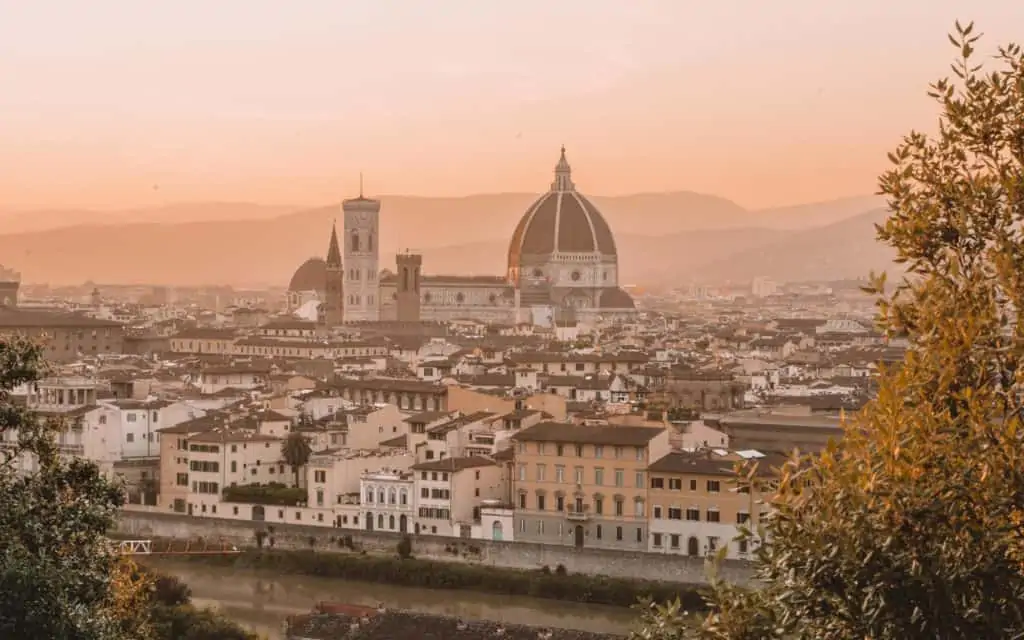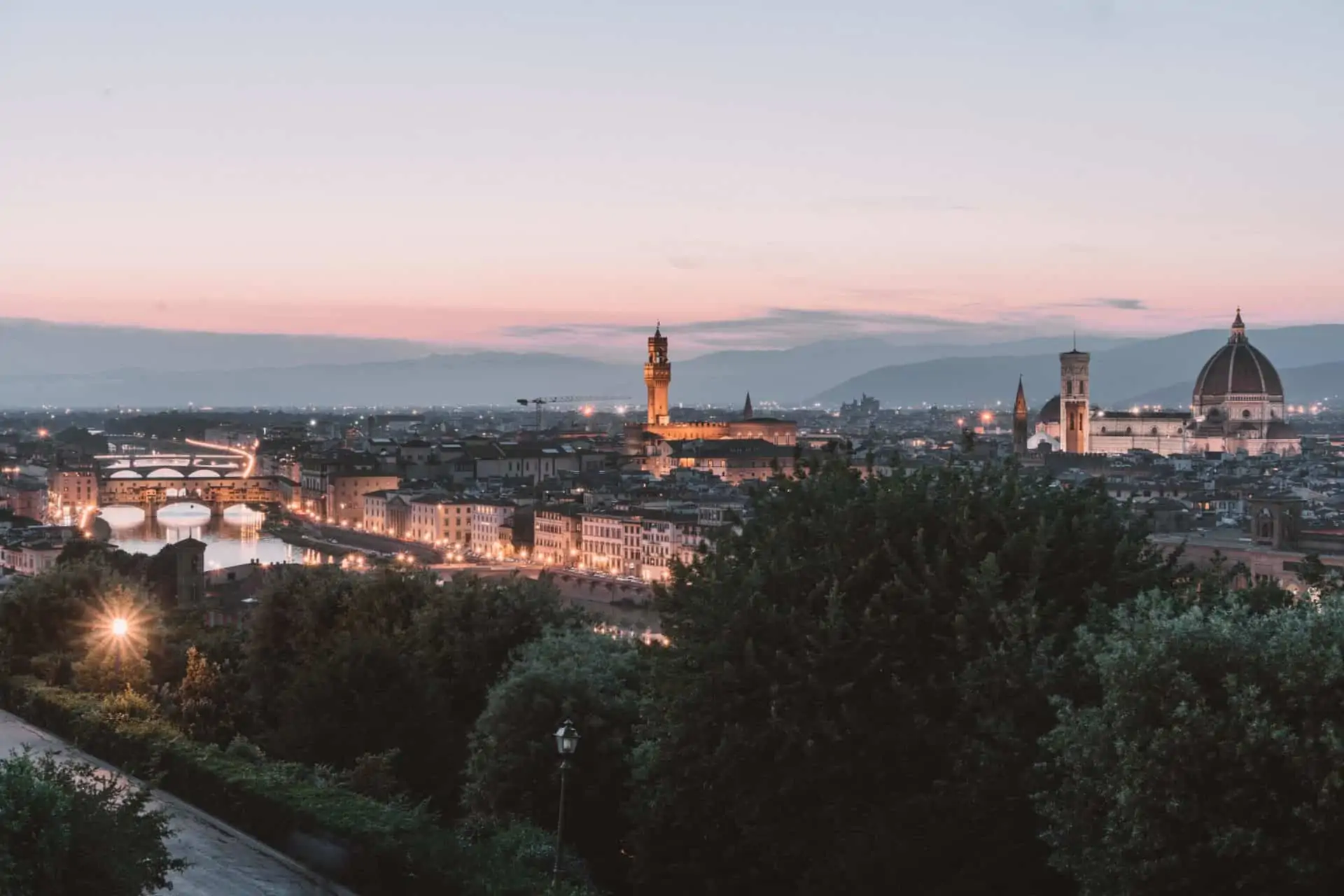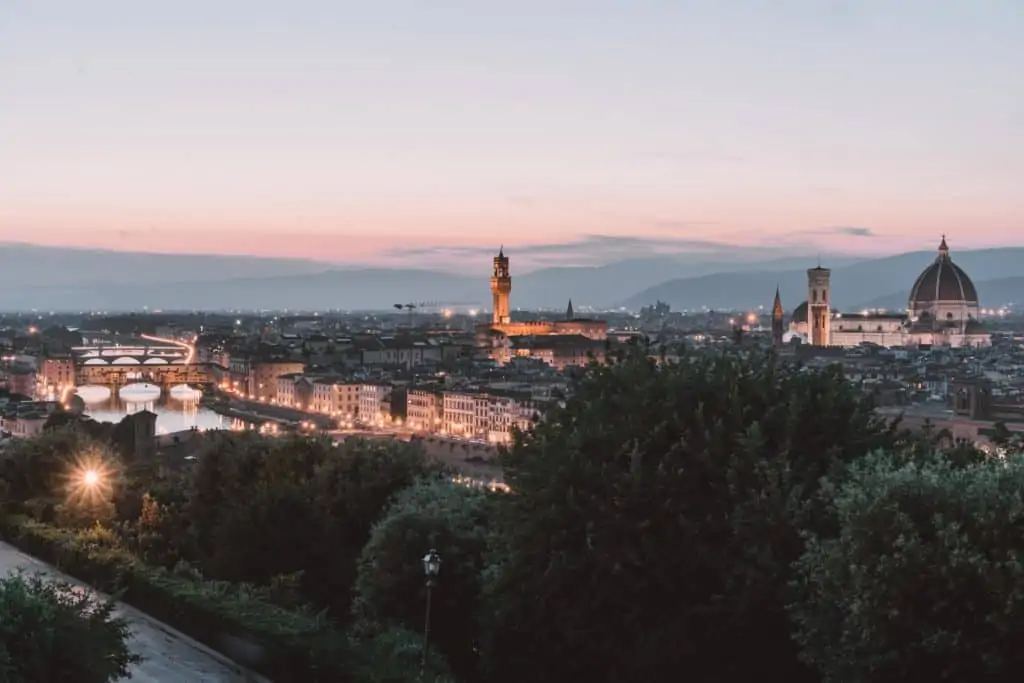 Sunrise over Tuscany hills
Sunset is over, so let's go back to the car! Yes, that's the beauty of crazy intensive trips – lots of driving involved. We recommend you to head to Asciano. We spent the night in a car on a parking lot but you obviously don't have to – there is plenty of other options in the area. In the morning we just drove out of the town and with no specific spot in mind and ventured in search of misty sunrise and golden rays of light over Tuscany hills. We thought we succeeded in finding a decent location but after a while got chased by a family of big dogs. This is why we are not sharing the specific coordinates with you guys – we probably shouldn't have been there! But no worries – the whole area is so beautiful that you can just stop wherever and still enjoy a nice view.
Best sunset spot in Tuscany
We have two options for you here and you can't go wrong with either of them! They will both look amazing and will both be crowded, sadly. First spot is called The Cypresses Point and you might now this place from a heartbreaking scene of Maximus heading back home (cue Gladiator music). The spot lays on the foot of the city of Pienza (worth visiting!), next to the Agroturismo Terrapille. Second spot is probably the most famous cypress road in Tuscany. It is located next to Agroturismo Baccoleno and it is a photography hot spot! This unfortunately means that the tripod mafia is lining up there hours before sunset ready to yell at you if you get in their shot. Even by accident. Bring lots of patience and lots of wine. And maybe a delicious pizza from Pizzeria Fantasia in Asciano to make your evening complete.
Sunrise in Terme di Saturnia
Now it is time for a place that will make every drone owner extremely happy and a gem in our Tuscany and Cinque Terre itinerary. After a splendid Tuscany sunset you need to drive to Saturnia (I know, lots of driving again but it will be worth it!). Sleep as close to the Terme di Saturnia as possible (parking lot maybe?) cause you need to be there sunrise time sharp! This place gets super crowded super fast so hurry up. Terme di Saturnia is a pretty spectacular place and to our surprise – it is free to use. If you need a shower after a smelly dip there is a camping nearby – Area Sosta Camper – Alveare Del Pinzi – Manciano. They have a 1-euro warm shower over there!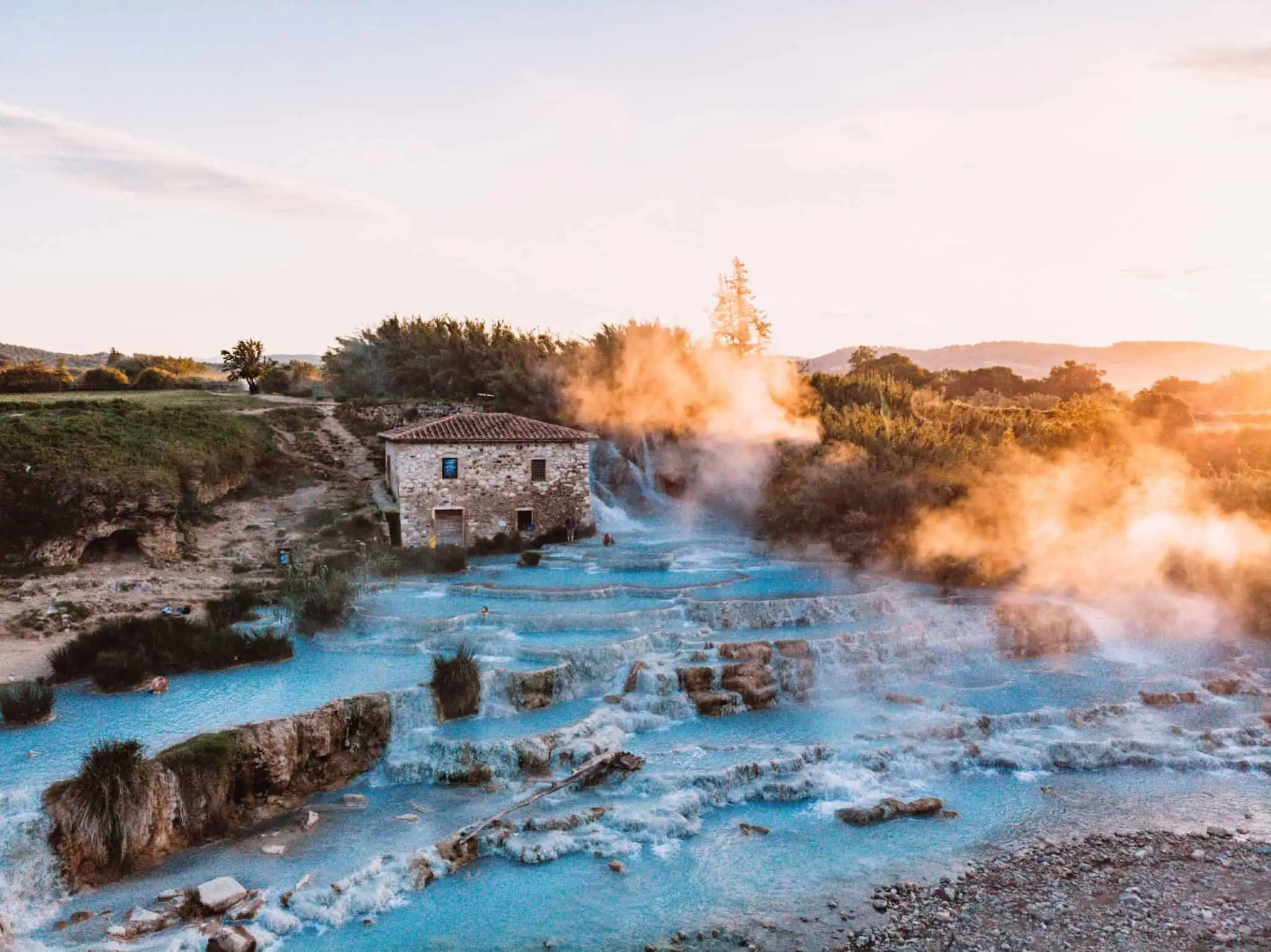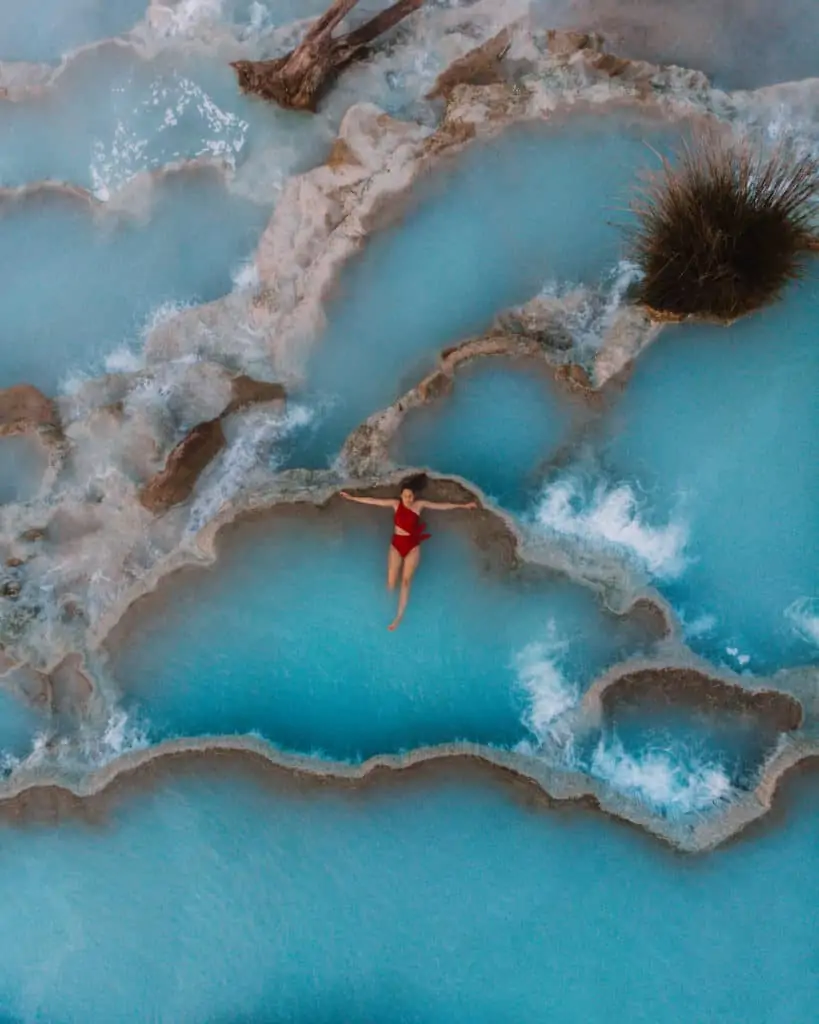 Well, yes, you see it right! You were in Tuscany and now you are in Cinque Terre, surprise. This is the place where you will spend the next two days (unless you have more time, then even better!). Let's start with beautiful Riomaggiore. You can't drive to these coastal towns so the only way to get there is to either take a train from La Spezia (look for cheap accomodation there) or leave your car on a parking lot above the cities – Parking Manarola-Riomaggiore for example. Of course you need to pay for it, but it will save you some valuable time! From your car you will have to walk down around 1 km to get to the town. You still have some time before your sunset? Grab a pizza from Kepril and an aperol spritz and head to the docks where you can watch the city glow with golden light with other people. Or if you want a quiet spot head here 44.098386, 9.738925 – the views are not as spectacular but there will probably be no one else around.
Early morning in Manarola
You won't witness an actual sunrise in Cinque Terre but that doesn't change the fact that early morning is the best time to wander around these towns, especially in the summer. Not only will you avoid the crowds but also the high temperatures. You can actually squeeze in lots of activities into one long summer day in Cinque Terre – take one of the hikes, stuff your tummy with gelato and have a swim in turquoise waters. At the end of the day there is a beautiful sunset waiting for you.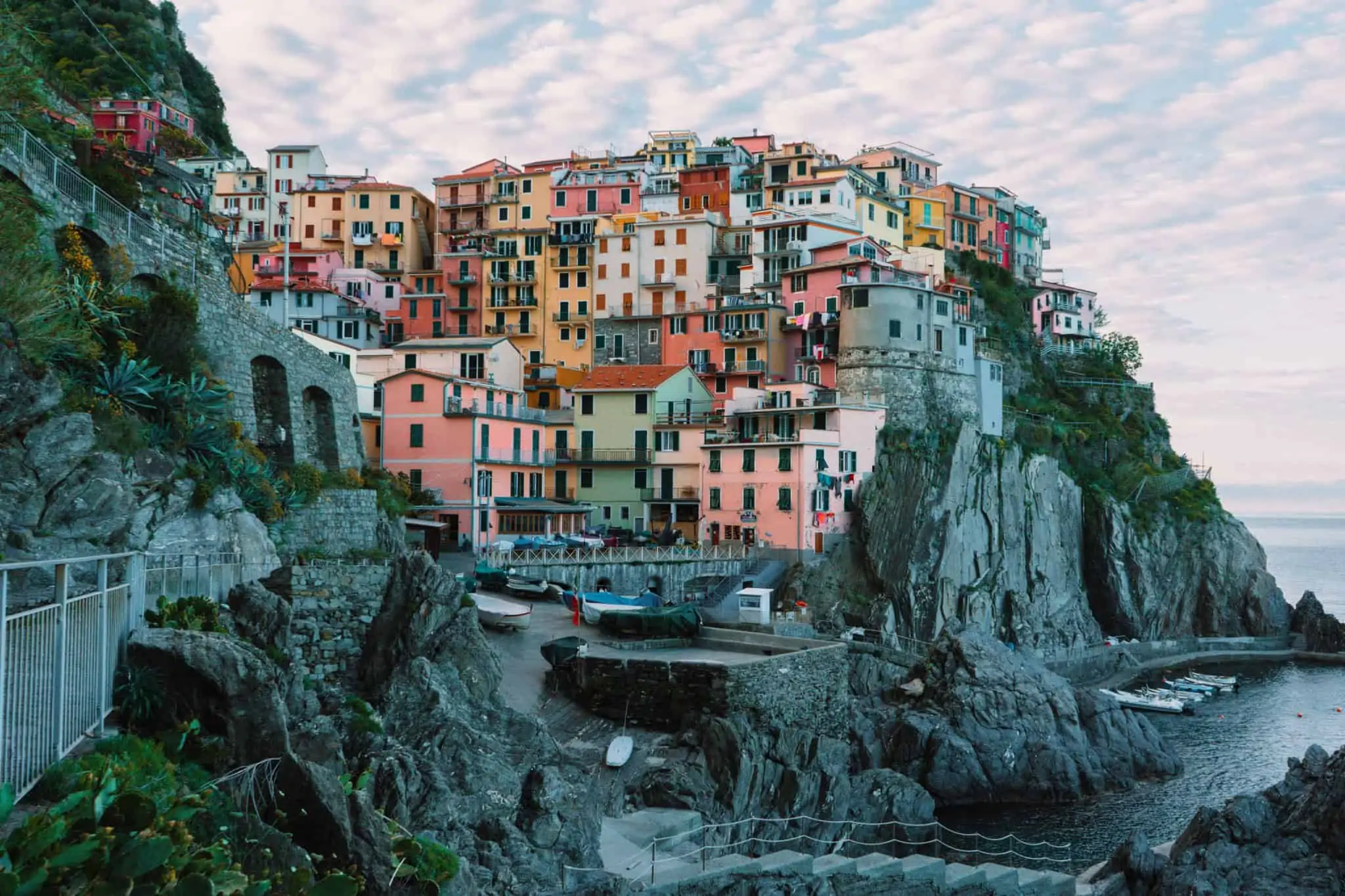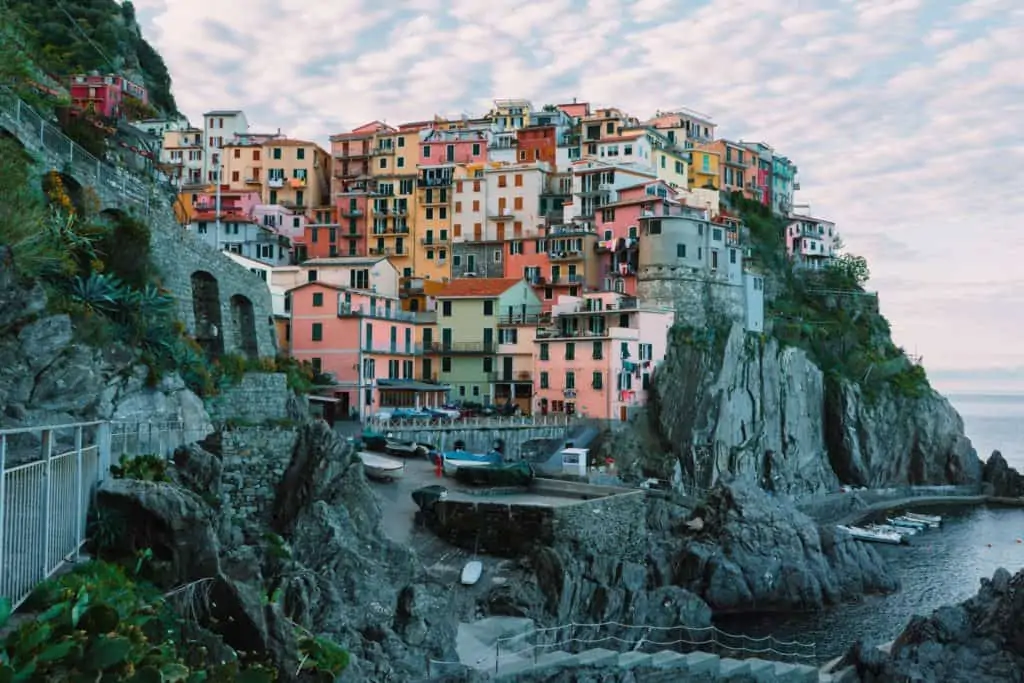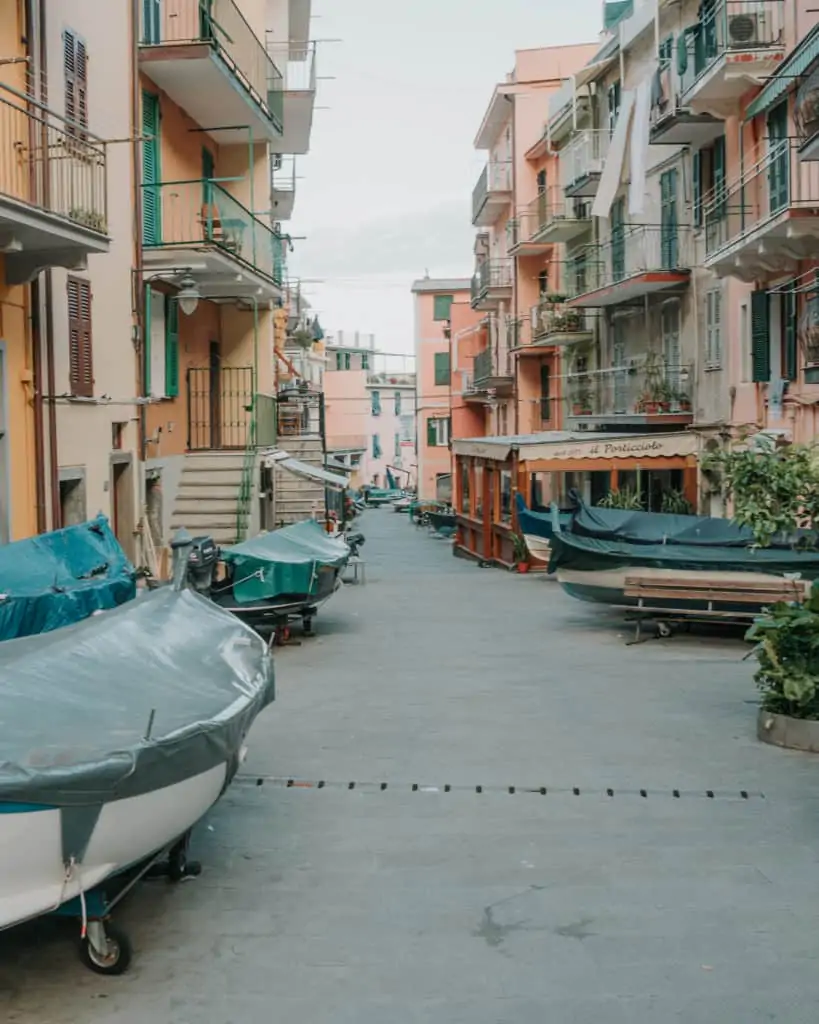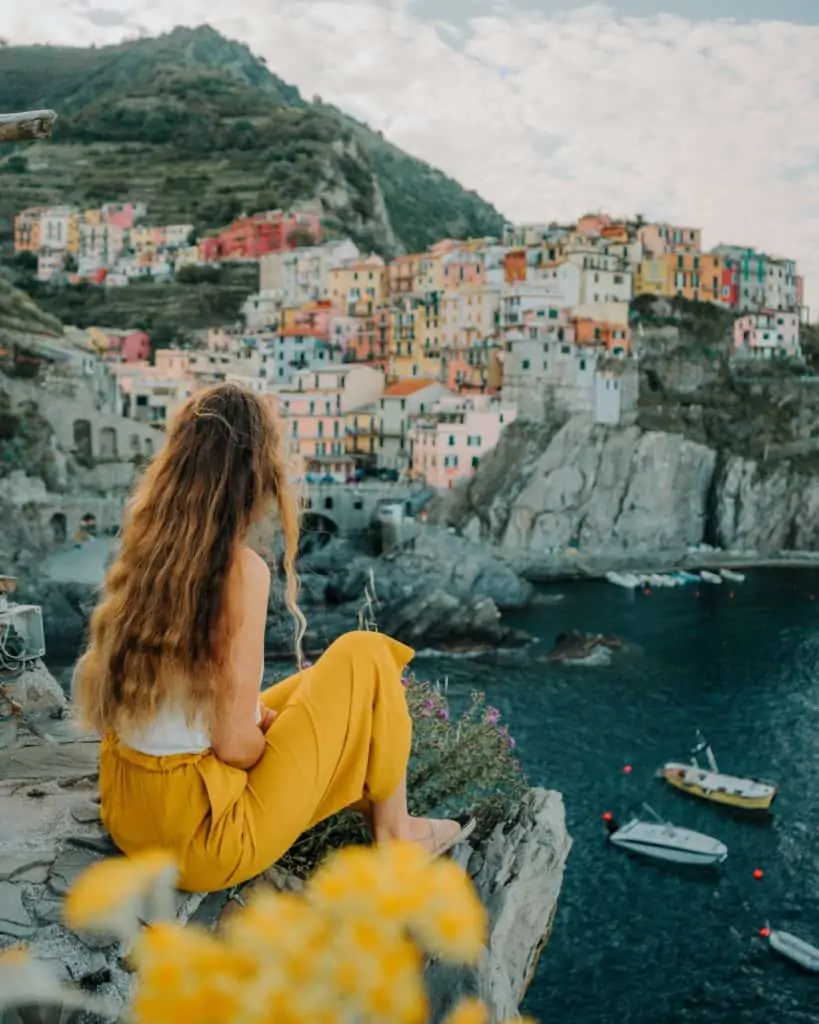 Last wine, last pizza and last sunset – this time over the pretty town of Vernazza. It is wonderfully situated and wonderfully colourful – well, duh, you are in Cinque Terre. There are two spots that you can witness the sunset from. If you are quick, you can hit both of them and get some decent light. In the afternoon head to the viewpoint that's right at the start of the Vernazza-Monterosso trail. It is perfect to shoot golden hour from as you get a nice warm glow on the houses. After that go see the actual sunset from a viewpoint located right at the beginning of the hike between Corniglia and Vernazza. They both offer beautiful, although completely different perspectives.
What to do in between? Other places to add to your Tuscany and Cinque Terre itinerary
Siena is a beautifully kept town with vintage vibes and a unique main square. Why unique? Because it is shaped like a shell! You can see it well from an 80-meter Torre del Mangia towering above Siena. This italian town is a Tuscany gem, definitely worth at least a stroll and a scoop of gelato.
This is the only spot on this list that we haven't visited ourselves – simply because we had no idea it existed. Bagni San Filippo are natural thermal pools less popular than Terme di Saturnia but equally amazing. This spot is at the top of our list of places we want to visit as soon as we are back in Tuscany.
Cappella de Vitaleta is a cute, XVI-century chapel surrouded by cypress trees. It is located a little bit off the beaten path, few kilometers from the main road, close to San Quirico d'Orcia. In order to get there you need to drive off the SP18 road and take a dirt road. Park next to the gate and walk the last part of the way. Be sure to take all of your belongins with you and don't leave anything valueable in your car – we arrived there just minutes after a break in into one of the cars. This chapel is also a beautiful place to catch the sunset if you have a spare evening in your Tuscany and Cinque Terre itinerary.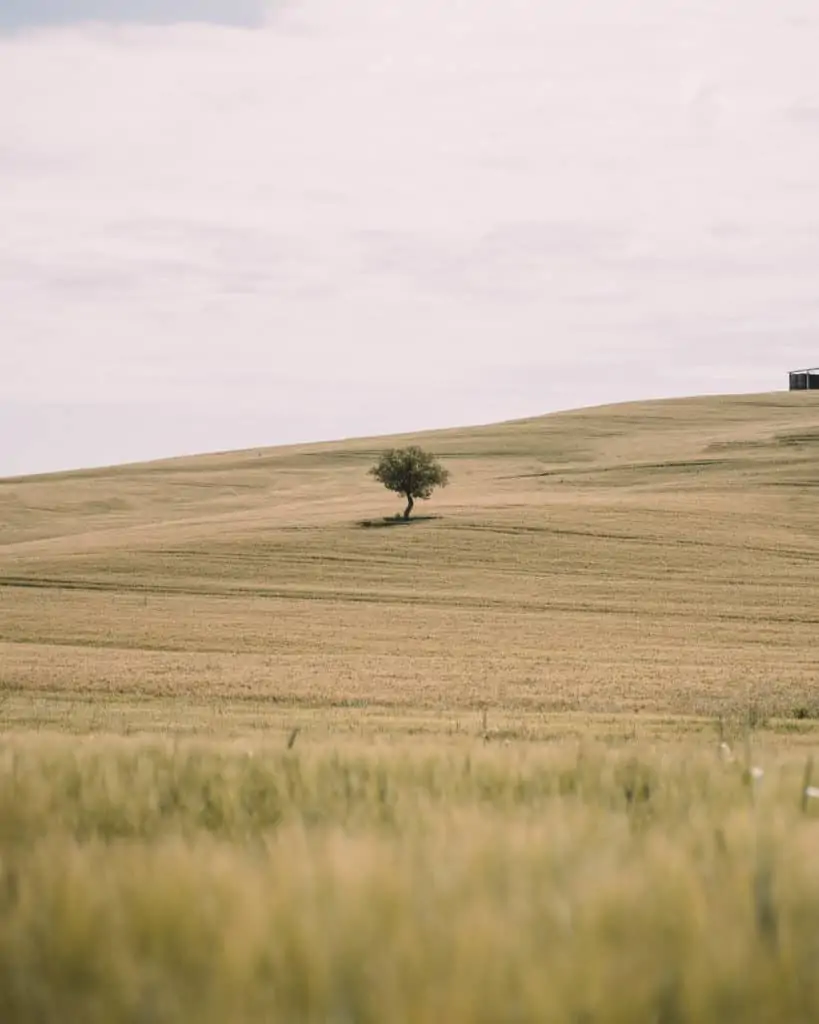 And that's a wrap on our Tuscany and Cinque Terre itinerary. Obviously these places are not everything that Tuscany and Liguria have to offer – treat this blogpost purely as an inspiration to discover these parts of Italy. To be honest you could spend weeks there, sipping wine, stuffing yourself with delicious italian food and enjoying the relaxed atmosphere. And this probably would still not be enough. Unfortunately we only had four days to spend there and that's the downside of short, intensive trips – you need to prioritize. For us these little getaways are a way to break our work routine and check if the place is worth going back for longer one day. We spent our last sunrise on a gas station near Bergamo. And then off to the plane and straight to work! We hope we have given you an inspiration to plan your own trip. Have fun!