If you are a typical beach bum, Sardinia will definitely cater to your needs. This island is just made for people that enjoy a little R&R at the beach. Of course this isn't the only type of travellers that will cherish their time there – check out our blogpost with places to visit on Sardinia to see for yourself . During our week-long holiday that started at the airport in Alghero we managed to see over a dozen of different beaches. We have chosen few of our favourite ones that we can recommend to you without a second thought! Keep reading to see if Sardinia should really be called the Carribean of Europe. Spoiler alert – on this island you need to work a bit to get to the most beautiful places. But a little extra sweat before a lazy beach day never killed nobody so see our guide to the best beaches on Sardinia!
Table of Contents: Best Beaches on Sardinia
First beach to make an impression on us was Spiaggia Li Cossi. This beach is located along the Costa Paradiso over 100km from Alghero. To get to the bay you need to drive through the little town and at the end you will find a small parking lot. We made it there an hour before sunset so it was empty but we can imagine it filling up quickly in the morning.
To get to the Spiaggie Li Cossi you need to take a little 20-minute hike. It is well secured and very easy. At the end of it you will come across a small but utterly beautiful bay with a sandy beach. It is surrounded by orange cliffs and offers some really clear, turquoise waters. It is perfectly located for watching the sun go down. For those who prefer walking to just lying on the beach we recommend to take this hike a little further to another secluded spot – Cala Tinnari. The area is said to be great for admiring marine life so don't forget your snorkelling gear! 
Spiaggia Poltu Di Li Cogghj / Spiaggia Del Principe
This was the second beach that we really loved and we decided it was worth it to call it one of the best beaches on Sardinia. We don't know which name is correct! They're both to be found on Google Maps so we are putting them both here as well! There is a parking lot at the head of the trail but unfortunately it is not the cheapest. Price per hour is 2,5 euro and price for the whole day is 18 euro. However, we made it there around 4pm and by that time there was no one there to collect the fee. The little hike to get to the beach is short and easy – it shouldn't take you longer than 10 minutes. The beach is quite long and wide so there's plenty of space. The water is clear and has this amazing blue tones and the sand is delicate and white. What else could you wish for!
Cala Squadrone o delle vacche - Cows' beach
Not everyone knows about this beach, therefore not everyone knows how to get there! We ourselves needed to hustle a little bit to figure out the way to make it to Cows' beach. It is worth the extra sweat though cause the real treat awaits! Cala Squadrone o delle vache is located close to its bigger and more popular sister – Cala Girgolu. There is a parking lot few minutes away where you can leave your car for 1,5 euro per hour. To get to the secluded bay you can either rent a kayak or a SUP from Cala Girgolu or hike there for about 25 minutes. Here is a little cheat sheet on how to do it!
Walk pass the path leading to the Cala Girgolu entrance and go straight ahead along the private road between the houses. When you make it as far as Spiaggia del Tori (check on google maps) you will see a small path between the houses on your left. It will take you to a tiny beach. From there continue your hike through the rocks along the coast. The path is pretty obvious and well-trodden. When you see a sandy bay with a small boat wreck on it – voila! You have made it to Cala Squadrone o delle vacche. We really recommend you to get there early – we went around 8am and had it all to ourselves for two hours. The beach may not be very impressive but the surroundings are amazingly beautiful! The cherry on top is the breathtaking view on rocky islets.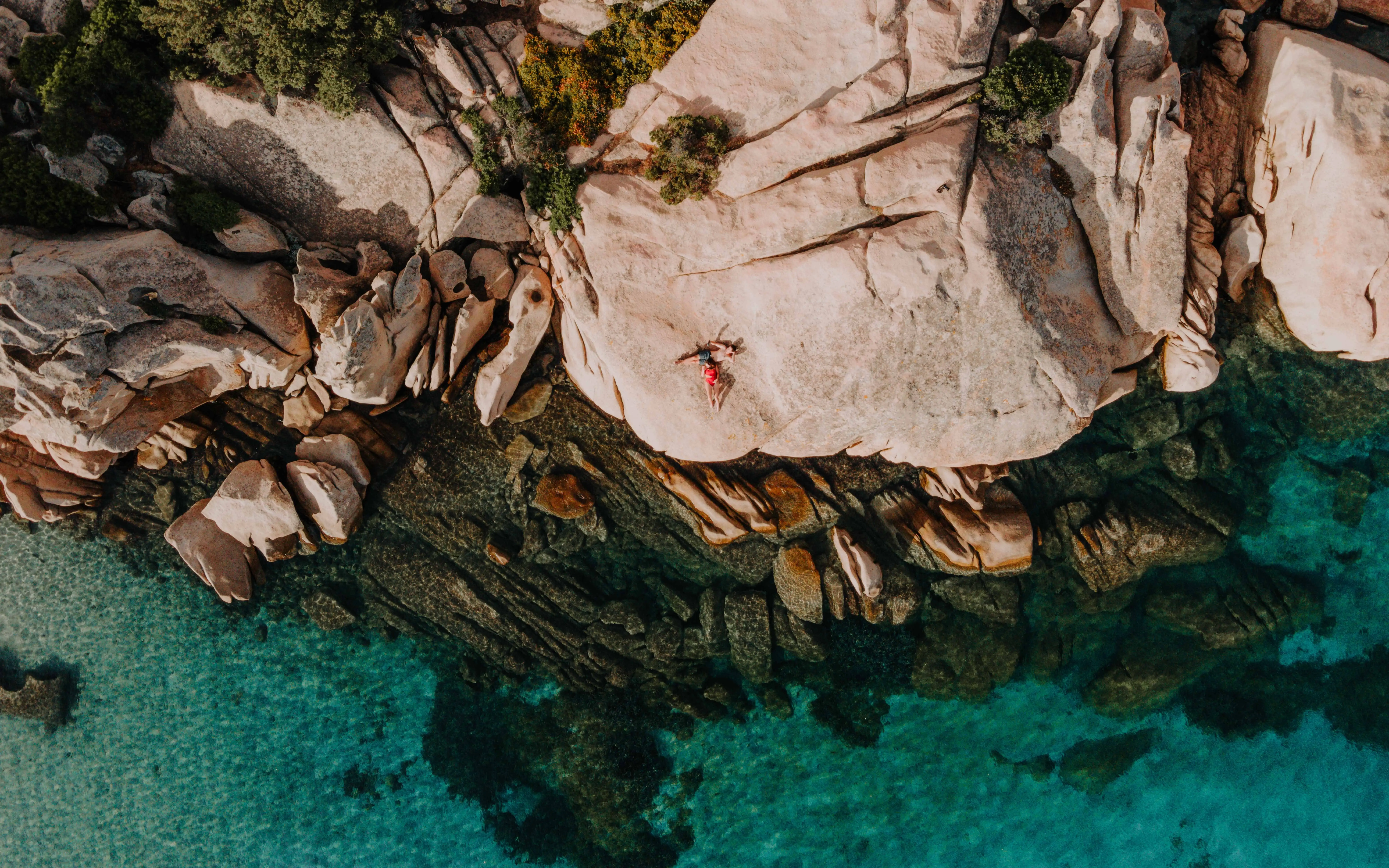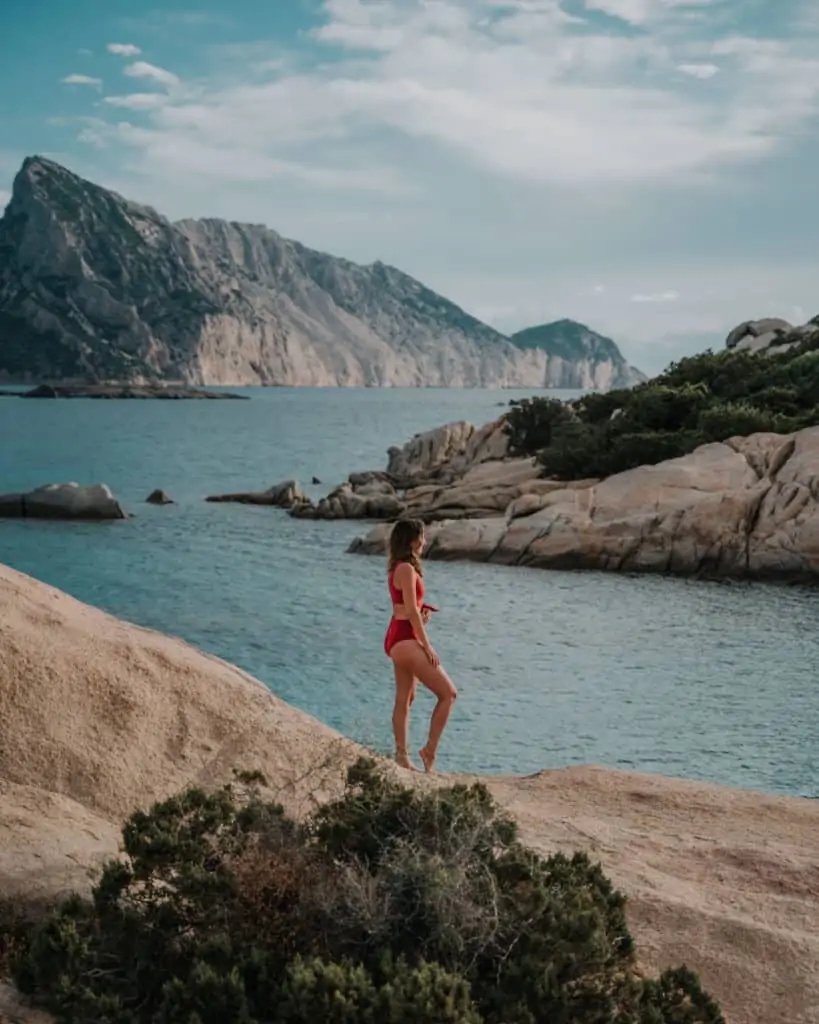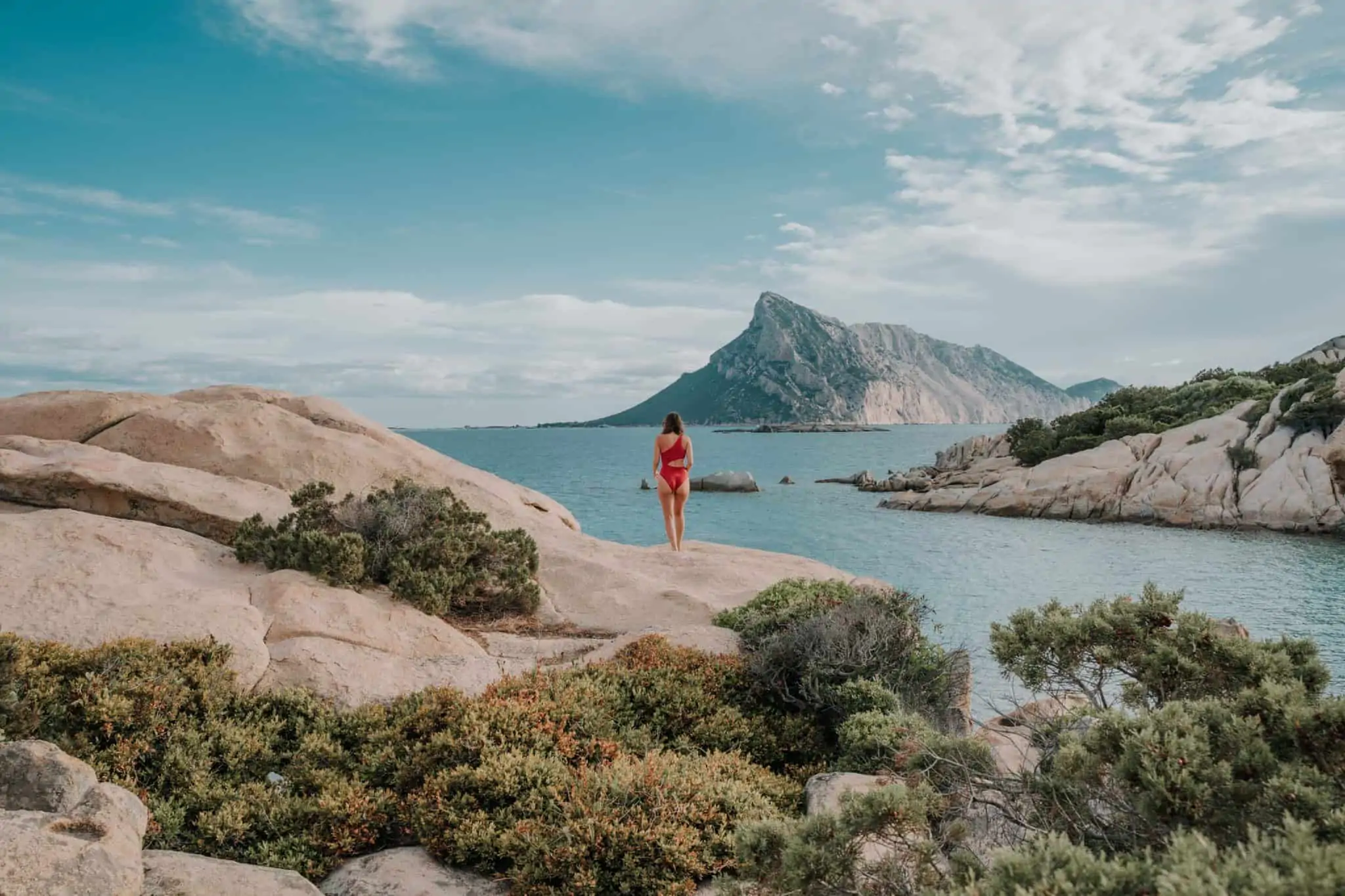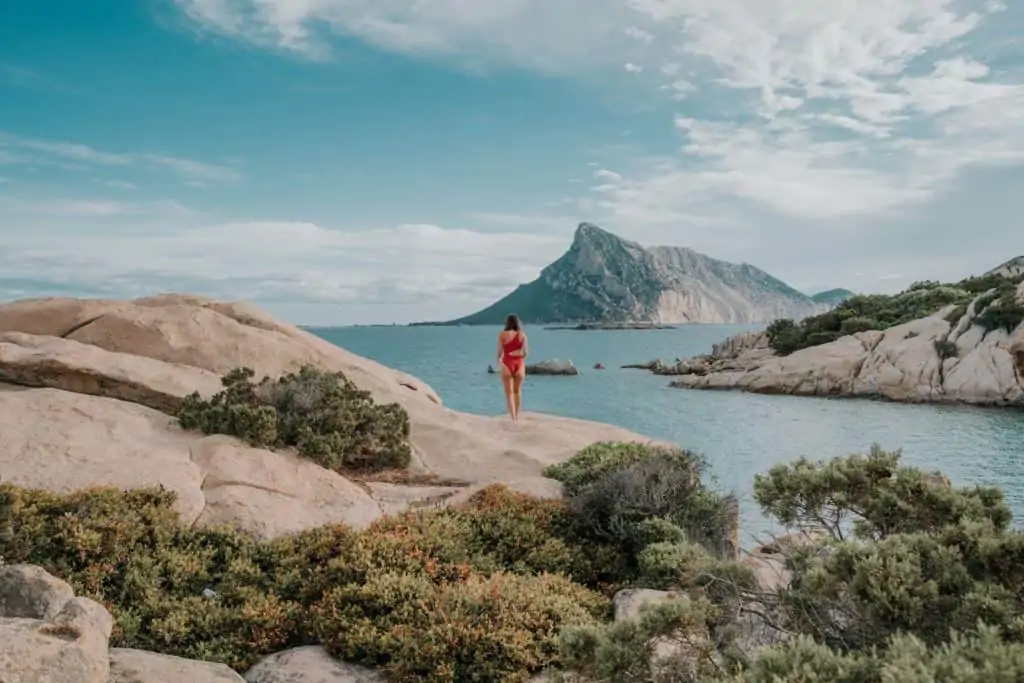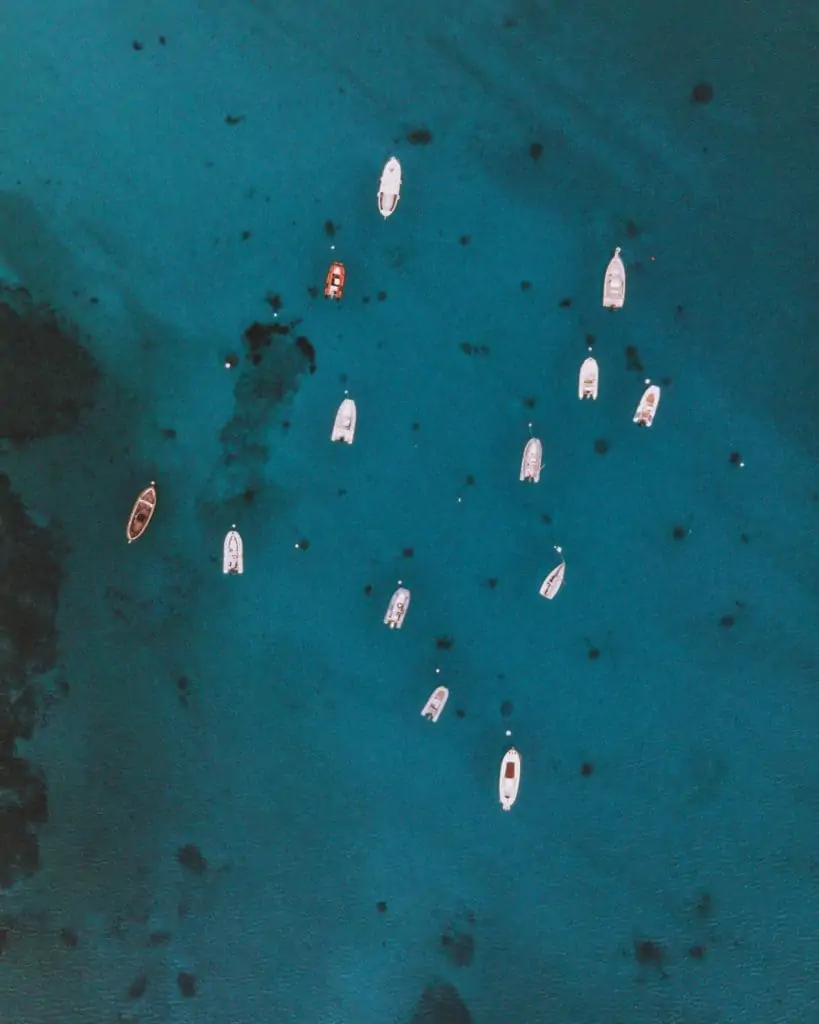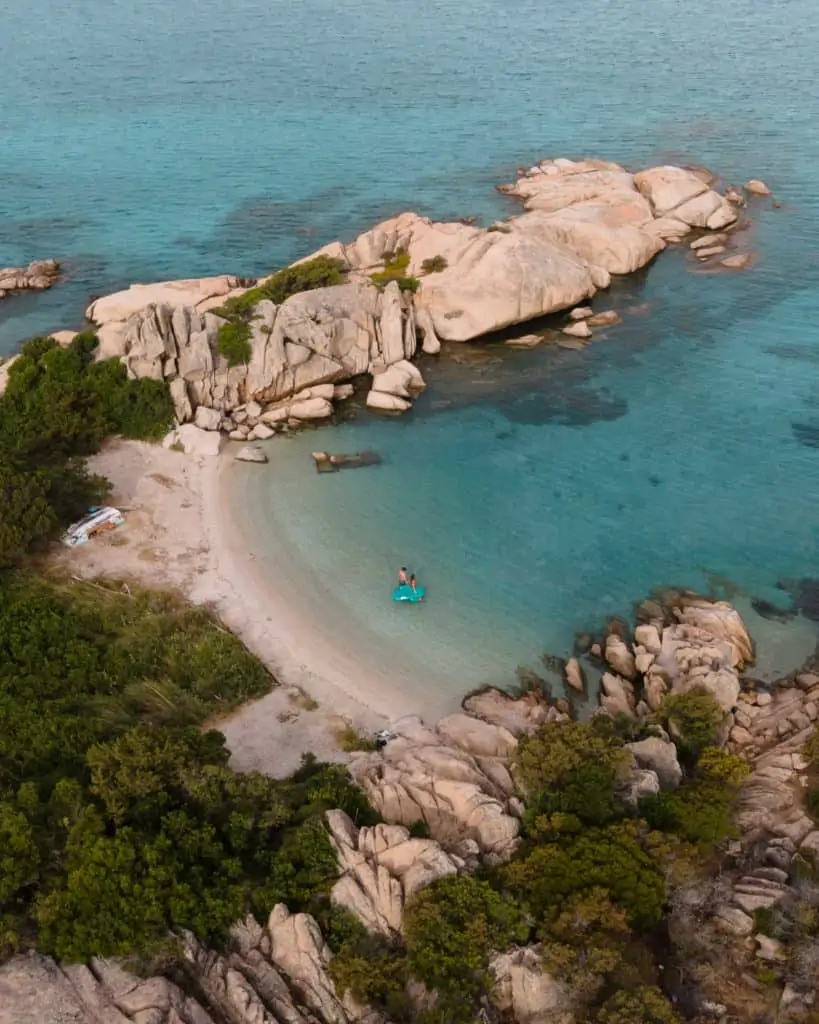 Next three beaches are really popular gems but they had to be included in our best beaches on Sardinia list! They are all located within a National Park – Parco Nazionale del Golfo di Orosei e del Gennargentu. It boasts a wide selection of walking trails so it can be a treat to avid hikers.
The first beach is very easily accessible, located just a few kilometers from the next bigger town – Cala Gonone. There is no real parking there, you just leave your car at the side of the road. It is free though which is a big upside! Cala Fuili is the starting point of the popular trail that will take you to another beach – Cala Luna. Cala Fuili is a rocky beach so having water shoes with you might be a good idea (check out our blogpost with more useful information). Sunlight at the beach is quite limited due to the mountainous coast. If you care about getting tanned get there during the first half of the day before the sun hides behind the mountains.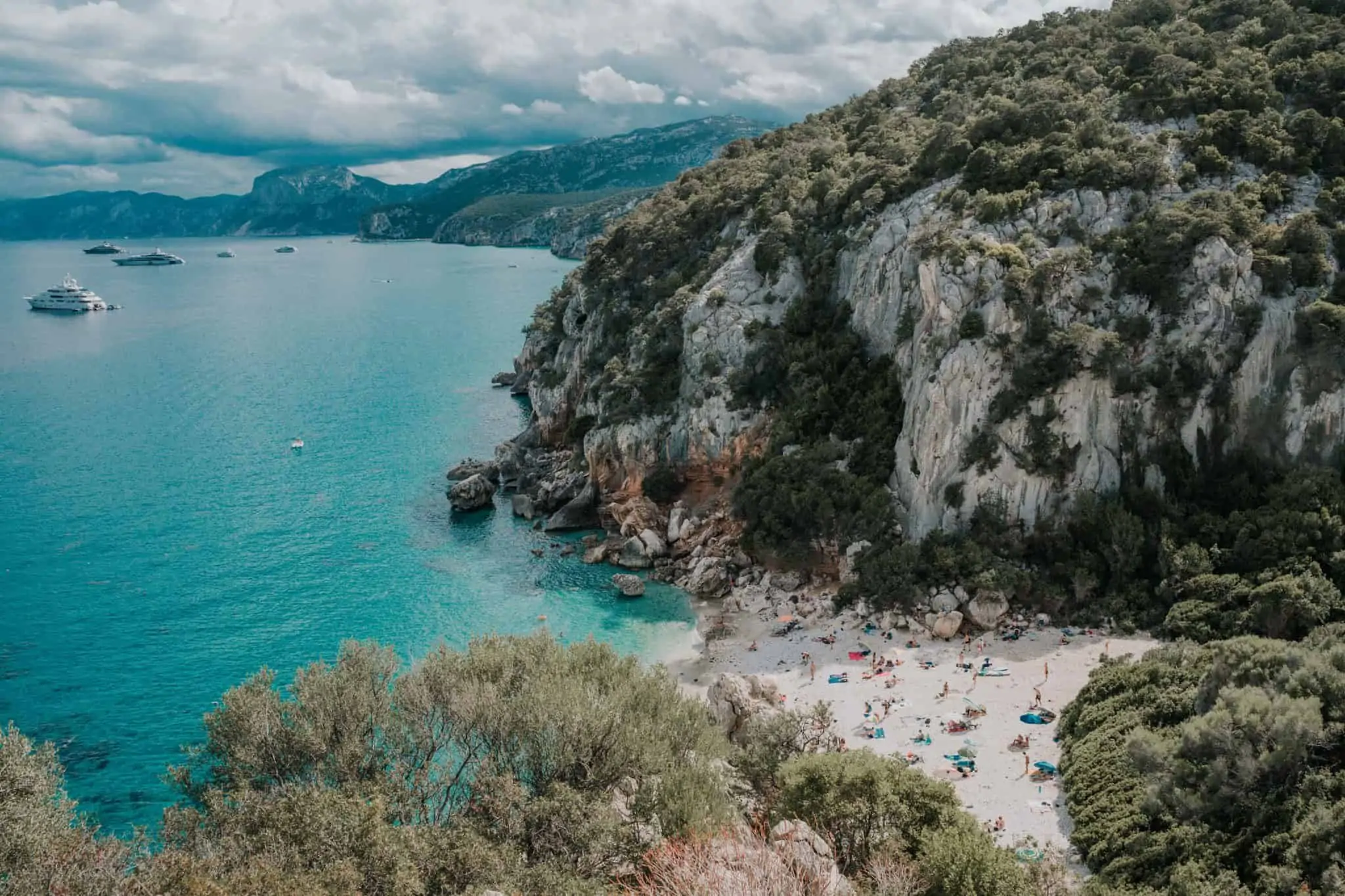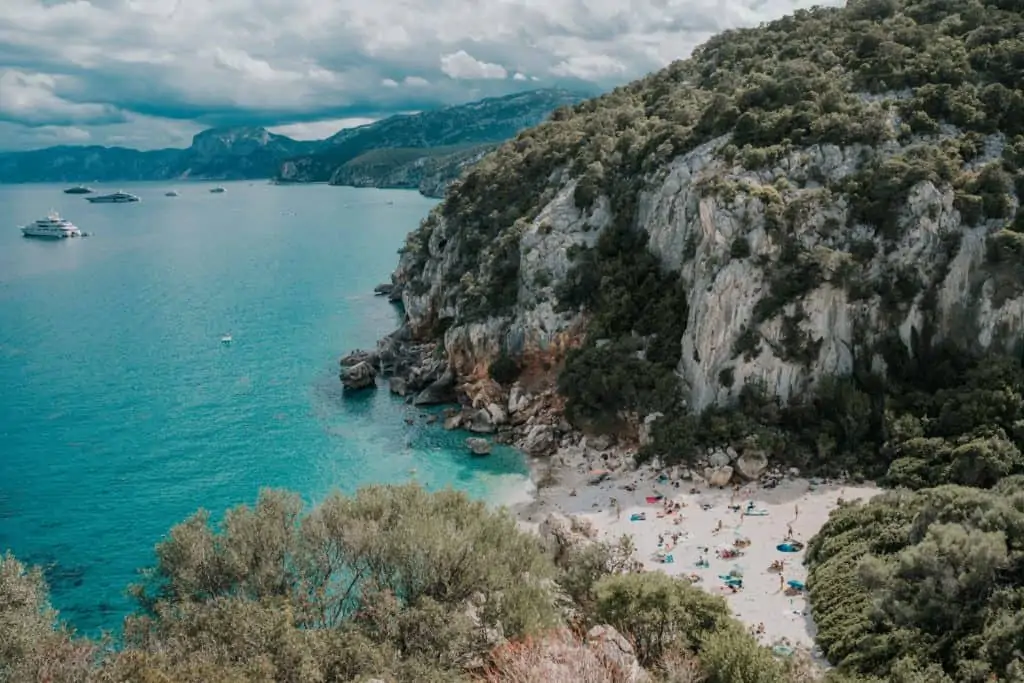 Cala Luna is a Sardinian gem. You will find it literally everywhere – on postcards, billboards or travel brochures. There are two ways to get there. First one is to hop on a water tram. High-season prices are 10 euro one-way to get from the port of Cala Gonone to Cala Luna. The first boat leaves at 9am and they go on every half an hour till 6pm. For those who don't like crowds there is another way – to hike. We did it for sunrise and it was quite the adventure! It took us almost 2 hours to hike the 5km trail. The trail itself is not that physically demanding but it is rocky and takes you up and down the coast so we really recommend you to wear proper footwear. We did it in vans and it was doable but not comfortable at all. It would definitely be more difficult during the day in the heat so keep that in mind and bring plenty of water.
First tourist boats come after 9am and around 10am the main stretch of the beach is already quite crowded. You can find more peace and space around the caves area. You can rent kayaks, SUP boards and even snorkelling gear at Cala Luna. The water is crystal clear – simply amazing, we hadn't seen anything like this since our trip to Cyprus!  We hiked there but didn't feel like doing this trail again in the middle of the day. Luckily you can buy the return ticket for the boat directly at the beach! If you left your car by Cala Fuili you can pay additional 2 euro for the bus to get you from the Cala Gonone port to your car.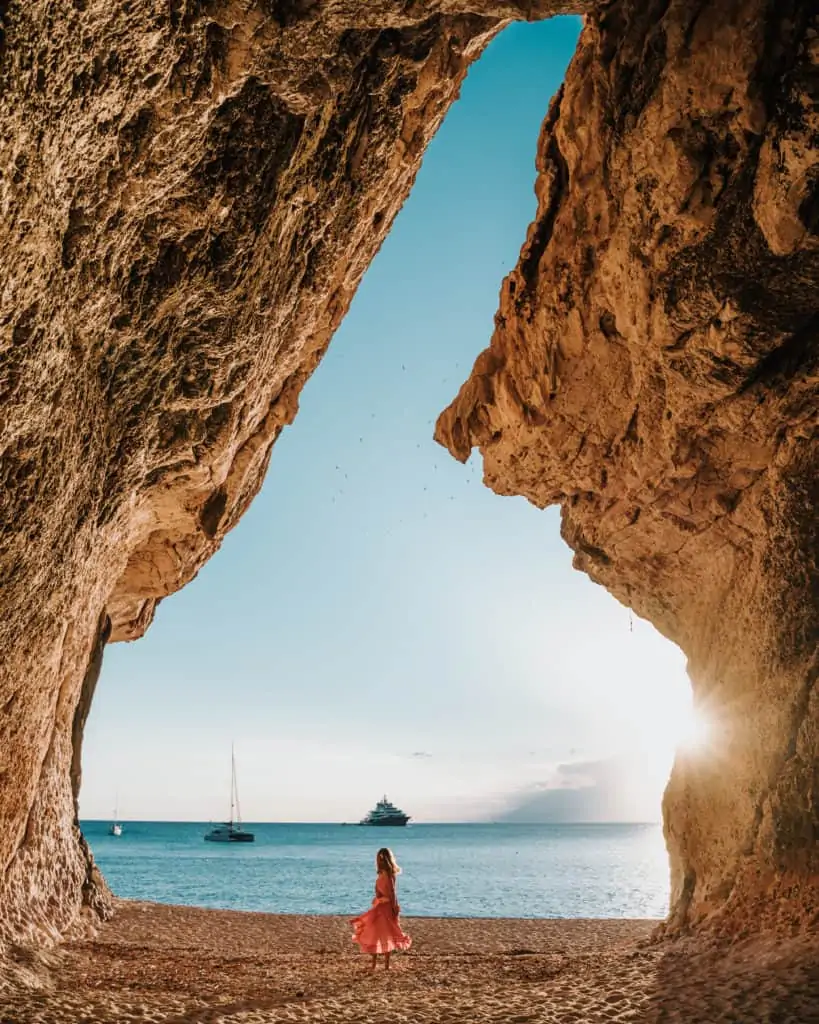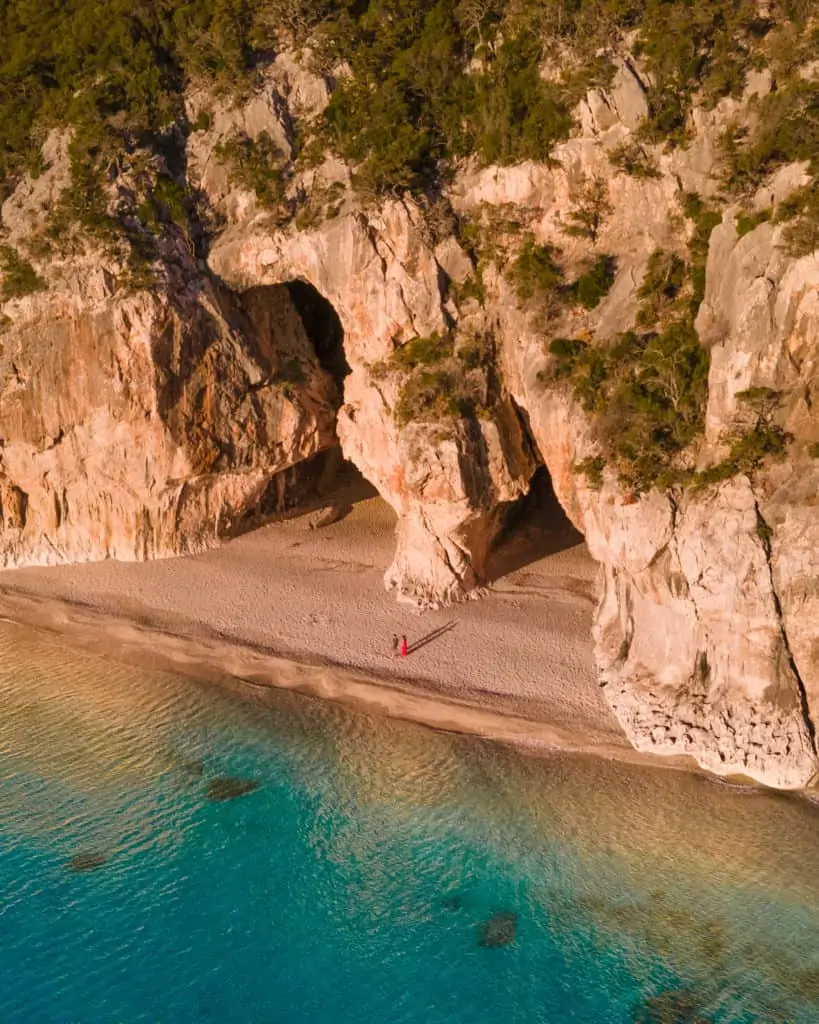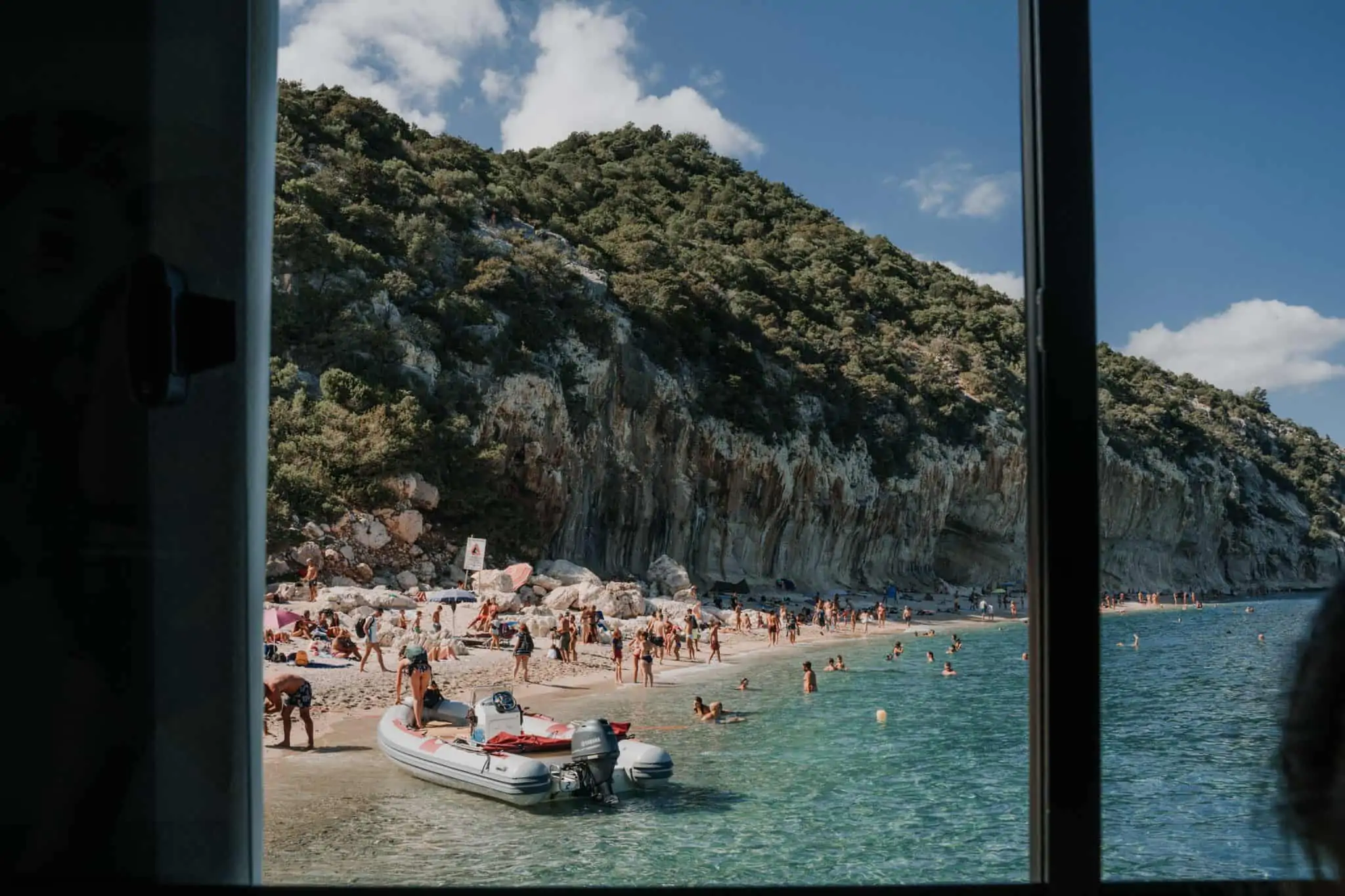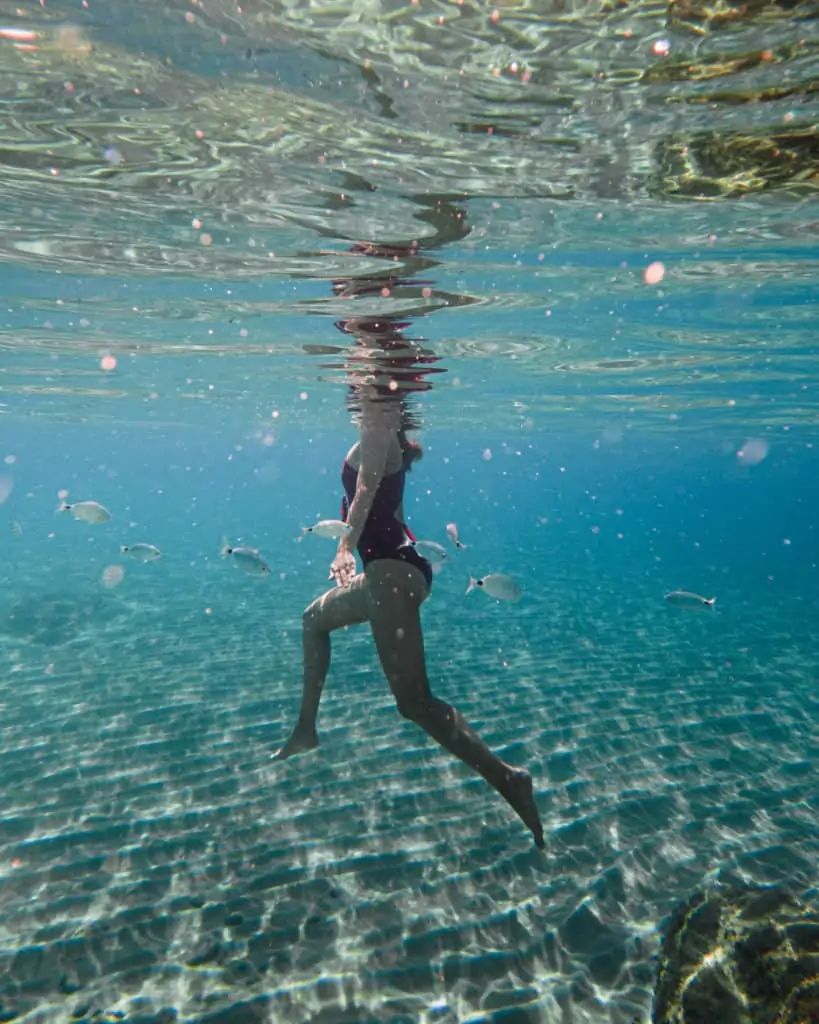 Cala Goloritzè is definitely one of the most beautiful beaches on Sardinia. Maybe even the most beautiful one! Thanks to a rocky bottom the water is crystal clear and the surrouding towering cliffs make it look absolutely amazing. To get there during summer months you need to buy a ticket – it costs 6 euro per person and you can buy it no earlier than 72 hours prior through the Heart of Sardinia app. The trail entrance is open between 7:30am and 4pm (you can stay at the beach as late as 6pm). For people wanting to sneak in we have bad news – you can't, there is a guard on the beach that will for sure check your tickets! Right by the entrance there is a big parking lot (8 euro for the whole day) that also serves as a campground for both vans and tents. They even have a shower with hot water – score! It is 8 euro per person per night.
The hike to Cala Goloritze starts with 300m uphill stretch and then it is all downhill for the next 3km. The height difference is 500 meters which obviously makes the way back up much harder. The beach is very popular so it gets crowded during high season. You can find some space if you go to the rocks at the left and find a little bay for yourself. Depending on the season the amount of sunlight at the beach varies. In September the sun shines between 10am and 3pm. The rest of the day the beach is covered with a shadow.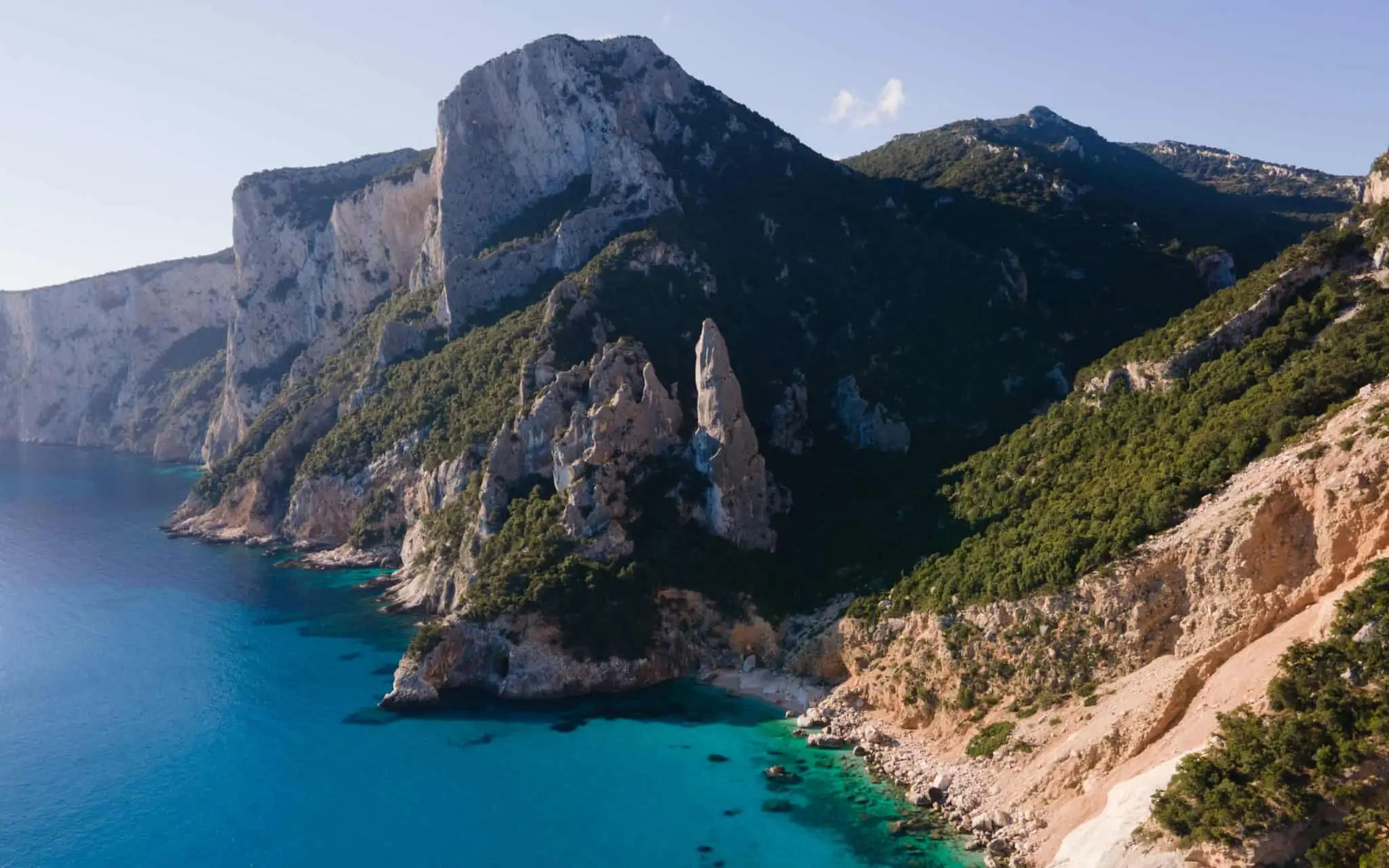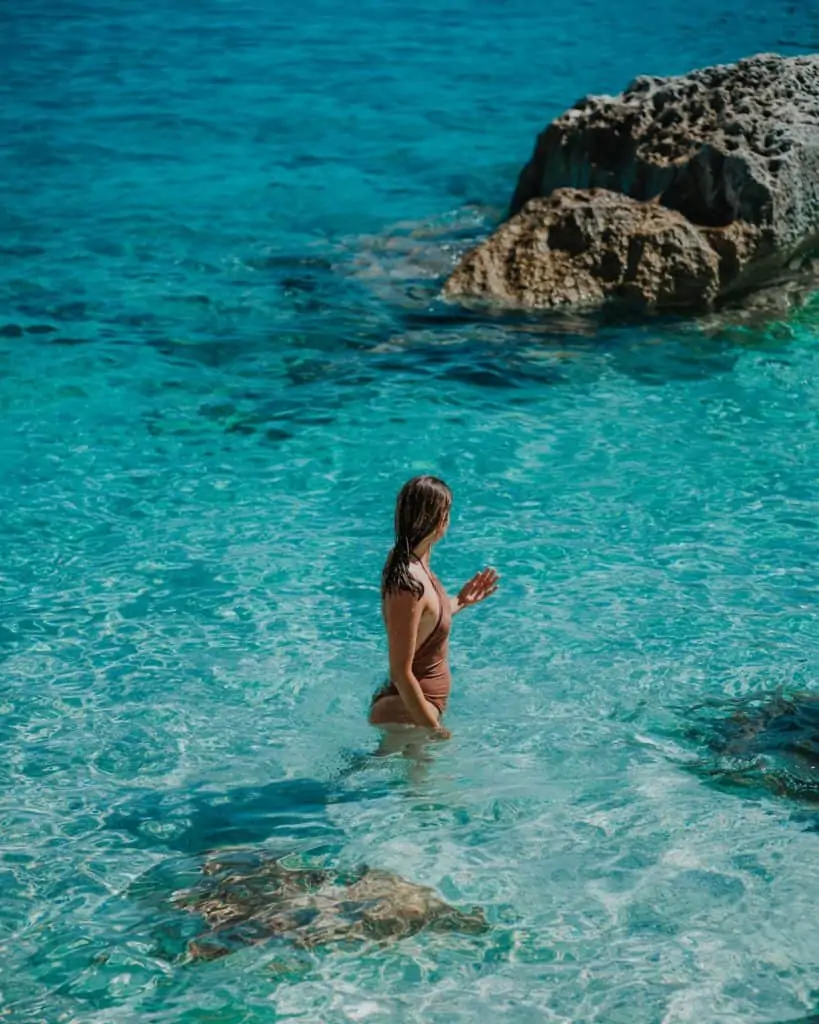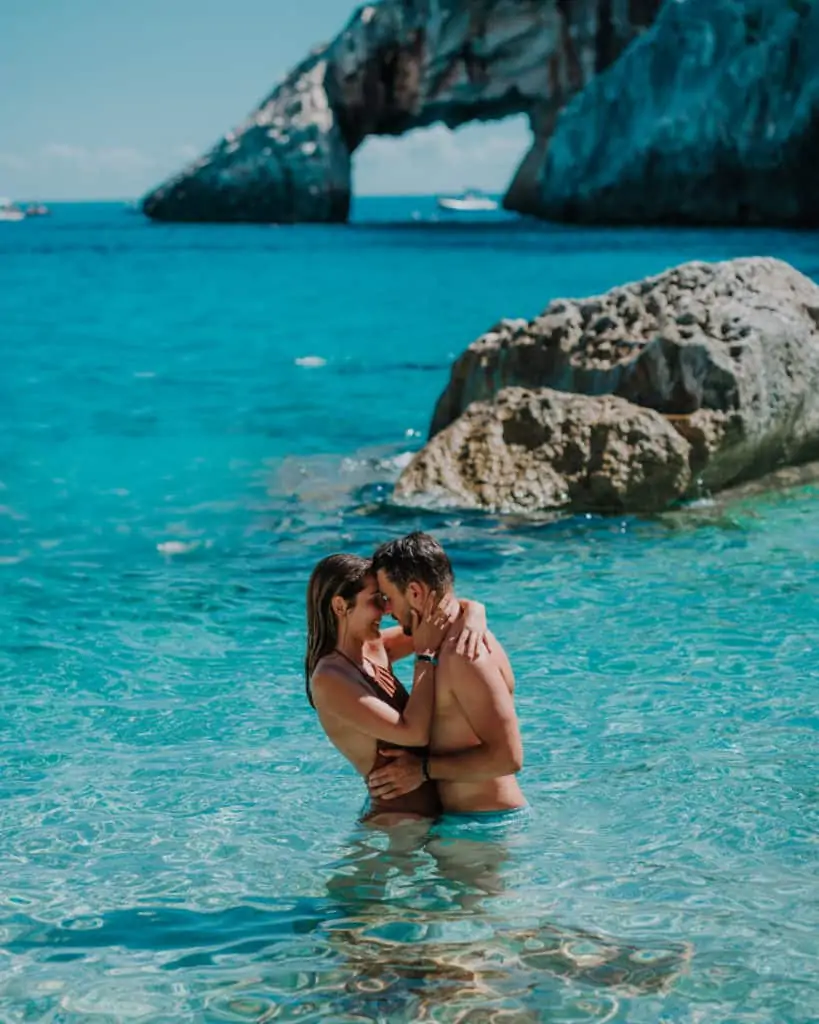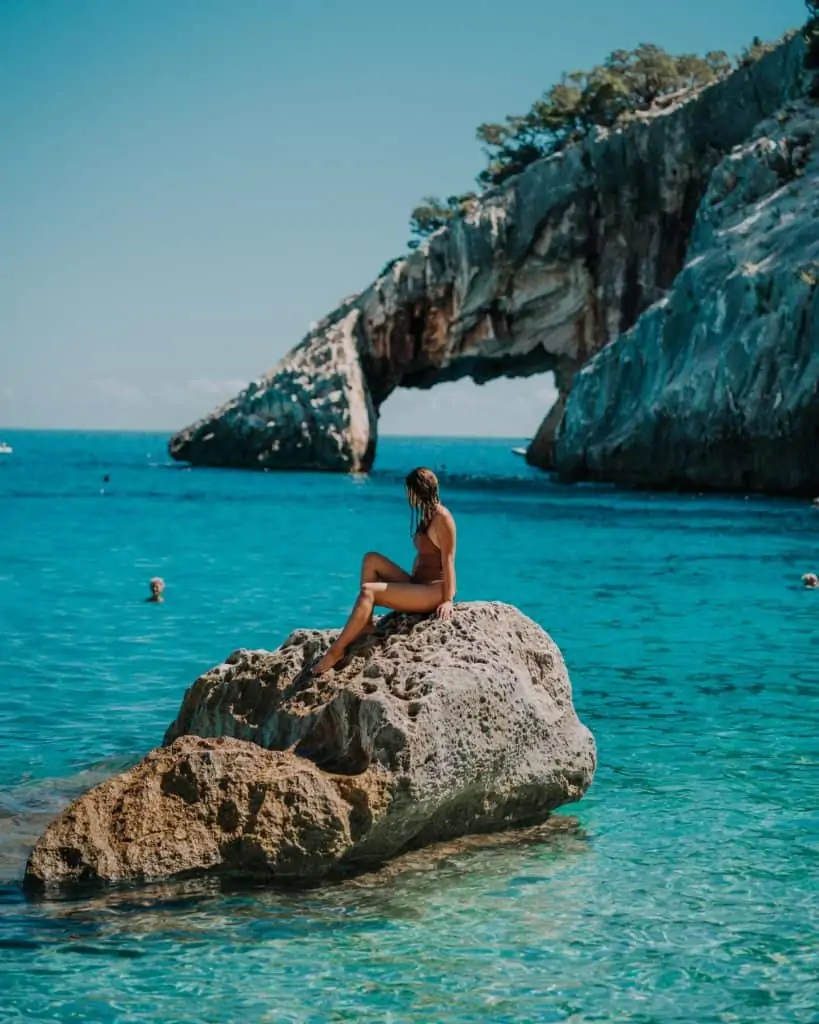 Spiaggia di Punta Molentis
This beach has left us with mixed feelings – but not because of the scenery (this was simply enchanting) but because of the situation and weird covid rules. The beach is located on the south-east part of the island on Punta Molentis cape. It is not the biggest one but being located on the narrow cape makes it hard to deny its charm! It looks especially impressive from the air. The sand is white and clean and the water clear – guess it is the focal point of all best beaches on Sardinia. The parking lot is located few minutes from the beach and costs 10 euro per day. We recommend you to get there for either sunrise or sunset for amazing light and solitude!
Why mixed feeling you might ask? There was this bizarre rule that stated that because of covid we had to pay an additional 1 euro per person. It would make sense if the beach were limited but around noon it was filled with people. Literally one person on top of the other! Obviously the fee is not high, but it just didn't make any sense.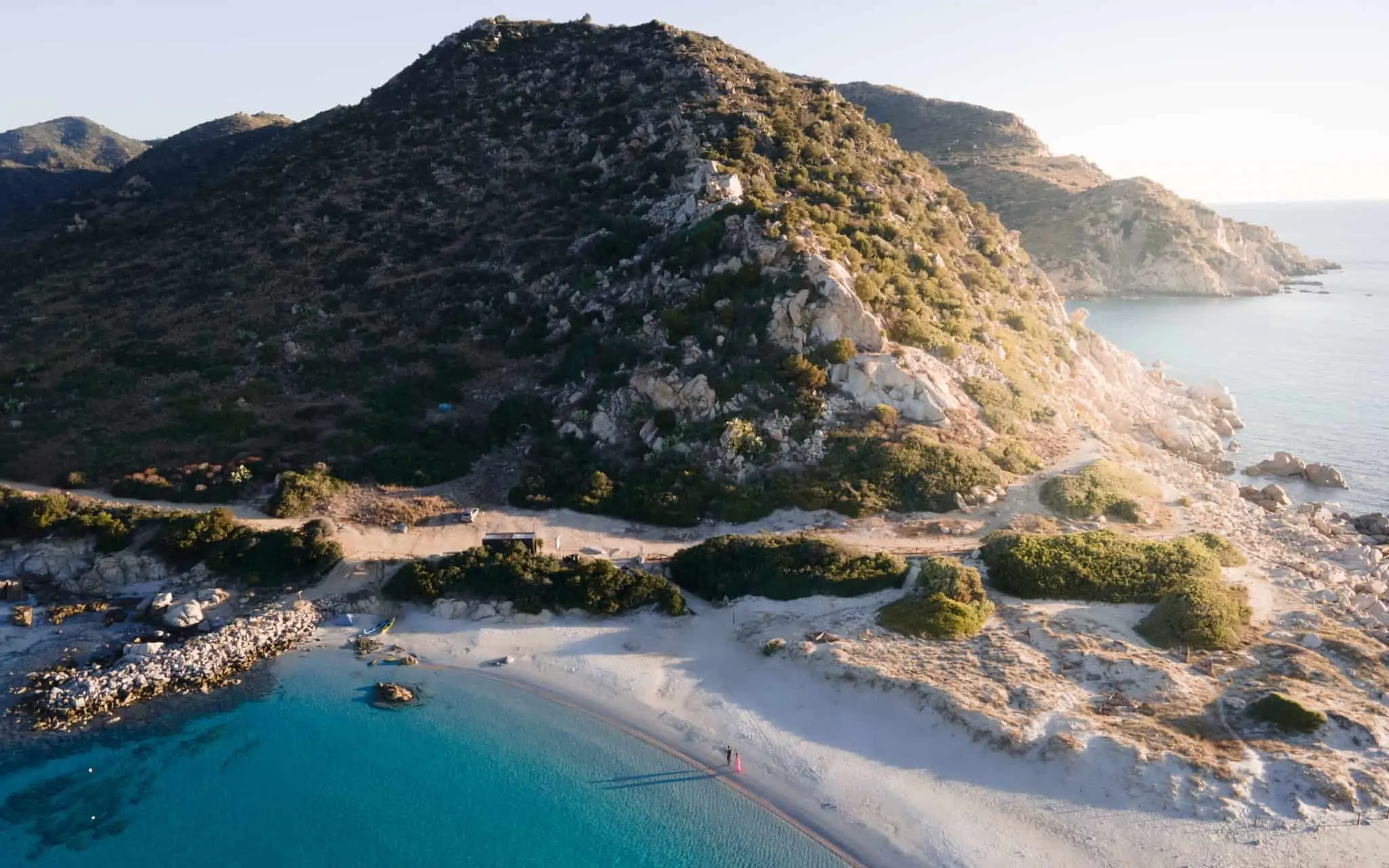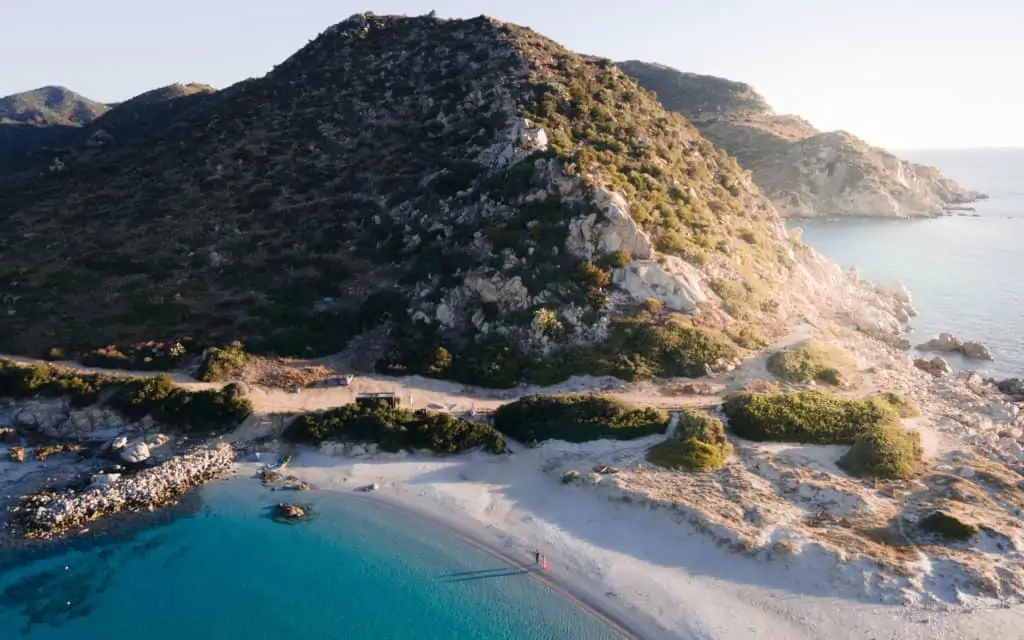 The last beach that we really enjoyed was Cala Napoletana located on the island of Opera Arbuticci. You can read how to get to La Maddalena Archipeago in this blogpost. We went there solely to see the most popular and presumably most beautiful beach – Spiaggia di Cala Coticcio. When we got there it turned out Covid-19 messed with our plans once more and the beach was almost inaccessible. We only found out about this after driving there and seeing a piece of paper on the fence with some information written in italian.
Because of that we had to choose another beach for the day and after half an hour of staring at google maps we chose Cala Napoletana. It turned out to be an excellent idea as the beach was simply amazing. The turquoise bay surrounded with rocks reminded us of Seychelles that we know from postcards only (for now!). For a few hours we were lucky to enjoy this sandy paradise in solitude. The hike to the beach takes not more than 30 minutes and you can leave your car for free at the side of the road. Oh – and beware of the jellyfish in the water!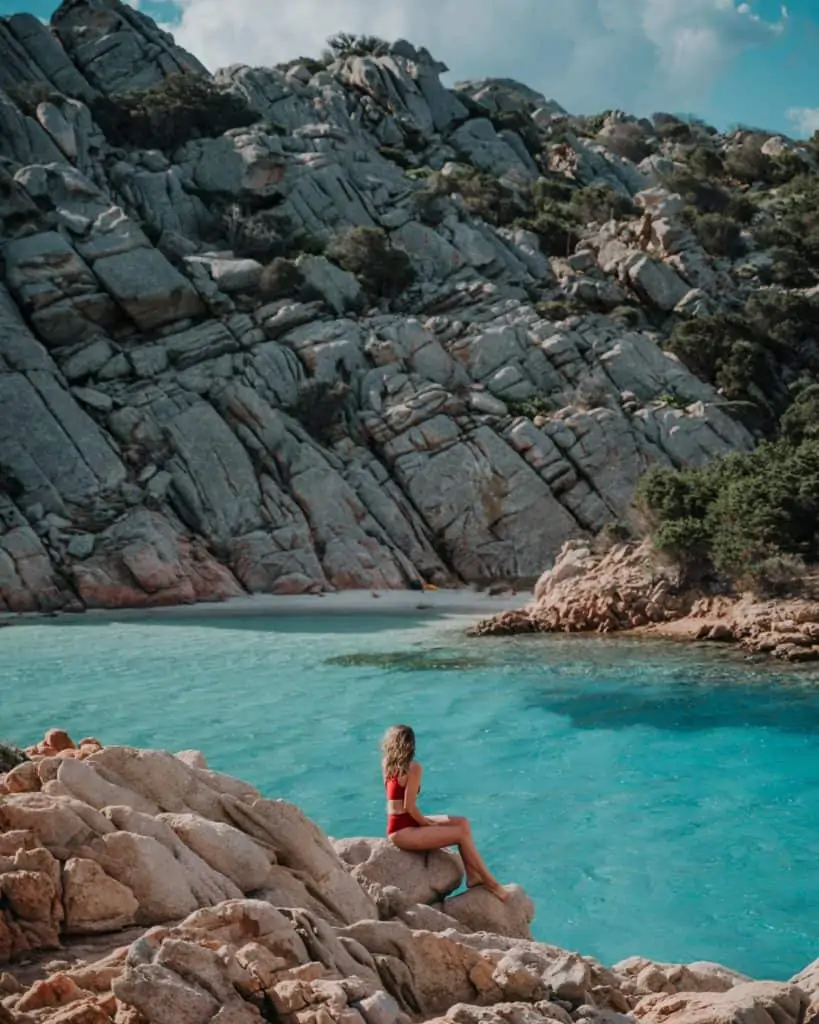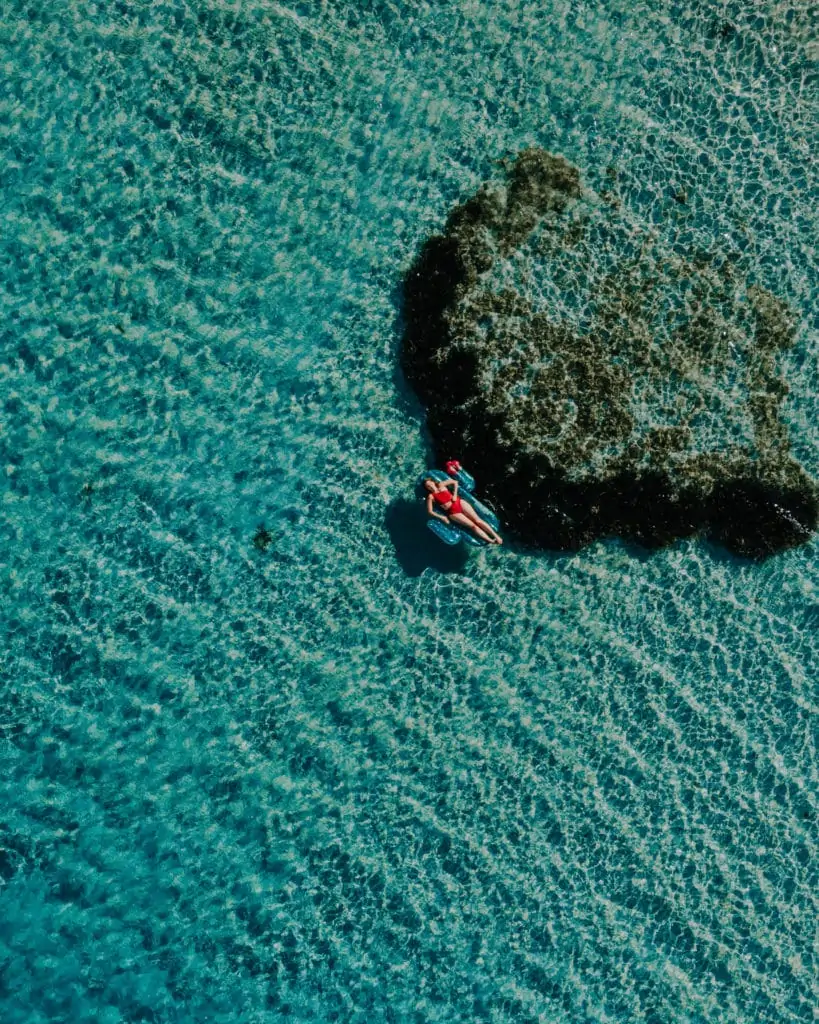 Sardinia is an excellent place for a holiday getaway. There is something here for fans of bith lazy beach days and active rest. We ourselves concentrated more on working on our summer tan and we did it a bit too well! Beaches we have described here have been chosen amongst the ones we have visited. They were all beautiful so we urge you to explore the island as much as you can while you're there! Oh, and if you are into skinny dipping check out Spiaggia di Porto Ferro and even your summer tan out! Have an awesome trip!