We simply don't believe it is possible to come to Lebanon and not rave about the traditional Lebanese cuisine. Even with the main dishes being heavily meat-based, this middle-eastern country still remains a vegetarian's paradise. You just have to know what to order! In order to have our meals as diverse as possible, we would ask for a selection of different mezze – small dishes that can also work as appetizers. Although, we must warn you – they are never really small! To help you out and make your food experience as amazing and authentic as it can possibly be we have prepared a list of some traditional Lebanese dishes you simply need to try. They are all free of meat and all riddiculously delicious! If you were wodering what you have to eat in Lebanon – keep reading!
Khubz – arabic flatbread
You will quickly notice that eating flatbread seems mandatory during any meal in Lebanon. And we mean ANY. You can either dip it in hummus, labneh or baba ghanoush or fry it and make a fattoush salad. Moreover you can also go with a classic and use it to make a falafel wrap – we are already drooling.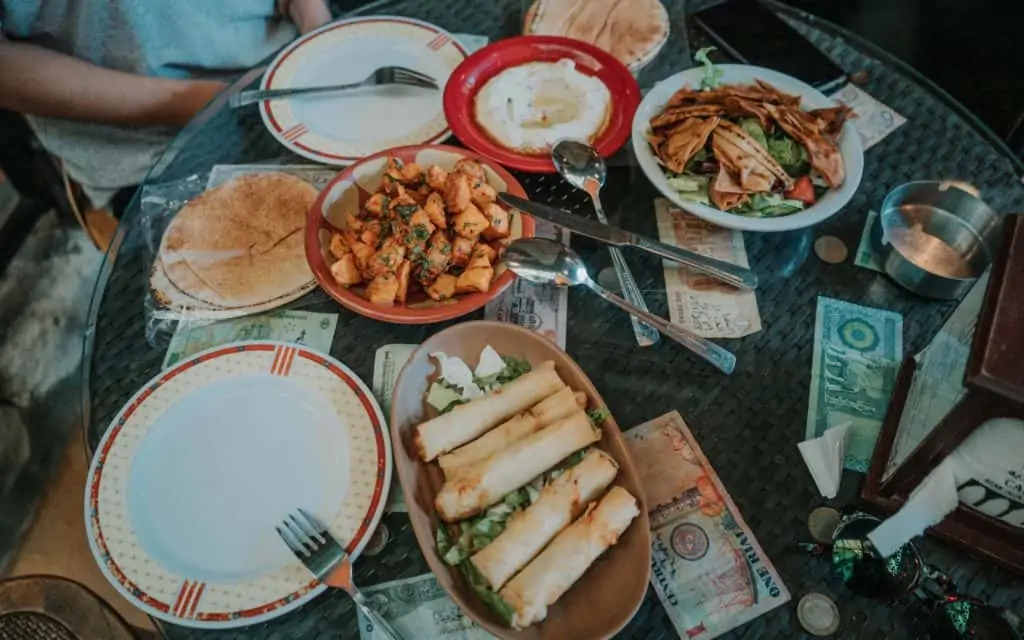 Ka'ak bread
Ka'ak is a very famous and popular street bread mostly sold by street vendors, riding the streets on a bicycle. Funnily enough, the Ka'ak bread is also called the purse bread because of its shape. It is sprinkled with sesame and quite tasty!
Hummus
Hummus is a spread made with chickpeas, olive oil, garlic, tahini, lemon juice and salt. We are pretty sure we don't have to tell you what hummus is – or how delicious it tastes. Moreover, you can find some great hummus variations in restaurants throughout Lebanon – such as pesto hummus that we really loved! Eat it alone or with pita and you are in for a fulfiling lunch.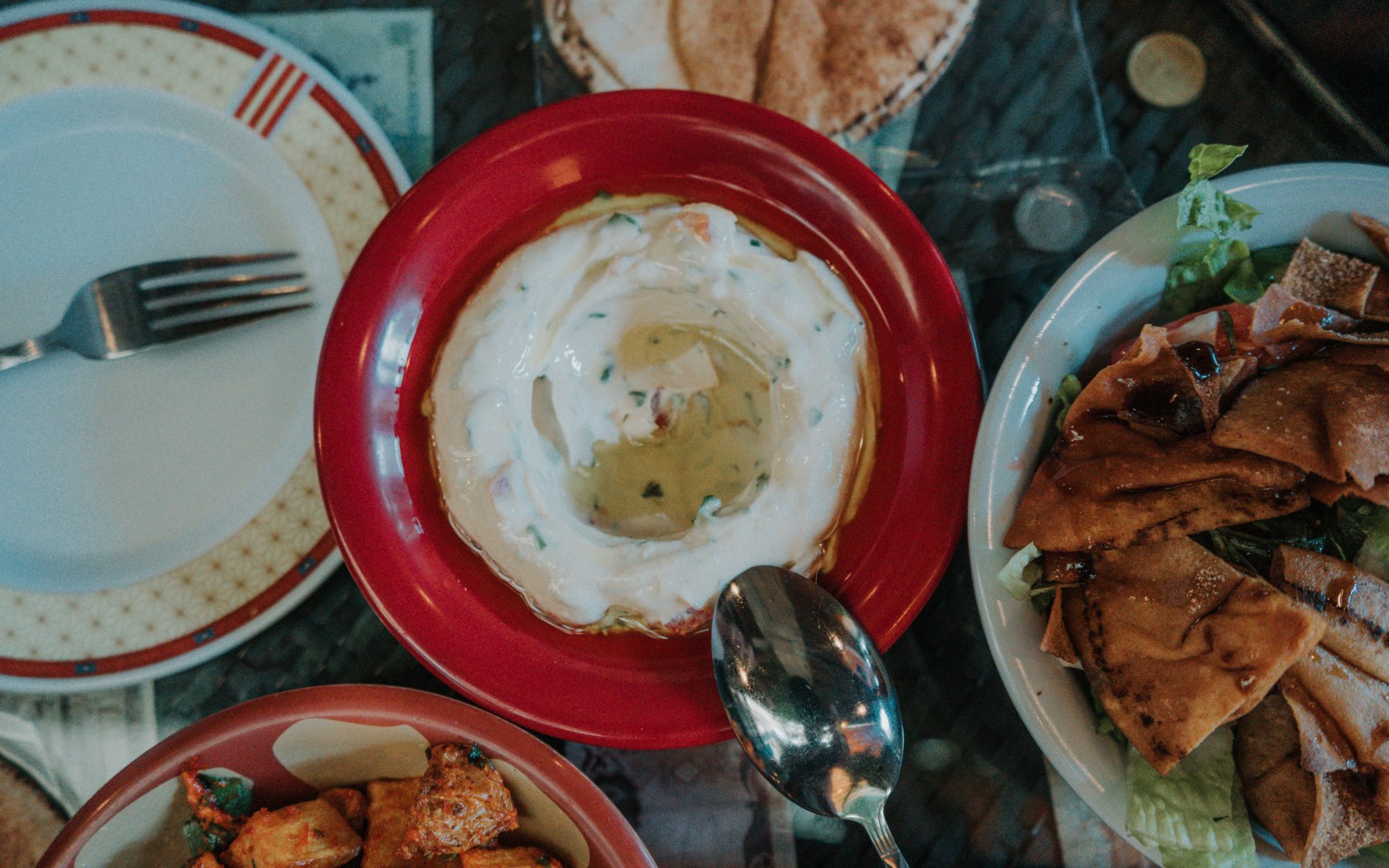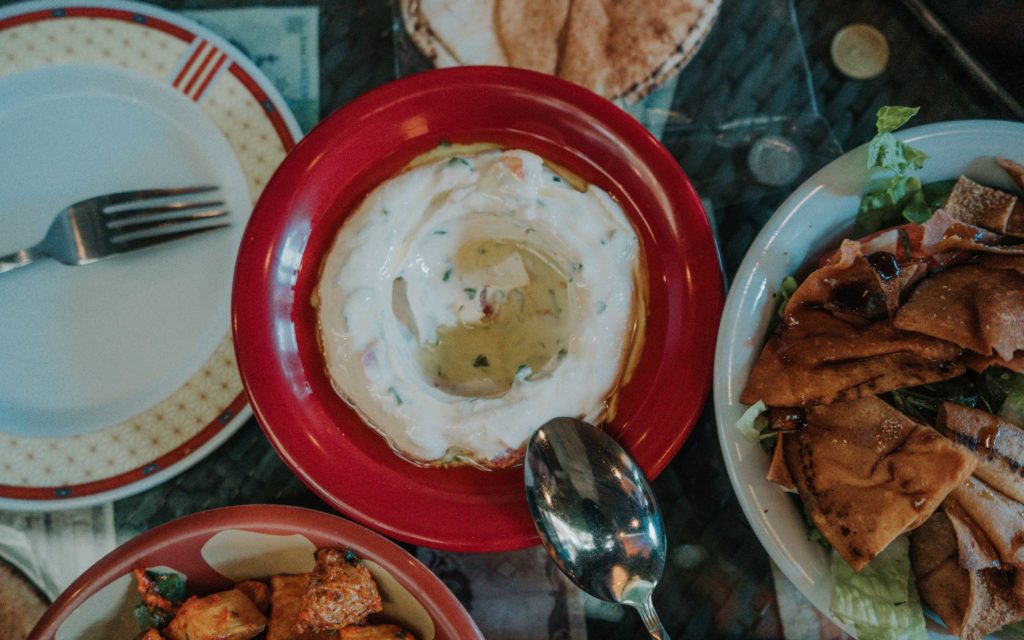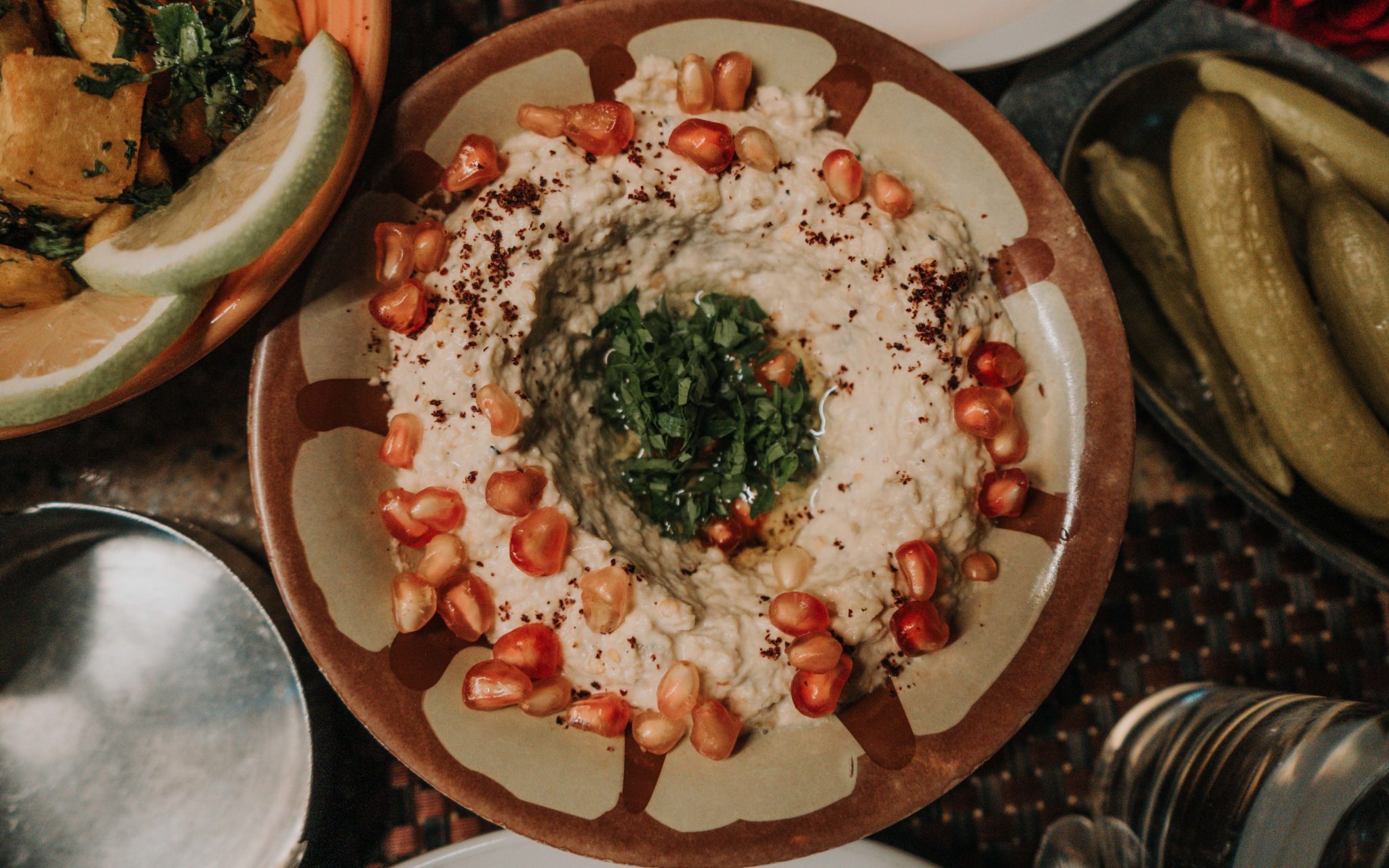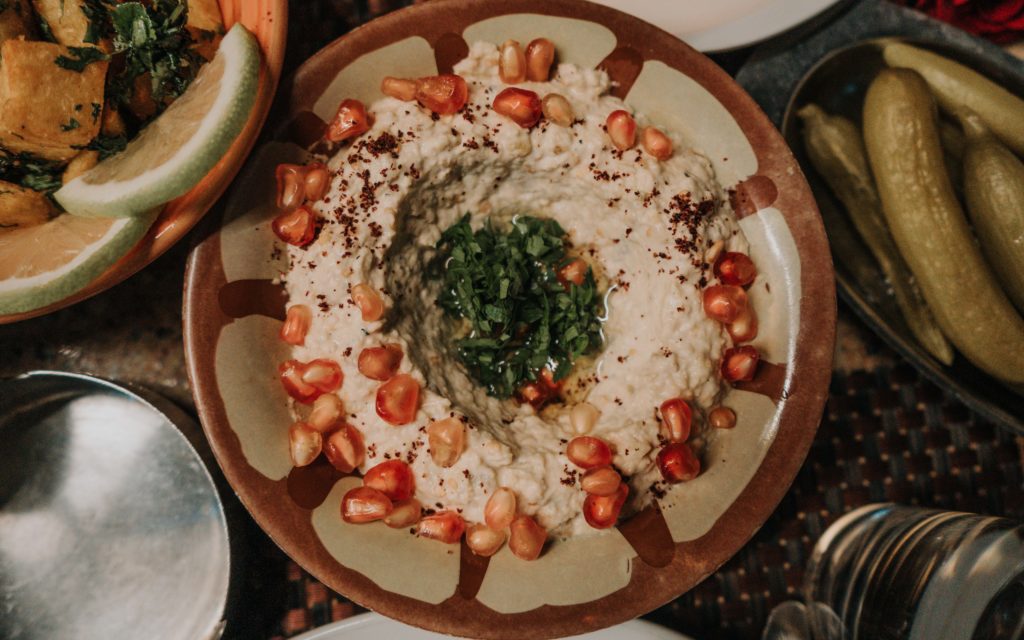 Baba ghanoush
It is a middle-eastern dip made of mashed cooked eggplant, tahini, olive oil and some spices. Additionally it is sprinkled with fresh parsley and pommegranate. It has such an unsual, smoked-like taste – defnitely try it with traditional flatbread!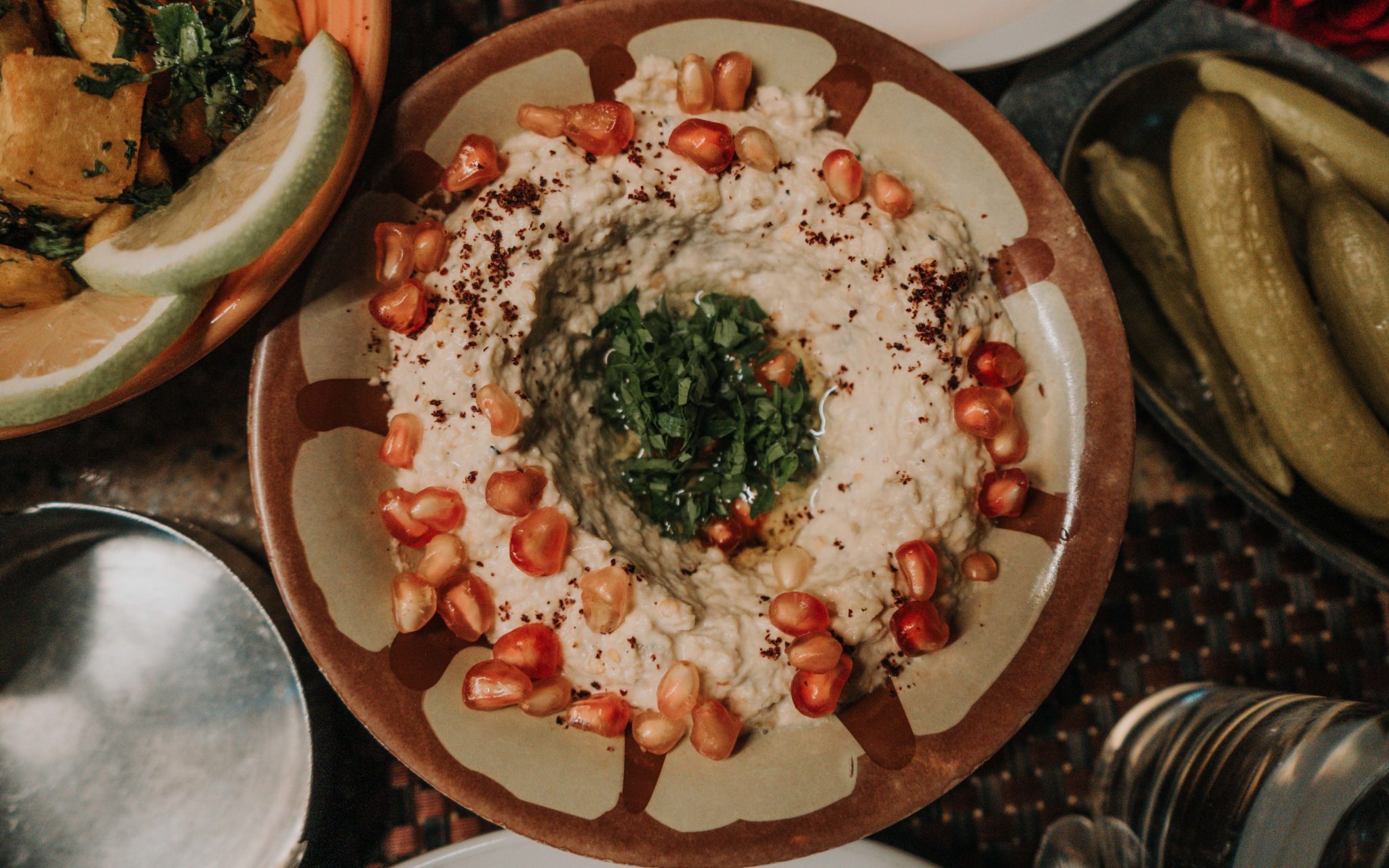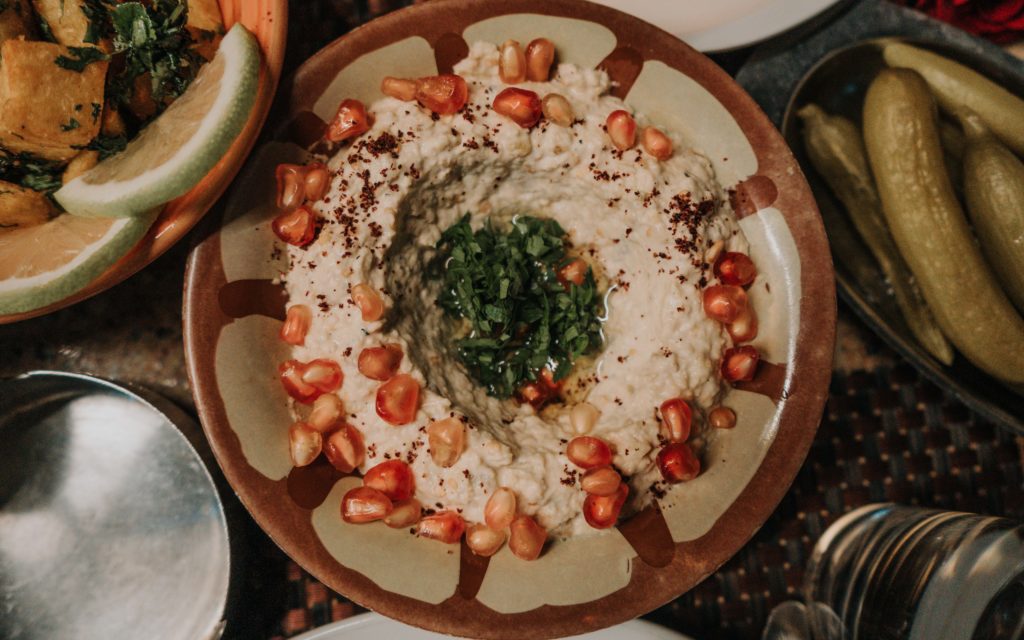 Labneh
It is a soft cheese that has been a part of traditional Lebanese cuisine since forever. We usually had it for breakfast with delicious, warm manekish and olives or as a mezze served with fried pieces of flatbread.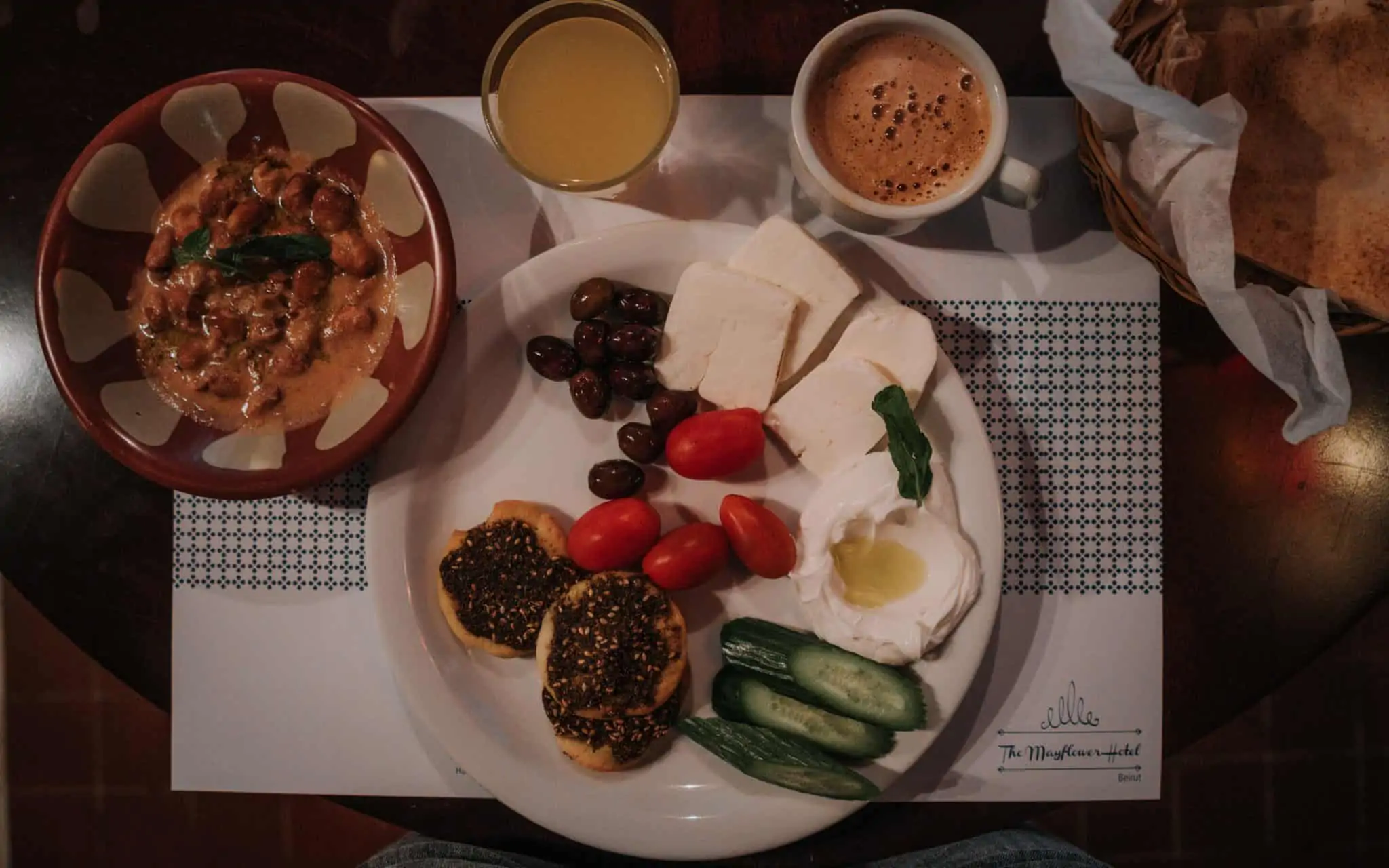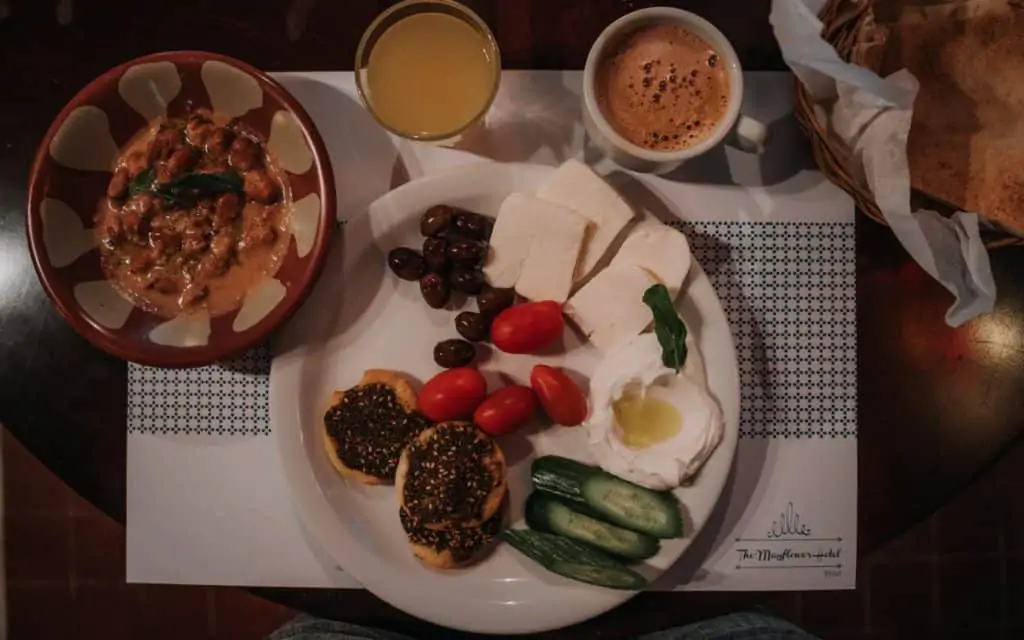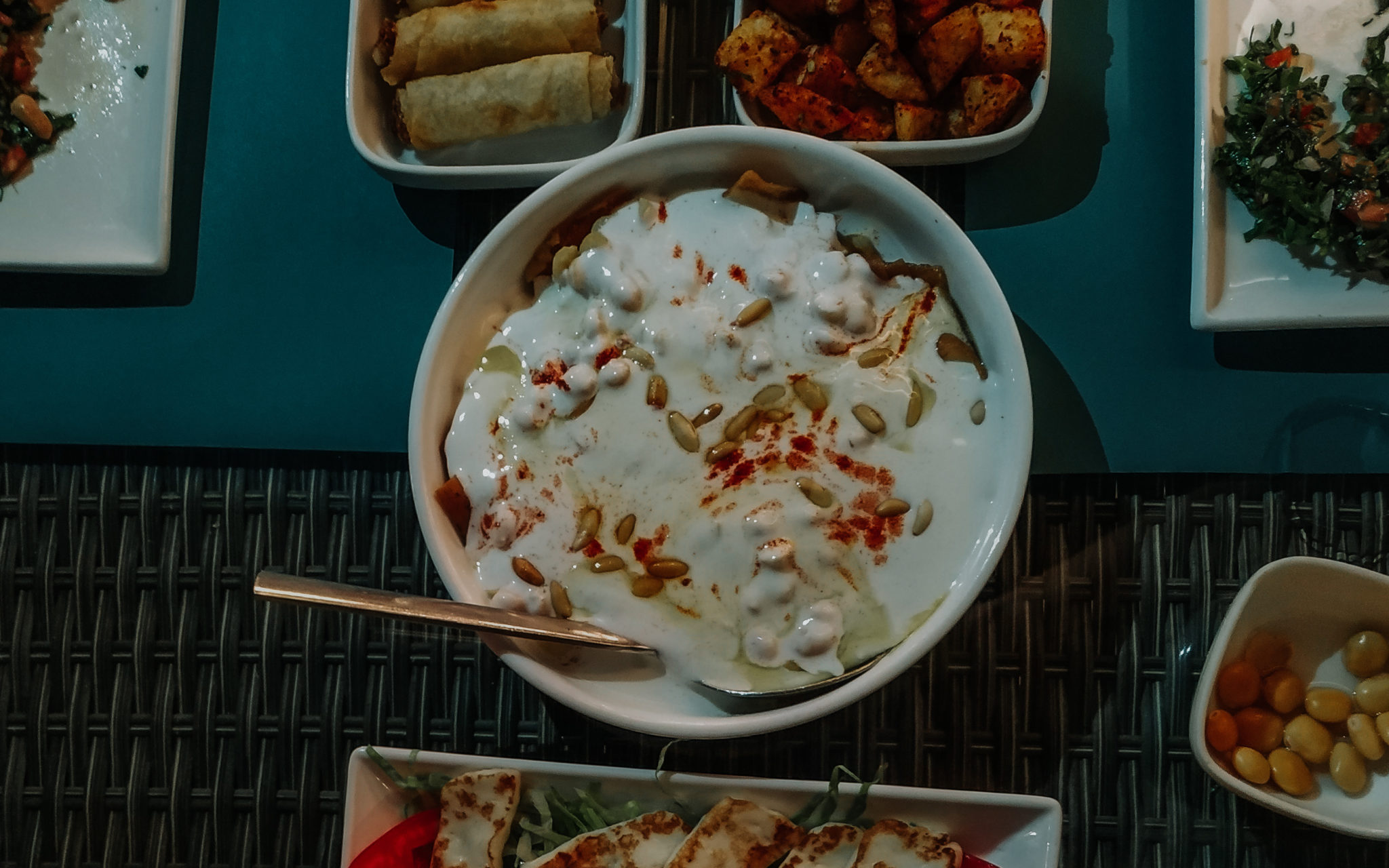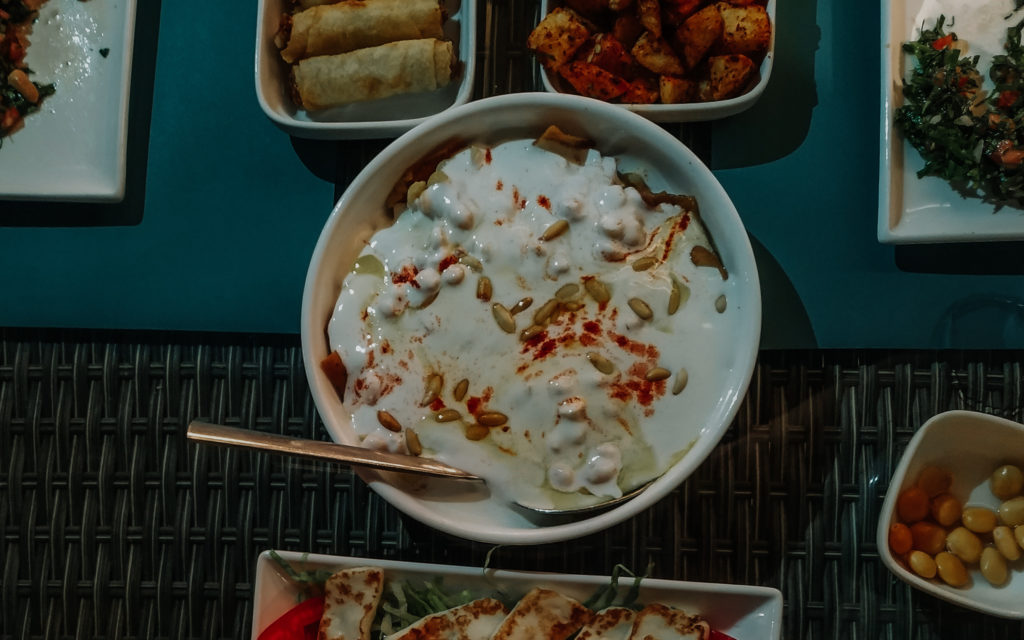 Toum
It is a garlic sauce common to the Middle East that contains garlic (duh), salt, olive oil and lemon juice. Usually served with chicken but it tastes great with veggies too!
Fatteh
In this irresistible Lebanese classic, fried crunchy pita bread is topped with warm chickpeas and creamy yogurt. Need we say more?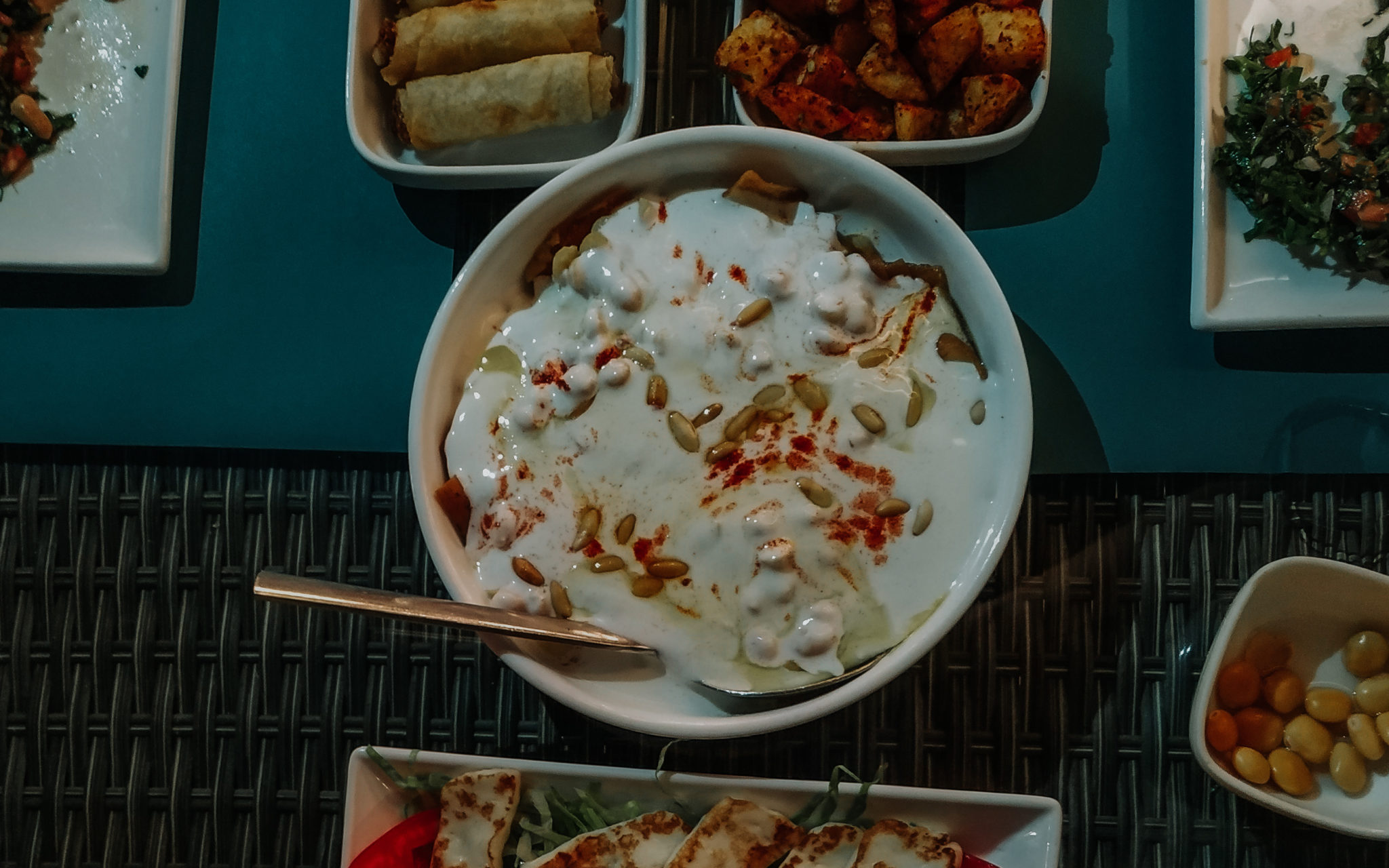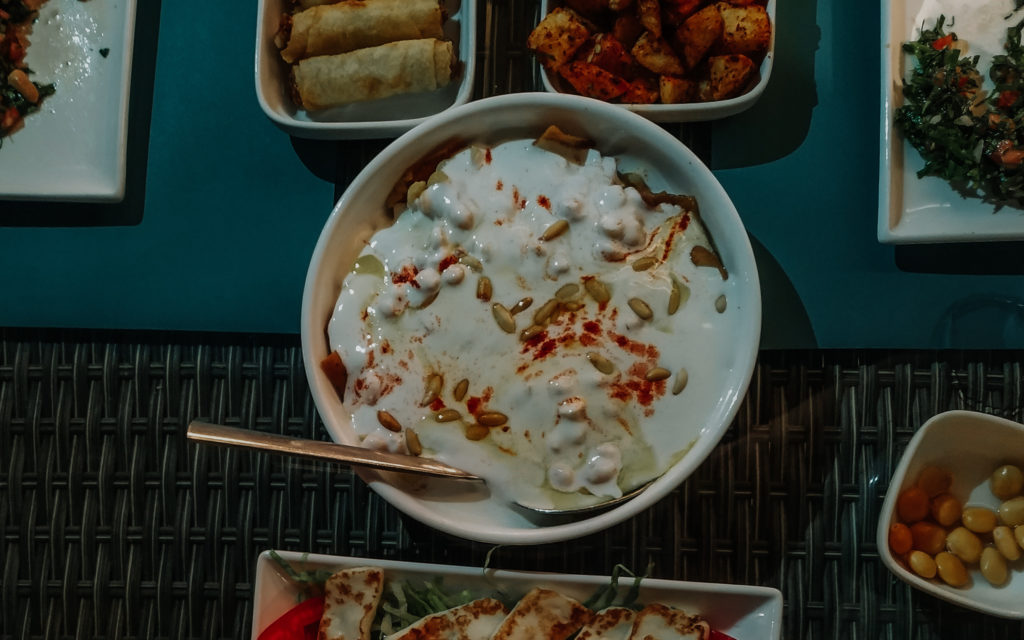 Foul mdamas
Perfect fava-based comfort food that is usually a part of Lebanese breakfast. Cooked fava beans are flavored with lemon juice, and garlic and served with olive oil, chopped parsley and tomatoes. 100% healthy, 100% vegan and 200% freaking delicious.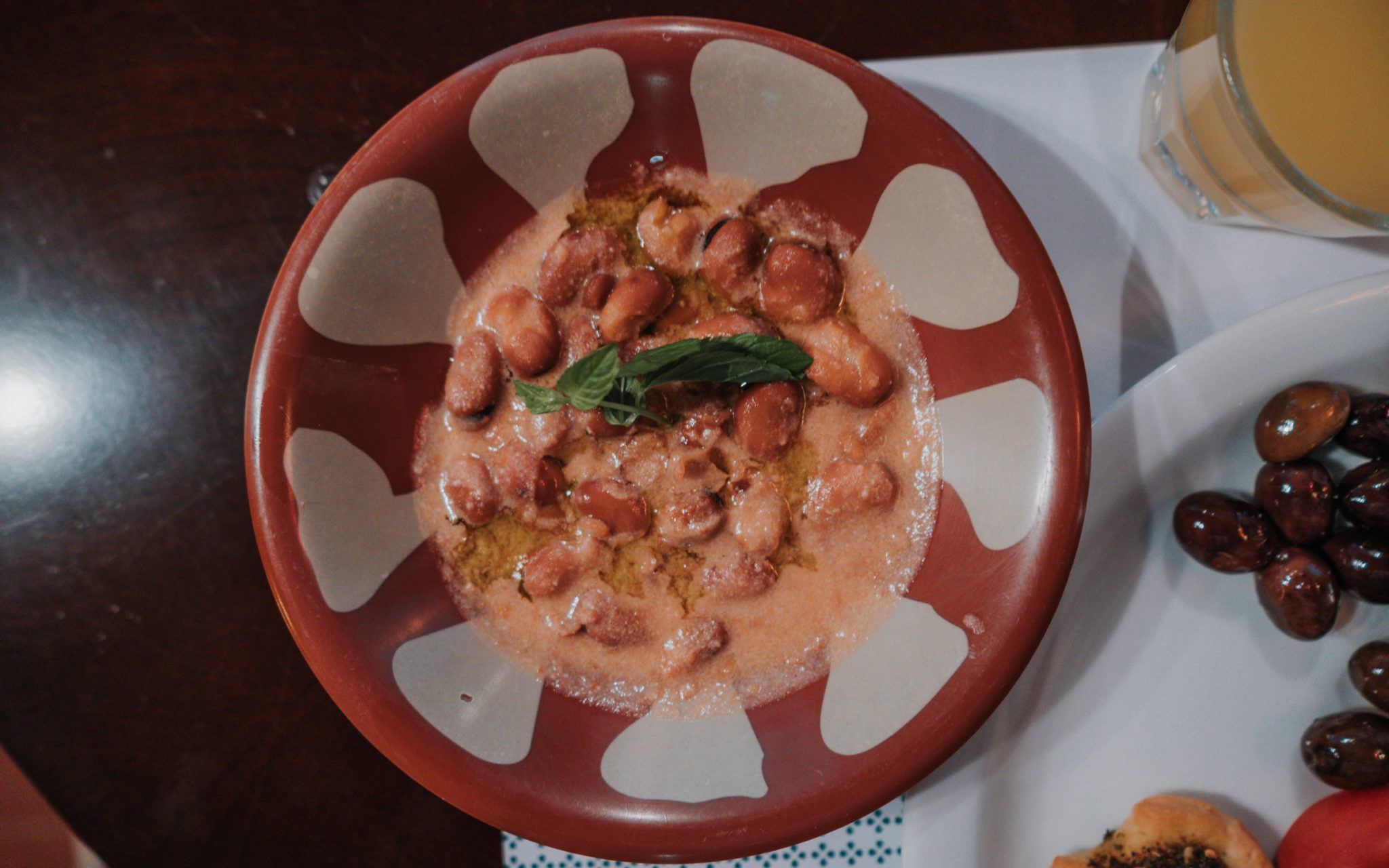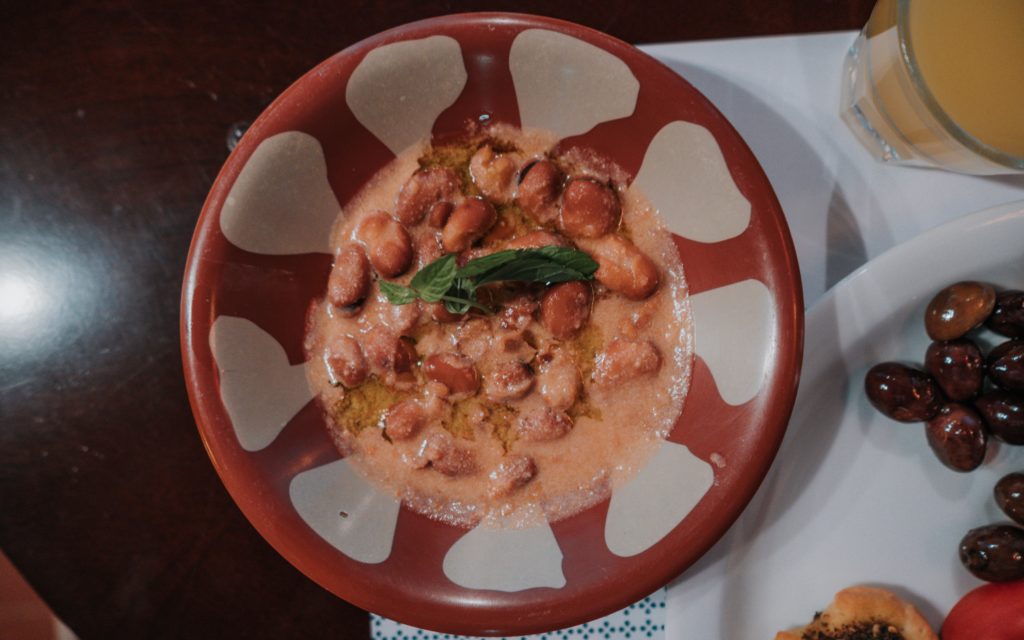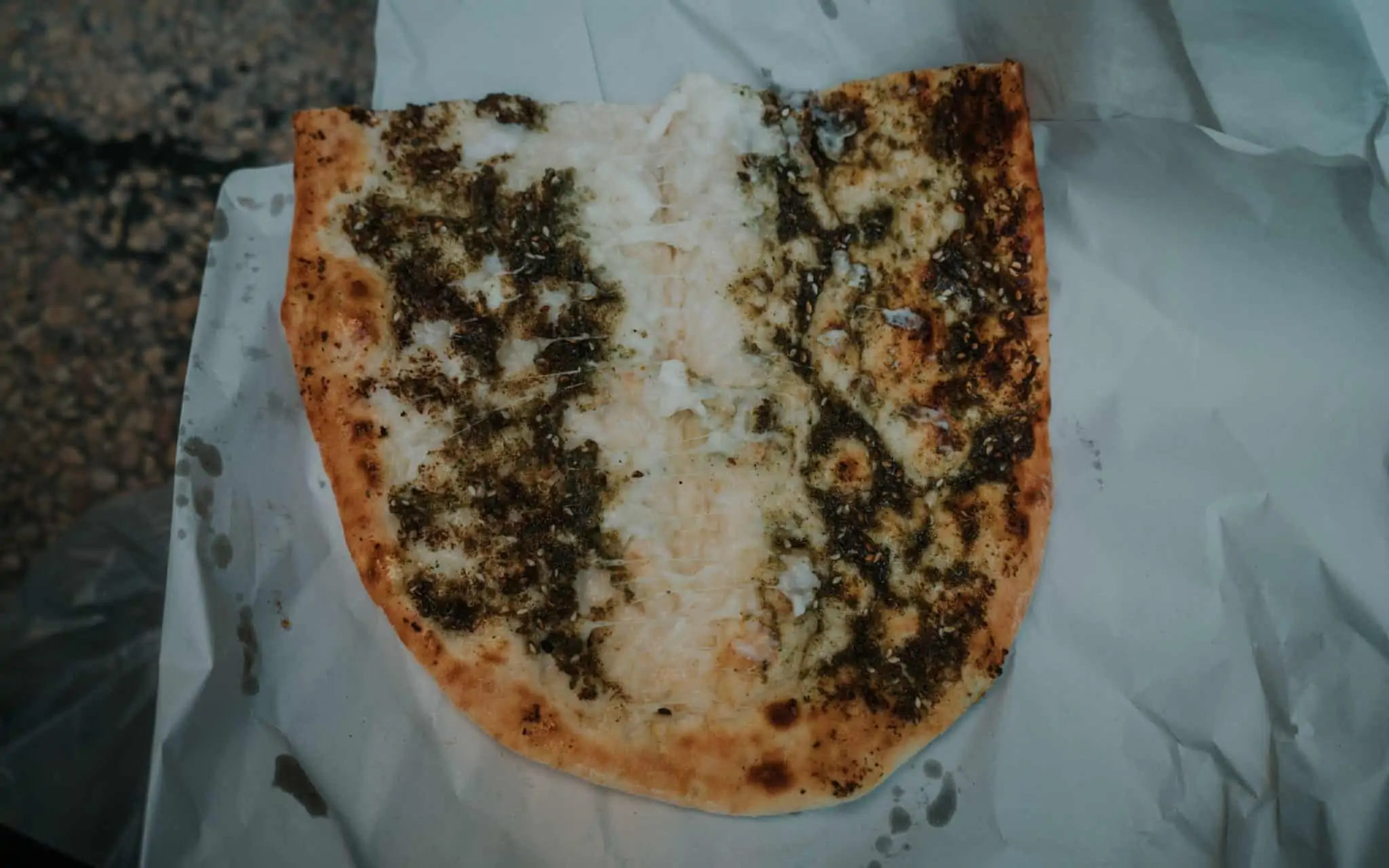 Manoushe (plural manakish)
Yummy, round, pizza-like dish with different possible toppings. Our favourite was the simplest one – manoushe with zata'ar and fresh veggies. The Lebanese usually eat it early in the morning (for breakfast) or in the evening – in some restaurants they don't serve manakish during the day. We used to eat manoushe zata'ar at least twice a day in different places and we honestly never had a bad one! It makes for a wonderful snack.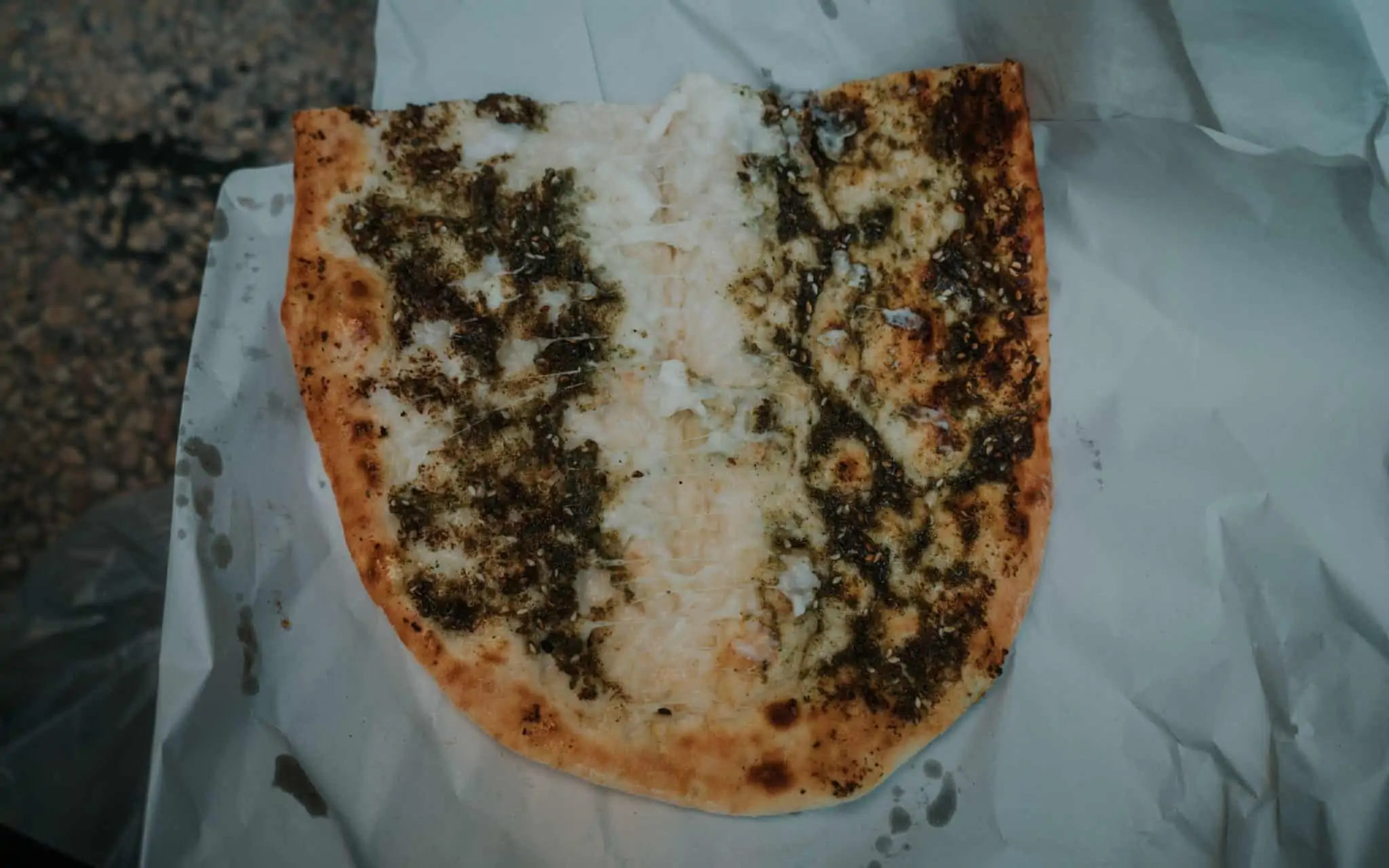 Falafel
Another middle-eastern classic served as typical street food. A deep-fried ball made from ground chickpeas, herbs and spices packed in a delicious pita bread is a great and fulfiling lunch.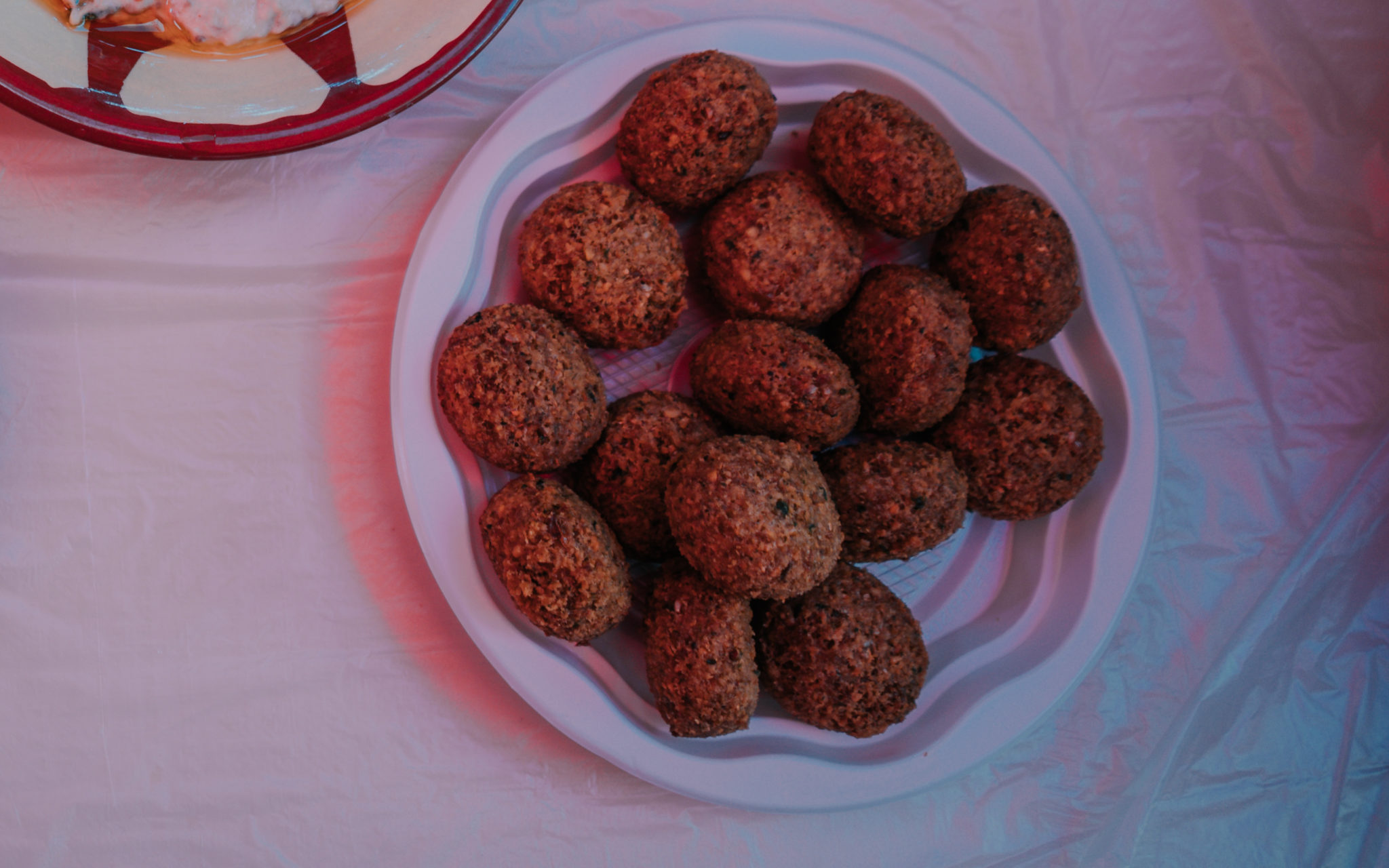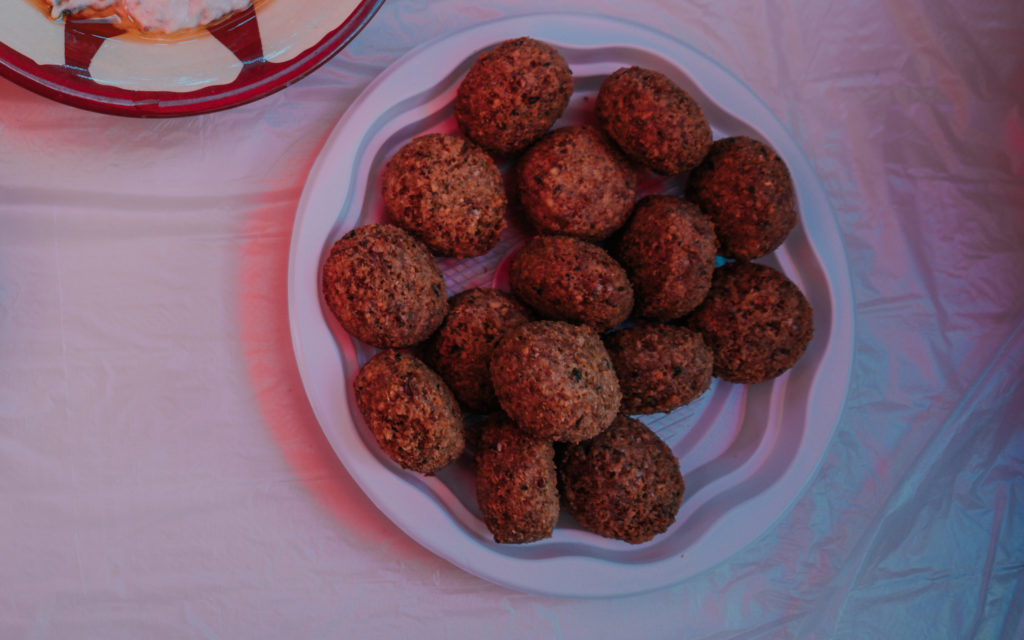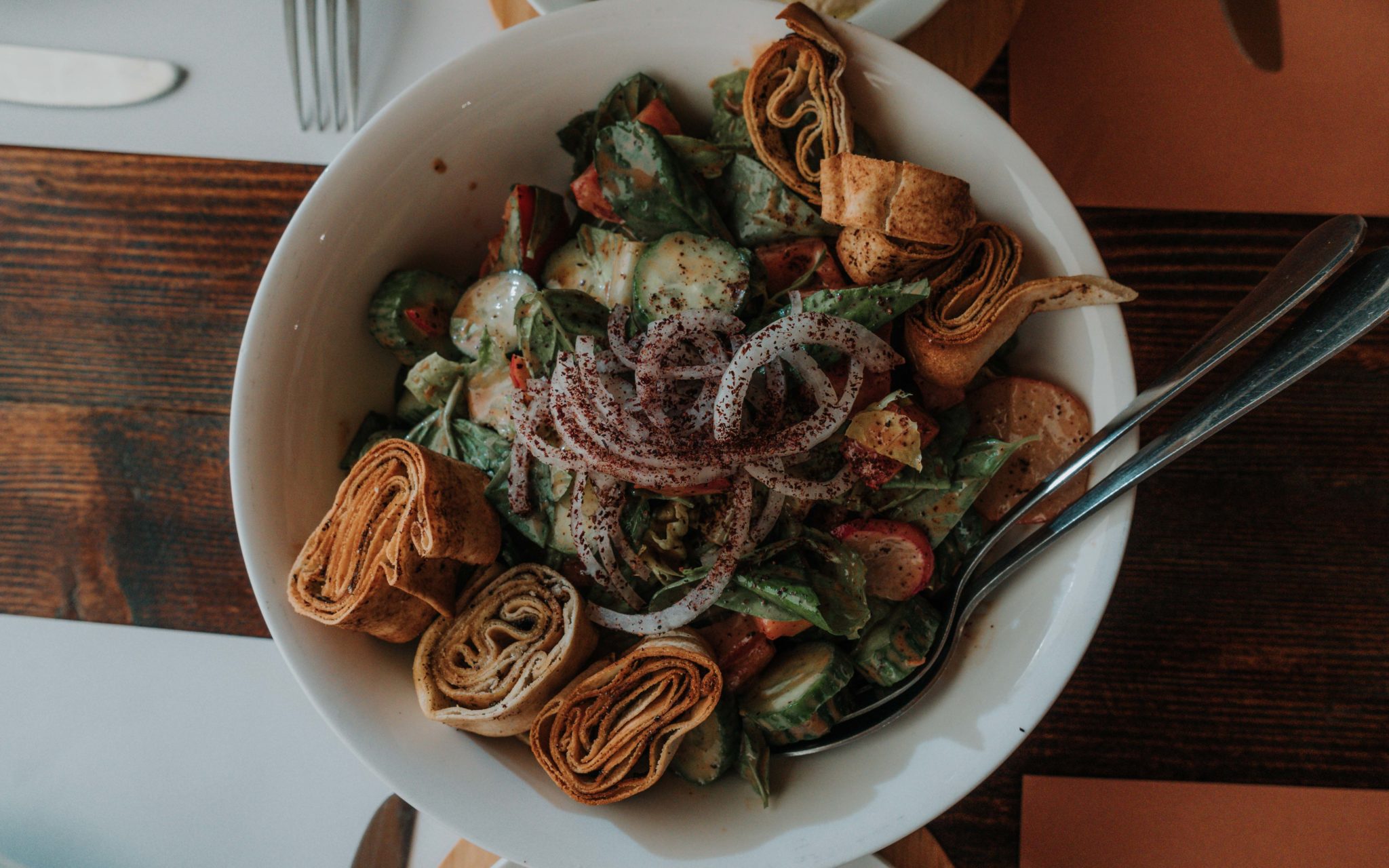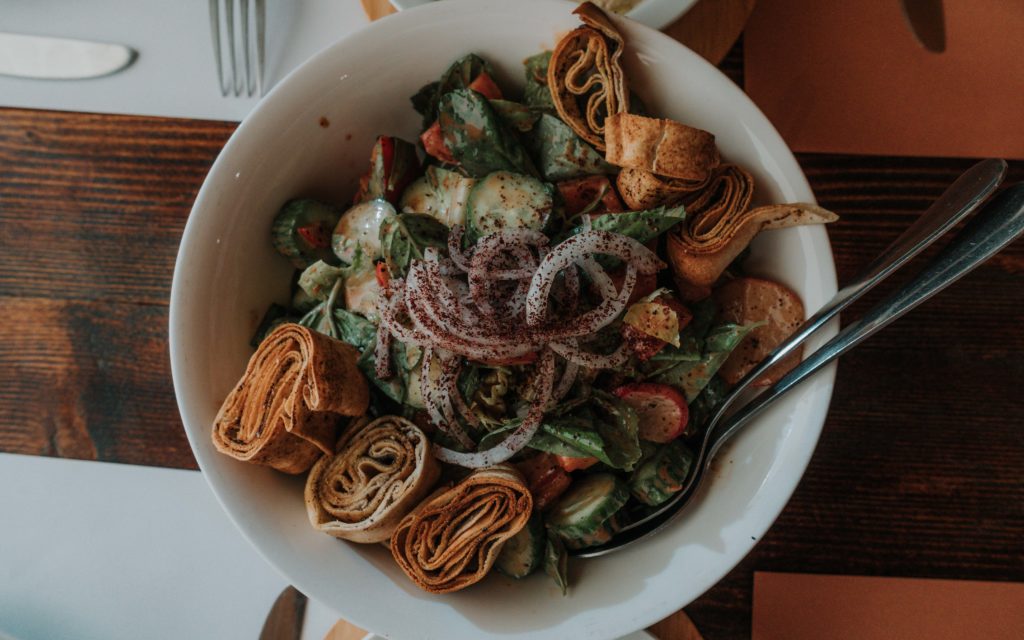 Fattoush
We love how rich in vegetables, spices and herbs Lebanese cuisine is – our favourite fattoush salad is no exception. It is a salad based on toasted or fried pieces of arabic flatbread combined with mixed greens and other vegetables, such as radishes and tomatoes, all nicely cut into large pieces. No lunch or dinner can be full without this salad!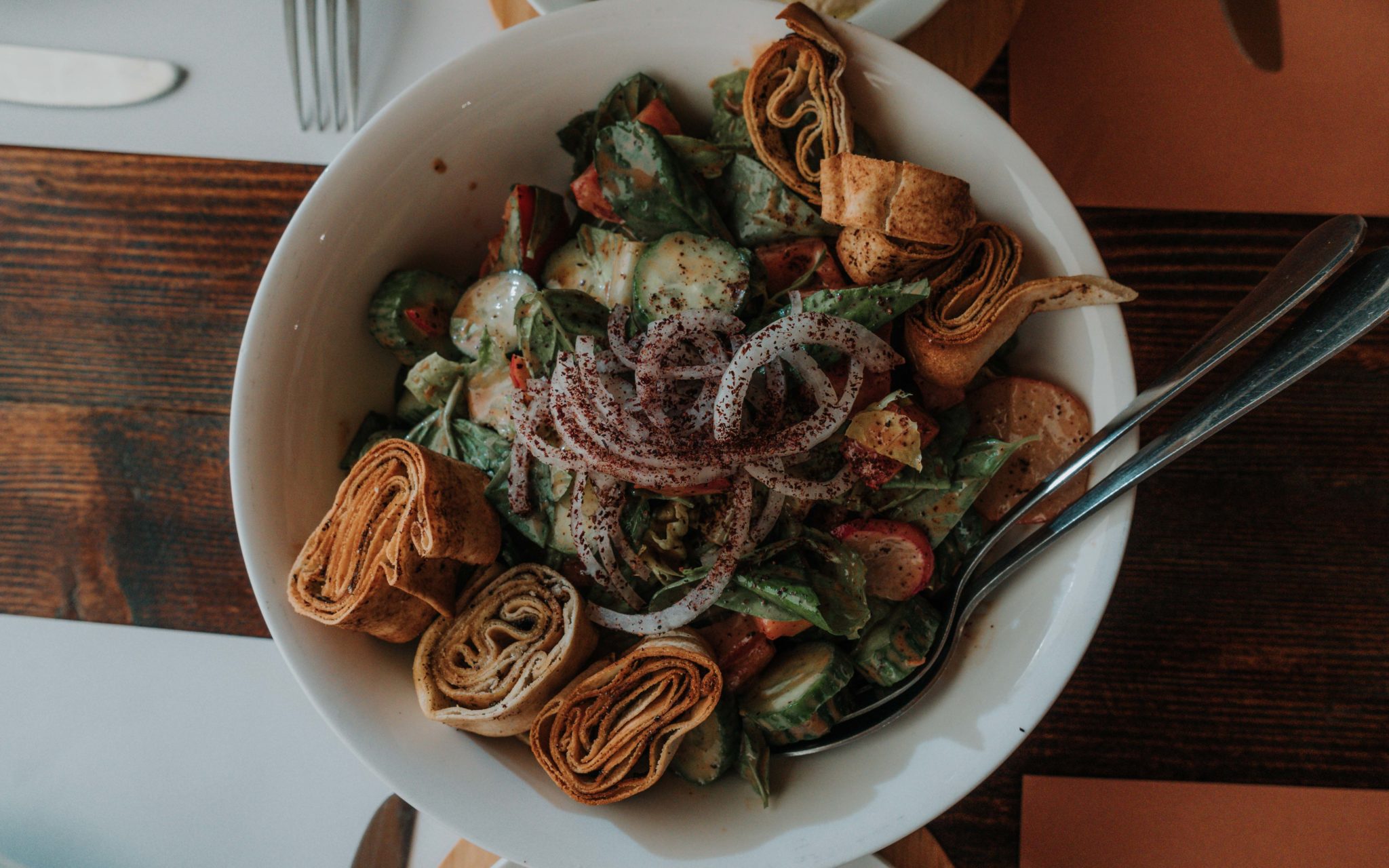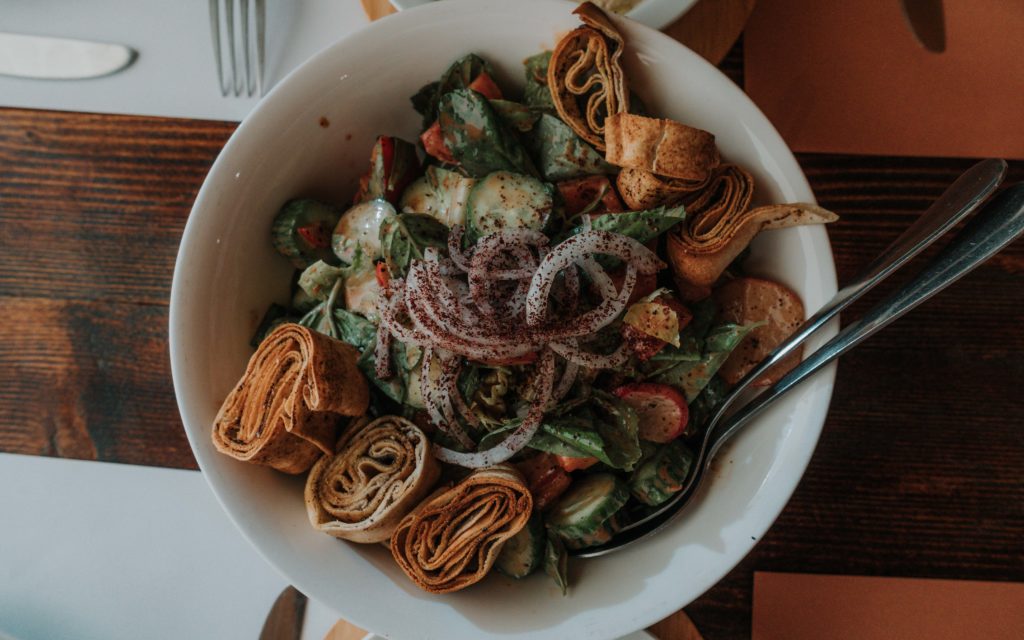 Tabbouleh
Again – simple and delicious is the perfect word combo for this salad. This middle-eastern classic is made mostly with finely chopped parsley, tomatoes, mint, onion, bulgur (soaked, not cooked) and seasoned with olive oil, lemon juice, salt and pepper. Also a must during every lunch!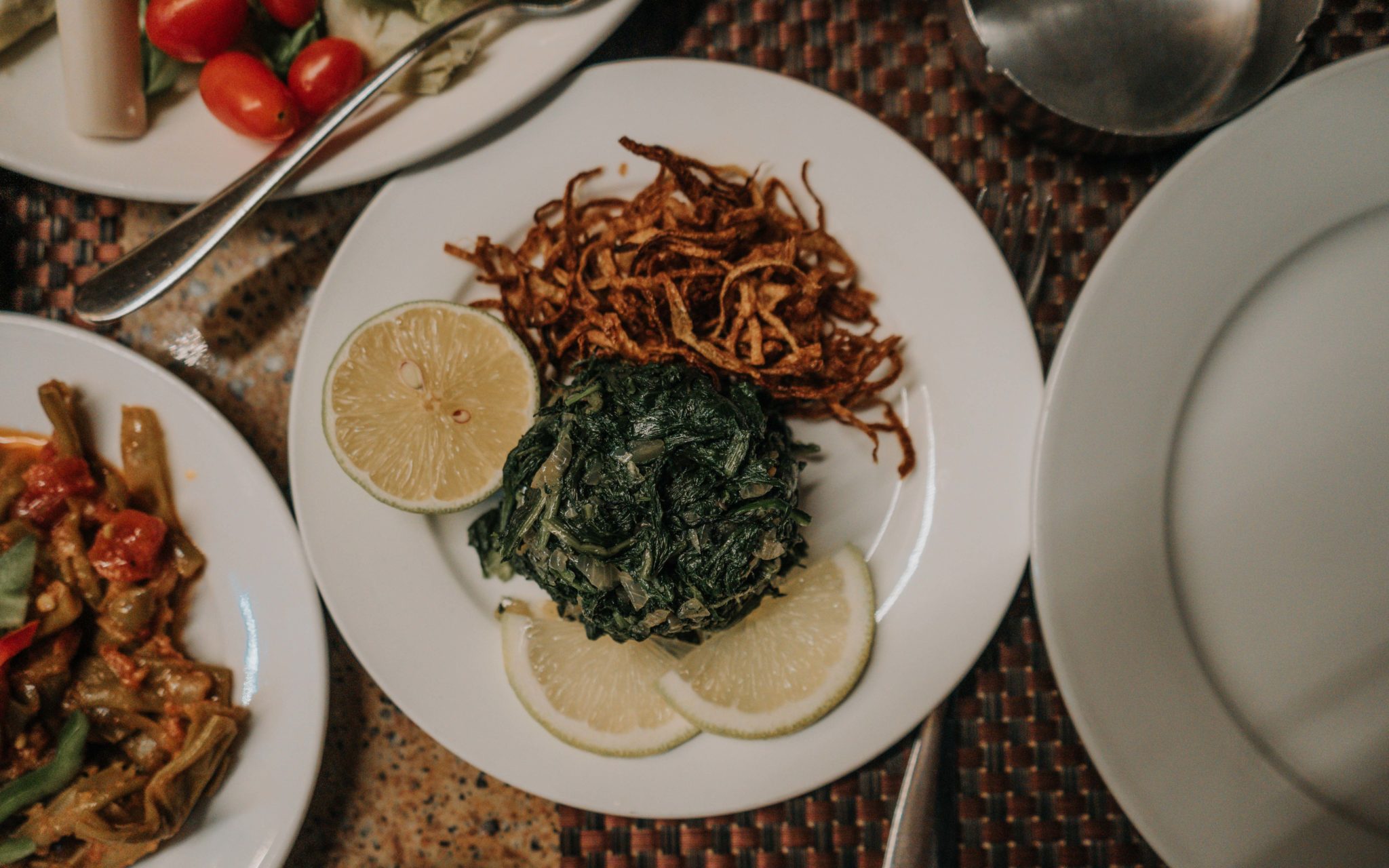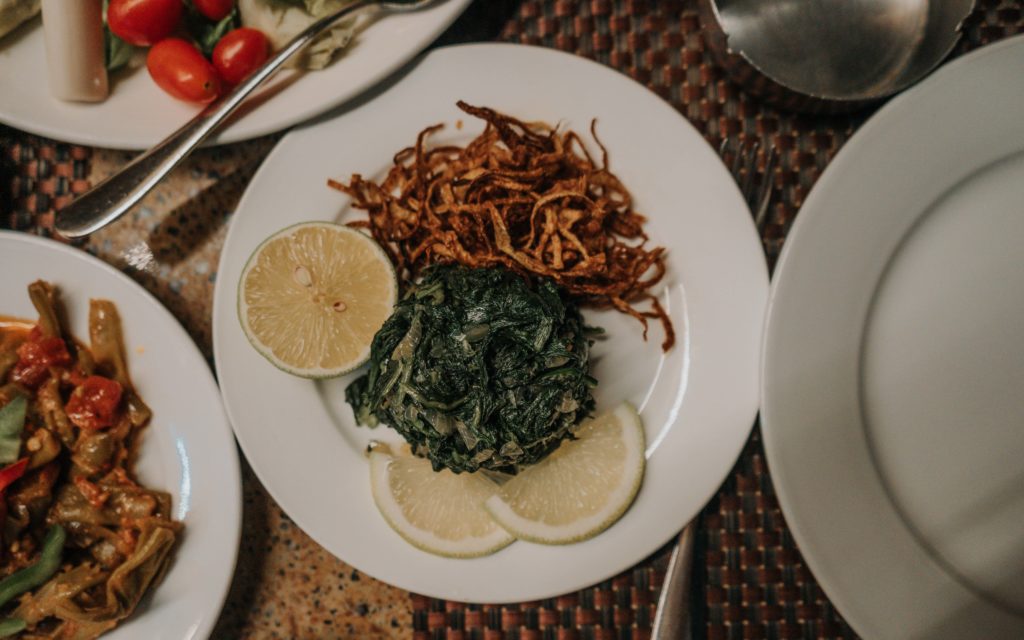 Hindbeh
Huge surprise – dandellion leaves sauted in olive oil and lemon juice topped with carmelized onion. Doesn't sound like anything special but believe us -YUM.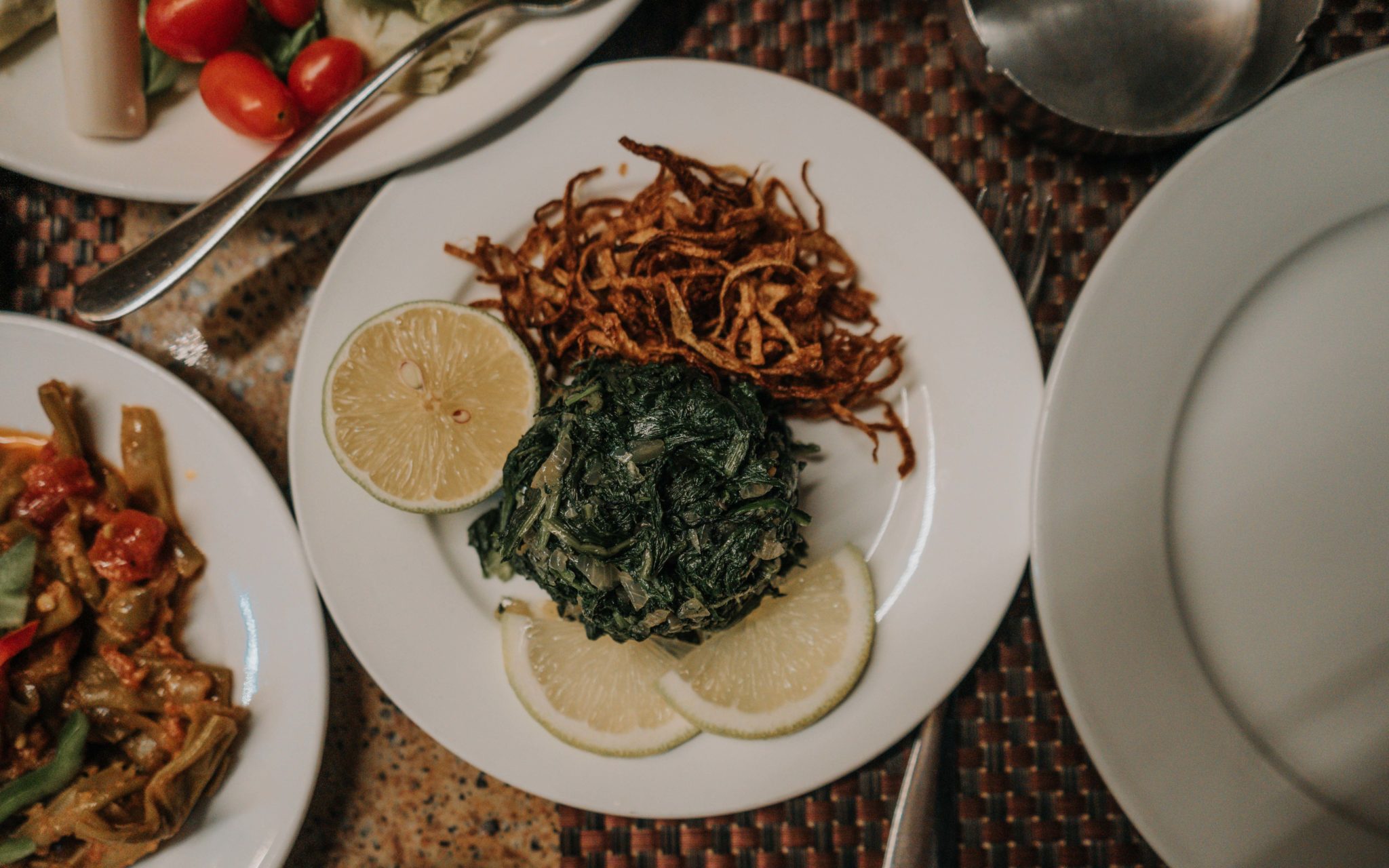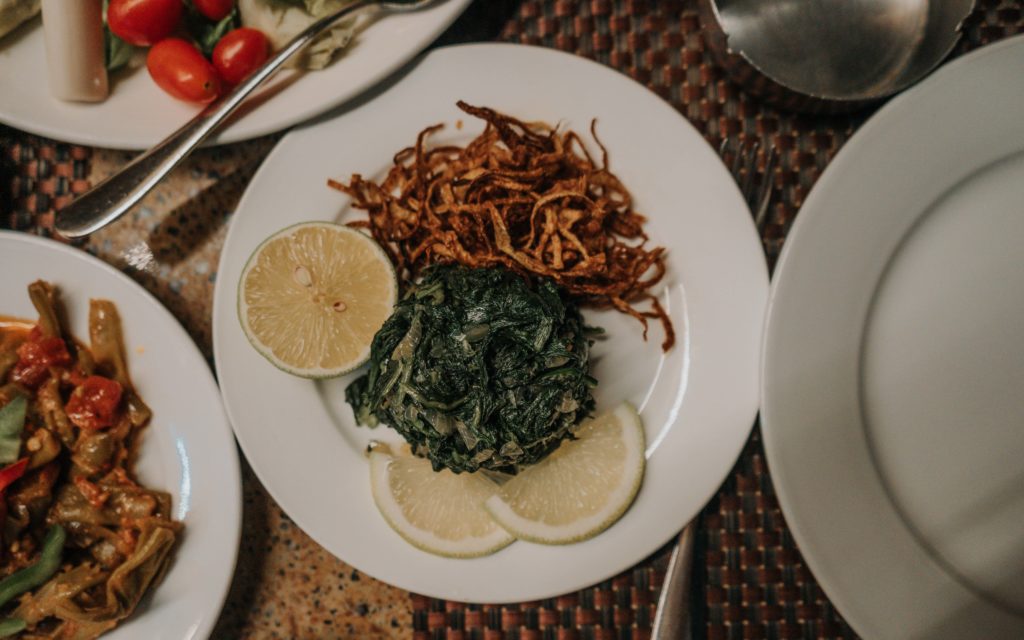 Batata harra
It means spicy potatoes and we can't imagine a mezze spread without them!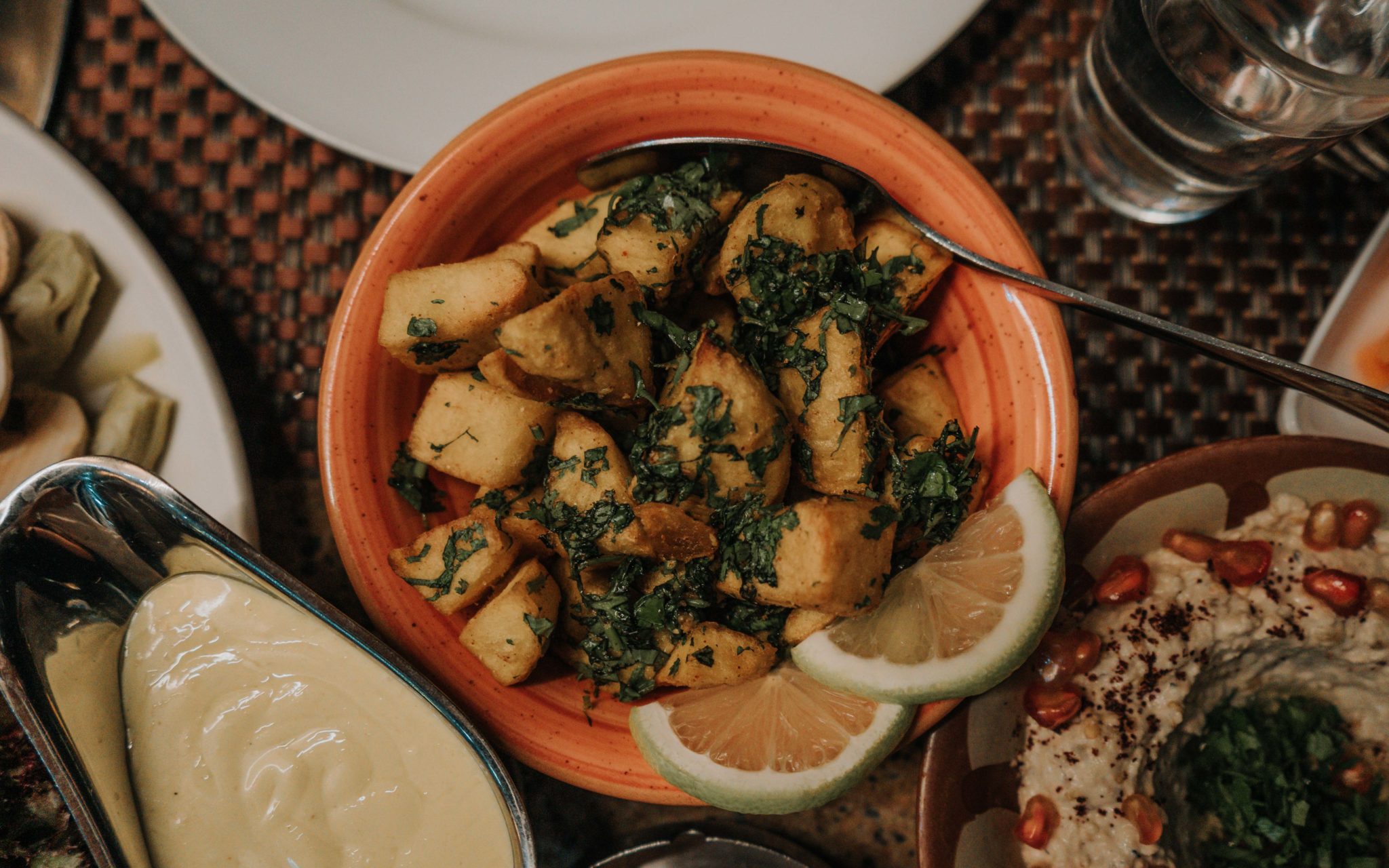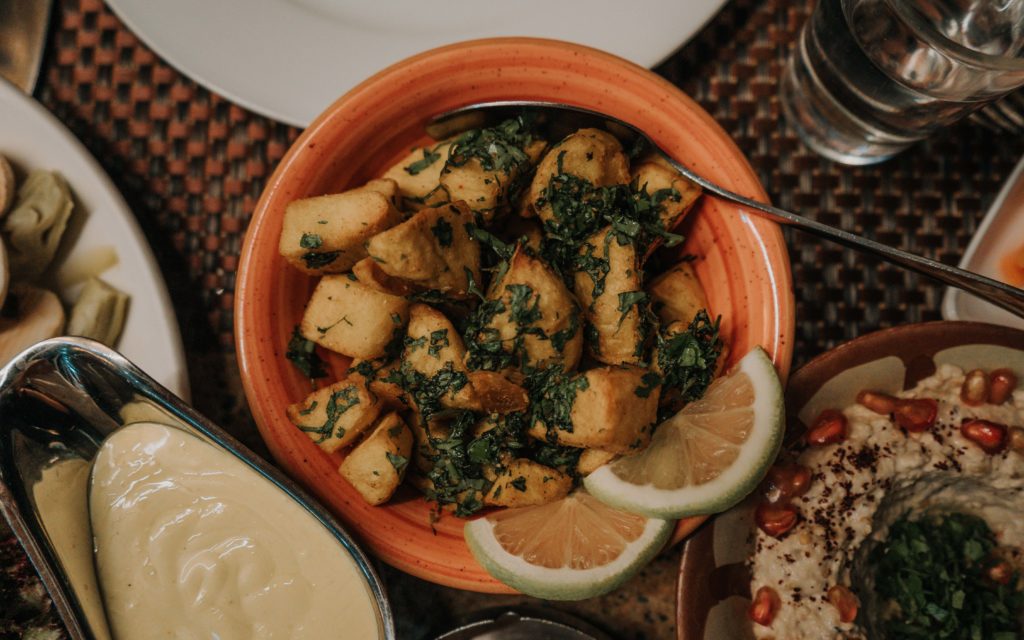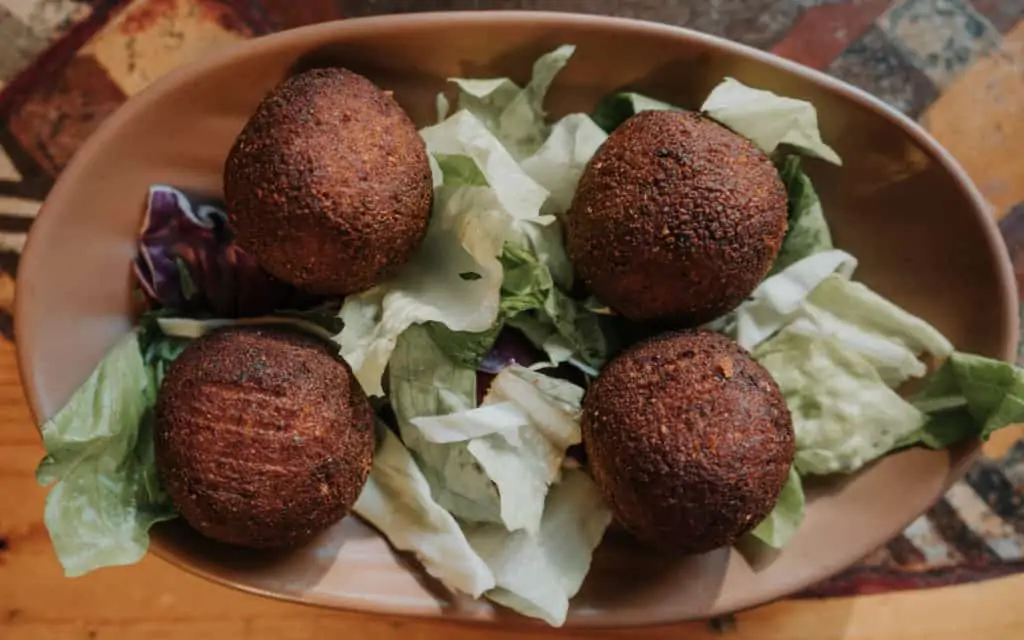 Pumpkin kibbeh
Kibbeh is a traditional meat-based meal in Lebanon but luckily it has a vegetarian version so you don't need to bail on tradition! From the crunchy shell to the spiced stuffing, it is an absolute treat.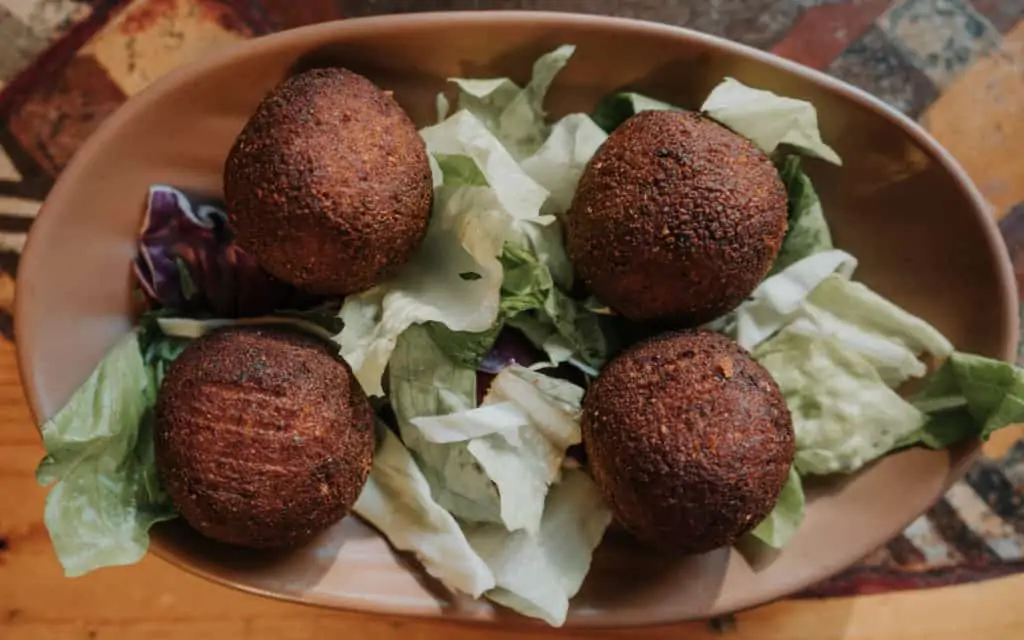 Cheese rolls
Exactly what it sounds like – delicious appetizer served in most restaurants across Lebanon, crispy on the outside and gooey on the inside. The Lebanese version of this appetizer uses 'akawi' – a firm salty white cheese famous throughout the country.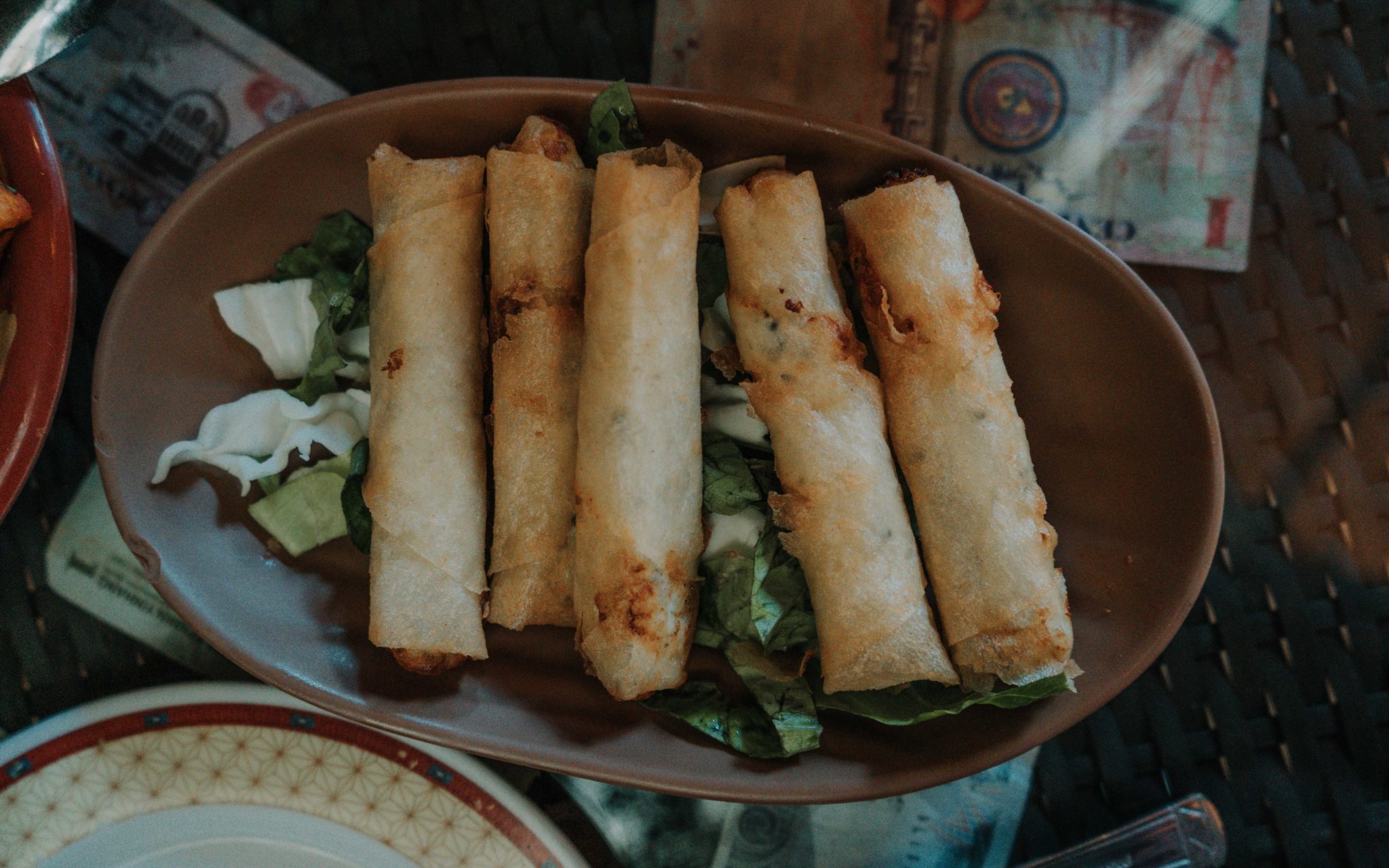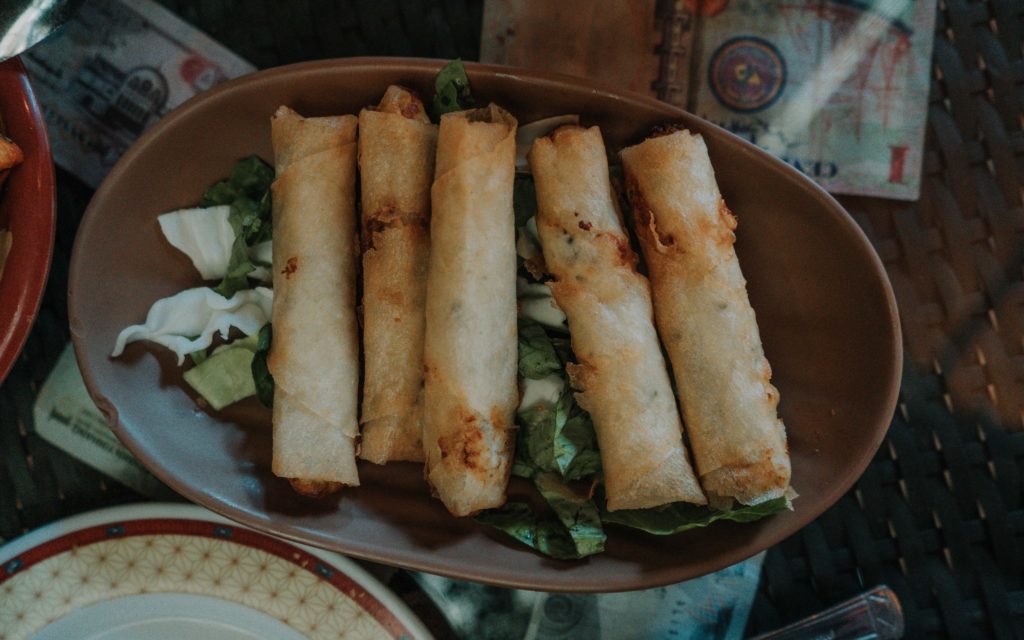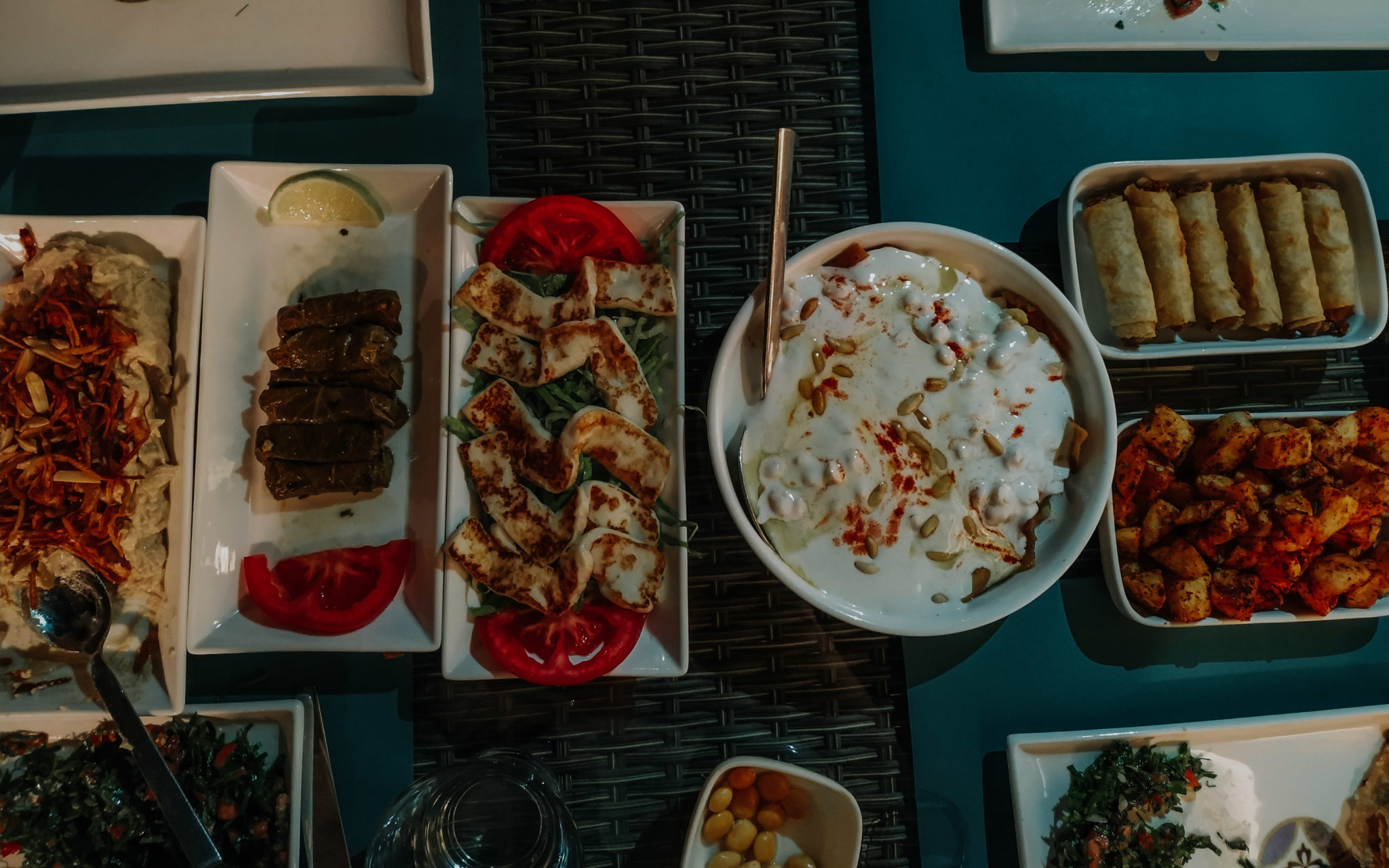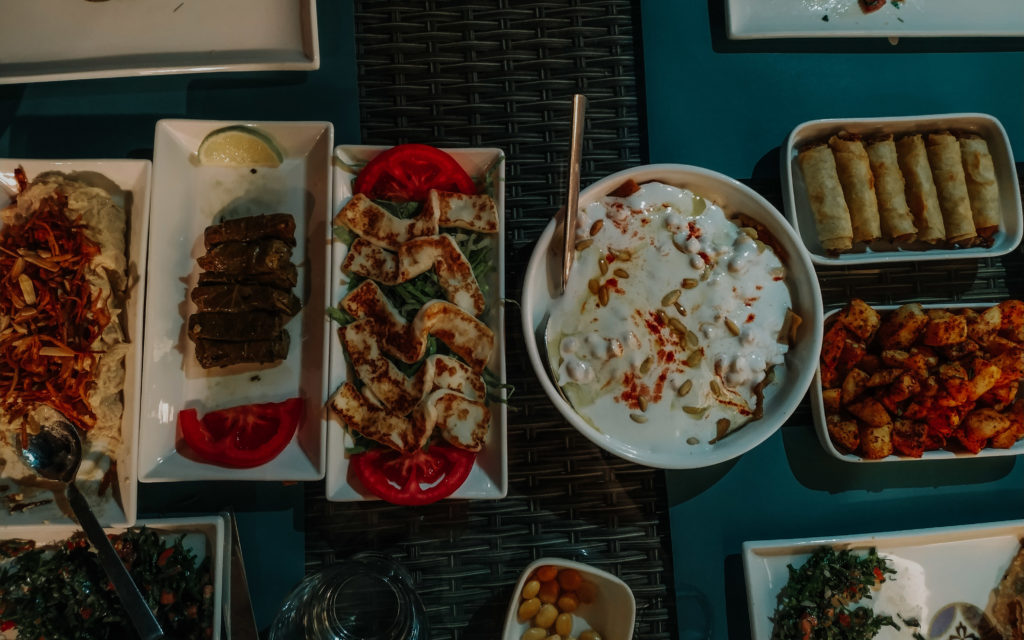 Grilled halloumi
What's best about halloumi is that it can easily be fried or grilled. This cheese came to Lebanon from Cyprus and luckily it is here to stay.
Warak enab
Stuffed grape leaves – exactly what is sounds like. We really enjoyed its vegetarian variations.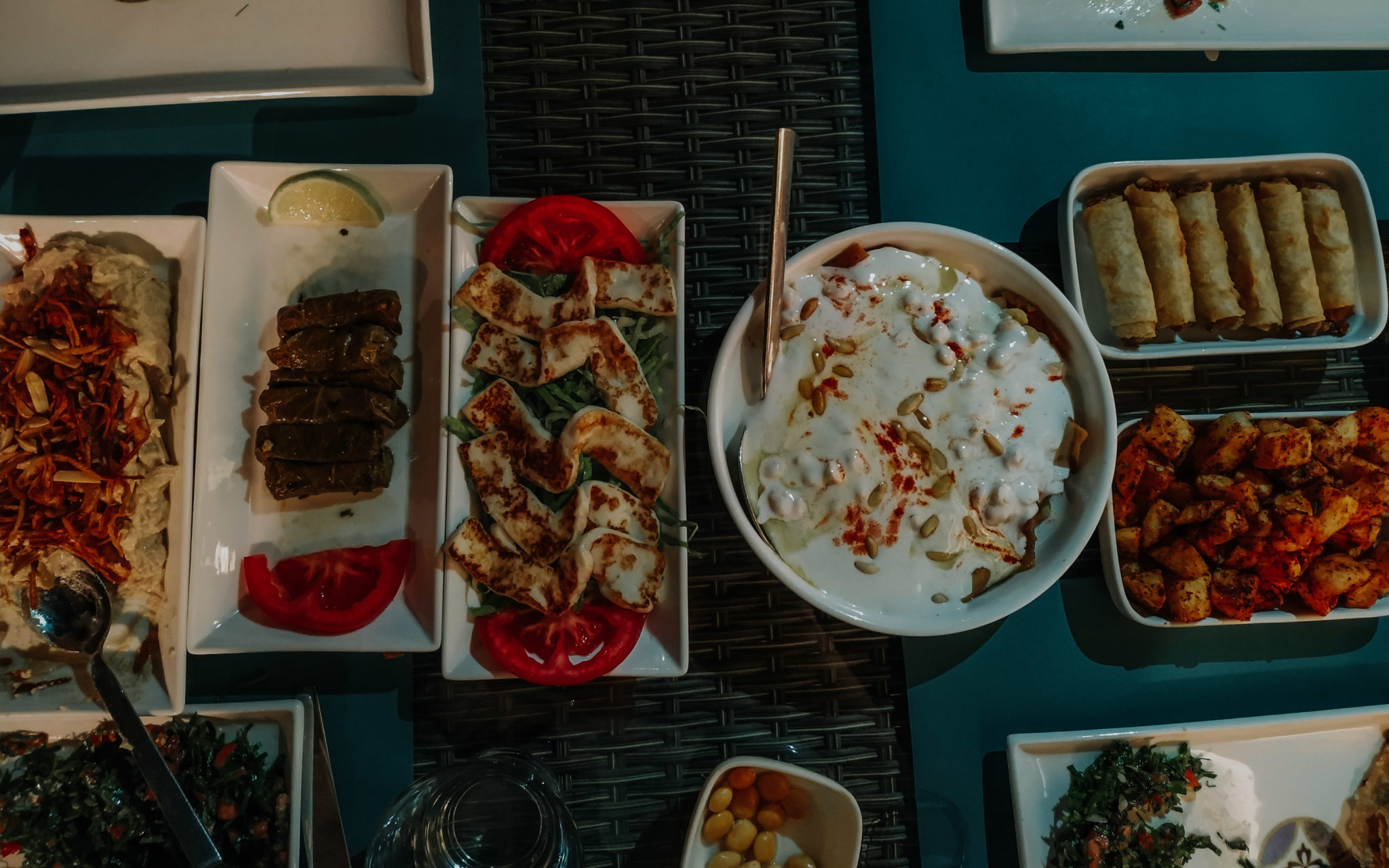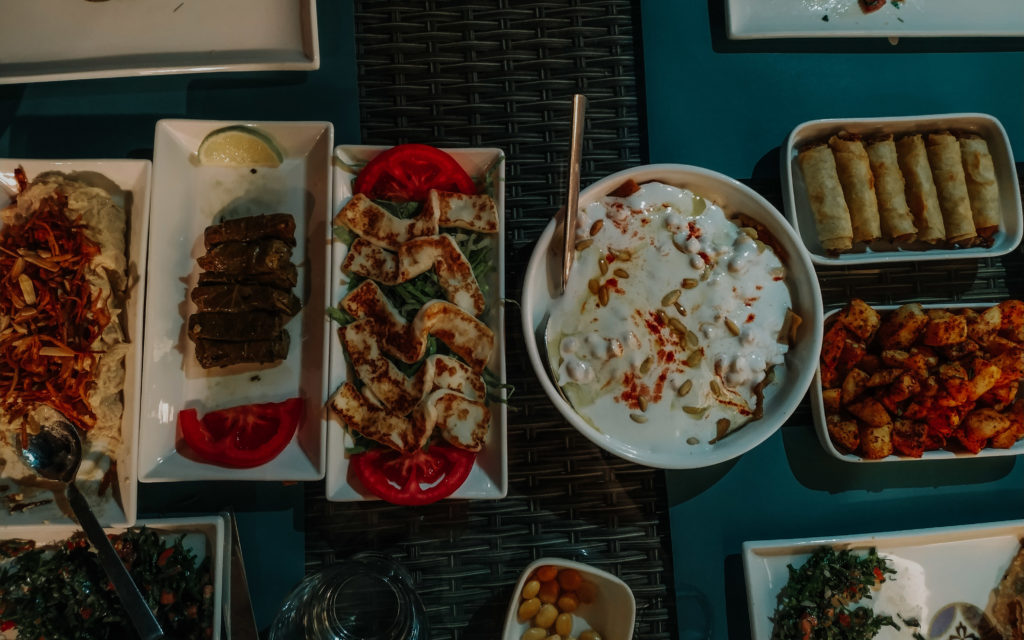 Knefeh
This was Marcin's favourite thing and he still has dreams about it. Knefeh is a Lebanese cheese pastry eaten for breakfast or as a dessert. It is made of a cheese similar to mozzarella and has a sweet semolina and butter crust. You can eat it alone or serve it in a traditional sesame bread, ka'ak, for an obscenely caloric treat. But wow, such a delicious one.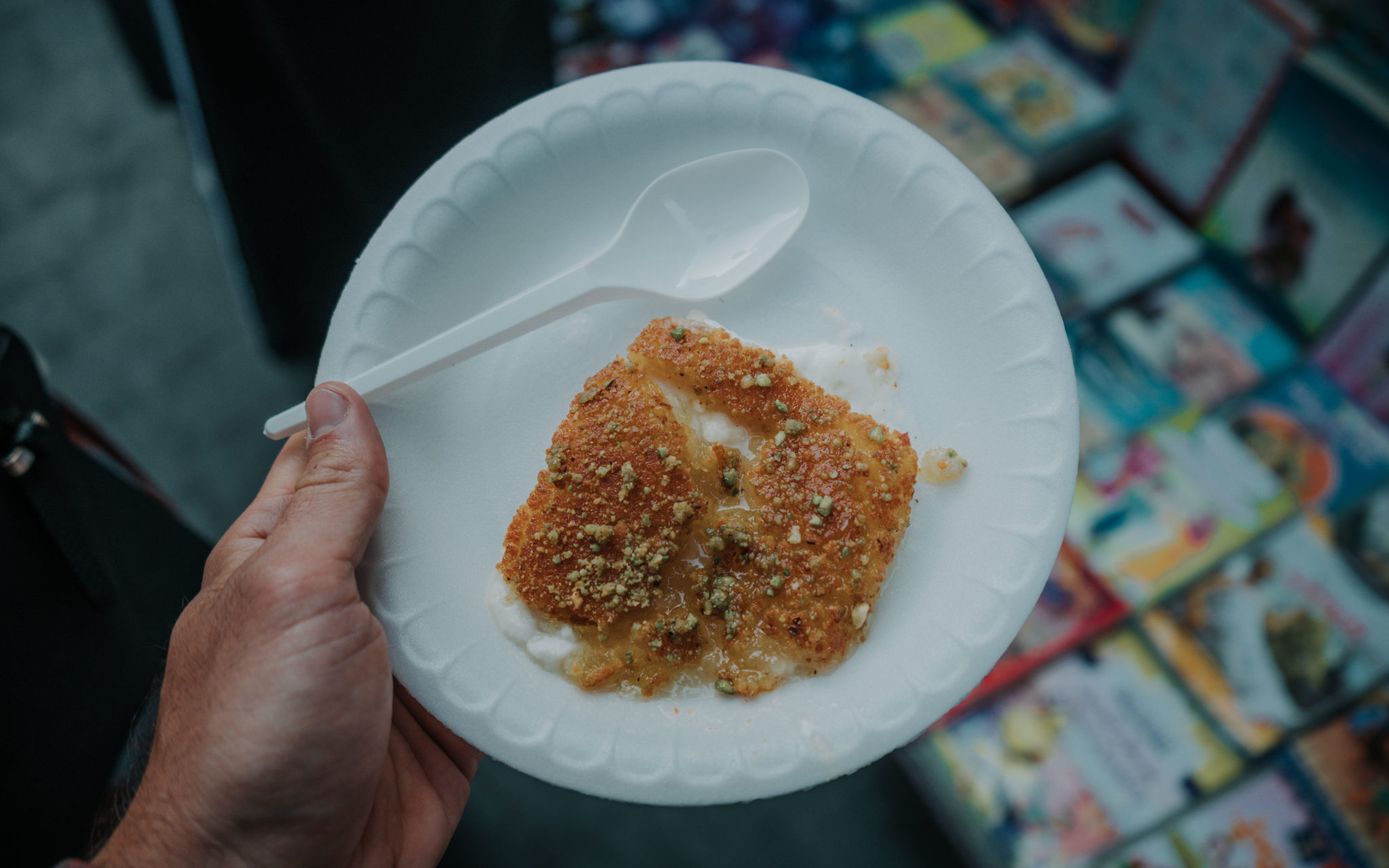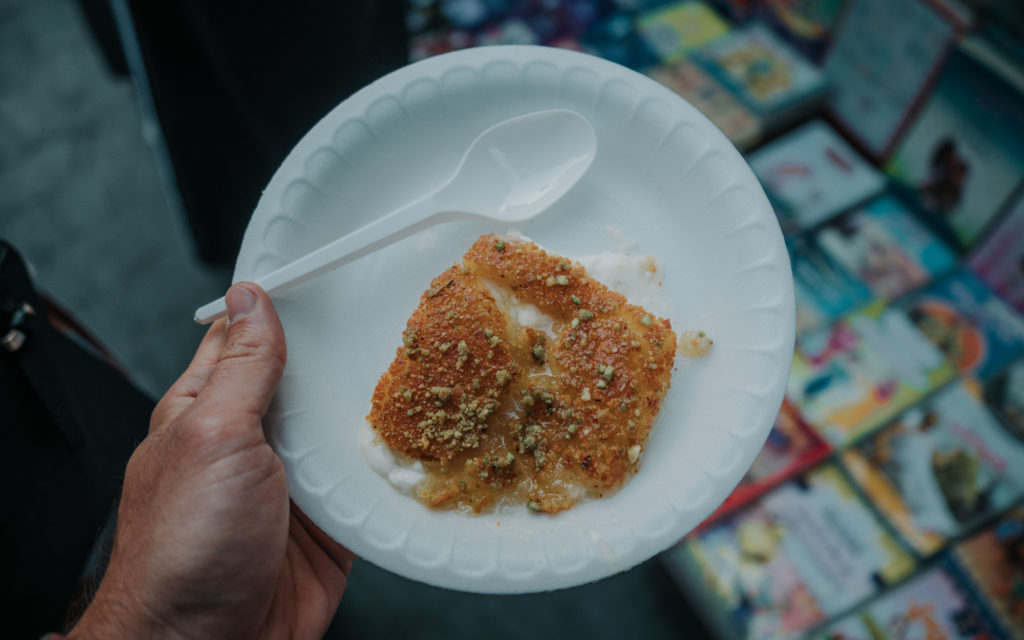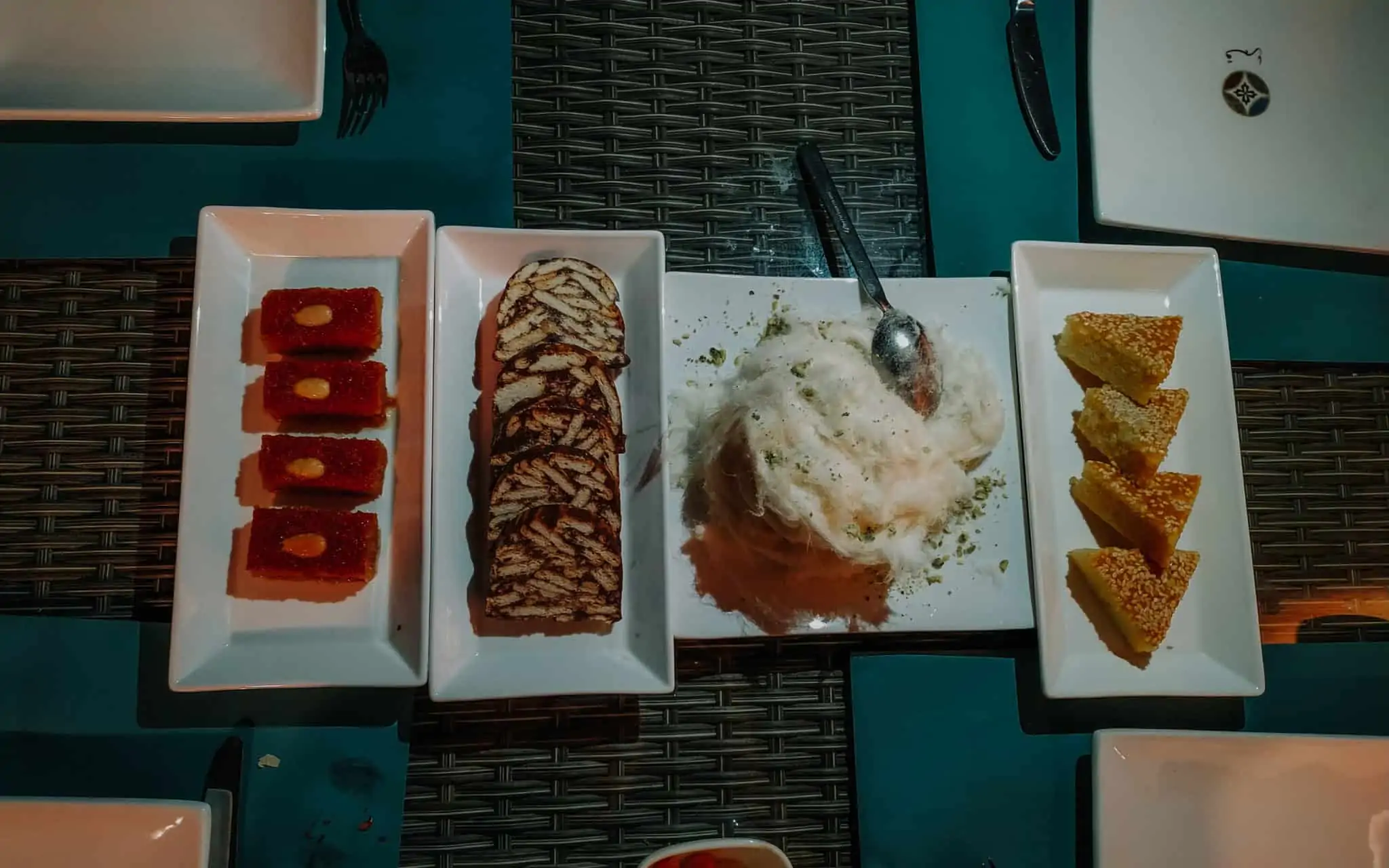 Sfouf
It is a Lebanese turmeric and semolina cake – the turmeric gives the cake a beautiful yellow color and a very special taste.
Ghazal banat
It was probably the most unexpected thing we tried in Lebanon! The Arabic version of cotton candy, laced with flour and orange blossom essence and topped with unsalted pistachios. We had it served with vanila ice cream and it was DELICIOUS.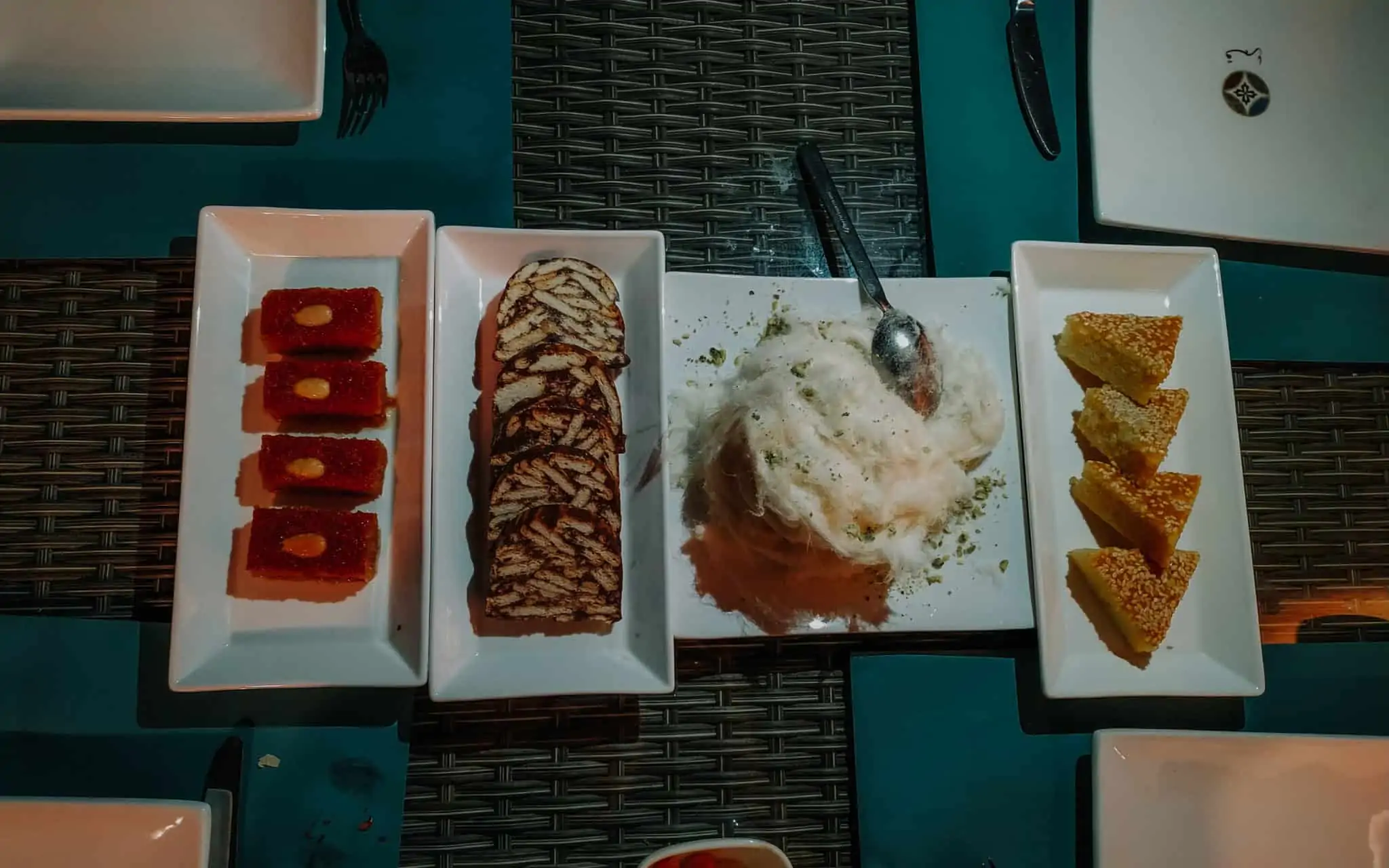 Baklava
Lebanese style baklava is filled with walnuts and pistachios and covered in orange blossom sugar syrup. It is less sweet than its greek cousin, but equally delicious!
Meghli
We were so lucky to try this one! It is a cinnamon rice pudding topped with a variety of nuts and shredded coconut. What is so special about it is that it is traditionally served to celebrate the birth of a new child in a family or during Christmas.
As you can see we were able to try a lot of Lebanese dishes during our short stay. We went to several different restaurants across the country and never had a bad experience so don't be afraid of trying new places – it will probably be absolutely delicious. In our opinion no middle-eastern adventure can be full withouth induldging in middle-eastern cuisine so taste away! And please let us know what your favourite dish was! Also feel free to check out our guide to the most beautiful places to visit in Lebanon.