It only took one 10-day visit for Madeira to become our favourite island in Europe. If you love hiking, this portuguese island might turn out to be your own paradise too! There are almost 250 kilometers of walking trails on Madeira, the majority of them along levadas. Levadas are an irrigation system used for transporting rain water from the north to the south of the island. Why does this need to be done? Madeira is divided into two parts – the northern part has more rainfall and is green all year long whereas the southern part is way more dry. Levadas help to keep both parts hydrated which is important for farming and growing vegetables and fruit (especially bananas). Levadas are also used for tourist purposes and the paths along them work as hiking trails on the island. Below we will show you some of the best hikes on Madeira – after completing them you may leave with a feeling you have seen all of Madeira's faces.
There are tens of hikes on Madeira, located all over the island. Some of them are loop trails and some of them just lead you from point A to B and back. Moving around Madeira is not difficult but you will probably need a rental car. There are always parking spaces available near the trails' heads.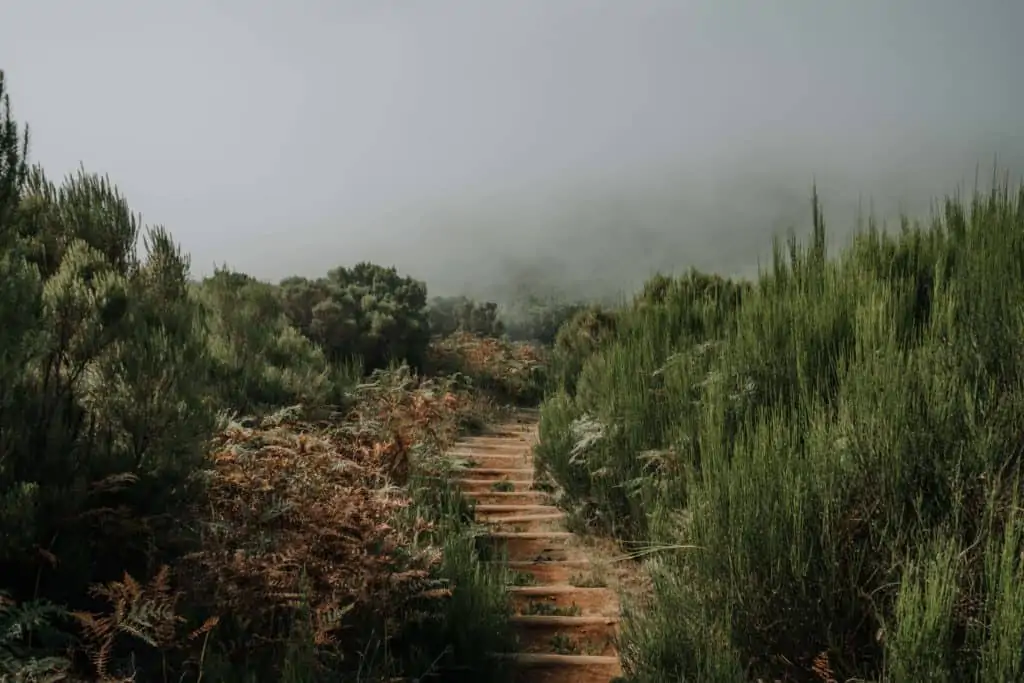 Table of Contents: Best hikes on Madeira
Madeira - best hikes on the island
First of the walking trails is kind of special, because it spreads between the two of the highest peaks of Madeira. The trail starts at 1818 meters above sea level at the parking lot near Pico Areeiro and takes you to Pico Ruivo at 1861 meters above sea level. Doesn't seem too difficult, right? You could not be more wrong! Vereda do Areeiro takes you up and down several peaks – after all, you need to descent from one peak to climb another. There are many scenic viewpoints along the trail such as Miradouro do Ninho da Manta at the very beginning of the hike. We really recommend this one for a sunrise or sunset above the clouds.
Things you definitely need to bring with you are comfortable hiking boots, lots of water, a wind shield and a headlamp (there are few dark tunnels along the way). Vereda do Areeiro can be physically demanding and on sunny days it can get hot so definitely bring sunscreen. The hike is worth the extra sweat though because the views are some of the best we have ever seen. Our recommendation would be for you to do the hike in the second half of the day and time it appropriately so you are back at Pico Areeiro for sunset. You won't regret it! For current weather conditions check out web cams.
Trail length – 5,5km one way
Time – 3h one way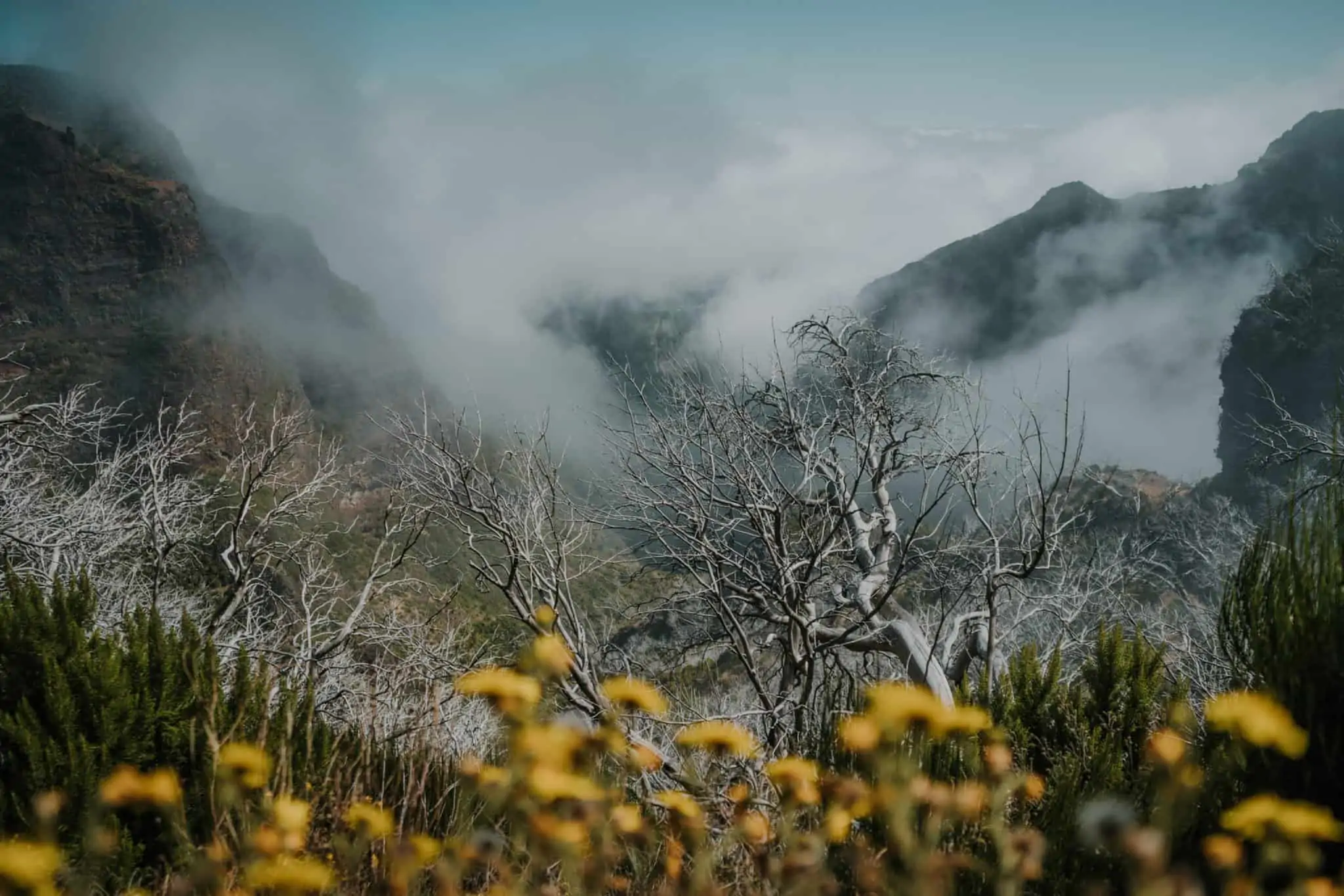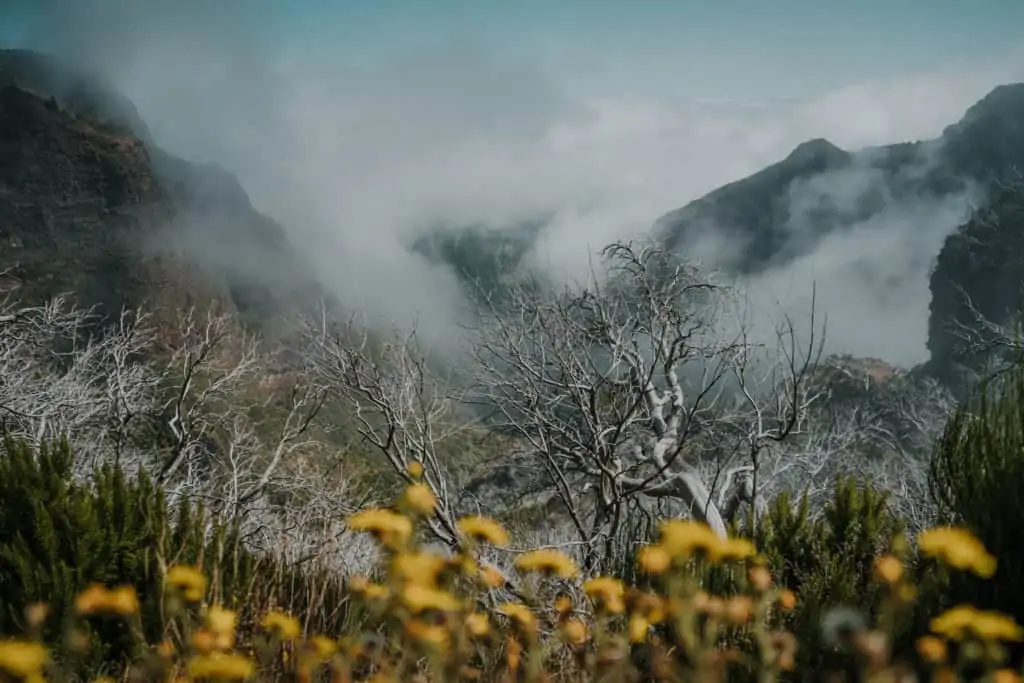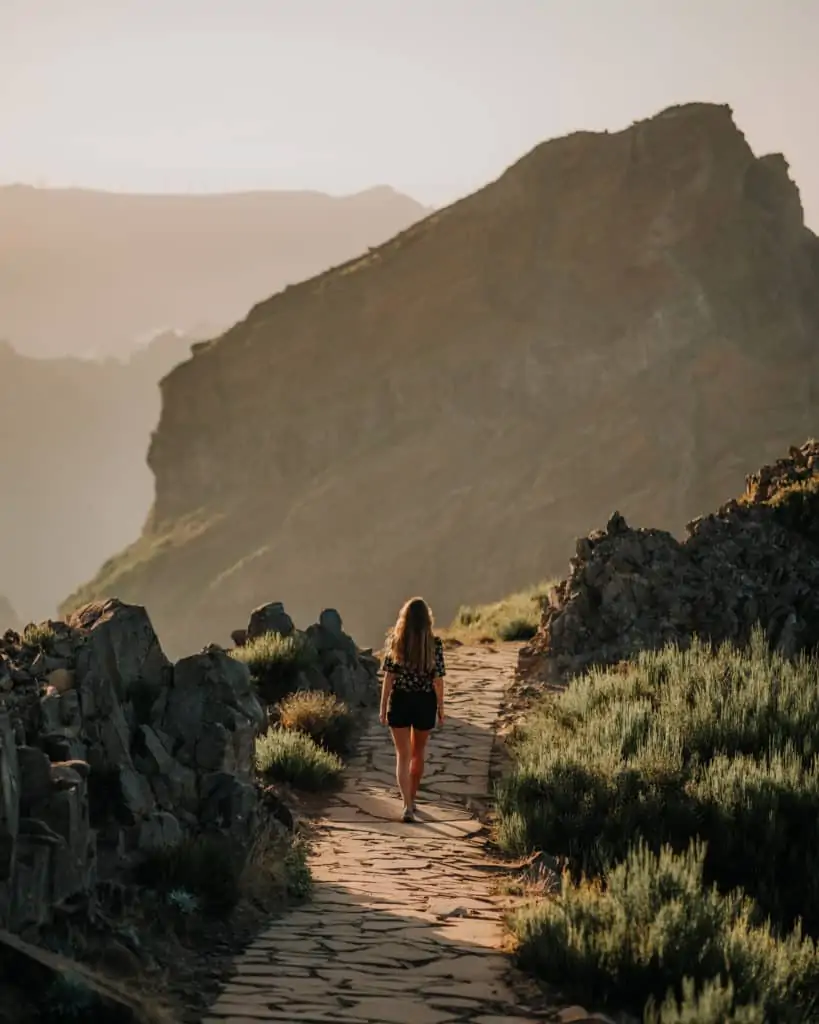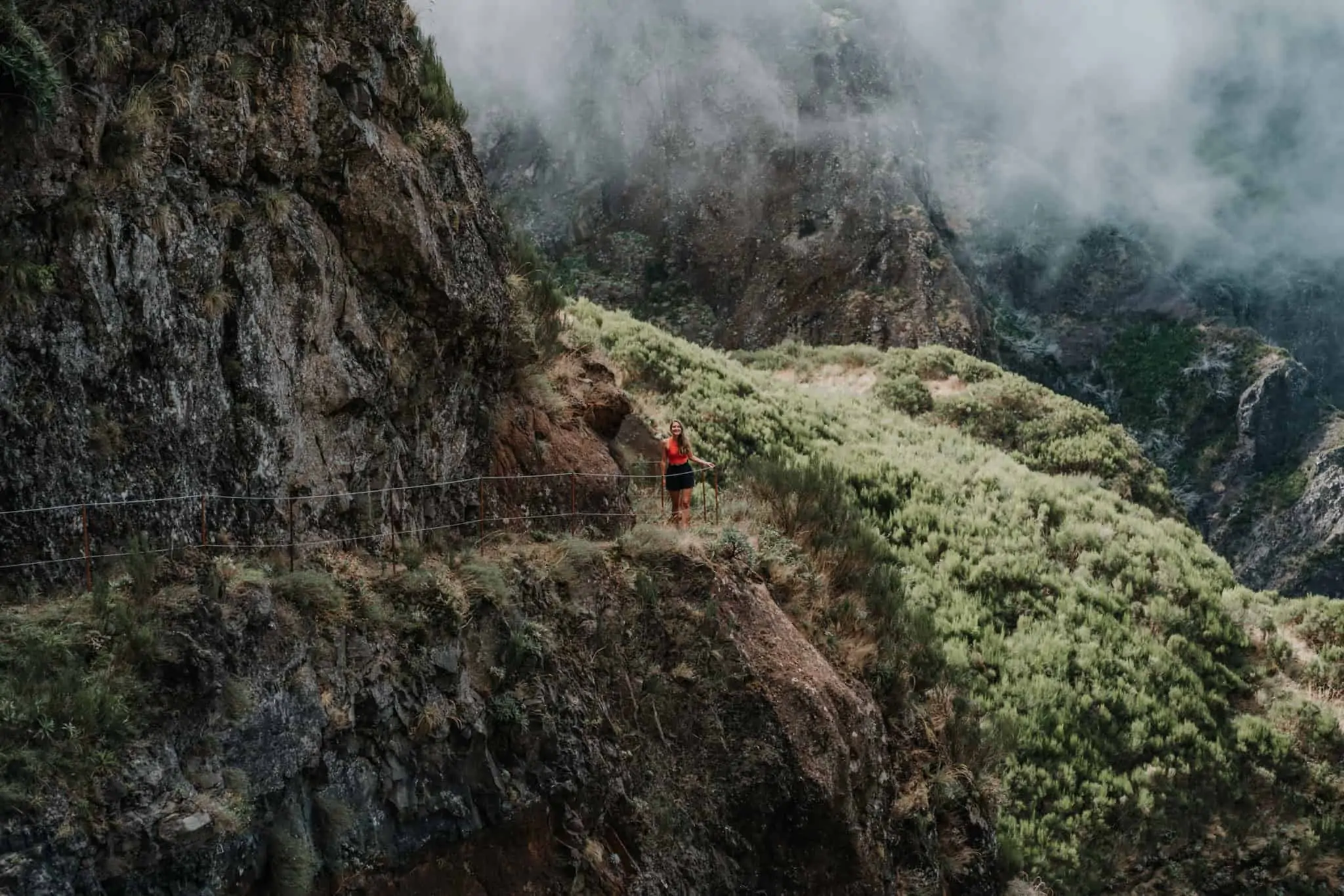 Vereda dos Balcões - PR 11
This hike starts right off the ER103 road in Ribeiro Frio. It is short and easy and will take you to the viewpoint with the most amazing views of Madeira's peaks. From Miradouro dos Balcões you can see the heart of Madeira – Pico Ruivo, Pico Areeiro and others. This hike is more of a walk so you won't get tired for sure.
Trail length – 3km both ways
Time – 1h both ways
Levada do Caldeirão Verde – PR 9
Levada do Caldeirão Verde is one of the longest levada trails on the island and definitely the most time-consuming one on our "best hikes of Madeira" list. The trail boasts greenery all year long and there are few waterfalls you can admire along the way. In the months with heavier rainfall the waterfalls are way more impressive. When we went in September they were just trickles of water. Some parts of the trail are totally exposed and the views are just mind-blowing. Completing this trail will take you the better part of the day but it is really worth it! The majority of the hike is hidden from the sunlight so you don't need to worry about getting sunburnt. You might want to take a headlamp with you cause there are few long, dark tunnels along the way. Take a lunchbox with you to enjoy a meal by the waterfall at the end.
Trail length – 13km both ways
Time – 5h both ways
Levada do Alecrim – PR 6.2 and Vereda da Lagoa do Vento – PR 6.3
The trail for levada Alecrim starts off the road ER110 (aka the most scenic road on Madeira). This means that solely driving there is an attraction in itself. At the beginning of the Levada Alecrim you will see the sign for the Lagoa do Vento trail that, in our opinion, is a little bit more rewarding. Those trails are less popular and therefore less crowded. At the end, after going down lots of stairs, you will get to the massive waterfall. You can really feel the power of nature there! The weather in the area may change fast so prepare for wind, rain and sun in the span of a few hours. The parking lot is also the head of the trail for the most populat levada of Madeira – PR6 Levada das 25 Fontes – but we will check it out next time!
Trail length – 6,6km both ways
Time – 2,5h both ways
Vereda da Ponta de São Lourenço – PR 8
This trail is located on the east side of the island and it is the ideal place to admire Madeira's breathtaking rugged coastline. It is definitely one of the best hikes on Madeira and a true must-see. The hike itself is not very demading. However, we wouldn't advise you to go there in the middle of a hot day because it is completely exposed. At the end of the trail there is a place where you can pitch a tent if you have an appropriate permit and have a little swim. From Vereda da Ponta de São Lourenço you can see the Ilhas Desertas and the Porto Santo island. During the months with more rainfall the cape has the very vivid green colour and the variety of fauna. During our trip in Semptember the landscape was more raw and moody which also had its charm.
Because of its exposed characteristicts you will need plenty of water and a sunscreen. The viewpoints at the beginning of the trail are perfect to catch the sunrise – you can read more about it and other beautiful photospots on Madeira here.
Trail length – 8km both ways
Time – 3h both ways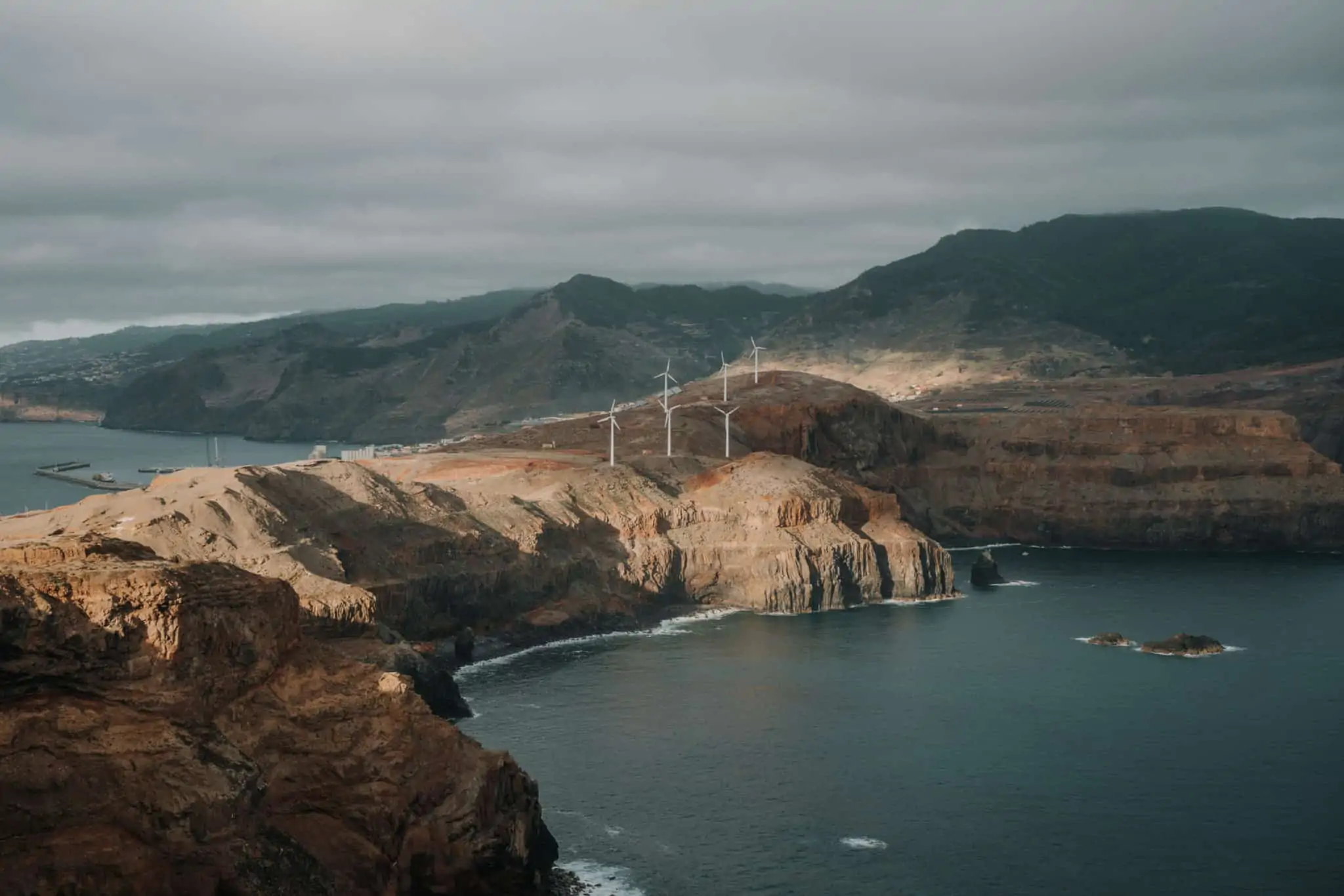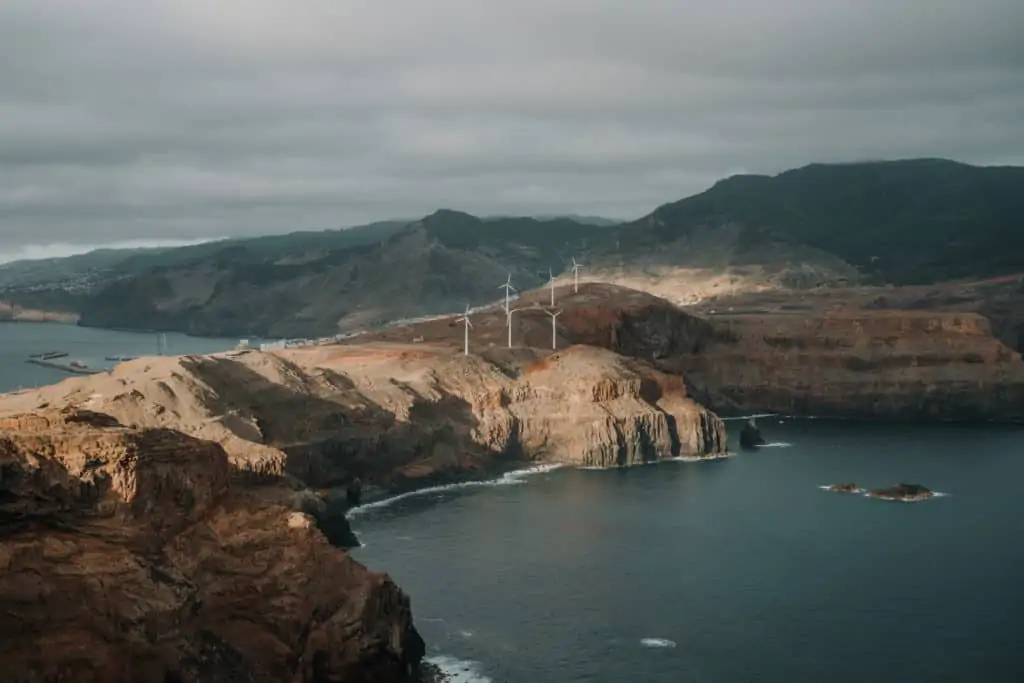 This one is a whole day trip, but definitely worth it for those who want to immerge themselves in nature. Vereda do Fanal trail is located close to the road ER209 and takes you through clouds, fog and mystical flora. The Laurissilva part of the trail is included in the UNESCO list. The hike is 11 km one way so if your goal is only to see the mystical trees surrounded with fog then you are in luck – they are right next to the head (or end, depending how you look at it) of the trail, next to a parking lot.
Trail length – 22km both ways
Time  – 7h
These are some of the best hikes Madeira has to offer. They will take you through lush forests, waterfalls, rugged coastline, humbling peaks, clouds and along the levadas. You will see many different faces of Madeira if you complete them all. There still are many trails on Madeira that we would love to walk so we are hoping to add them to this list during our next visit. Happy hiking!