For those of you that skipped some geography lessons – Madeira is a small, portuguese island on Atlantic Ocean. Despite its small size (741 km2) Madeira has a lot of amazing spots definitely worth seeing. And photographing! We don't think it is possible to feel bored there. Madeira is called the european Hawaii for a reason – we have visited both places and we can vouch for that! If you are one of the lucky ones with a ticket reservation you can be sure – you are going to see one of the most beautiful places in the world.
We spent two weeks on Madeira and this place left us speechless. If you are hoping for some beach time, you will probably be disappointed. If you enjoy spending your holidays in an active way though, the portuguese island with its mountain views will be the perfect choice. We have prepared a guide with the spots on Madeira that you just can't miss. And if you enjoy taking landscape pictures you can treat is as a list of best photo spots you can find on Madeira – some of them are breathtaking viewpoints, some of them scenic hikes. We have also added insights about what time of the day would be the best to visit to witness these places in all their glory. And of course the map with all these spots marked. We hope this will make planning your itinerary much easier!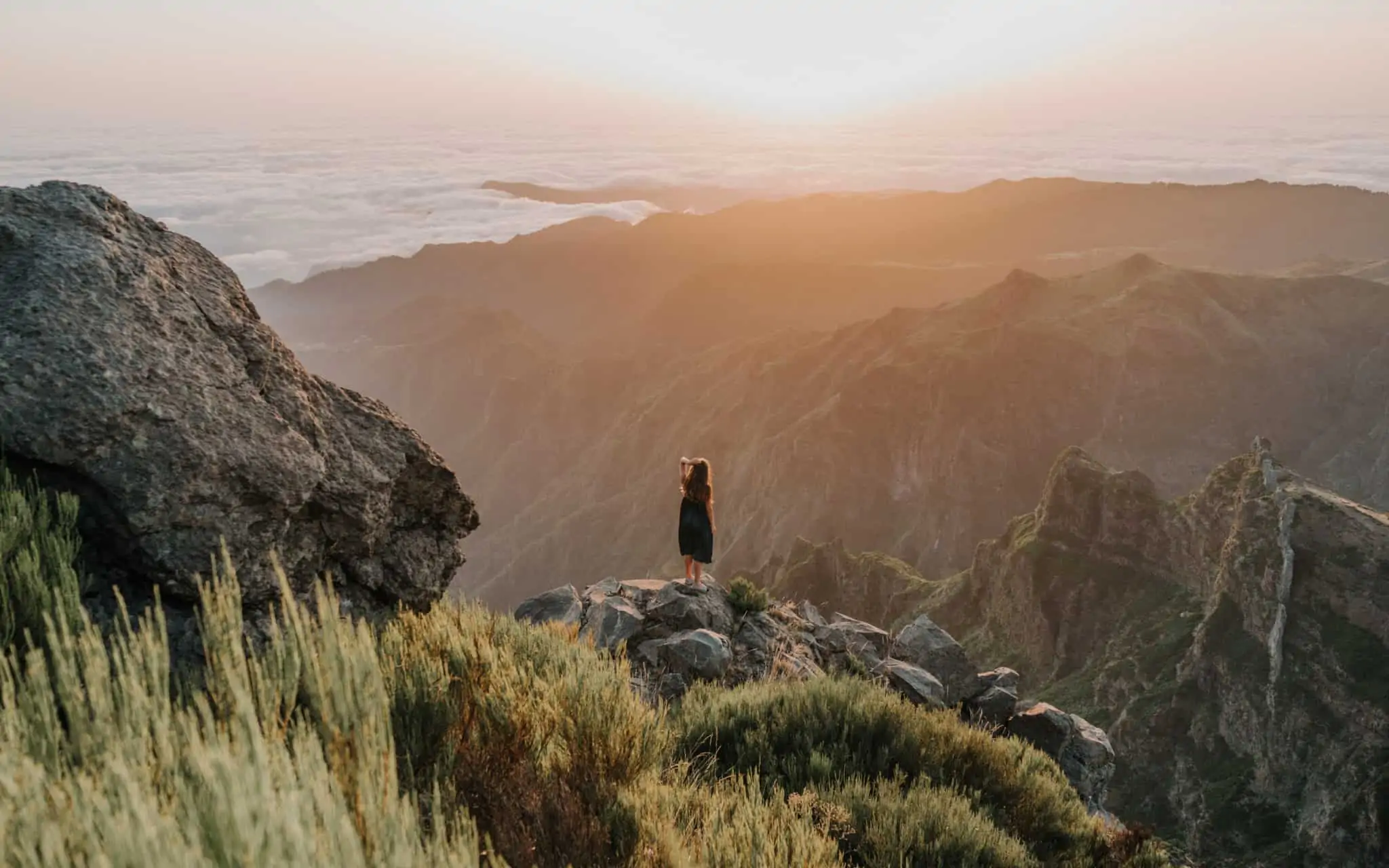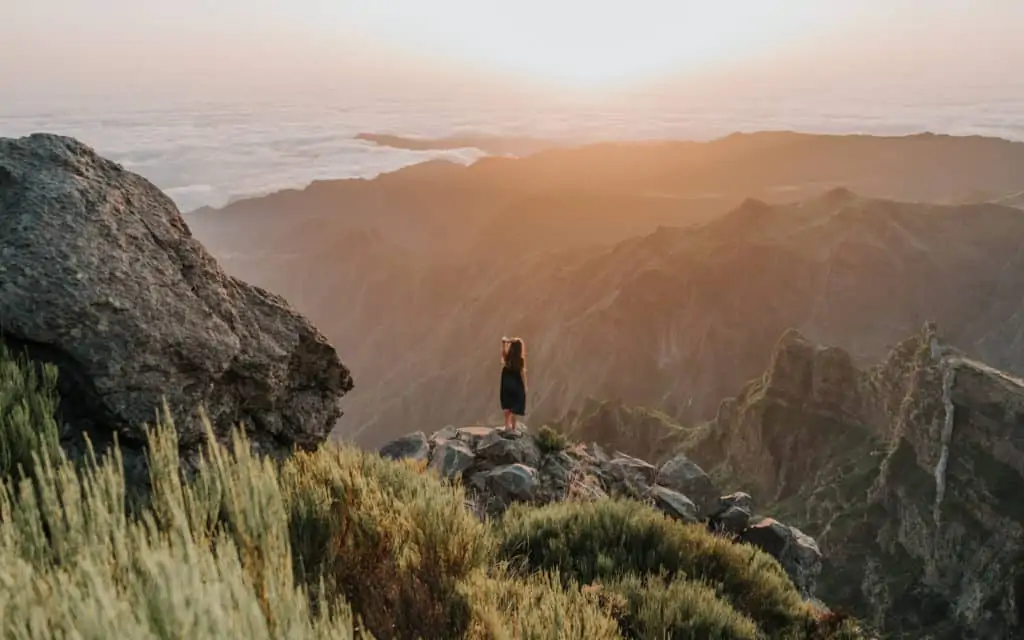 When is the best time to go to Madeira? The weather on the island.
Madeira can be treated as a year-round destination – after all it is known as the island of eternal spring! The temperature on Madeira in nice all year long, getting actually hot during summer months. In winter months and in the early spring the island gets more rain. This isn't actually a bad thing – it means more lush and green scenery and more of Madeira's beautiful flora. Plus more water in the waterfalls makes them more impressive! We visited Madeira in September and the weather was warm and sunny, even hot in Funchal. The northern part of the island was more cloudy and windy, but still warm. The only problem with this time of a year was the fact that after the hot and dry summer the south-eastern part of the island looked dry and kinda brown-ish. Also some of the waterfalls turned into trickles. Despite that we still think that fall is a great time to visit Madeira! If you want to read a list of other of our favourite fall destinations, check out this blogpost.
The easiest way of moving around Madeira is renting a car. We actually honestly think this is the only way. Despite the island having its own public transport system, it takes forever to get from one spot to another. And we know what we are talking about – Diana came to Madeira few years ago and tried travelling that way. Let's say it did not work well – she and her friend a lot of time had to walk a lot to get to their desired destinations. It is also worth mentioning that not all of the places we are describing here are accessible with the public transport. Additionally in some of them it can be important to either come very early or stay up until sunset and with buses you are tied to their timetable which not always makes it possible.  We rented our car with Centauro – we went a little crazy and moved around the island in a Renegade Jeep. Taking the mountain, winding roads and the amount of fuel consumed, this may not be the best of idea for Madeira and a regular car would have worked just as well! The roads on Madeira are very well maintained but very steep and full of hairpin turns so stay focused at all times! When it comes to parking – we didn't have any problems with leaving our car next to any of the described Madeira photospots. The only issue might be trying to park your car in the center of Funchal – the parking spots are paid and usually busy. You should have no problem finding a free parking spot outside of the city center though.
Where to stay on Madeira?
There is plenty of accomodation options, but the key is to find the one from where you can easily and comfortably explore what the island has to offer. Funchal is problably the best home base you can make on Madeira. You still need to drive a lot but this is the biggest city on the island and has the widest selection of both budget and high-end places to stay and dine. Not to mention big grocery stores with reasonable prices. Staying in the city of Porto Moniz might also be a good alternative, especially to make trips around the northern part of Madeira. We decided to stay in Hotel Se Boutique. This place is situated right in the center of Funchal and has a gorgoeus rooftop terrace. If we ever come back to Madeira (and we are positive we will) this is the place we will stay at again!
What to see on Madeira? Best photo spots on Madeira.
This is one of the most famous photo spots on Madeira. Ponta de São Lourenço is situated on the west part of the island, which varies seasonally in terms of dryness. During our visit in October the place was brown and dry, but during winter months when this part of Madeira gets more rain, this area is full with flowers and lush greens. There are several viewpoints along this hike, perfect to watch both sunrises and sunsets. One of the best (and easiest) ones is Mirador de la Ponta do Rosto. It is perfect to photograph a sunrise on Madeira and it is right next to the parking lot. We really recommend you to walk the whole trail of Vereda de Ponta de São Lourenço. It should take no more than 3 hours both ways and has many stops along the way where you can see the sun go down behind the island.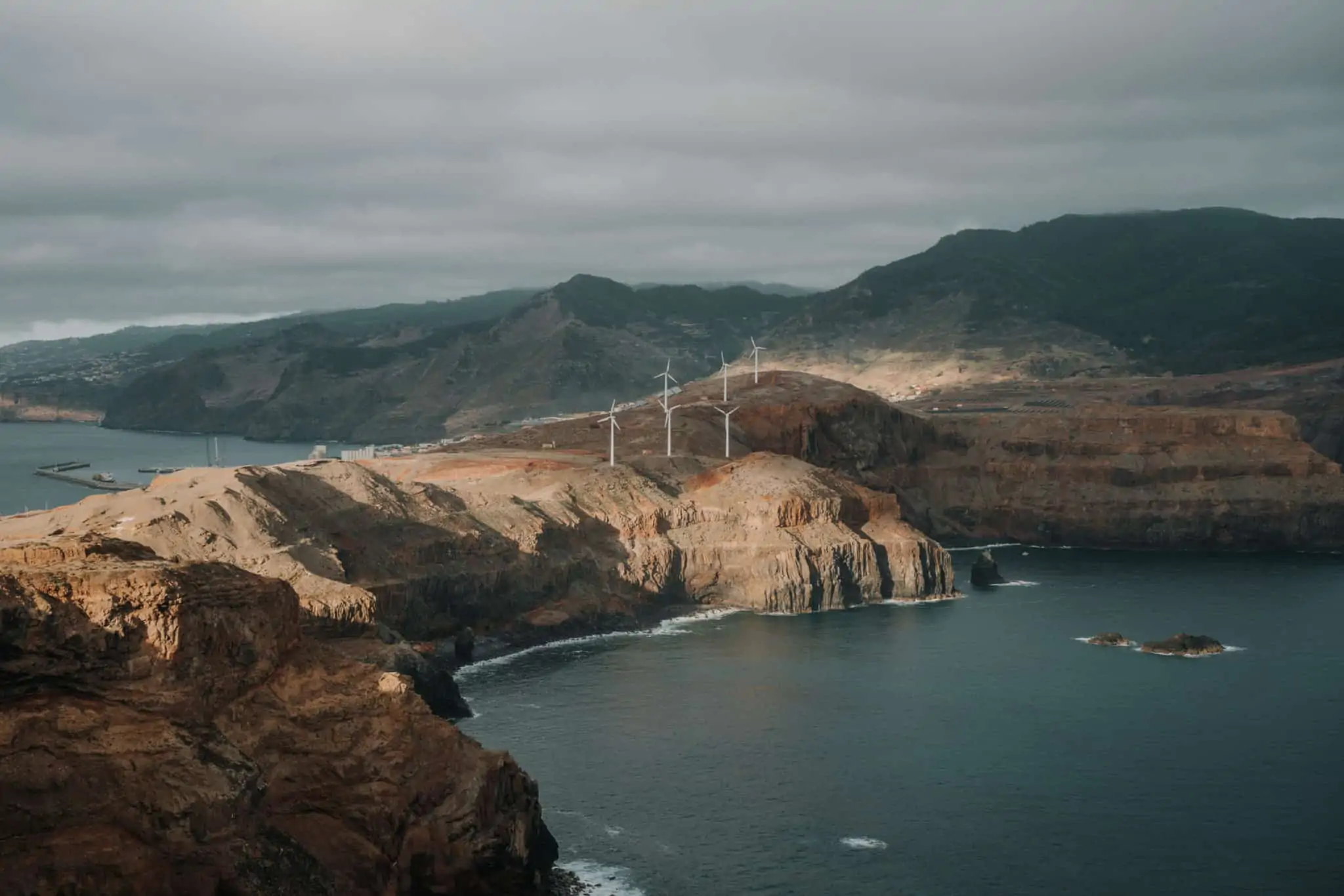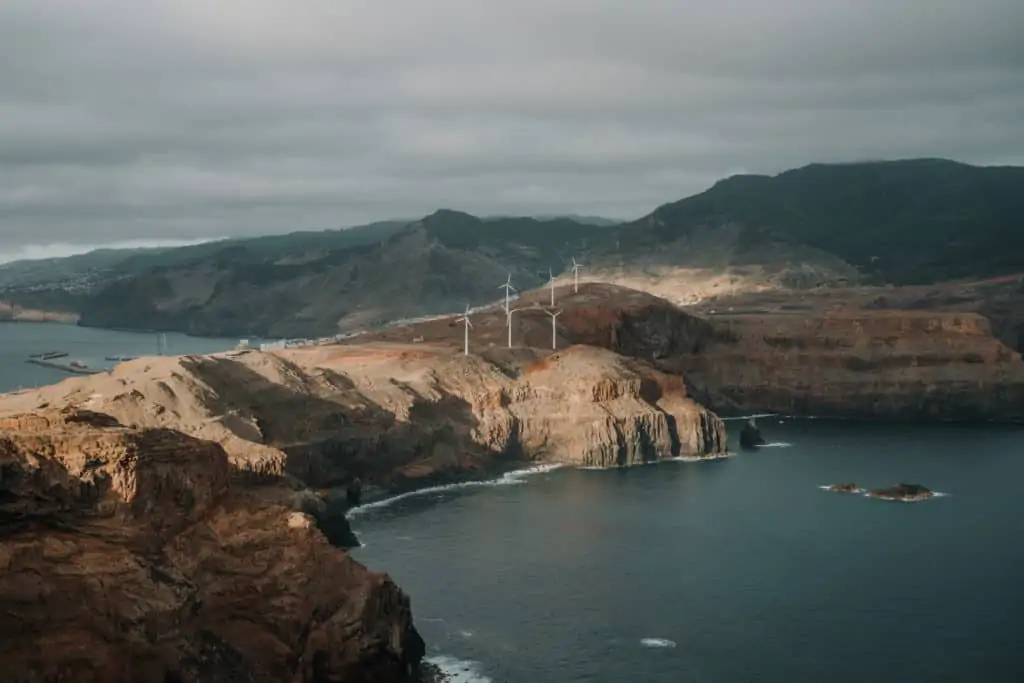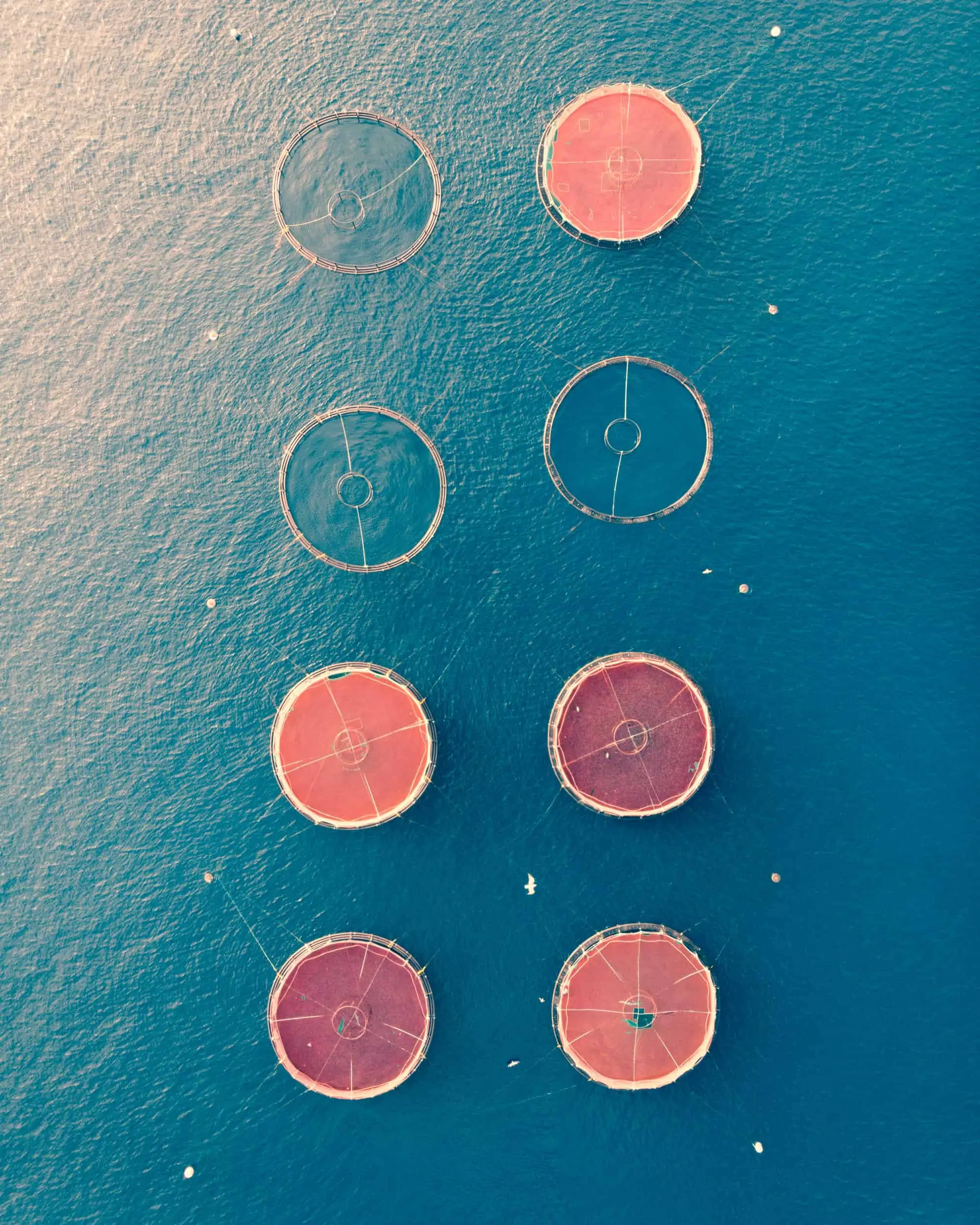 This spot is highly popular and one of the best photo spots on Madeira. No wonder – you can see both amazing sunrises and sunsets here. Also you can easily drive to the Pico Arieiro top. If you decide to go there for sunrise though – you will be surprised with how many people had the same idea. In the morning this place is just packed! We went to the top a few times and we definitely prefer to see the sunset from there. There are more clouds at the top and you are literaly feel like you are standing on top of the world! You have two easy and mindblowing viewpoints at the top – Miradouro do Juncal and Miradouro do Ninho da Manta. They are both worth a visit, especially because they are a walking distance from the parking lot. The latter is somewhere along the hike between Pico Arieiro and Pico Ruvio (that we really recommend you to do because the views are amazing). The weather conditions on Pico Arieiro can change dramatically so you should track them on web cams to make sure the peak is not all covered in clouds and you can actually see something.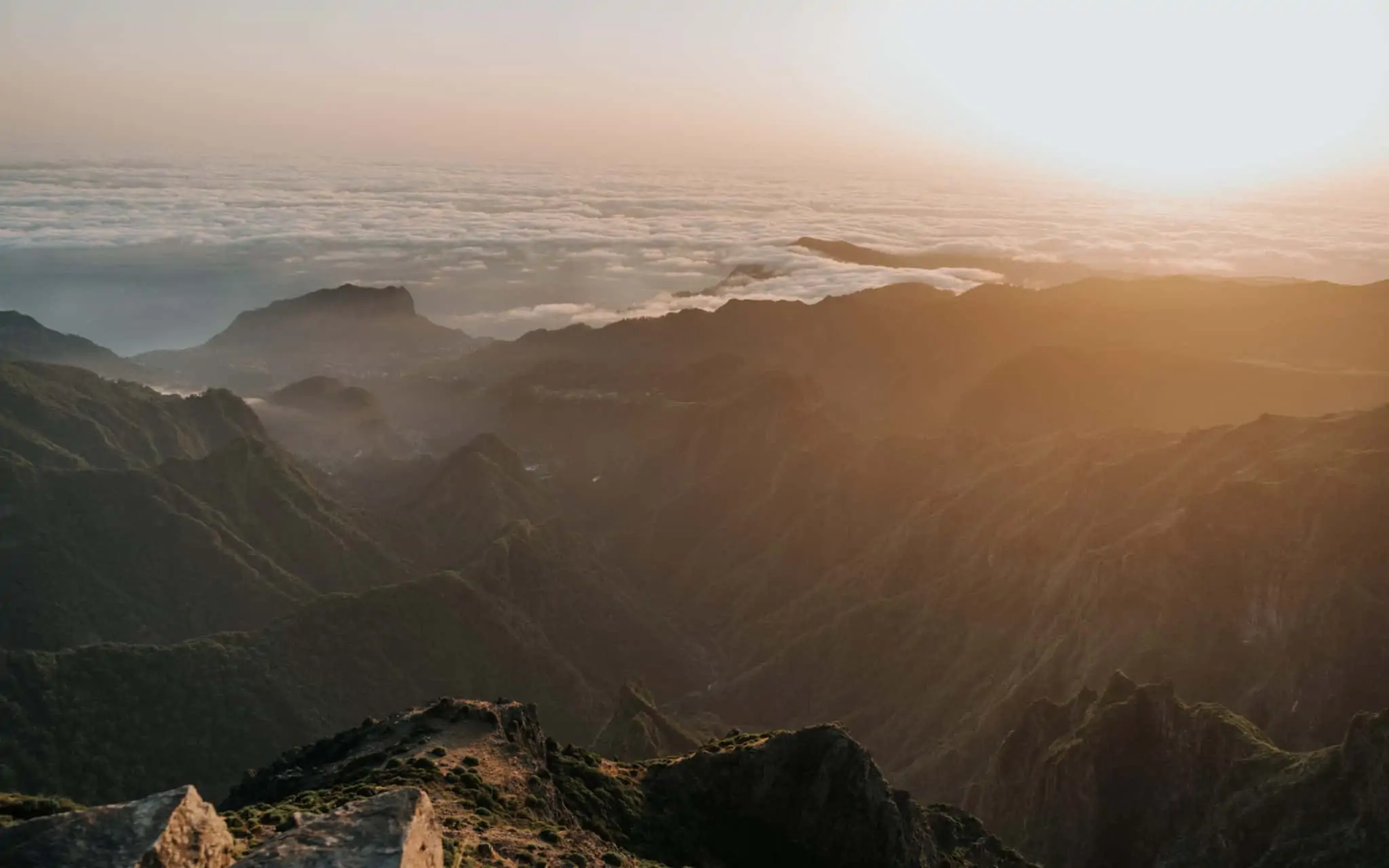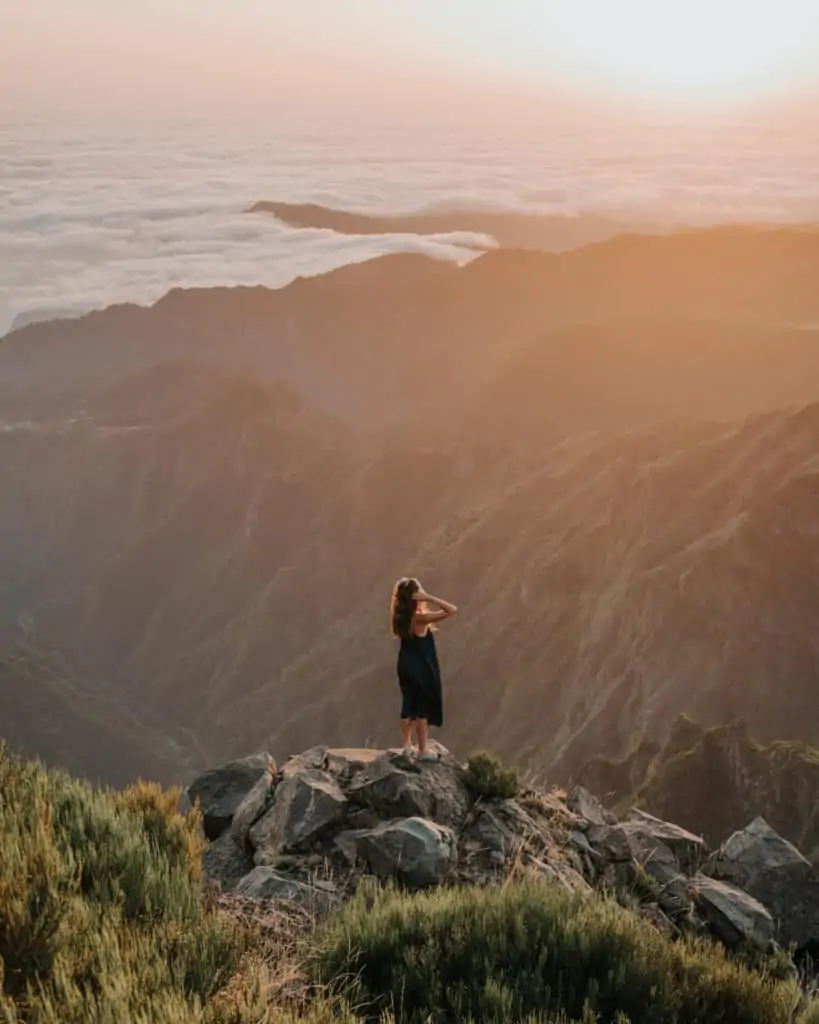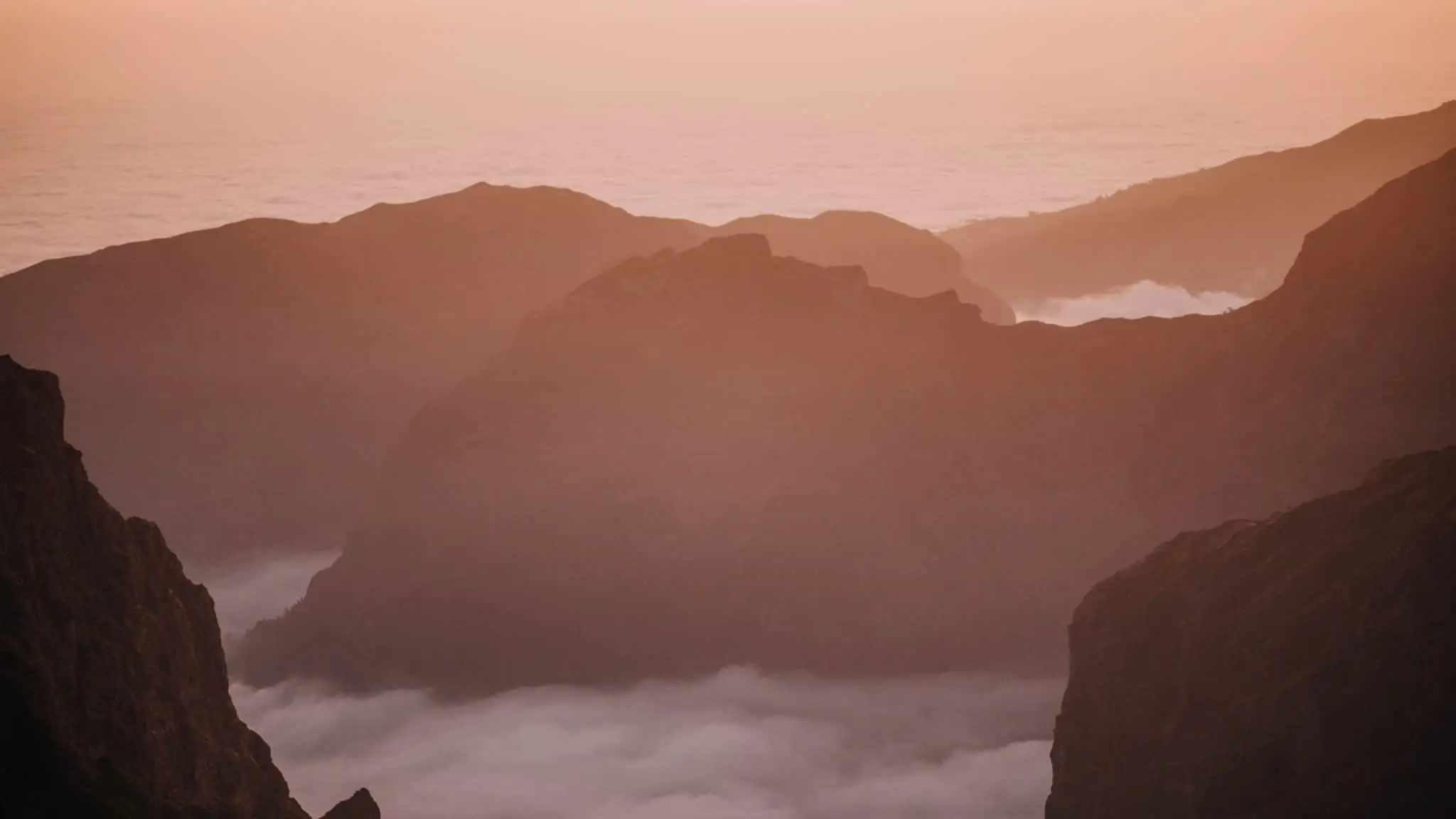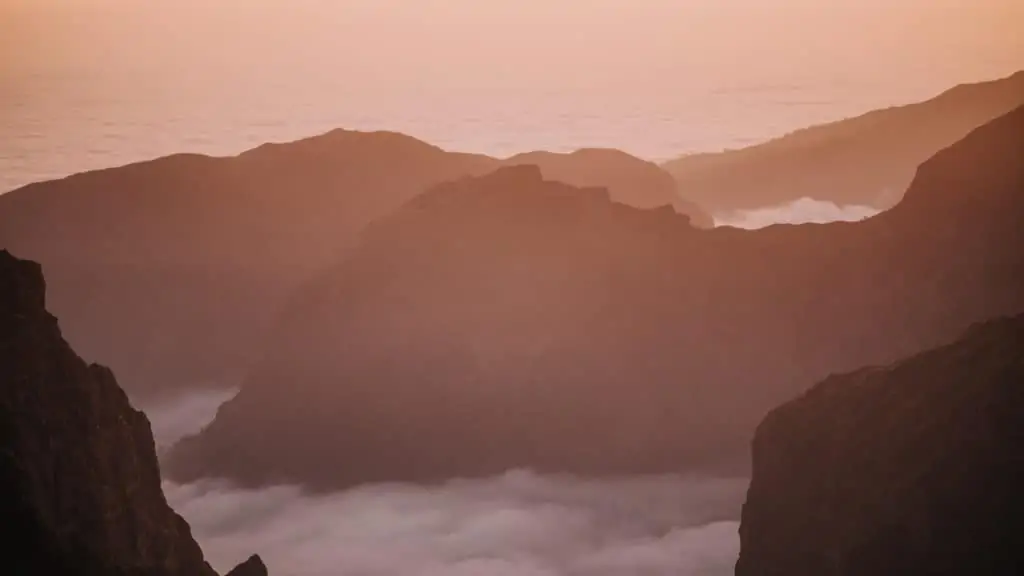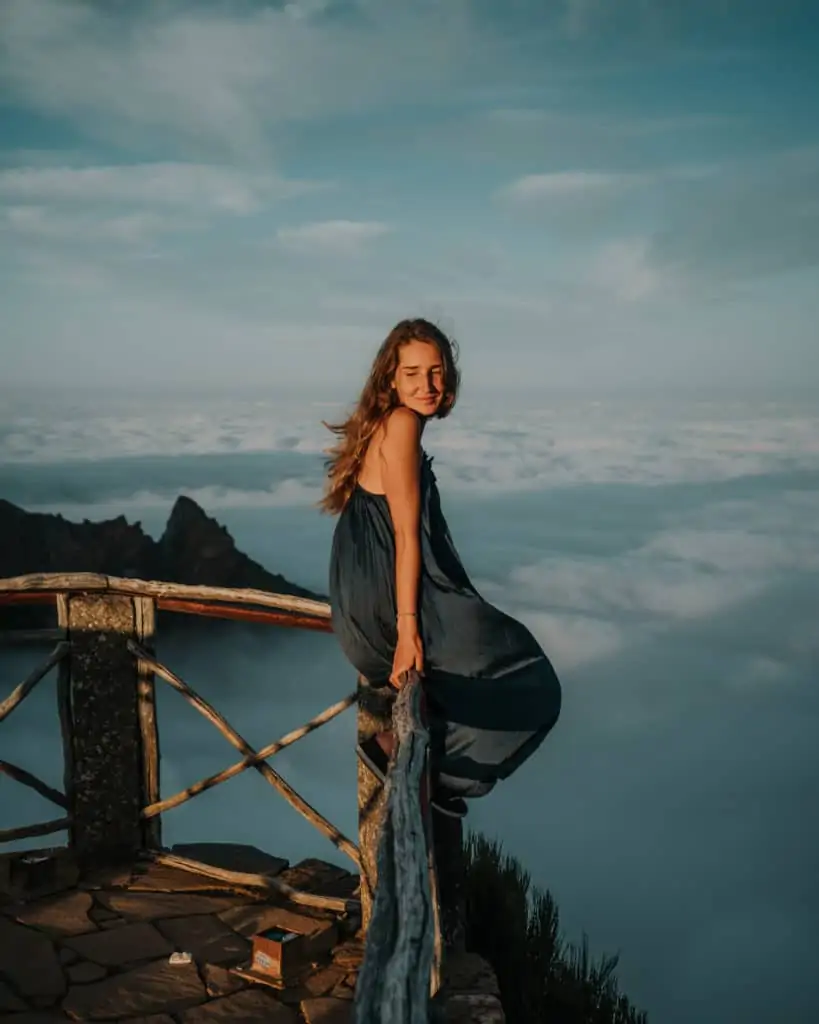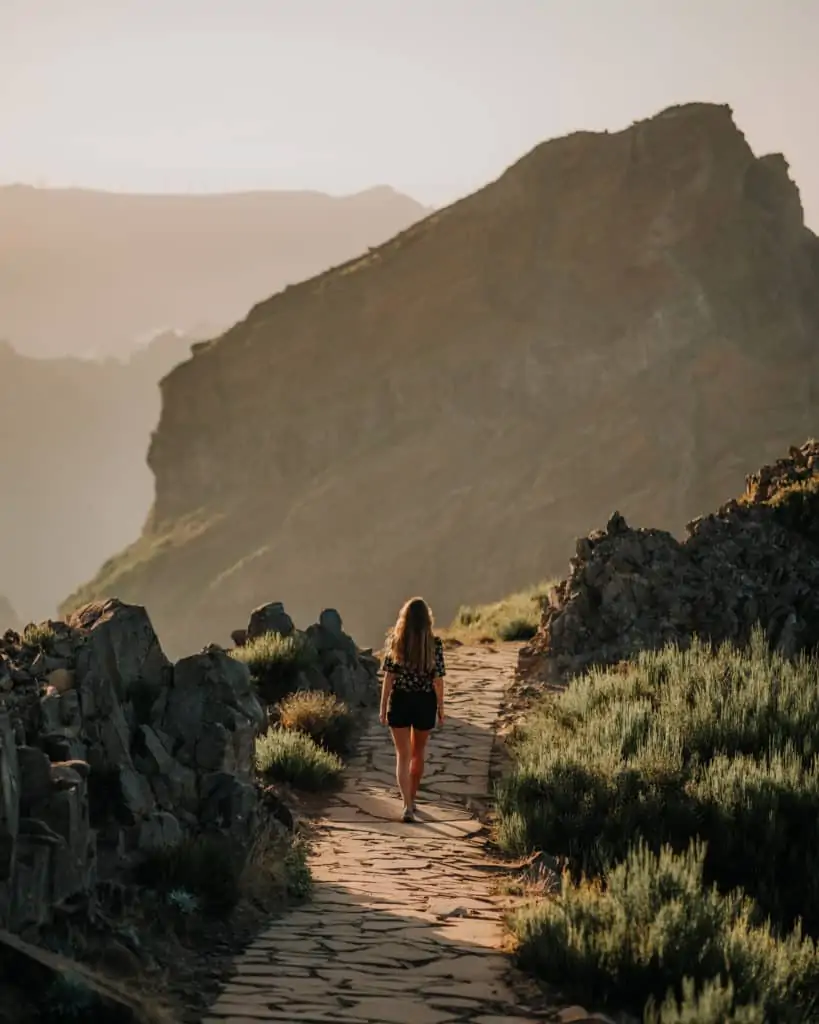 Another peak on Madeira that might be perfect to see both sunrise and sunset. This spot is a little bit more ambitious for a sunrise mission, because you can't drive all the way up. In order to experience a sunrise above the clouds you are going to have to hike for about an hour first. We really believe it is worth it and we will definitely do it when we are back on the island.
Seixal is a small town situated in the north-west part of the island which for us is jaw-droppingly beautiful. Overall the northern side of the island is totally different from the southern part. It is way more lush and green thanks to getting more rain than the rest of the island. Not only does it have beautiful flora but also some waterfalls falling straight into the ocean. Seixal beach is one of the few sand beaches on Madeira. Oh, and it is black which makes it even cooler! If you have a drone you can get some amazing shots here. This beach might also be a nice sunrise spot. The area is just beautiful – this was THE place where we felt like we were back on Hawaii.
In Porto Moniz you will find natural rock pools, where you can swim and that can also serve as a cool photo opportunity. The city is situated at the foot of the mountains where you can find Santa Viewpoint. The night view really impressed us!
It is one of the few waterfalls on Madeira that falls straight into the ocean. Years ago there was a road running under it but after few slides they turned to a less impressive, but certainly safer solution. You can't get to the waterfall directly but there is a nice scenic viewpoint called Miradouro do Veu da Noiva. Or you can slightly illegally get a little bit closer. But you didn't hear it from us. And a little bit means a few steps (second picture), stay smart!
Between the towns of Seixal and Porto Moniz there is a group of three rocks towering from the ocean and fighting with the waves each day. It is a beautiful sunrise spot but you have to admit – it still looks kinda cool on a moody day too.
From all the cablecars you can find on Madeira, this one is probably the coolest. It is incredibly steep and goes 450 meters down – can be a little scary for those with the fear of heights. There are amazing views of the ocean and the coastline waiting for you at the end. The cablecar ticket both ways is 3 euro and it is definitely not to be missed when you have more time on the island. It seems like a perfect spot to watch the sunset but unfortunately the cablecar service closes too early. There is an awesome sunset spot nearby though from where you can admire Achadas da Cruz coast. But more on that in the next paragraph!
Miradouro Ponta da Ladeira
We came across this place totally by accident. It turned out to be the perfect spot to watch the sun go down and at the same time one of the best photo spots on Madeira! It overlooks Achadas da Cruz and the views of the coastline it offers are simply amazing. Being there please don't go to close to the cliff edge, it is a bit sketchy!
Fanal is a place that will make you feel like you are in a horror movie almost any time of any day. It is also one of the absolute best photo spots on Madeira and Marcin's personal favourite place on the island. In the forest you will find ancient bay trees covered in moss and surrounded by thick fog. All of this creates a mystical, magical vibe that left us completely enchanted. In all of this amazement be careful not to step into massive cow's poop – yes, cows love to hang out there! We took all of our pictures in the middle of the day – luckily you don't need to wake up crazy early to get fog in this place.
Ponta do Pargo Lighthouse
Another spot perfect for watching the sun go down. Besides having a nice coastline view you can also visit the museum inside the lighthouse. Close to this spot there are some more cool photo spots like Miradouro da Vaca or Miradouro da Garganta Funda. The second one is supposed to overlook an impressive waterfall but when we went in September it unforunately was just a tiny trickle.
Jawdropping mountain views make it hard to focus on driving when cruising around Madeira. The roads here consists of hairpin bands but the window views are amazing.  One of the coolest roads you can drive is ER110 situated on Paula da Serra mountain range. It is quite high which means that at times you might be driving over (or in) the clouds. It takes around an hour to drive the whole distance but the memories will stay for long! Best photospots are a U-turn and the longest straight road stretch on the island. We recommend you to go in the late afternoon when the light gets soft and gold.
Levada do Caldeirão Verde

One of the most beautiful levadas to walk along on the island. The best part about it is that it is lush and green all year long! A walk along this trail takes you right in the middle of the impressive Madeira mountains. This hike is easy but quite long – 6,5 km one way. We really recommend organizing these few hours to hike it -there will be few waterfalls waiting for you along the way and also one of the best photo spots on Madeira! Go early in the morning when the light is hitting the mountains just the right way. Also it allows you to avoid the crowds – and you should cause this levada is quite popular with the tourists! There will be few dark and long tunnels along the trail so watch out for your head and bring a headlamp.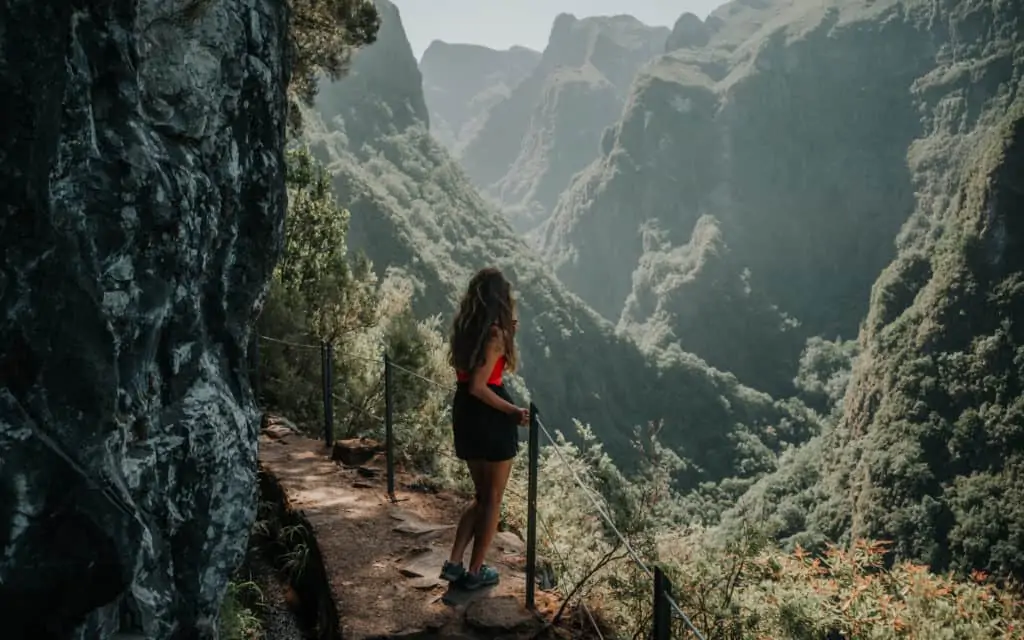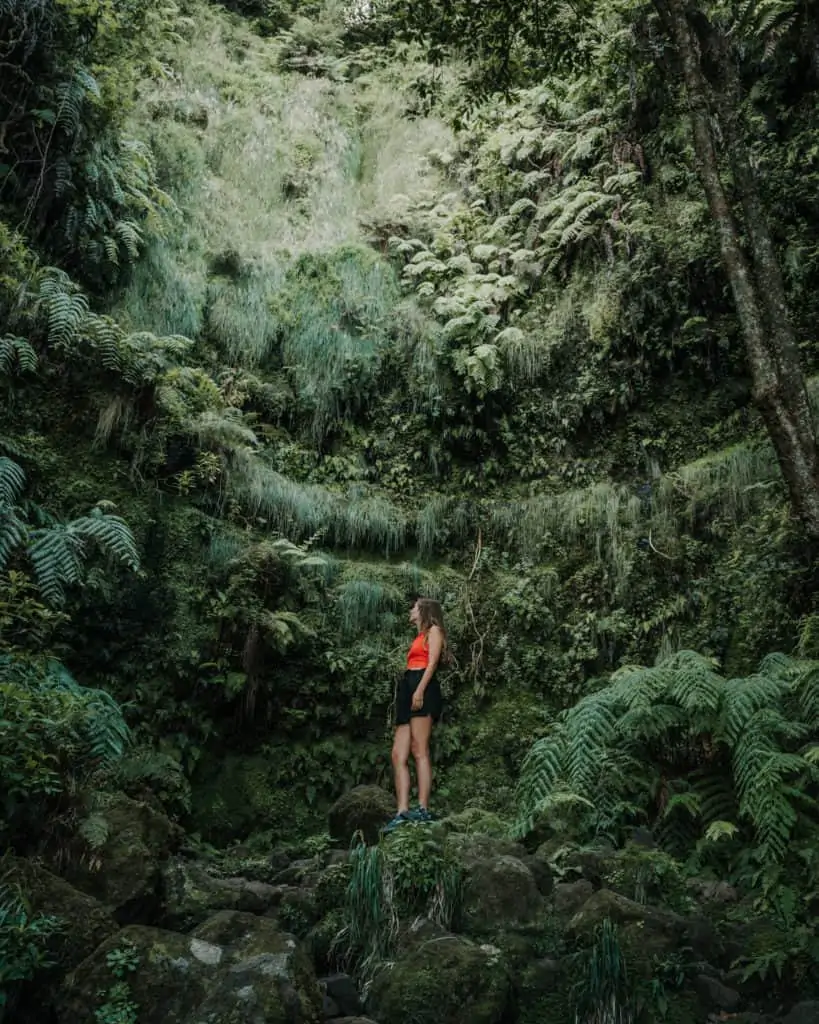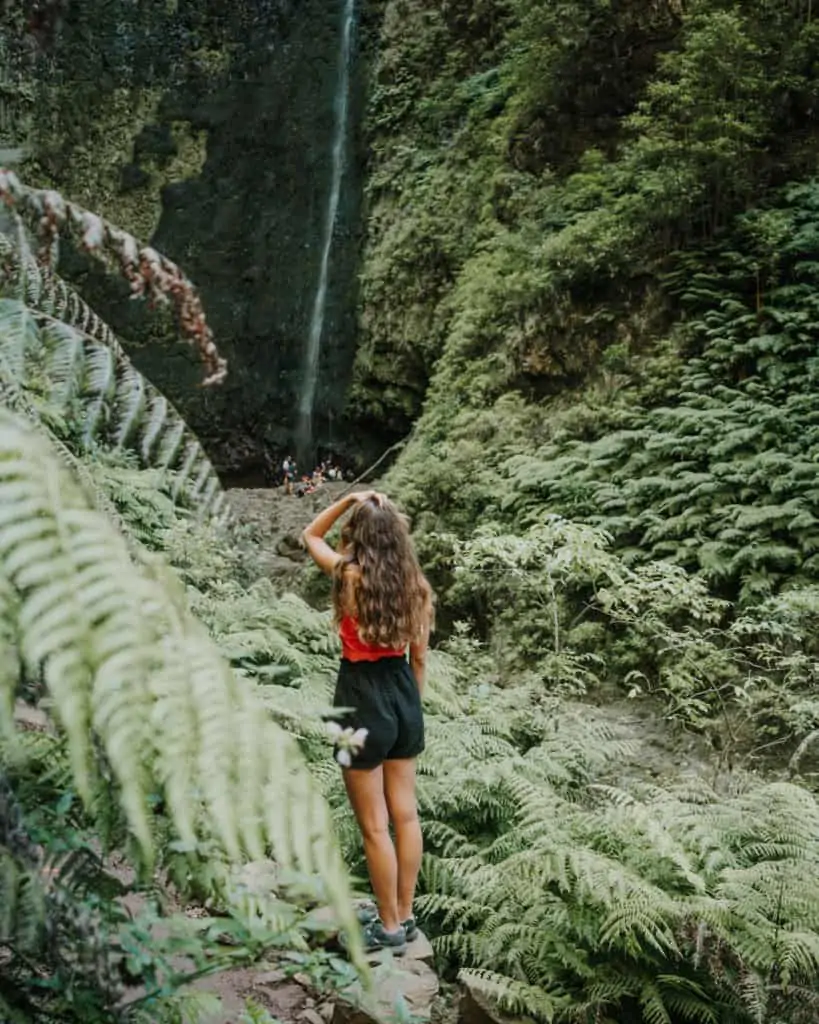 Crane viewpoint, also called Miradouro do Guindaste, might be an interesting sunrise spot on Madeira. It is situated on the north-east part of the island, close to the city of Santana. By the way, when you are in the area you might want to visit the place called Casas tipicas the Santana. It is a small complex of colourful houses, typical to Madeira, which also may work as a cute Madeira photo spot. Back to the roots though – sunrise on Crane Viewpoint is an easy one because it requires no walking whatsover. You just wake up early, drive a bit, exit your car and enjoy the views of ocean waves crashing against the rugged coastline. We didn't get nice sunrise light that day but we hope you will be more lucky!
Hidden waterfall in Santana
Colourful houses might be cute, but let's face it – from all the Santana points of interest this one is the most our kind of thing. The only problem is that you need a drone to check this place out! This waterfall is loud and impressive, surrounded by lush greens and falling almost straight to the ocean. We have pinned the exact location on the map.
Stairway into the ocean - Cristo Rei area
We found this spot by accident seeing a sign leading to the beach and the Cristo Rei statue. And these are usually situated in quite epic locations! It turned out to be a great spot to watch the sunset on the island. Stairway looking like it leads straight into the ocean and the coastal views make it one of the best photo spots on Madeira! At the foot of the cliff you will find a small beach (they are not very common on Madeira) that you can get to with your car.
Rooftop in Se Boutique Hotel
This photo spot is quite different than the others but we honestly loved it. It was the rooftop of our hotel where we would go to either watch the sunrise or sunset over the city rooftops, watch the Funchal lights at night or to just have a drink and relax. You can climb on the actual rooftop for an epic photo – just please be careful!
And that's a wrap. A trip to Madeira ended up being one of our favourite trips ever and we hope it will be the same for you. Below we have prepared a map with all the spots marked to make planning your itinerary even easier. Have an amazing stay and let us know which of the Madeira's best photo spots has caught your eye!