We had never imagined Balaton as a cool place to visit for young people like ourselves. However, when the occasion to visit presented itself we decided to see what the fuss was all about. In our minds the lake meant just parties, boat races (Blue Ribbon anyone?) and big festivals. But well, surprise! During our weekend stay we only went to the lake itself once and didn't even dip our toe. It doesn't mean we were bored though because there is so much to do in the area! We can wholeheartedly recommend Balaton both to those who enjoy active vacation and just chilling. There's something suitable for everyone! And now – top 10 things to do in the Balaton area. Enjoy!
Table of Contents: Top things to do in the Balaton area
When is the best time to go?
Balaton could probably work as a year-round destination and even during winter there is a place where you can take a dip (keep reading!). If you want to be able to experience the best this area has to offer the most suitable time to go would be between spring and autumn. During spring and early summer the whole area is filled with flowers. Summer is the perfect time for sunflowers, lavender fields and also refreshing dips. Autumn is the wine harvesting time and the whole area is just filled with warm and orange tones that you can enjoy with a glass of wine in your hand. There is not a right answer here, choose for yourself!
Balaton - what to see? Top 10 unique things to do in the area
You probably think of the delicious white Tokai first when you hear about Hungarian wine. But have you ever heard that Balaton too is famous for its amazing wine culture? Visiting local wineries will change your point of view in no time and it is definitely one of the top things to do by the Balaton lake! Thanks to the volcanic rich soil and a highly suitable microclimate this area is just perfect for growing grape vine! We visited few of the wineries and we can genuinely say that people by the Balaton Lake know how to make good wine. During your visits not only can you taste different types of this drink but also learn something about their production process. To know which ones to visit, check out our blogpost with the wineries we loved.
Feel like you are in Provence
Spending early summer days in the Balaton area you will be literally surrounded with sunflower fields. They are everywhere as far as the eye can see. The field we have captured on our pictures was located on the way to our hotel – yellow fields on both sides of the road from Keszthely to Heviz. If you visit the Balaton area in the right time you will also come across the lavender fields. And when we say 'fields' we really do mean fields not just small lavender gardens. Unfortunately, this year we made it to Hungary too late – the beginning of August is not the right time for lavender. To see the fields in whole glory come in the first half of July!
Beautiful gardens that we recommend you to see are Kőröshegyi Levendulás or located on the Tihany Peninsula Tihany Levendárium Dörgicsei Levendula Major. The whole town of Tihany specializes in all kinds of lavender products so while you're there definitely taste the lavender beer or ice cream.
Take a boat through the underground cave
What if we told you that there is a whole cave system underneath the towns of Balaton? Parts of it is safe enough to have been made into a tourist attraction! Over ten meters under the town of Tapolca there is a cave system (fourth biggest in Hungary) that you can take a boat ride through!
The ride itself lasts no more than 15 minutes but it is worth it in our opinion! There is also a museum where you can learn a bit about the history of the area (for example that few thousands years ago the Balaton area looked like South East Asia). Too bad the guide only speaks hungarian. However, there is information written in english or you can ask for the audio guide.
We really loved the Tapolca cave. We recommend you to get there early in the morning, as soon as they open, so you don't need to queue for long. Also remember to book your tickets online beforehand, especially in high season, so you can get in faster. After the visit to the cave take a walk around the cute town of Tapolca.
Ticket prices:
Adults: 2200 HUF
Students and seniors: 1900 HUF
Kids (3-14 years old): 1500 HUF
Families (2 adults and 2 children minimum): 5900 HUF
Opening hours: 9-19 during summer
See the sunset from the medieval castle
A dash of history, golden light and beautiful surroudings make for a nice combination. There is no shortage of medieval castles by the Balaton lake and seeing a sunset from one of them is among top things to do by the Balaton lake in our opinion! Below three that we recommend you to see.
First of them, Sumeg Castle, is a great choice for the whole family. It is a beautifully renovated castle located on the 80-meter hill which gives you the panoramic view of the area. Sumeg Castle boasts entertainement possibilites for its youngest visitors – there's bow-shooting, bowling, sword-fighting. Children can also try on a knight's armor or watch a puppet show. There is also something for the parents, don't worry. There is hungarian pálinka waiting at the bar for the visitors of age. Or a freshly-baked chimney cake, although this one you can share with your kids. During summer there are many fairs, festivals or tournaments taking place at the castle.
Adults: 1500 HUF 
Childrem (6-18 years old): 800 HUF

Opening hours: 9-19 during summer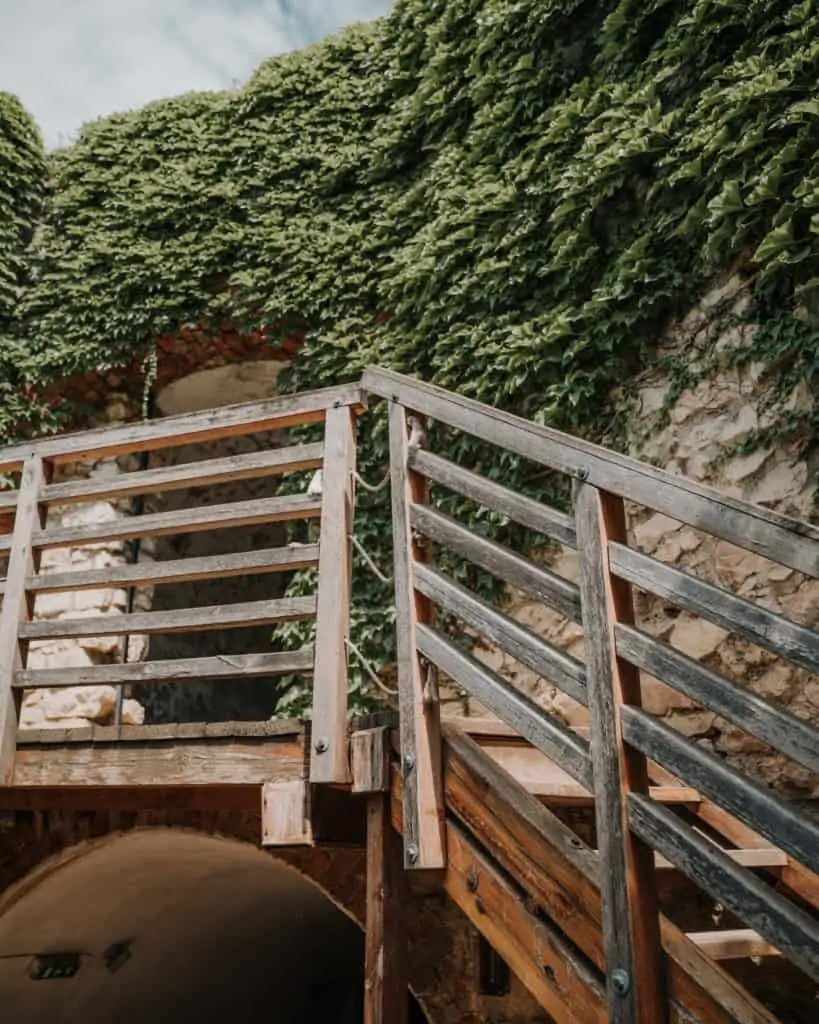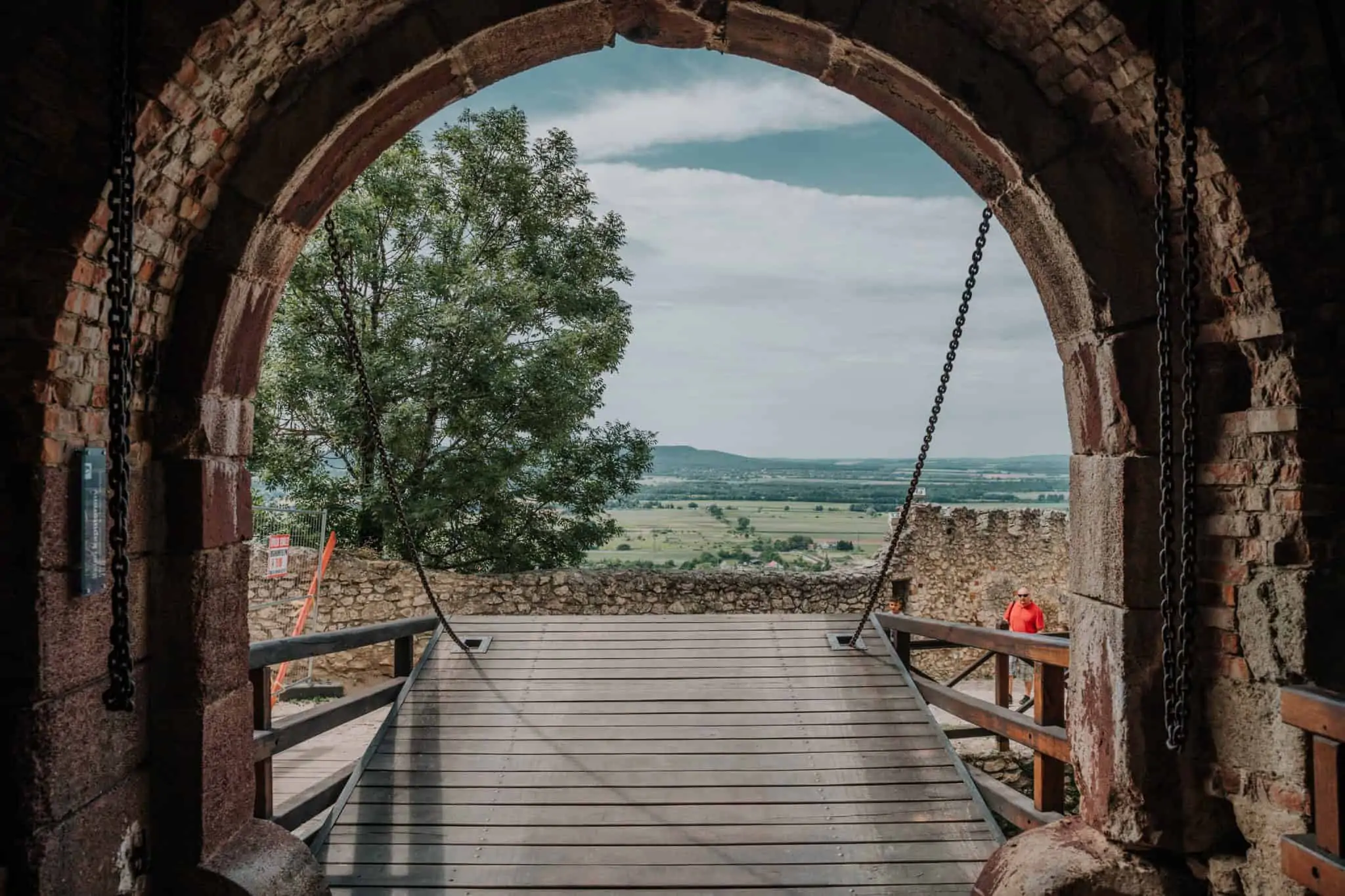 The second medieval castle is located in the town of Szigliget. Szigigleti var is built on a small hill (230 meters above sea level). However it does not feel small when you need to climb up there in the summer heat, trust us! Its rich history took its tool on the building and is resposible for its current condition. The castle was often under siege from the Tatars and later, after being taken by the Autrians, it was blown up. In XVIII century the bigger part of the castle got destroyed in the fire. It wasn't rebuilt after and was slowly falling into disrepair. However it has already been partially renovated in the present times. It is still in the phase of remodelling so it may reach Sumeg castle's glory soon! 
Children (6-18 years old): 500 HUF

Opening hours: 8-20 during summer (this is the hour they close the gate but you can stay longer)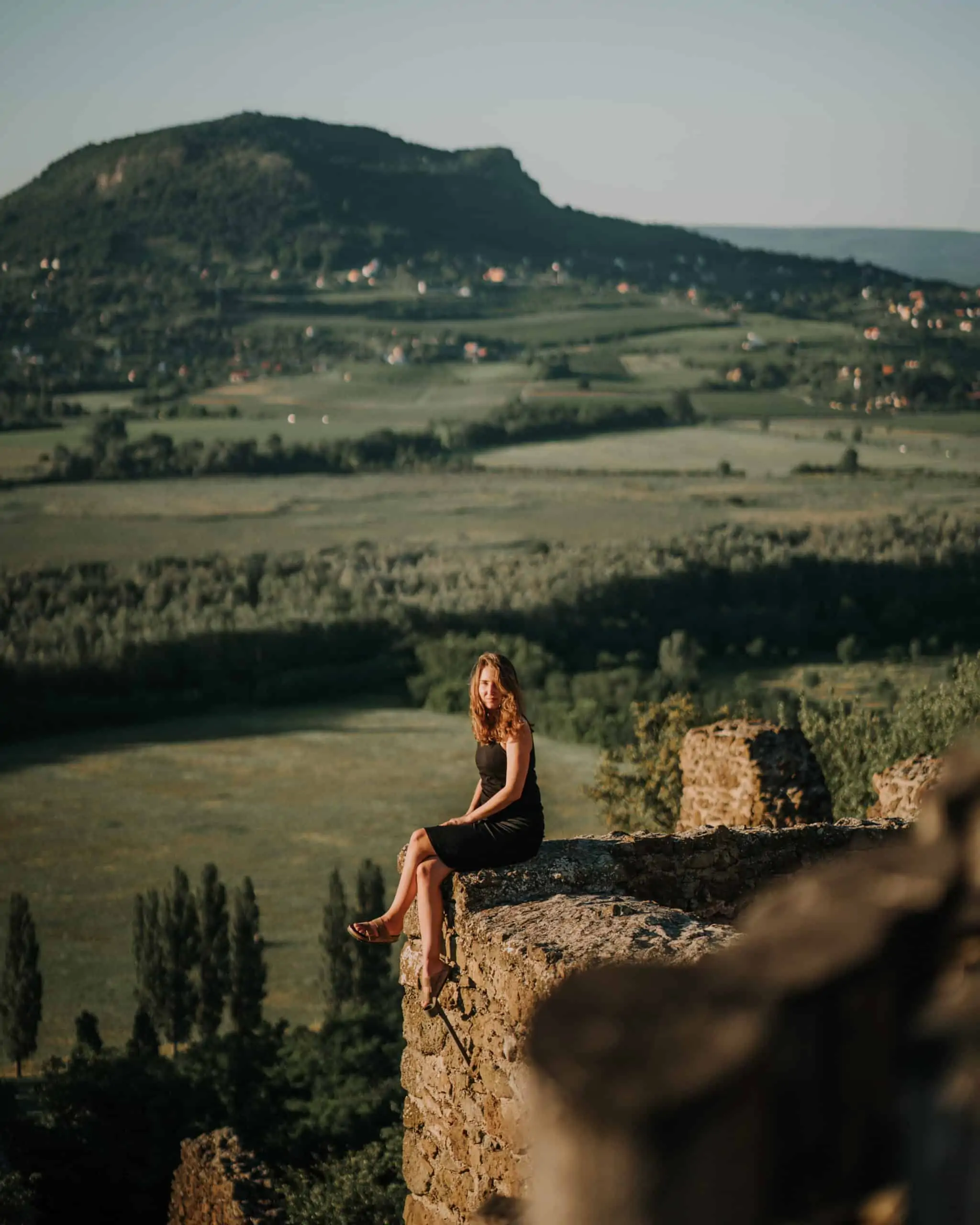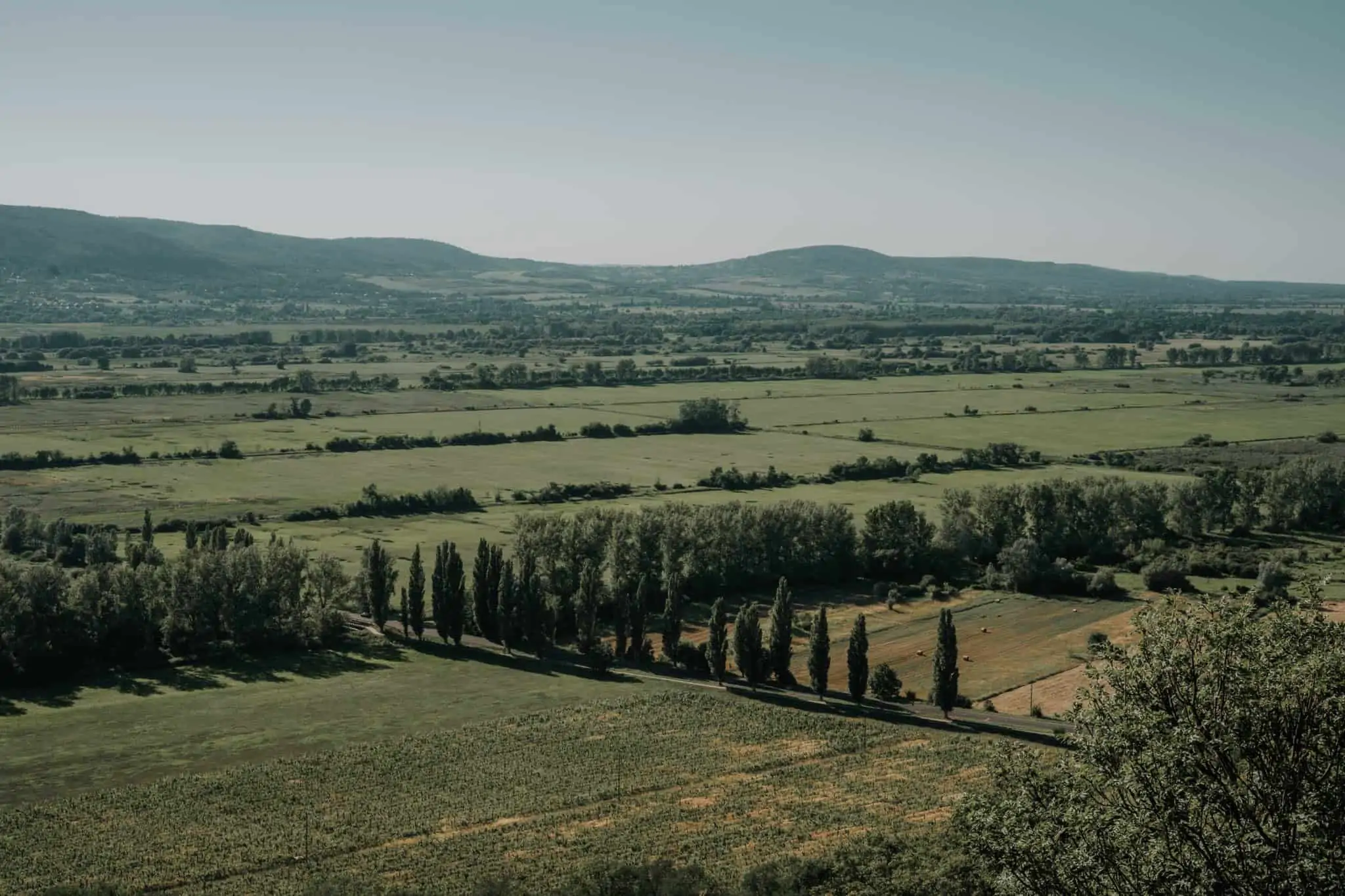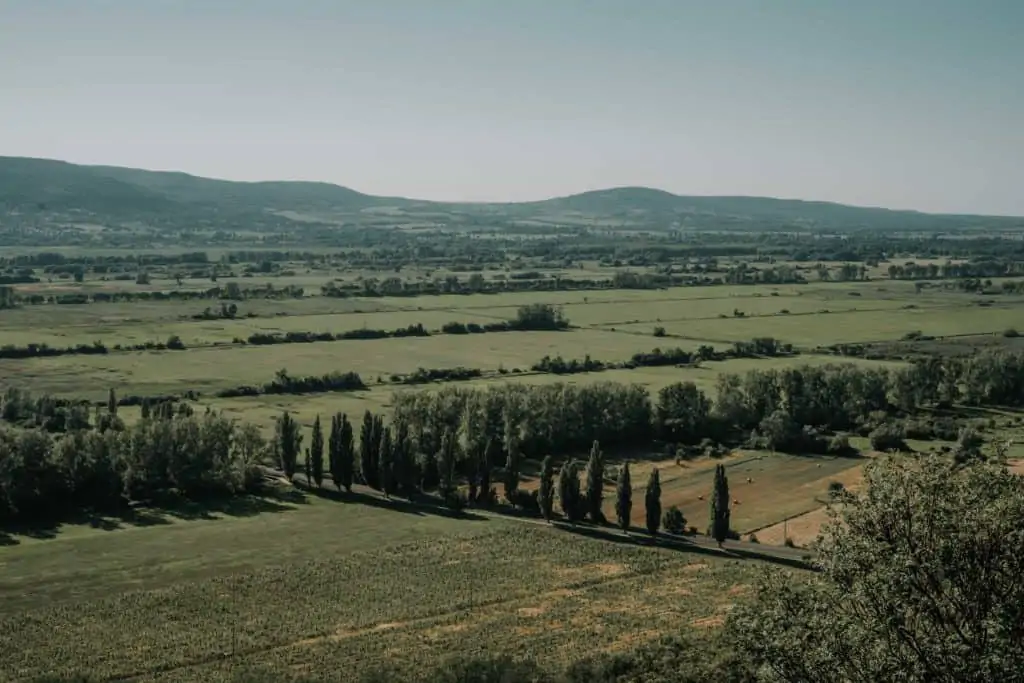 Csobánc castle is just ruins at this point to be honest but it can be a great tourist attraction for those who love little hikes.  The castle is located on a hill which gives you the 360-degrees views of  the area. Best time to get there would be the golden hour so either sunrise or sunset – your choice!
Swim in Europe's only geothermal lake
Have you ever heard about the natural thermal lake? If not – welcome to the club! In the little town of Heviz, on the west shore of Balaton lake, you will find the only european geothermal lake! It is a world phenomena cause the other one like this is located in New Zealand. The lake is quite big – the surface takes more than 4 hectares. The water temperature varies betweem 36 degrees Celcius during summer and 24 degrees Celcius during winter which means it is always warm enough for a relaxing bath! Also imagine how cool it must look in lower temperatures with clouds of hot steam over the lake's surface. What can you find in the water besides hundreds of people? Colourful lilies brought from around the world that look amazing – just be careful with the leaves cause they might be sharp. The water has medicinal properties so swim away! Just bring a floatie with you as the lake is big and deep. Happy swimming!
More information about ticket prices and opening hours here.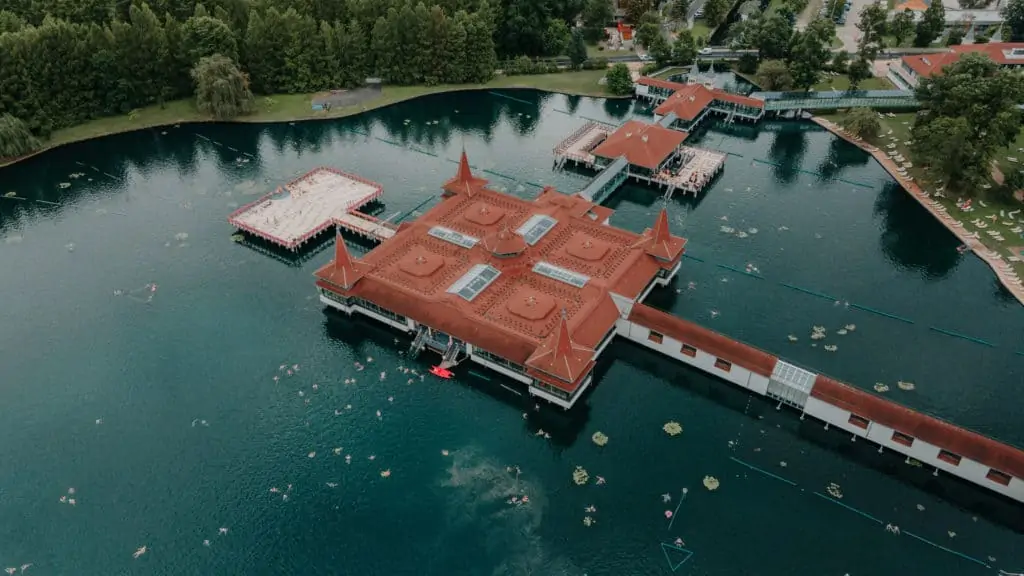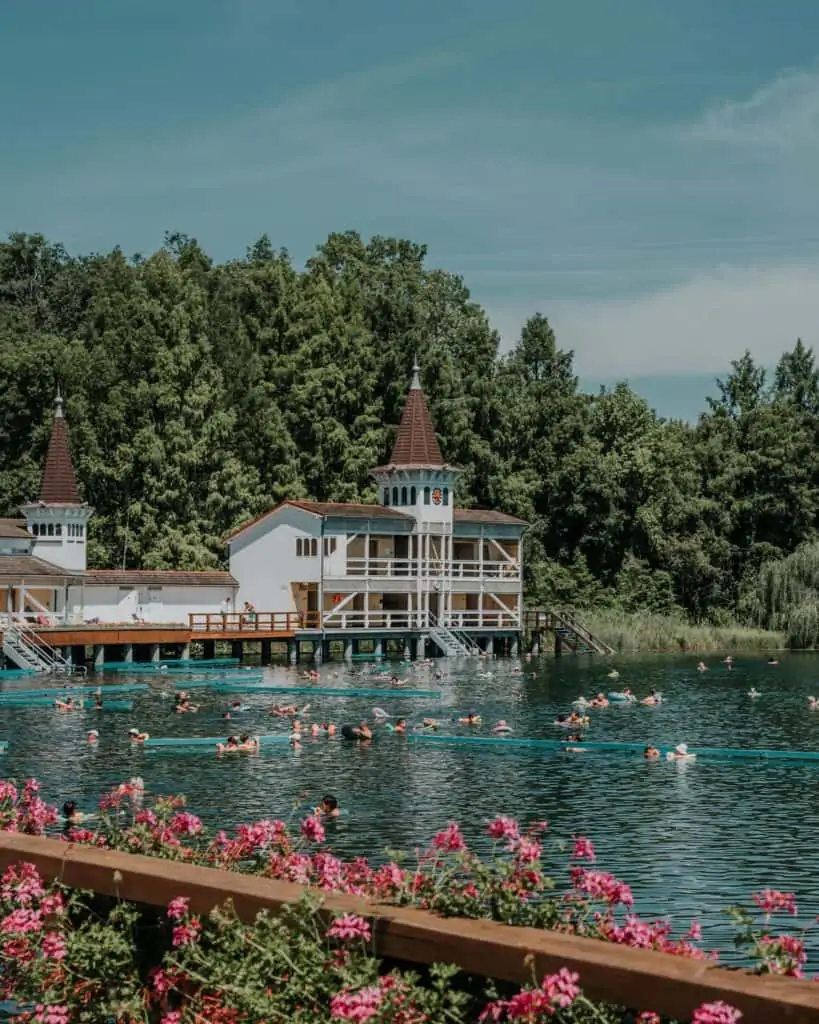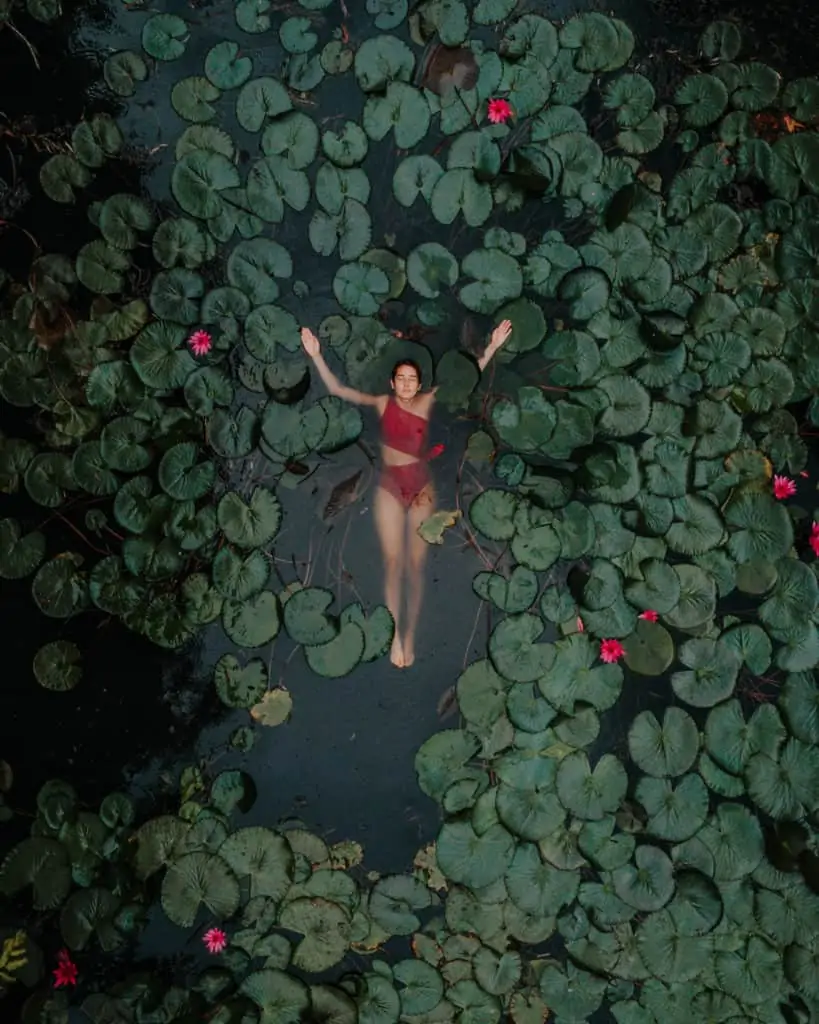 Feel the South East Asia vibes
It blew our minds too but there is a place close to the Balaton lake where you can really feel like you are back in South East Asia! Close to the town of Zalaszántó there is a genuine stupa – sacred buddist temple. According to some sources it is the biggest temple of this type in Europe – it has over 30 meters in height and 24 meters in width. The Zalaszántó stupa was built in 1993 and it is the only sanctuary on our continent that has genuine Buddah's relics. Besides the temple itself the South Easy Asian vibe comes also from the omnipresent smell of incenses (that we love!). We got teleported to Sri Lanka in a second and it wasn't easy to go back to Hungary.
Look for post-volcanic forms
When we hear "volcano" first destinations that come to our minds are Hawaii or Bali. But some volcanic forms can also be found by the Balaton lake! One of the more interesting ones is the Hegyestű Geológiai Bemutatóhely – it is a partially recovered tip of the volcano with the view of the area. We especially recommend this place for either sunrise or sunset!
Perfect idea for those who enjoy active vacation. There are many trails available in the Balaton lake area – from these of few hundreds meters like Hegyestu, through the 2-hour hike around Tihany Peninsula to the whole circle around the lake (only 220km)! Choose your poison.
You can also spend your time in an interesting way on the Balaton lake itself! Instead of just lying on the blanket and gettin tanned you can always rent a boat, a kayak or a pedalo and just enjoy spending the day on the water. The activity we are most excited about is renting a SUP for sunset – check out www.Standuppaddle.hu.  The only thing that has surprised us by the Balaton lake was the fact that you need to pay a fee to be able to use the beaches there. However it doesn't scare anyone off and the shores are full during summer!
Visit some of the towns in the area
We had doubts wether we should add this point to our top things to do in the Balaton area list. Some of the towns are not very appealing, we have to be honest with you guys. They are loud, full of tacky places selling cheap souvenirs and restaurants that are just tourist traps. We are sure you know the vibe! Luckily, the area also has some gems. We loved Tihany the most, but recommend you to stay away from Siofok. Below the most interesting locations you can visit in the towns around the Balaton lake.
Xantus János - Gömbkilátó (Balatonboglár)
Balatonboglár is the town most known for the hill with the most original ball-shaped viewpoint in the Balaton area. Apart from that it is also a great place to have a picnic in a quiet atmosphere. There is also a little cafe where you can have coffee or beer. Entrance fee to the ball itself is 300 HUF and can only be paid in cash.  After sunset the structure lights up. And now a question – what this shape reminds you of from the air?
It's a guitar, obviously!
Festetics Palace (Keszthely)
Keszthely lays right on the shores of the Balaton lake. The most popular attraction, that we would definitely put on our top things to do in Balaton list, is the Festetics Palace. We made it there by accident but the baroque palace made quite an impression on us. The gardens around it are perfect for the afternoon stroll. For history buffs – the Festetics family originally came from Croatia but decided to move to Hungary in XVII century. They funded many buildings in the area – a hospital among others. In 1739 Kristof Festetics ordered the palace to be built. We naver made it inside but it is worth it from what we have heard.
While in Keszthely visit also its pier that has a very interesting shape (best seen from the drone). For those craving some beach time there is the entrance fee of 1000 HUF for adults and 700 HUF for children.
Benedictine Archabbey (Tihany)
Tihany is one of the towns we made it to on our very first day. It is located on the peninsula with the same name and its most popular and most recognizable focal point is the Archabbey. It was started in XI century and it has been beautifully preserved over the years. We have heard that the inside of the church is spectacular but it was too early for us to enter. The hill itself is perfect for watching the sunrise over the lake. Take a walk around the city of Tihany too. It has a very cozy vibe and there is lavender smell everywhere.
And what? Still think that the Balaton is just this boring lake suitable only for party-goers and people of age? As you see there is plenty of things to do there! Hope you have enjoyed our blogpost with top things to do in the Balaton area. Have an amazing stay!
This blogpost has been created in collaboration with WOW Hungary.