For most of you the first thoughts that come to your mind when you hear the phrase "wine-tasting" are the rolling hills of Tuscany with the family-owned wineries tucked between them. Besides that there is always loads of pizza in Italy and an occasional thermal pool here and there. However, for us this connotation will not be so natural anymore! Not when we have discovered there is a smaller version of Tuscany so close to home. Now we know that we are just a driving distance away from enjoying a glass of wine in a beautiful scenery. The Balaton area turned out to be a place just boasting with wine culture. There are so many wineries that you can spend all your vacation just sipping on different types. For those of you who prefer to go to a verified place we have prepared a blogpost with three wineries we really loved. Not only will you taste some amazing wine but also feast your eyes with beautiful views. Keep reading for the best wineries by the Balaton lake.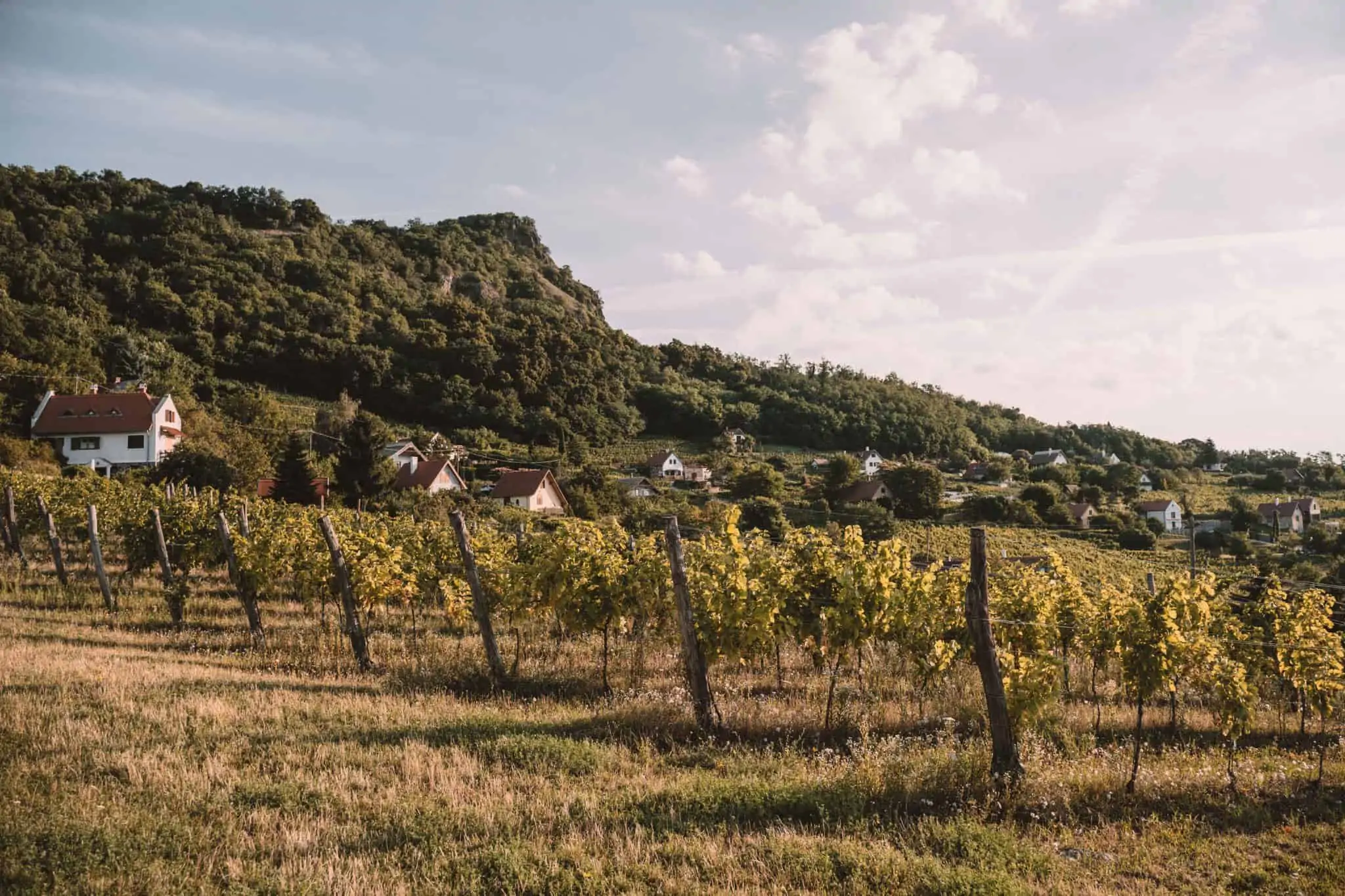 It may come as a surprise to some, but Hungary is one of the biggest wine producers in the world! And a true leader among other countries in Central Europe. It's the result of the suitable microclimate, rich volcanic soil and, well, the love the Hungarians have for the wine (can you blame them though?). There is over twenty wine regions in Hungary and Balaton area sure is one of them!
Wine traditions by the Balaton lake go 2000 years back. In this picturesque area the grape vines are located on the side of the volcanic hills. The soil there is rich in minerals which makes it perfect to grow and produce wine. From the terraces of family-owned wineries you get amazing views of the lake and a whole area. This particular wine region specializes mainly in white wines. During your visit you definitely need to taste at least one (or all of them, your choice) of the typical traditional types: kéknyelű, olaszrizling and szürkebarát (pinot gris).
Best wineries to visit in the Balaton area
For us this was the very first winery where we got the taste of the real Hungarian wine. The winery itself is the true essence of Badacsony! Under the dining terrace there are rows of grape vines. The amazing views of the turqouise lake make your eyes happy. The place was quite busy when we went which makes us think that it could be best to do reservation beforehand. Especially in high season if you want to enjoy the views with the group of friends. We started our experience with the glass of cold, sweet prosecco that turned out to be a very fitting treat in this hot weather. After the glass of white we tried their signature rose and also loved it. The prices in the winery are very decent – we paid 4500 HUF for four glasses of wine and a jar of cold water. We didn't try the food but it looked delicious!  We also have to praise the competent, enlish-speaking service – the people working there will be happy to help you choose the right wine!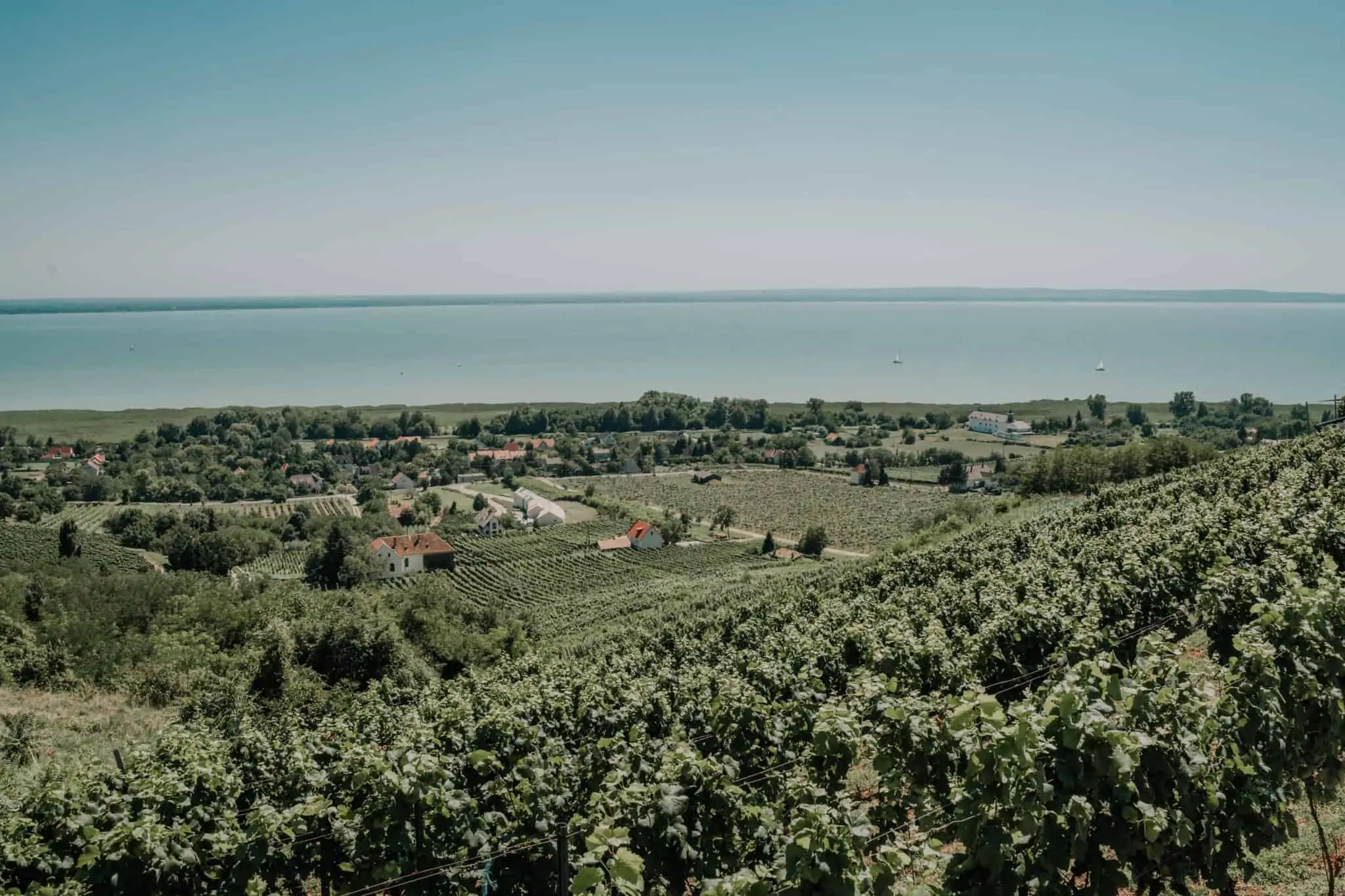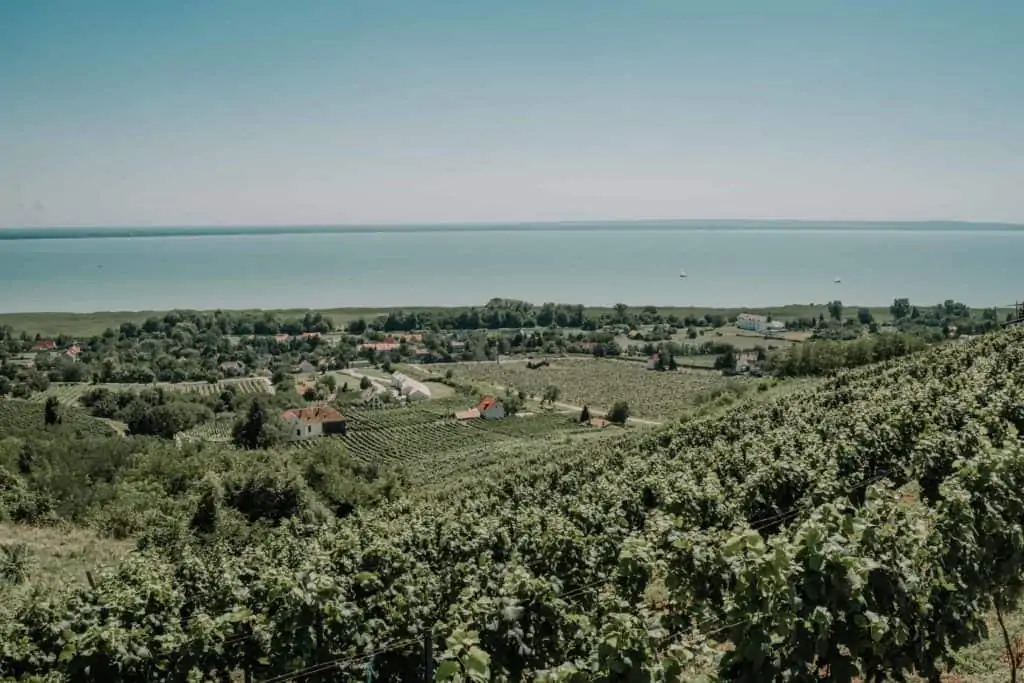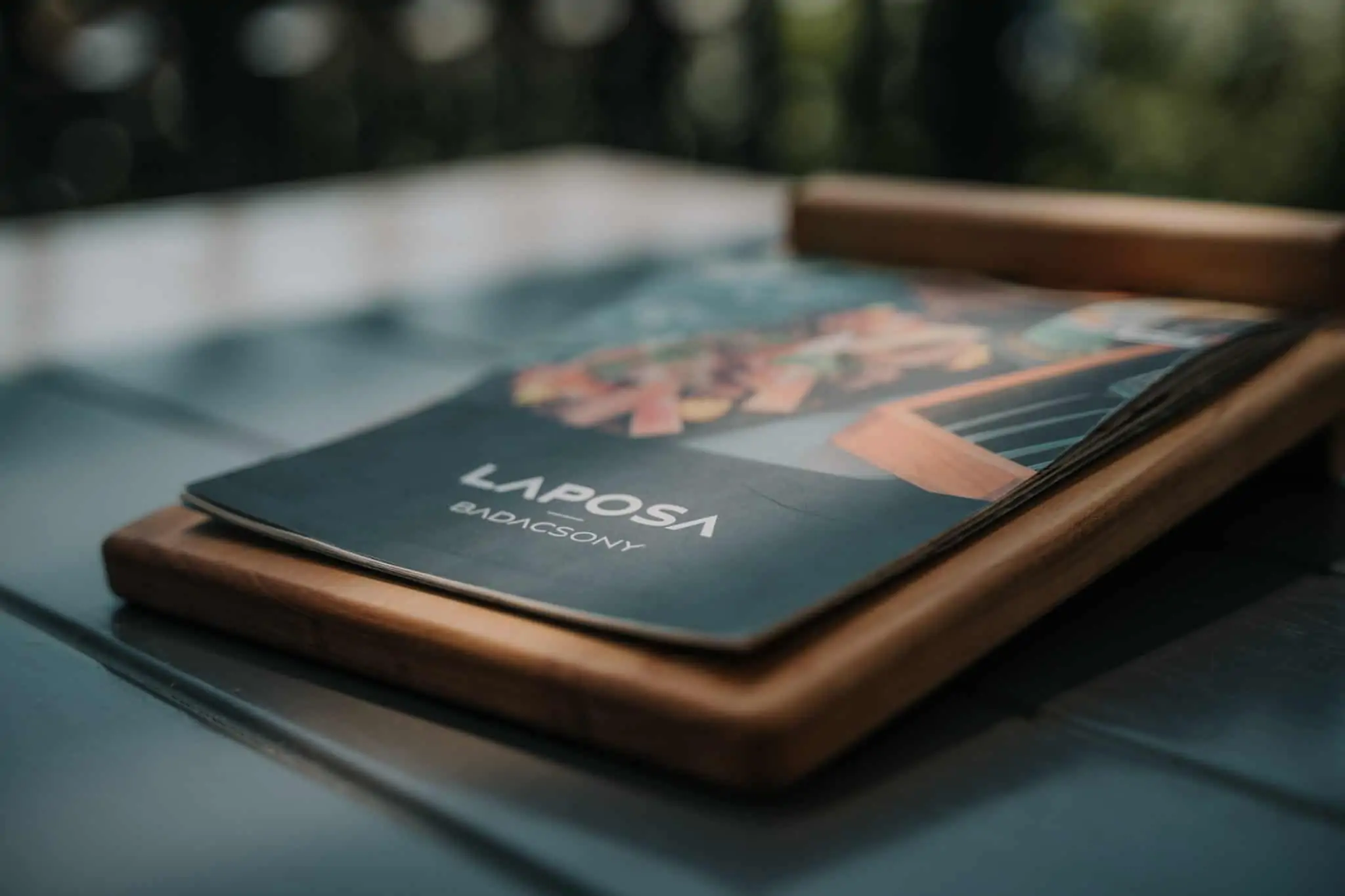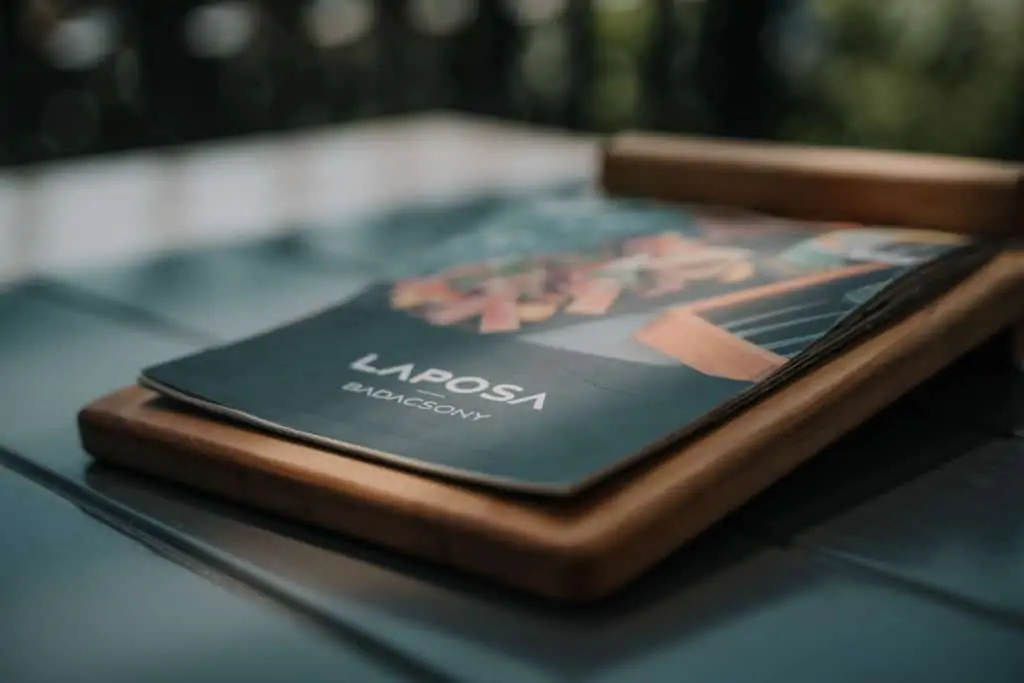 address: Badacsonytomaj, Bogyay Lajos út 1, 8261 Hungary; opening hours: everyday 11-19
Before arriving at this spot we doubted twice wether we were taking the right road! Eventually turned out we did. The winery is located a little bit off the beaten path, the closest town is Káptalantóti more than 2 km away. Right next to the dining platform you have rows and rows of grape wines so take a walk after dinner. This time not only did we drink wine but also decided to test something from the menu. We opted for a mushroom risotto with grilled halloumi – well, it was the only vegetarian option available. Luckily it was absolutely delicious and went so well with the white sweet wine.
The wine, just like everywhere we suppose, was very good. The prices for drinks were again decent – the most expensive wine was 950 HUF (around 3 euro) per glass. The price we paid for two portions of risotto and two glasses of wine was 38 euro. Bring cash cause apparently they don't always take credit cards. We think that the food prices in this place are a bit steep. When you order from a menu that has no prices the final check can be a surprise. Despite that we put Istvándy winery on our best wineries in Balaton list because the vibe is great and the views are just lovely. Definitely a place suitable for a special ocasion. Next to the restaurant you can find a head of the trail that will take you to the Toti Hegy hill – we passed this time cause the day was way too hot.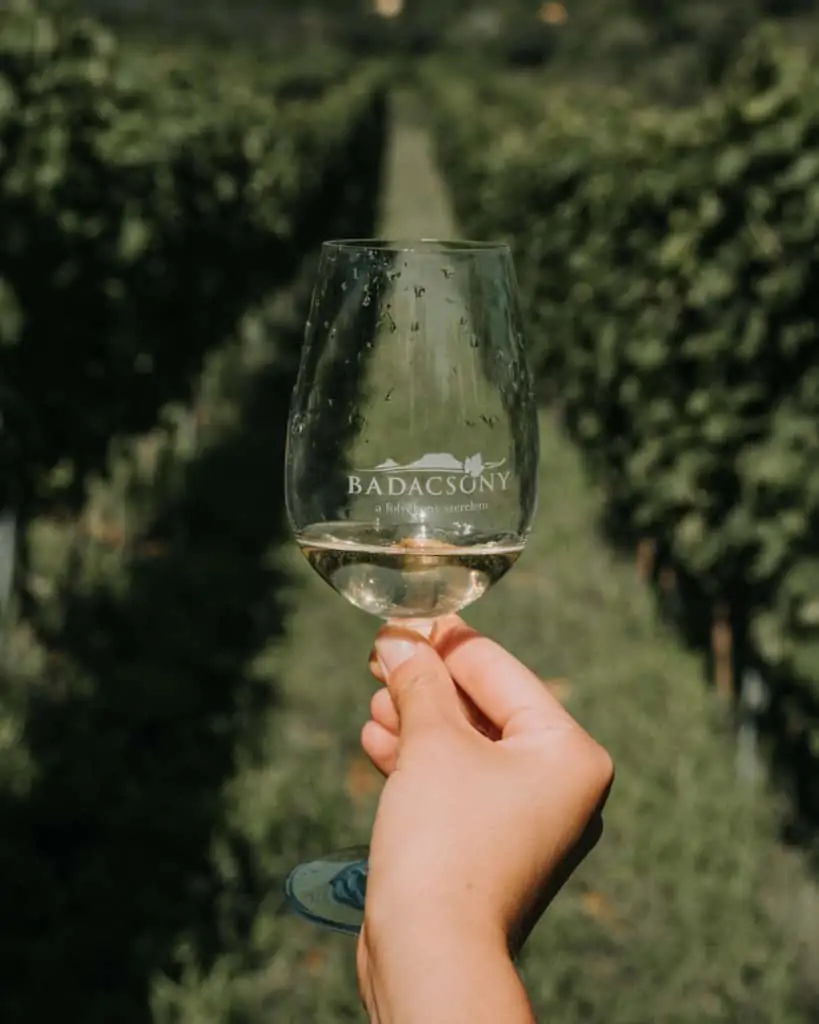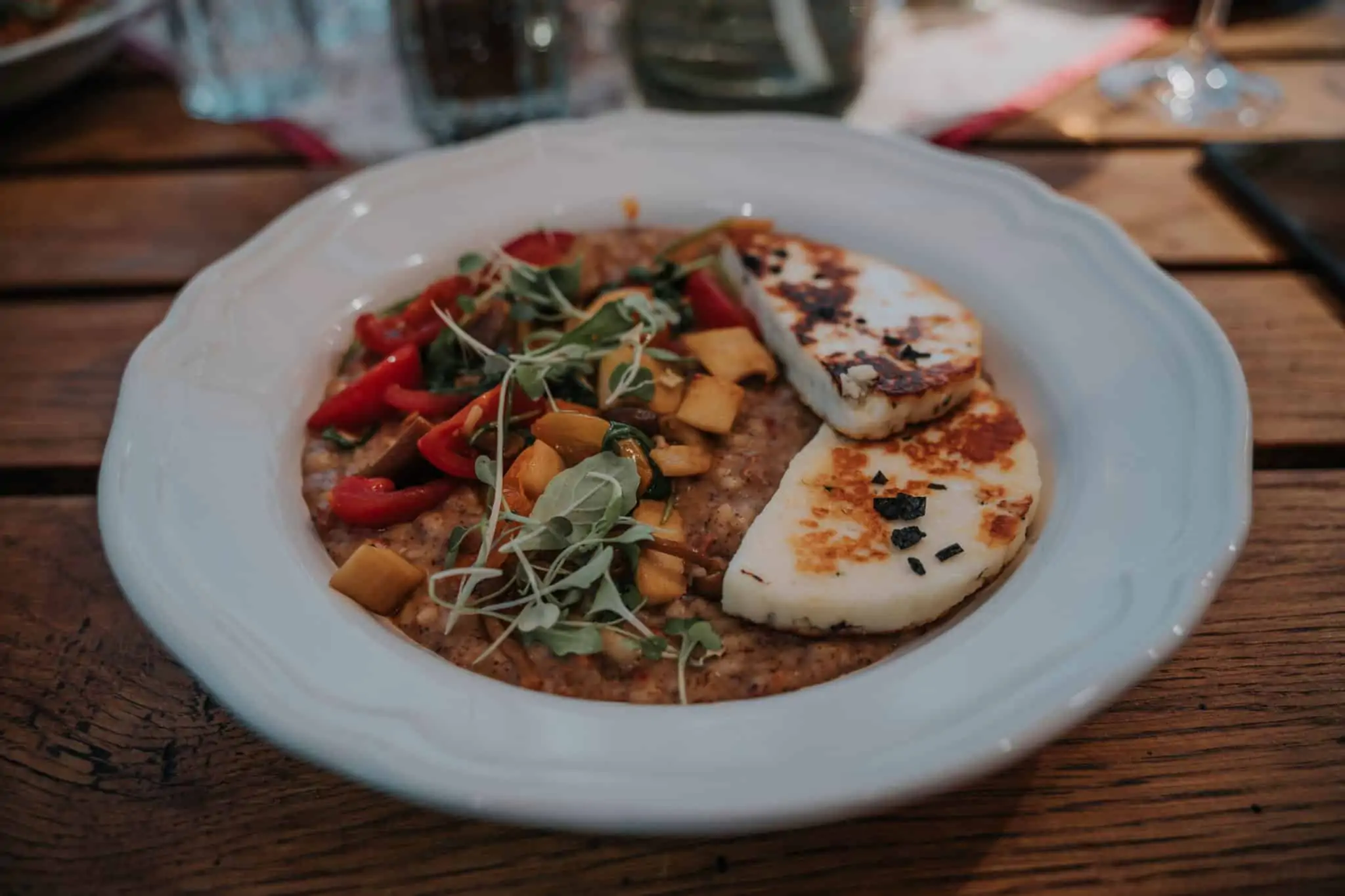 address: Badacsonytomaj, Római út 155, 8261 Hungary; 
We are ending with a high note cause this place is a true gem! We got there by accident but it ended up being our favourite winery of them all. Top of the best wineries of Balaton list. It is located close to the town of Hegymagas – there are lots of wineries in the area but we can genuinely and wholeheartedly recommend a visit to Szászi Pince. The place consists of two areas – a restaurant where you can eat a delicious meal in decent prices and a small wine bar with few tables hidden between the trees. Perfect wine-tasting atmosphere if you ask us. The winery has longer opening hours than the other ones which makes us think it could be a great place for a sunset glass of red. Or white. We prefer white. There is a little wine shop there where you can taste different kinds of it and then choose the bottle of your favourite.
The big upside to this place are the prices! The glass of delicious, white wine set us back no more than 400 HUF (1,2 euro!) and for two bottle we paid only 3000 HUF. We also cannot say enough good words about the people working there – true wine enthusiasts ready to talk about the wine they're serving.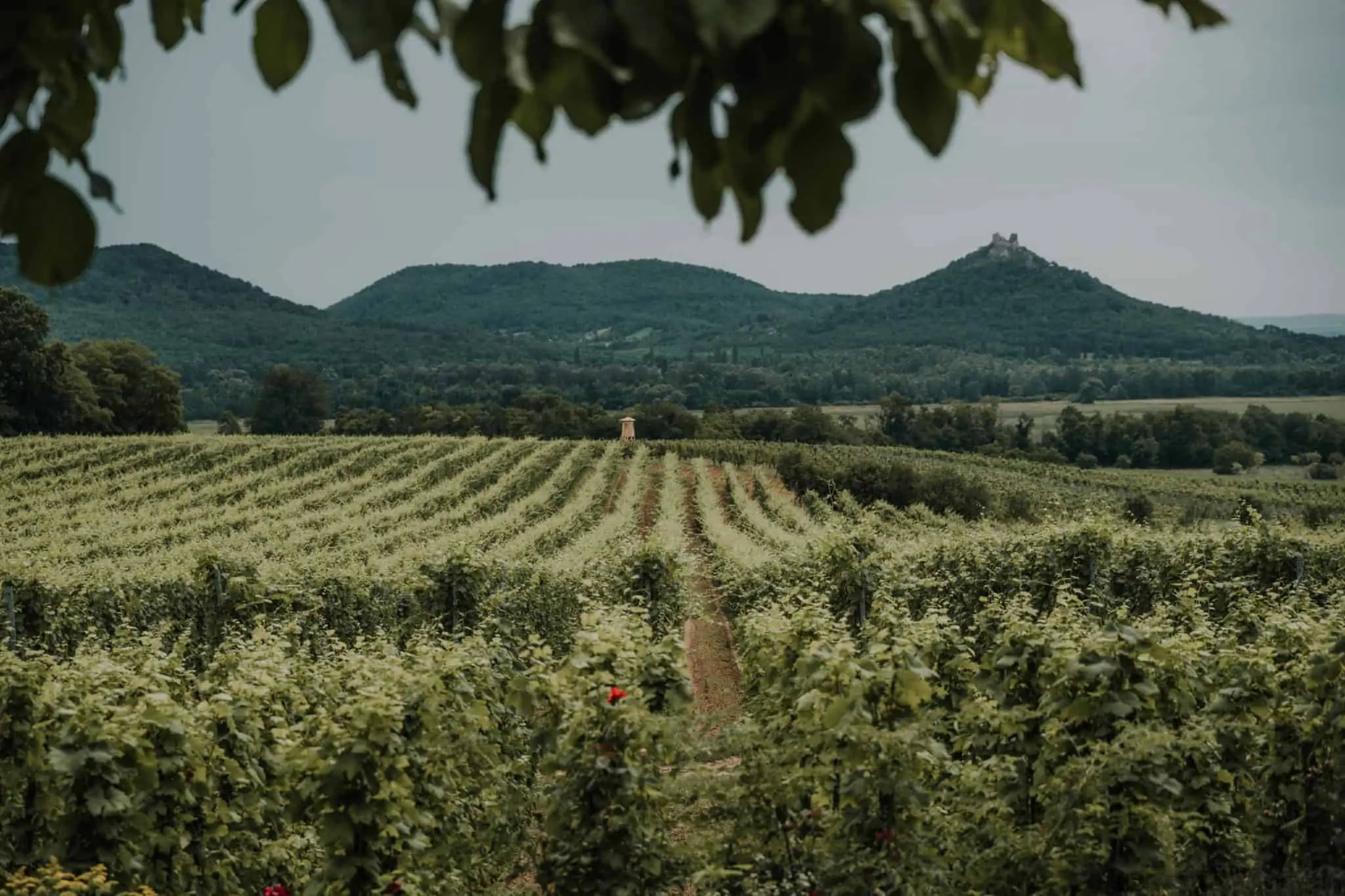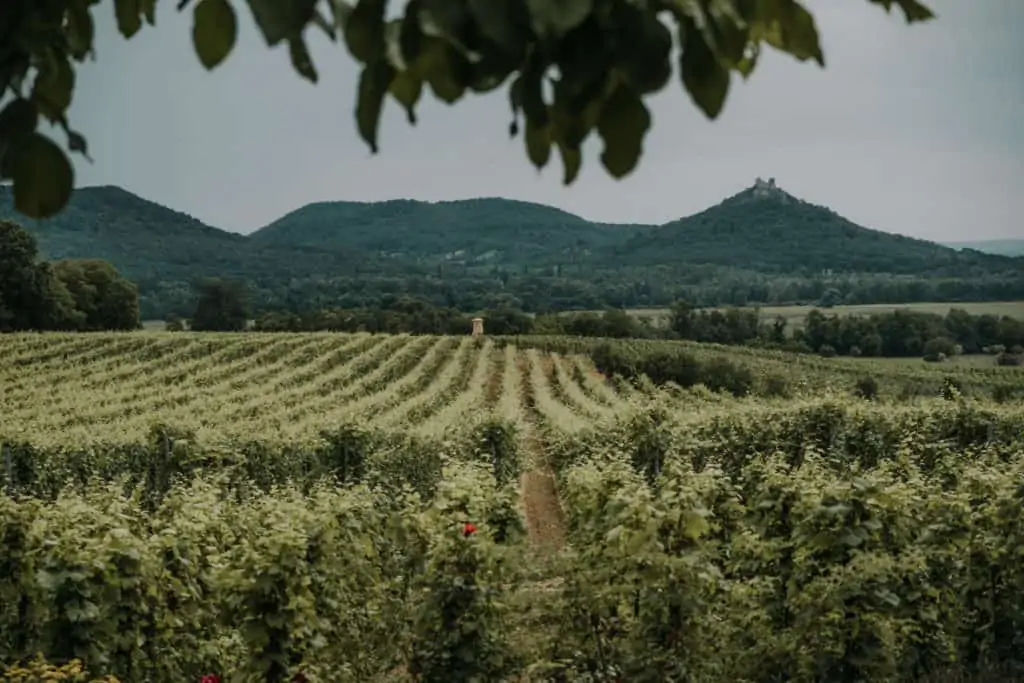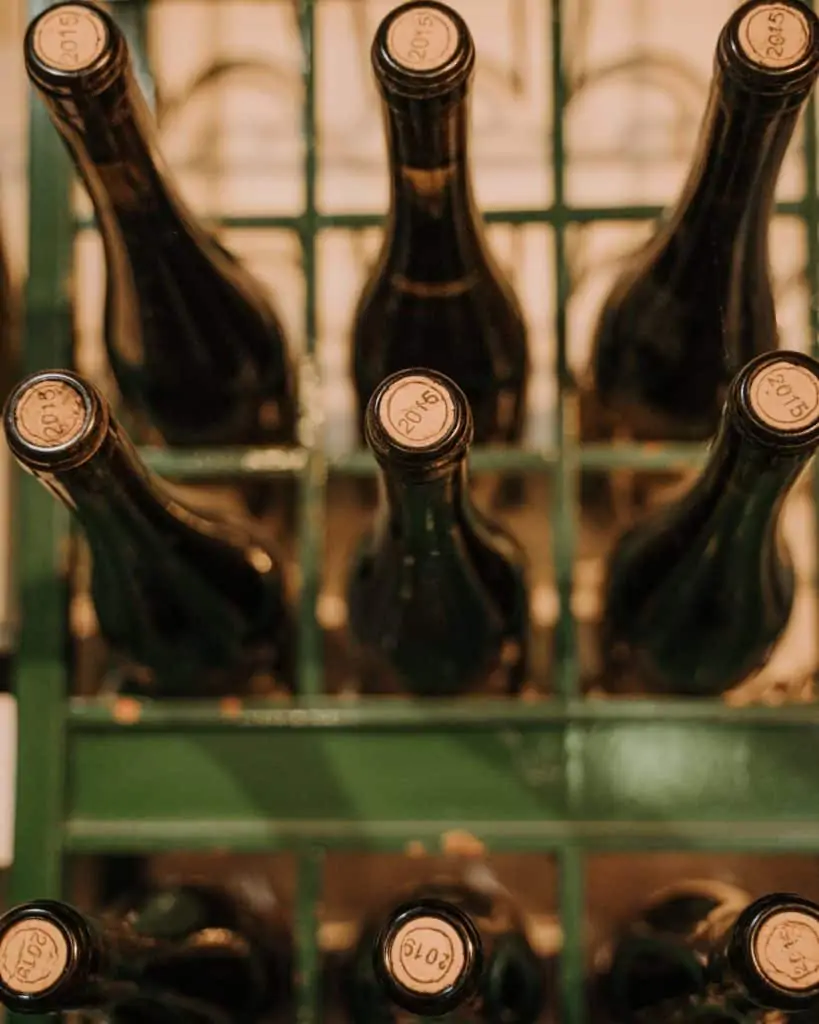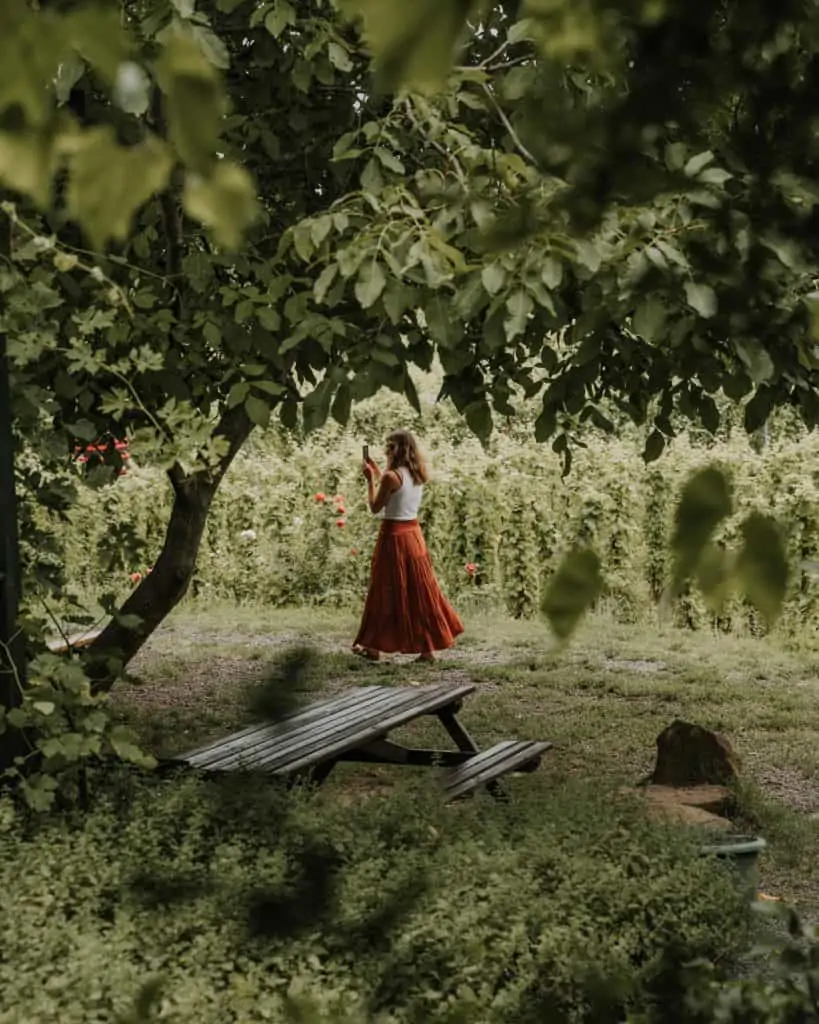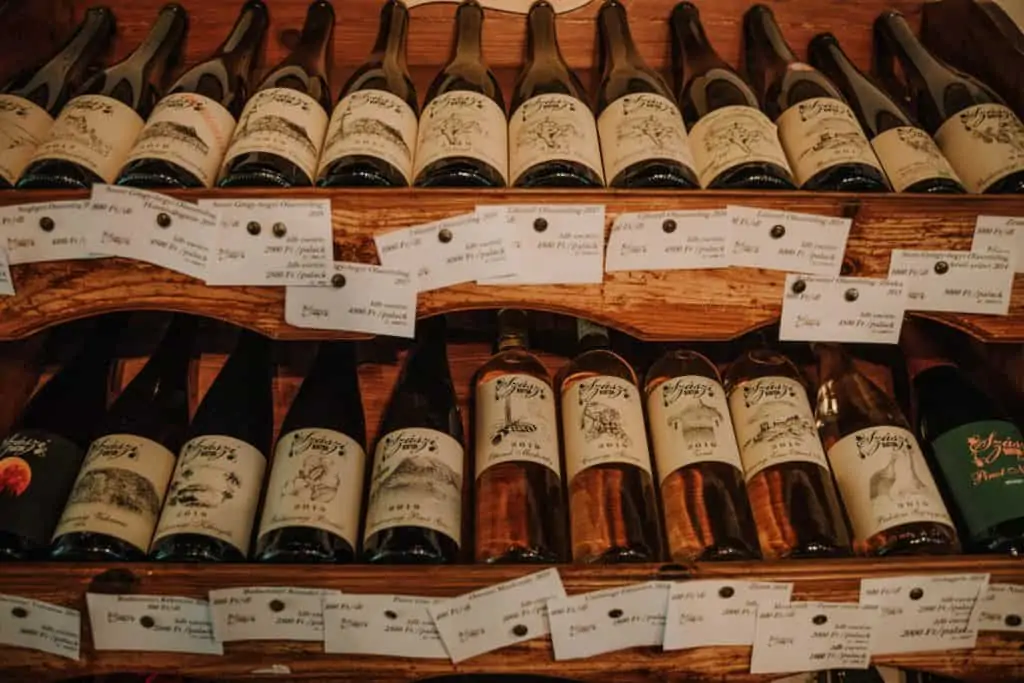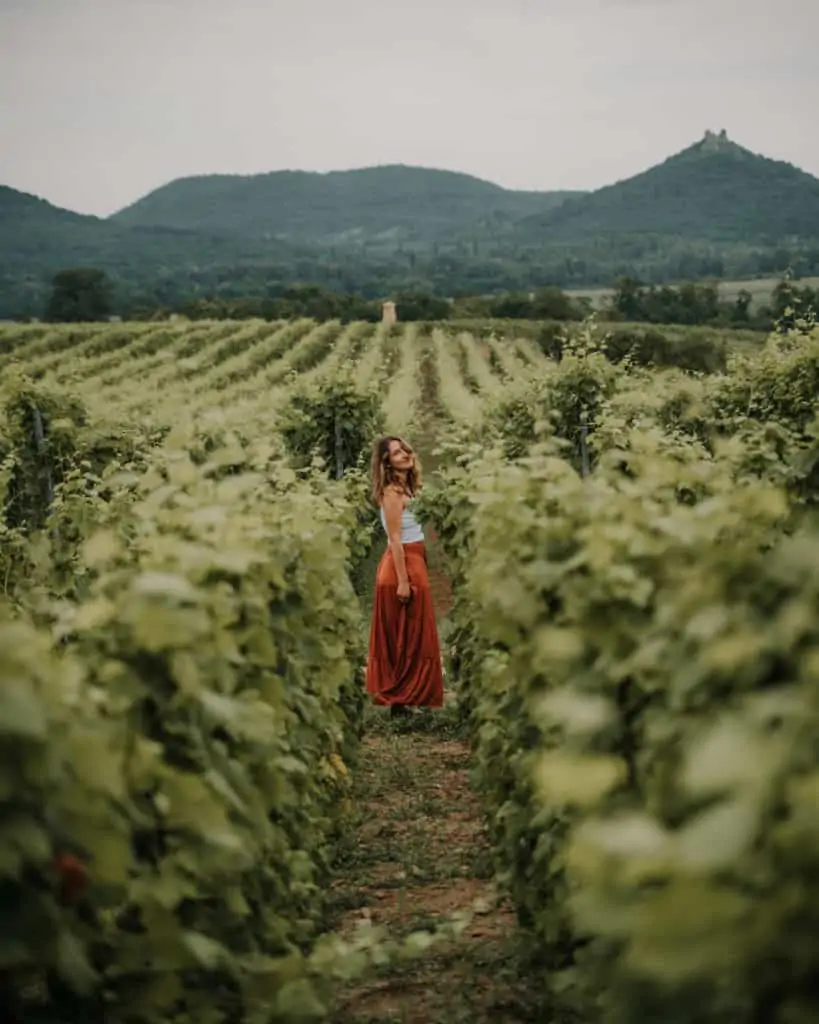 address: Hegymagas 035/7 HRSZ, 8265 Hungary; opening hours: everyday 12-16 i 17-21:30
Before our trip we had never considered Balaton to be a wine-lovers' paradise. But now wine-tasting sprees will be the first thing that comes to our minds when we think about the area. Three wineries that we have mentioned in this blogpost are the ones we went to ourlseves and genuinely enjoyed. They sure are one of the best wineries in Balaton area. We are certain there are more hidden gems in the area though so let us know if you come accross some other cool places! And if you want to learn what else can you do when you get tired of drinking – check out this blogpost! Have fun and don't forget to drink responsibly!