The Dead Sea is located on the border between Israel, Jordan and Palestine Autonomy and is divided into two lakes. It is located on 433,5 m below sea level and it is considered the lowest place on Earth. Its average salinity is 26% (lower on the surface, and way higher closer to the bottom). The Dead Sea dries evaporating and it is shrinking a little bit every year. Unforunately, it means that over the last 40 years the Dead Sea has shrunk almost 30%! This is why Jordan and Israel decided on an attempt to save it and linked it with the water supply from the Red Sea. There is a thin silver lining though – evaporating of the water means that amazing salt formations are being created (you can read our post about the best salt formations on Dead Sea featuring the map with exact locations). Visiting this area can be an adventure but there are some things you need to know before you start your trip. Below you have some practical information to make your Dead Sea trip much easier. And some interesting facts just for fun!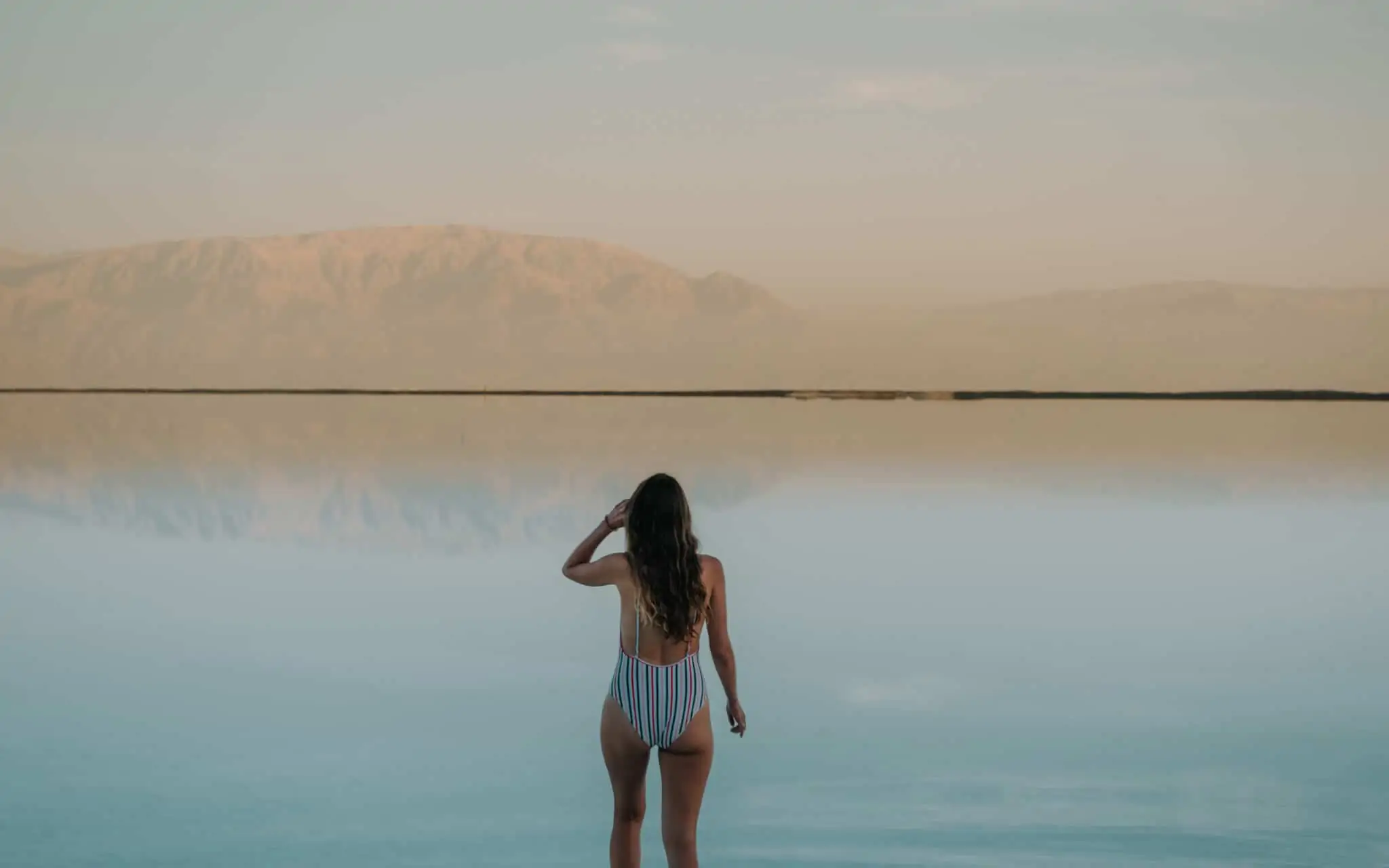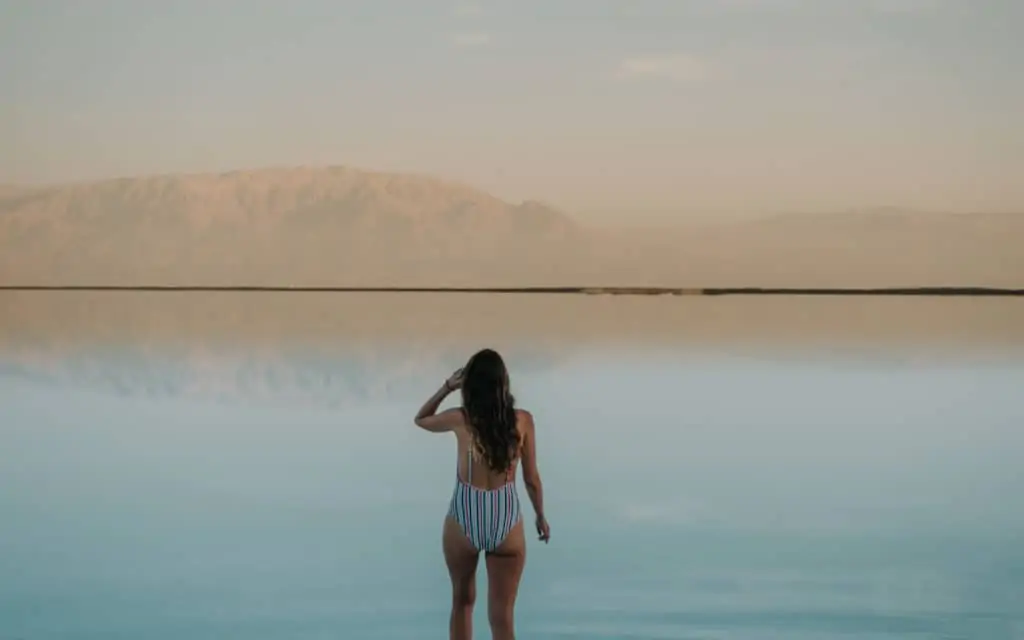 How to get to the Dead Sea?
Rental car. Renting a car in Israel.
Rental car is the best and the easiest way of travelling around Israel. Even though the public transport system in Israel is great and it can get you to most tourist highlights, renting a car is without a doubt the most comfortable of options. It can also end up being the cheaper option because the bus tickets can get quite expensive in Israel, especially when you travel in a group. We rented a car in Israel twice – once with Eldan and once with Hertz. In both cases we had no problems.
Rental prices aren't the cheapest so look through every option, you may find some nice deals. Remember that during sabbath (Friday afternoon until Saturday evening) both renting a car and returning it can be hard or even impossible. The only rental services operating normally during sabbath are the ones located on Ben Gurion airport in Tel Aviv. Keep that in mind planning your travels. Also you probably won't be able to drive your rental car to Palestine Autonomy. The roads are in good conditions and with mild traffic outside the cities. The last thing worth mentioning is the unusual way of paying for petrol on Israeli gas stations. In the beginning the amount is frozen on your credit card and it can take a few days for it to get back to your account. It was interesting and slightly irritating for us because the amount was not the smallest.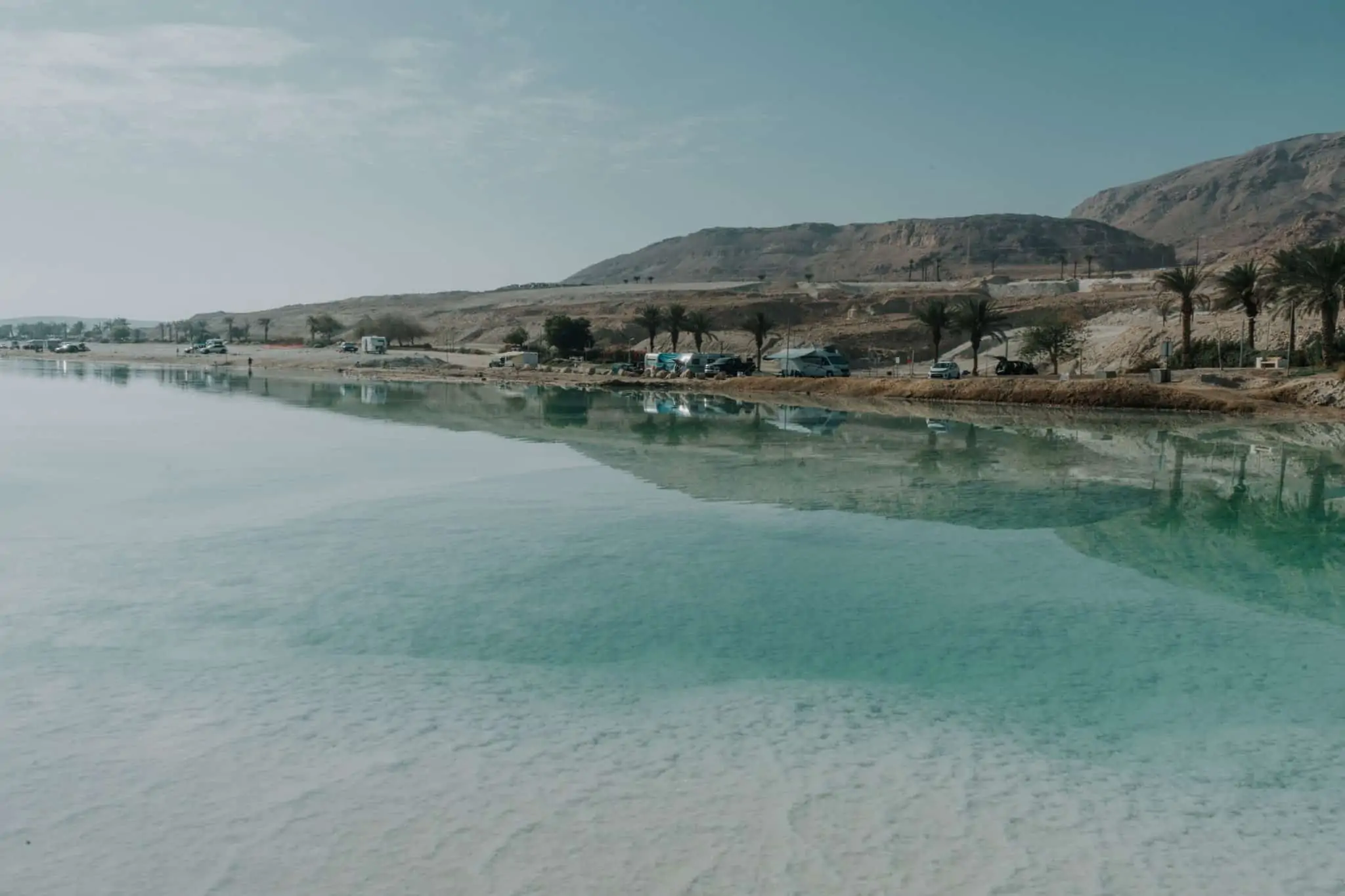 Public transport in Israel. How to get to the Dead Sea with a bus?
Getting to the Dead Sea from Eilat. How to get from Eilat to Ein Bokek?
Buses leave Eilat from the central bus station maps, and stop on the bus stop near Hod Hotel in Ein Bokek. The only direct bus is the bus 444. It takes a little bit over 2,5 hours to get to the Dead Sea from Eilat and the ticket price is 87 shekels.
The bus leaves Eilat bus station at 7:10 am, 2:15 pm and 5:00 pm but sometimes also at full hours on Fridays (9:00 am, 10:00 am and 1:00 pm). Between Friday 1:00 pm and Saturday 3:00 pm the buses don't operate (sabbath).
The bus leaves the Ein Bokek bus station at 8:38 am, 11:38 am, 4:38 pm and 6:00 pm.
We HIGHLY recommend you to check the bus schedules directly on the website www.bus.co.il, or at the bus station because the times might vary day to day.
Getting to the Dead Sea from Tel Aviv. How to get from Tel Aviv to Ein Bokek?
The journey on a bus 421 from a bus station Tel Aviv Yafo to the Dead Sea should take a little bit over two hours. The ticket price is 76 shekels. In this case the timetable in more stable – the most comfortable direct bus 421 leaves Tel Aviv at 9:00 am and noon and it doesn't operate on Saturdays. There are also many indirect bus options that go through either Jerusalem or Be'er Sheva. To get to Jerusalem you can take a bus 480 and from there either 486 or 444 to get to Ein Bokek. While getting to the Dead Sea through Be'er Sheva take a bus 380 and then switch to 384.
To get back to Tel Aviv take a bus from Hod Hotel bus station either around 1:00 pm or 4:00 pm.
Getting to the Dead Sea from Jerusalem. How to get from Jerusalem to Ein Bokek?
As mentioned above – to get from Jerusalem to the Dead Sea you need to take either a 486 or 444 bus. They leave Jerusalem from the Central Bus Station, platform 5. The journey takes around 2 hours and the ticket will set you back 42 shekels.
Where to sleep near the Dead Sea? Accommodation in Ein Bokek.
Crowds of people visit the Dead Sea every year but the accommodation scene waiting for them is nothing special. The majority of it consists of expensive hotels, with prices way too high for budget travellers. The cost for one night starts around 30 euro for a tent. If you have 100 euro you can look for a double room at a hotel. Try looking at airbnb as well – there might be some deals there. The most budget-friendly option it to either wildcamp or stay in a vehicle on the outskirts of Ein Bokek. It is a very popular option and these places are always full with people. There is a water supply there and on the official beaches there are clean toilets and outdoor showers to use. The coordinates for one of the legit places are: 31.205110, 35.361532.
When is the best time to visit the Dead Sea? The weather by the Dead Sea.
Dead Sea can be called a year-round tourist destination. Even during the coldest months (December-February) the temperature rarely drops below 20 degrees Celcius. During the summer though the heat can get unbearable with the air temperature as high as 40 degrees during the day and 30 degrees during the night (June-September).
The water temperature of the Dead Sea during the coldest months drops slightly under 20 degrees Celcius. During the summer it can be as high as over 30 degrees and doesn't really work as a nice cooldown from the heat.
We visited the Dead Sea twice – once in January and once in December so technically during the coldest months. To be honest – we didn't feel cold once and we could easily enjoy some swimming and beach time. We recommed you to skip the deadly hot summer months and travel to the Dead Sea during Europe's winter time to get some sun.
Flying a drone in Israel. Permits to legally fly a drone in Israel.
According to the CAAI flying a drone in Israel is legal, but you need a special permit to be able to do that. The rules are similar to those in other countries but in Israel we recommend you to obey them and fly with great care.
Rules for flying a drone in Israel
You can only fly a drone when it stays within your sight.
The maximum flying altitude is 50 meters (164 feet).
The drone cannot be flown in the 2 km radius from the airports.
You can't fly a drone in the 250m radius from people and buildings.
You can't fly a drone in the forbidden zones (learn more about them 

here

).
For recreational use you can only fly a drone on 2.4 GHZ frequency! Check that before take-off and if your drone didn't automatically switched frequencies, do that manually.
We don't have much information about flying drones lighter than 300 g – in that case we recommend you to check with CAAI directly.
How to get a permit to legally fly a drone in Israel?
Before being able to legally fly a drone in Israel you need to have two permits. One you need to obtain from CAAI and one from the Ministry of Communications. The latter you need to contact directly. Apart from that you also need to have a declaration stating that you only aim to use the drone for recreational, and not commercial, purposes. Both the declaration and other information you can find here.
Direct contact info for the CAAI: [email protected] / +972 3 977 4555
If just like us, this whole procedure seems too daunting and too time-consuming (most websites and forms are in hebrew) we really recommend you to contact the Israeli Aeroclub. They will help you obtain the mandatory permits with a small feel. You can contact them directly through their facebook, or their website, where you will find all the necessary information in english. The Aeroclub member will help you with all the formalities and within a working day will hook you up with a temporary Aeroclub membership for the duration of your trip. Thanks to that you can admire Israel from a bird's eye view withouth the fear of breaking the law. The price to pay for the temporary membership is 125 shekels.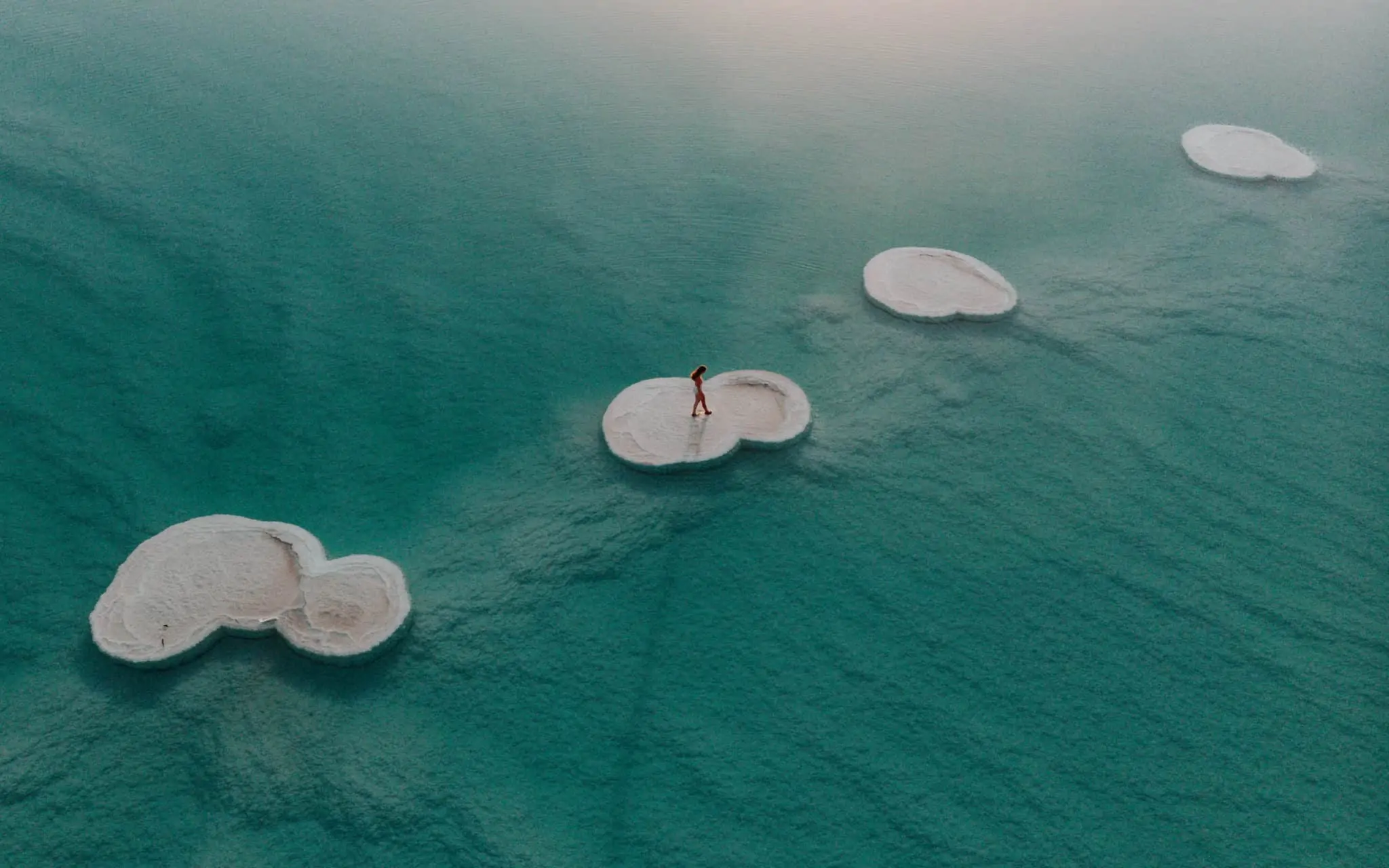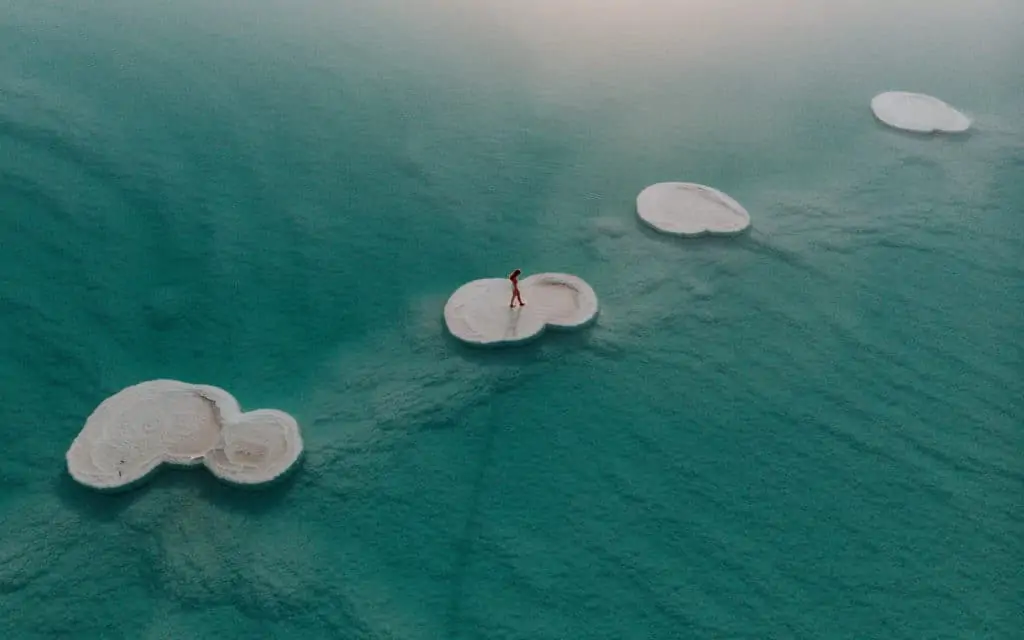 What else you need to know before travelling to the Dead Sea?
The most important thing you just cannot skip while packing are water shoes! We bought ours sponteanously in a shopping mall in Cyprus and they saved our lives! Thanks to spending few euros we could easily and comfortably enjoy all that Dead Sea has to offer. The salt is very sharp and can easily cut your skin – and trust us swimming with a wound in water that salty is no picnic.
If you want your Dead Sea trip as budget-friendly and possible, gas up your car in a bigger city – we did it in Eilat. Close to the Dead Sea the price of petrol is more than 2 euro. Same goes for groceries – the number of shops is scarce and the prices are crazy high, even for Israeli standards. 
Close to the Ein Bokek there is Masada – a place we definitely recommend for sunrise! It has an amazing view and is not to be missed.
Fun facts about the Dead Sea
In ancient times it was recommended to drink the water from the Dead Sea for medical purposes.
The Dead Sea isn't the saltiest water reservoir in the world. The places with higher levels of salinity are the Asal Lake in Djibouti, Lake Patience in Canada and Don Juan on Antarctica.
The Dead Sea spits out chunks of asphalt from time to time.
The Dead Sea area is great to hang around for medical purposes – not only for the skin diseases but also problems with  respiratory system.
The only living things in the Dead Sea are some bacteria equipped to live in such extreme conditions.
The Dead Sea has lots of names: Smelly Sea, Diabolical Sea, Sodoma Sea, Asphalt Sea.
According to the legend, the bottom of the sea hides the ruins of Sodoma and Gomora.
The Dead Sea has 40 billions of tones of salt.
During a hot day even 7 billions square meters of water can evaporate from the Dead Sea.
Apparently you can't get sunburnt while by the Dead Sea – it is the effect of the special environment conditions. We wouldn't trust this one though!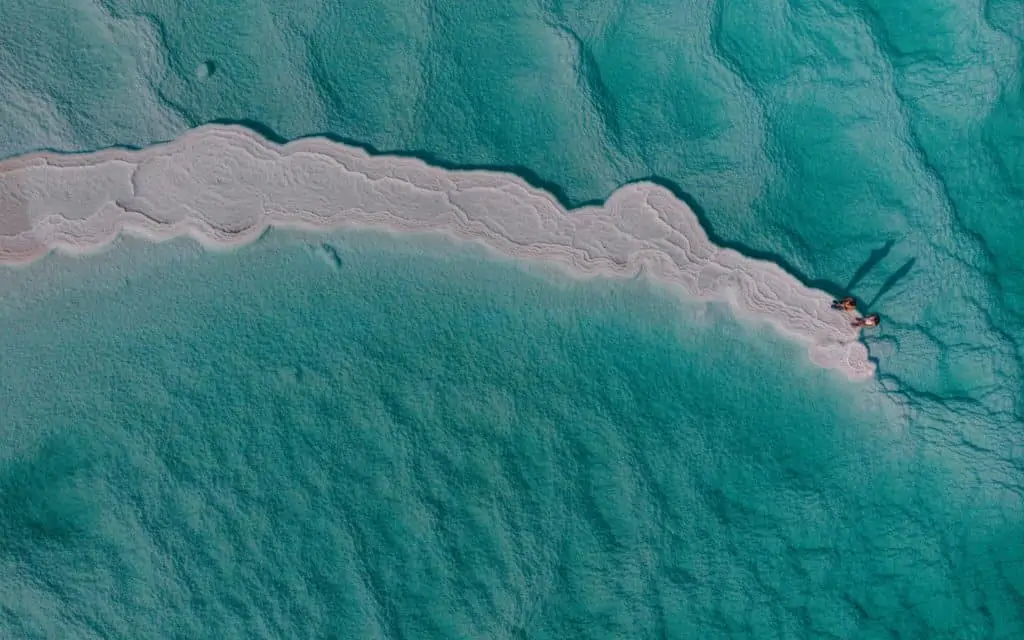 We always try for our information to be as up-to-date as possible, but when it comes to bus timetables and ticket prices we recommend you to double-check on appropriate websites. We hope this post has provided some value to you and will make your visit to the Dead Sea highly enjoyable. Have fun! 🙂