Cyprus was one of the last countries we visited in pre-covid times. We only spent four full days on this island but in our case it was more than enough to fall in love with it. We had no expectations for Cyprus because it was supposed to be just a quick pitstop before our middle-eastern adventures, but boy, were we wrong! We had the most amazing weather what surprised us because it was the middle of November. It was sunny and warm. Warm enough for us to enjoy swims in crystal clear, turquoise wate – Cyprus has the most amazing water we have ever seen – true story! Thanks to this we realized that Cyprus might be one of the best destinations to visit during fall in the northern hemisphere (see our list of other places worth putting on your off-season travel list). Cyprus is quite small but it has a selection of beautiful spots perfect for all kinds of beach bums. The island's history is very complicated and difficult. As a result of the tumultuous past Cyprus is divided into two parts with the internationally unrecognized Turkish Republic of Northern Cyprus in the north.
From Cyprus you can easily get to the Middle East – you can find cheap flight connections to Lebanon, Israel or Jordan. But if you plan to spend some time on Cyprus alone (and you should) – below you have our short Cyprus guide with the list of the most beautiful places we have visited during our short stay. And the pictures to prove to you that Cyprus off-season in an excellent idea!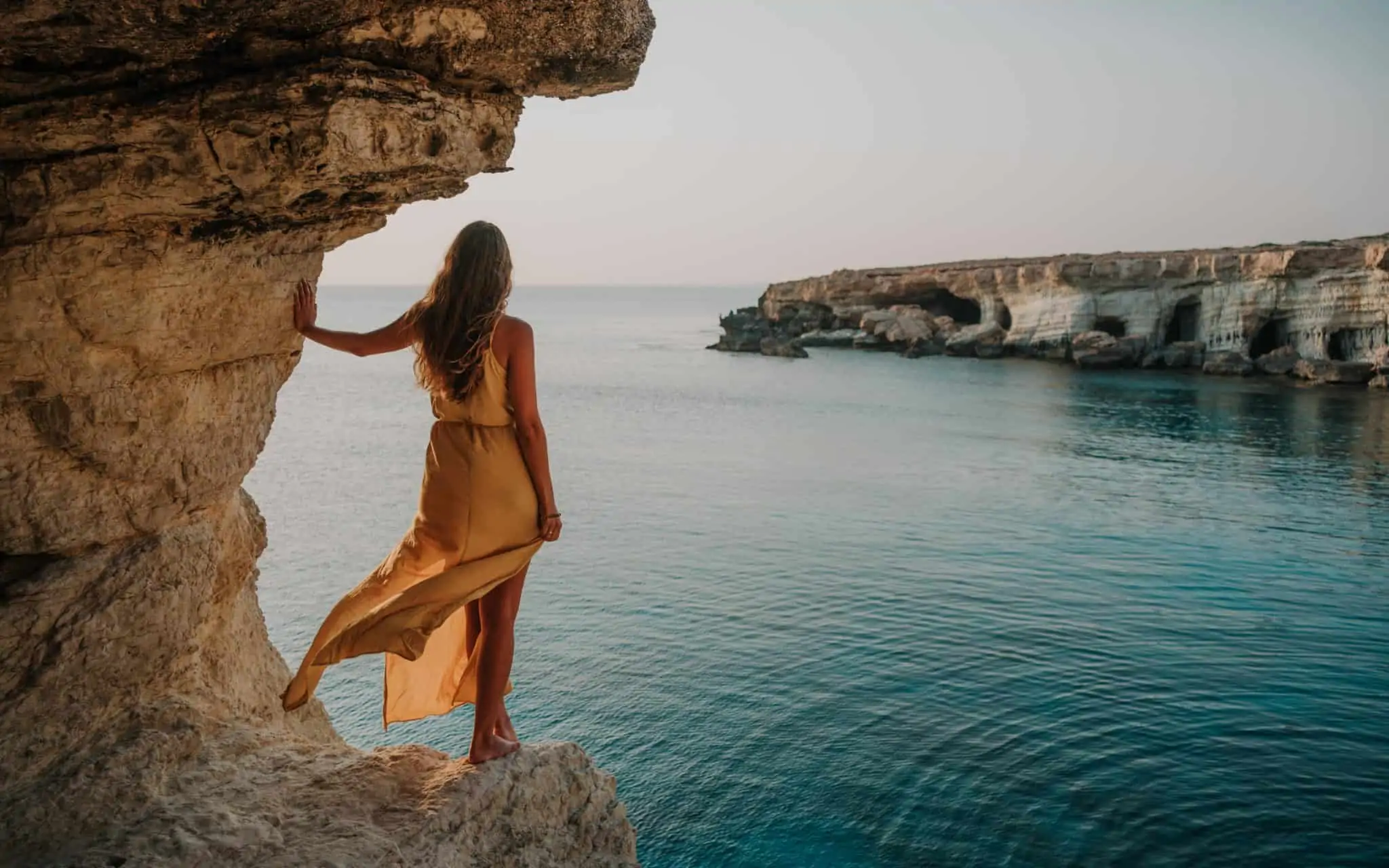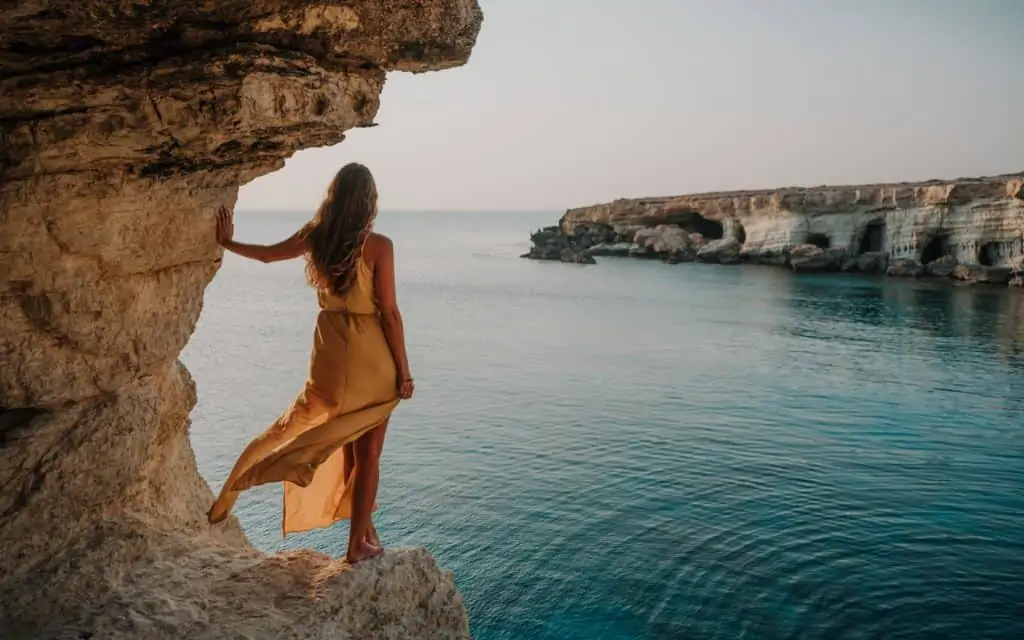 Weather on Cyprus. Best time to visit Cyprus.
Cyprus can be an all-year destination but during winter months (November-April) the days might be too cold for spending time on the beach. To be fair though, our trip took place in November and it was still warm enough even for swimming in the sea! The only problems with Cyprus in November are the short days and early sunsets. During summer the temperature rarely goes under 30 degrees Celcius which for us is a little tiring. Not to mention, this is the most popular time to visit so there are lots of tourist coming to the island. In our opinion, best time to visit Cyprus is the shoulder season – early autumn or late spring when the weather is still sunny and warm but there are less crowds.
How to travel around the island? Renting a car on Cyprus.
There is public transport on the island, but if you only have four days on Cyprus we really recommend you to rent a car! It will give you the freedom of getting to any spot without wasting too much precious time (especially off-season when the days are very short). Remember that the traffic on the island takes place on the left side and that you probably won't be able to take your rental car to the northern part of the island controlled by Turkey.
Best places to see on Cyprus in four days
Cape Greco was the first place we drove to after leaving Larnaca. Let's face it – big cities are the last places you want to see when you only have four days on Cyprus. Cape Greco is the peninsula situated on the south-eastern part of the island with the lighthouse at the end of it. Cape Greco is a photographer's must-see spot because it is perfect for watching both sunrises and sunsets. There are also some cool places in the area – such as crystal clear, turquoise (Cyprus theme, you will see!) Blue Lagoon or the cute little blue and white St. Nicholas Church.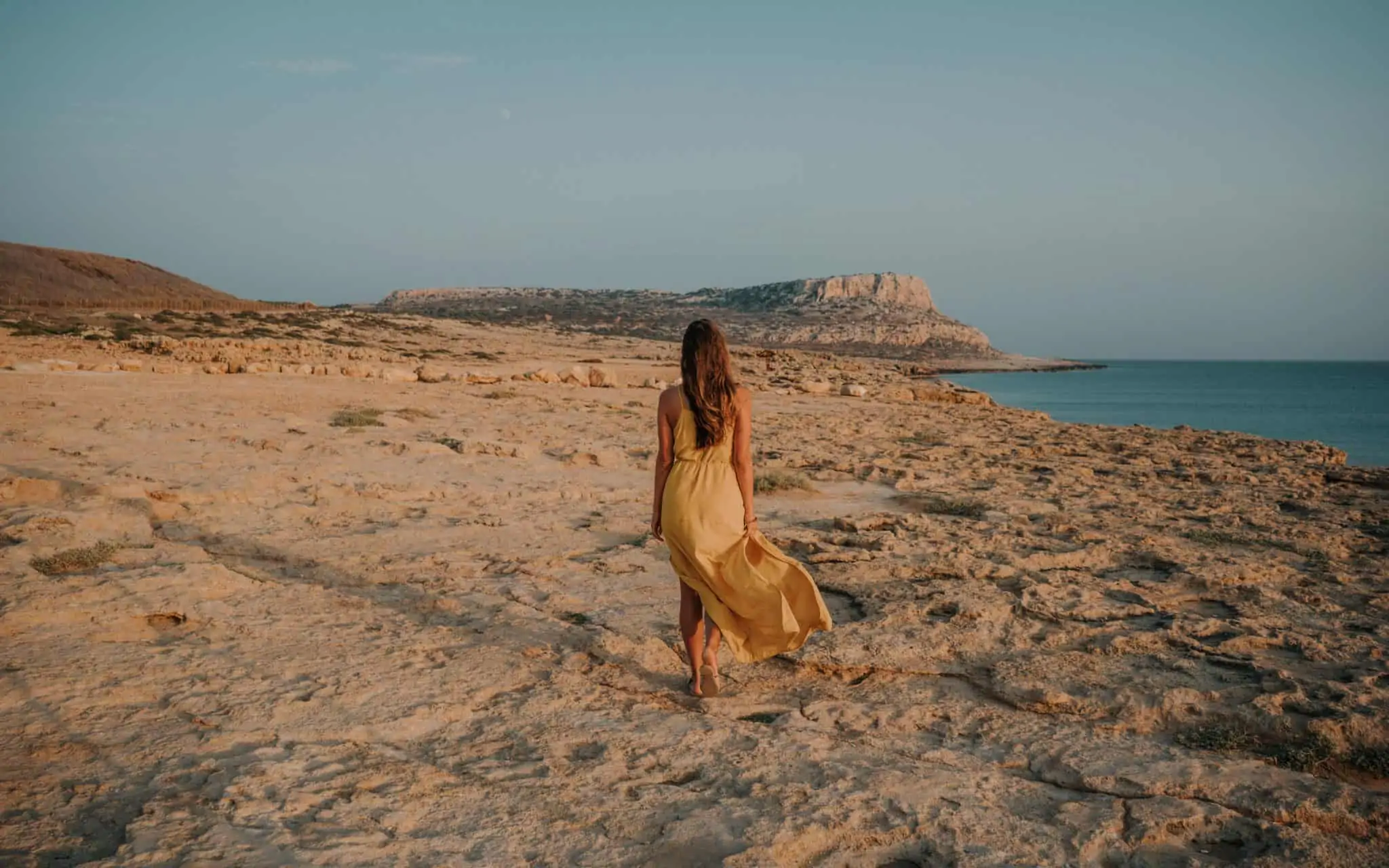 Hands down, our favourite place we have seen during our four days on Cyprus! We went there early in the morning and ended up staying there most of our day. There is a gravel road leading up to it, but driving there is not a problem and you can park your car almost right next to the cliffs. It is hard to resist the crystal clear water but luckily there is a fairly easy way down the rocks that gets you into the sea. There is also some space for you to lay down your towel and have a little sunbathing sesh. If you are feeling particularly brave, in some places the water in deep enough for you to take a jump from the cliffs. The coolest feature of this place is the cave you can see in the pictures below. Hint – it is also a great sunset spot!
Lover's Bridge, Ayia Napa
It is just a 10-minute drive away from the previous spot and it is equally awesome. Clear turquoise water, cliff-jumping opportunities and cool caves to explore can also be found here. Swimming is encouraged! The name of this place comes from the rock formation that looks like a natural bridge and that is perfect for watching the sun go down at the end of the day.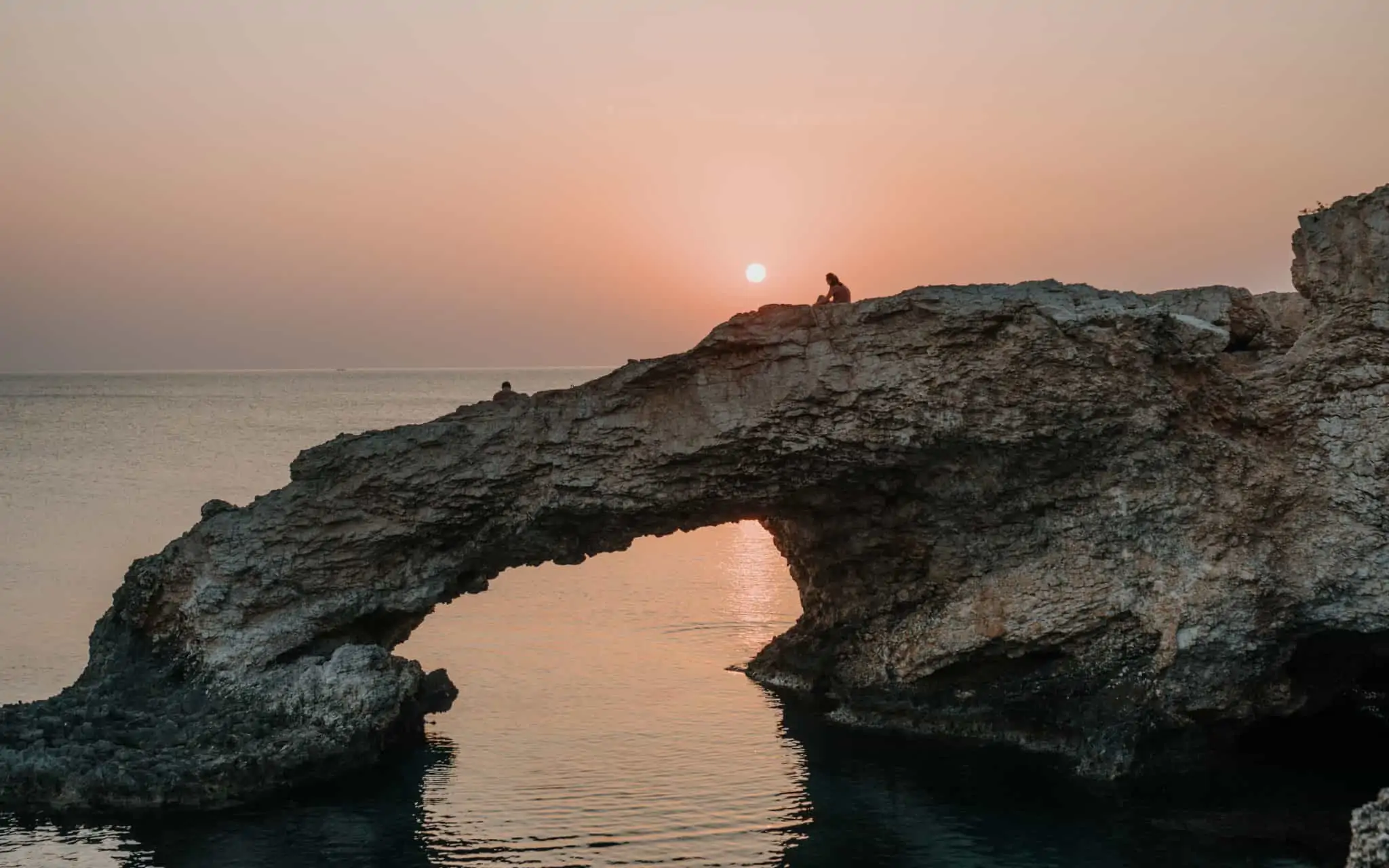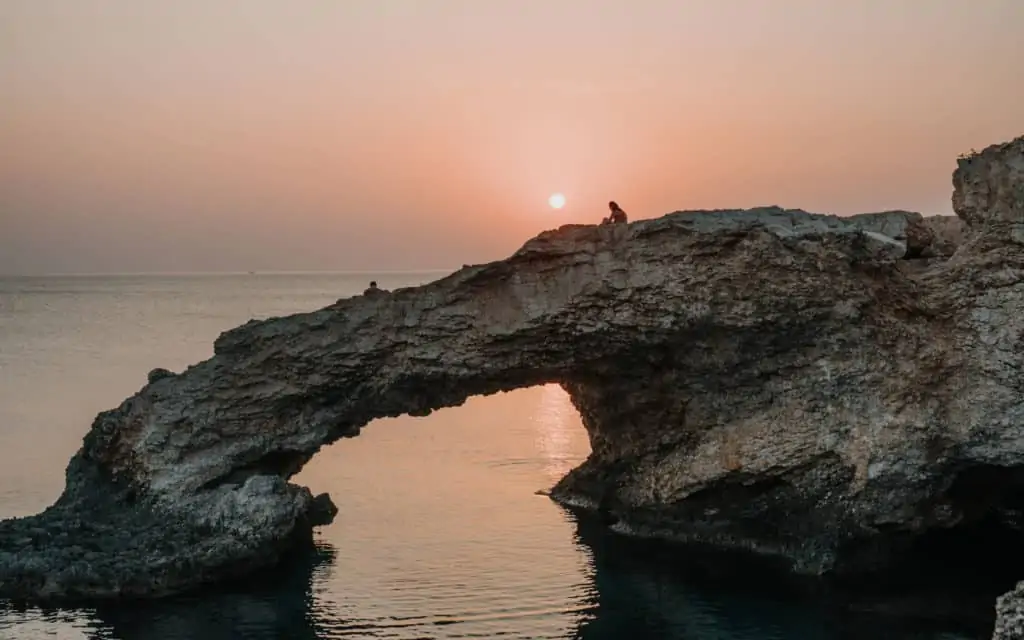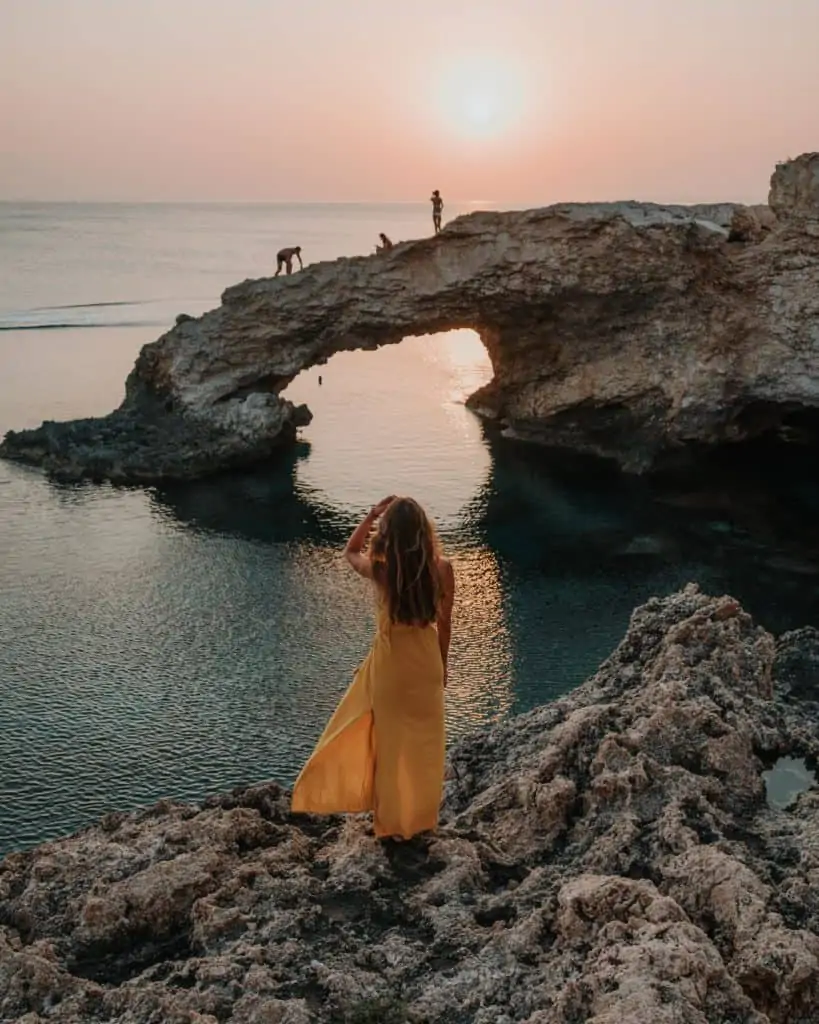 In this spot you can gain some mythological knowledge, because Aphrodite's Rock is supposed to be the place where Aphrodite was born coming out from the sea foam. This beach is amazing as a sunrise spot – the lime stones glow with golden light and there is literally no one around! Which is not very common in this spot because Aphrodite's Rock is probably the most popular place on Cyprus! Swimming here is supposed to keep you young and prettu forever so you know – fingers crossed. You can also check this place out for sunset but there will be more people on the beach then. There is a parking, small shop and paid showers right across the street.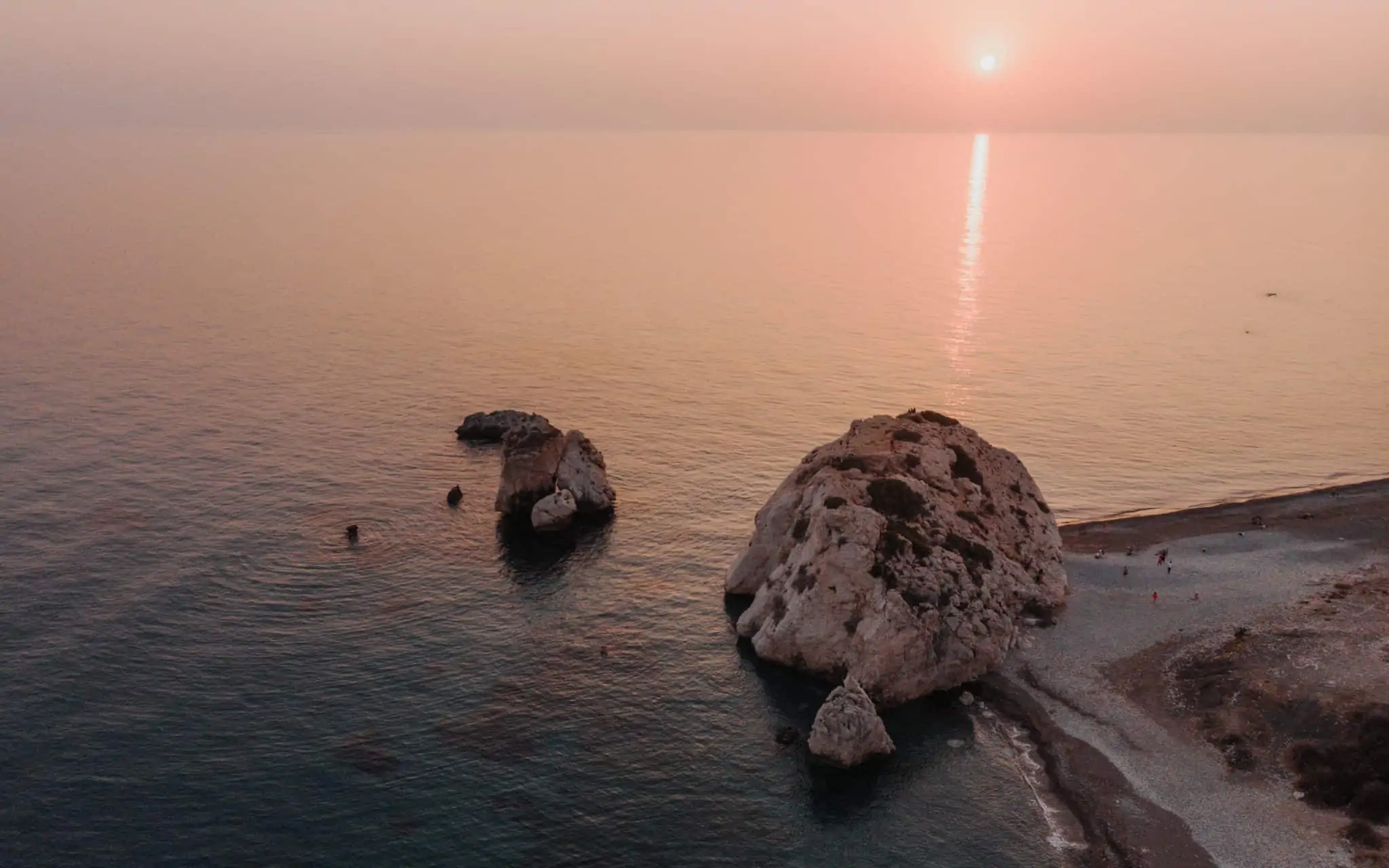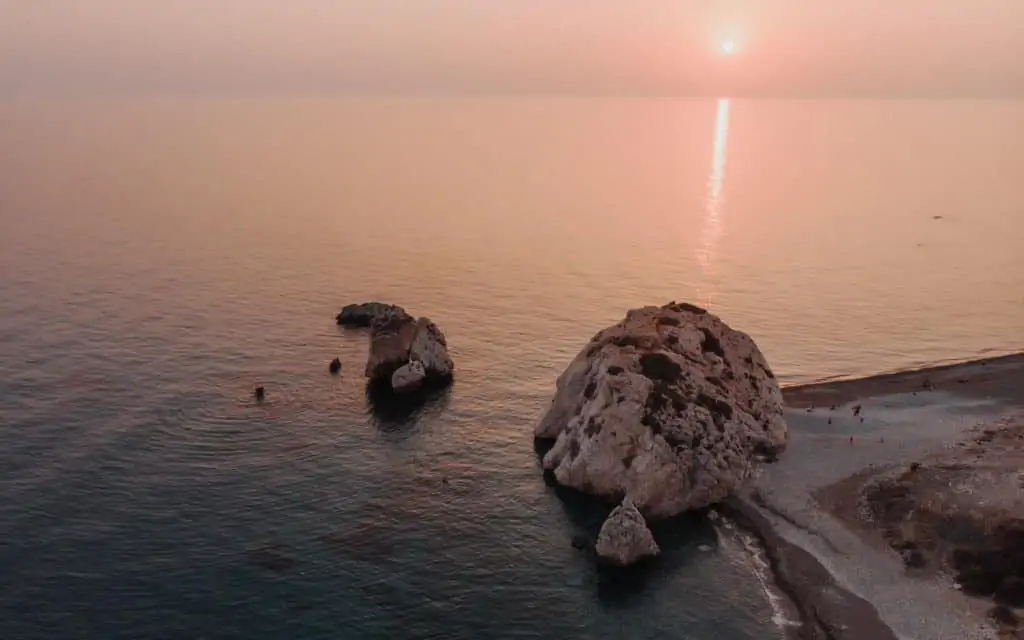 There is an excellent hiking spot close to Pafos so when you get tired of swimming, sunbathing and snorkelling, head to Avakas Gorge! The gravel road leading up to it is not the best to drive on but luckily even the cheapest rental car can get there safely (and slowly). The gorge is a good place for a not very demanding stroll along the stream. During winter season access to the Avakas Gorge might be limited and even dangerous due to high water levels.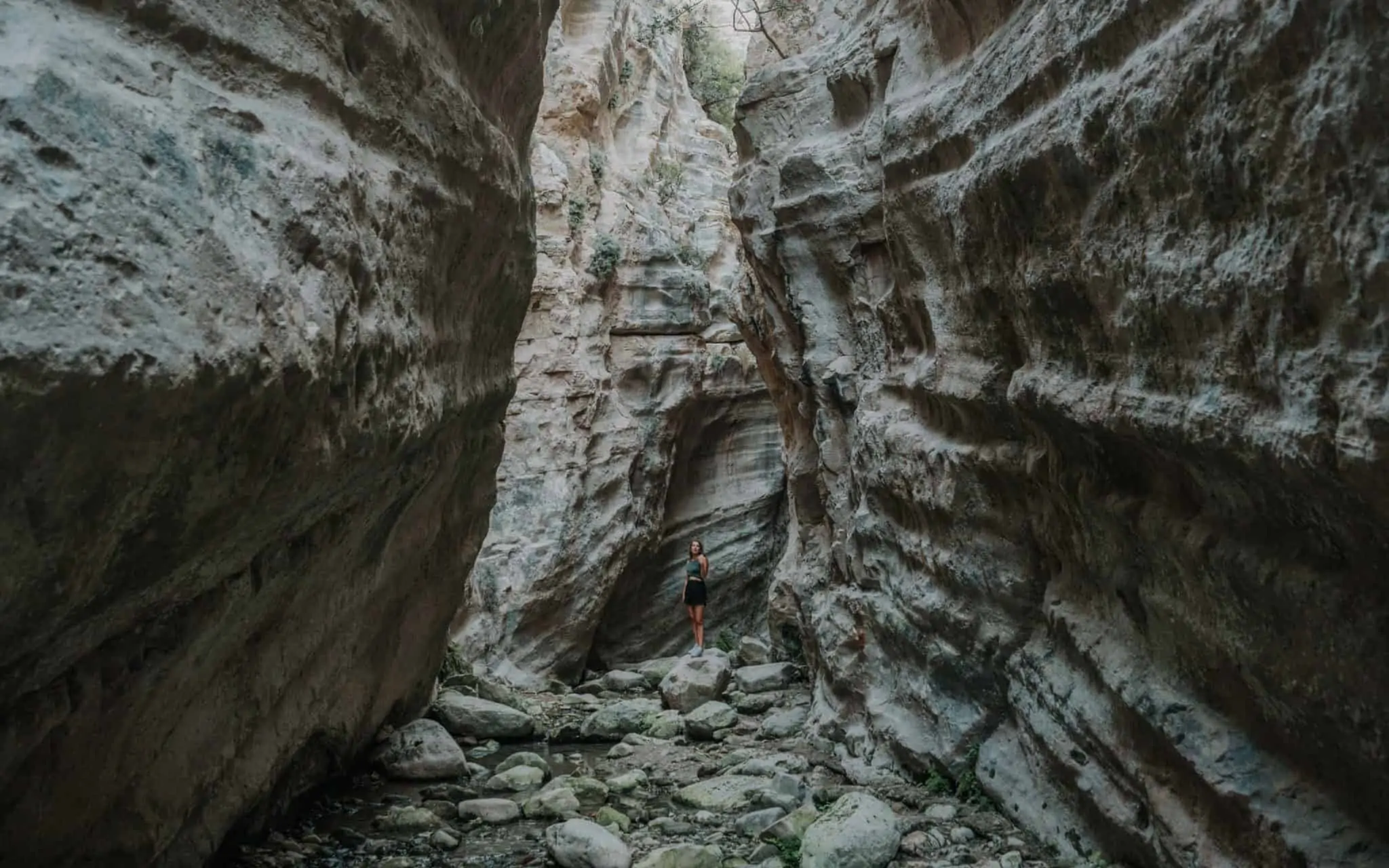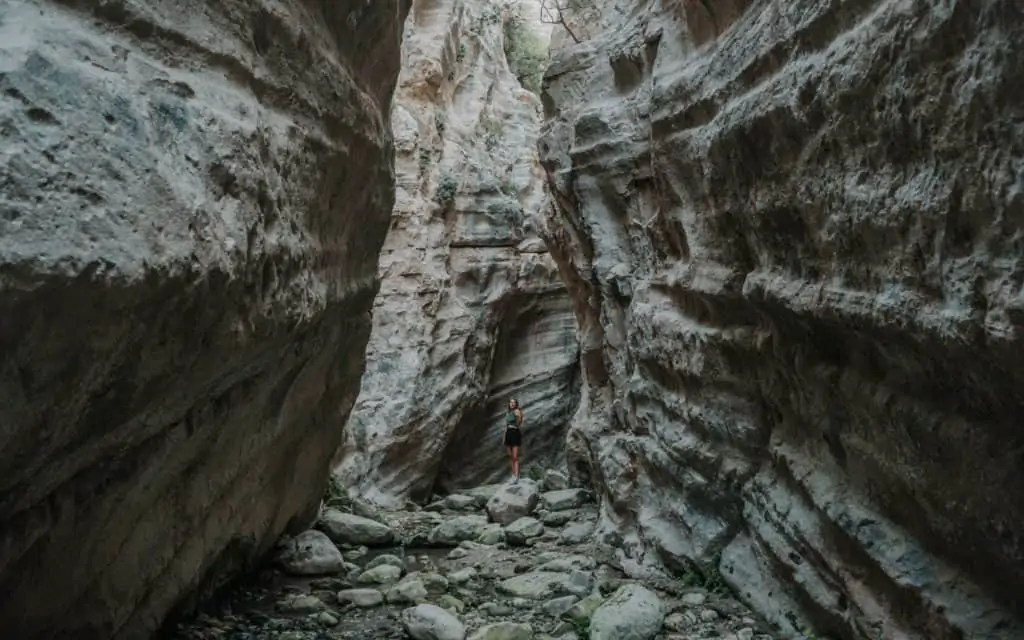 This area left the biggest, most positive impression on us. We really appreciate the fact that it is not the easiest place to get to and driving on the peninsula without a 4×4 car is even impossible. You need to either take a long walk or rent a quad. The peninsula is quite peaceful and has lots of secluded bays with the clearest and most inviting water. The most popular one is probably the Blue Lagoon where during summer season you can get with a boat tour. Jumping from the deck straight into the turquoise water? Yes, please! Definitely doing that next time. Exploring this part of Cyprus can be combined with a morning hike in Avakas Gorge.
Coral Bay and a shipwreck
Let's be clear – during your four days on Cyprus you will probably see lots of beautiful beaches and bays. The charming area of Coral Bay has also something a little different to offer though! The Edro III Shipwreck totally surprised (and spooked!) us when we got there in the middle of the night. A bit scary, a bit weird. The ship crashed there in 2011 and has been attracting tourists ever since.
If after few days you feel bored with beaches, bays and the underwater world, drop it all and head to the mountains. Trodoos Mountains to be precise, in the area of Mount Olympus where according to the Greek Mythology gods lived. This region has no shortage of cute little cypriot villages with a local, idyllic vibe. We managed to visit three of them. They are situated right next to each other which makes this a perfect afternoon trip! They are all easy to get to with a car and each town has a parking where you can leave your car for free. Awesome road views also come with no additional fee!
Lania was the first cypriot village we visited during our little roadtrip. Its name supposedly comes from the name of the daughter of Dionizos – the god of wine. The town has a long wine-producing story but now it is very peaceful and calm. We didn't meet too many people during our visit. We recommend you to take a stroll along its charming streets and breath in the idyllic cypriot atmosphere. For those interested – there is a permanent photography display showing the history of the town and its old inhabitants.
The next village we visited is beautifully situated Lofu. During summer the village is filled with people because of festivals taking place there, but off-season it is calm and empty (only around 100 people live here!). Limestone houses with red rooftops look extremely pretty and inviting. You can grab a fresh pommegranate juice to cool off on a hot day.
Omodos is the most popular town out of these three which is why it will be crowded even during low season. It doesn't take much from its charm though! You will find cozy cafes and bars, little wine shops and stores selling local products there. It is also beautifully situated among the Trodoos Mountains.
I know sunset is not a place, but the sunsets on the island are so beautiful they deserve their own paragraph. During our four days on Cyprus we would end each one of them just sitting and gazing at the pink sun as it went down. We have already shared with you some cool sunset spots but to be honest – any cliff in the south-western part of the island will do (this picture was taken on a cliff close to Lara Bay for example). Amazing views guaranteed so just sit back and enjoy the show. The only problem with Cyprus in November is the fact that the sunsets happen around 4 pm.
Four days on Cyprus may sound like a challenge at first but trust us – this amount of time is perfect to get the taste of the island, relax on its beaches and see a wide selection of places. If you have more time – yay, we are jealous, cause it is even better! Have fun and please let us know how you liked it!